3 Comments
What if Track & Field Had a World Cup?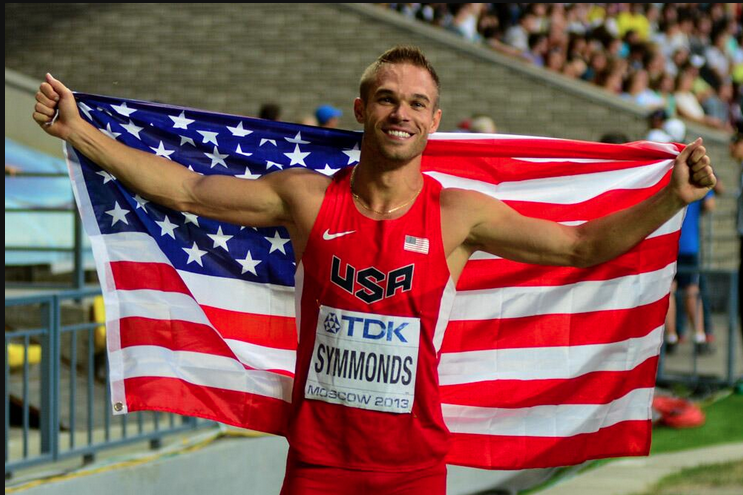 Jesse Squire | On 30, Jun 2014
Last week I talked about what track and field can learn from soccer's World Cup. There's a lot about FIFA's approach to things that we can and should think about for our sport.
But what if track and field had its own World Cup? What would that be like?
We've already got one.
We kind of have a World Cup right now. We call it the Continental Cup. It will be held this September in Morocco and be a scored competition between teams representing the Americas, Europe, Africa, and Asia/Pacific.
Just like for FIFA's World Cup, you'll go to a watch party for the Continental Cup, right? You'll wear your Pan-American t-shirt and wave your Pan-American Flag and paint your face in Pan-American colors and join in chants in the unified language of the Americas!
Or not.
This is what sucks about the Continental Cup: it's a team-scored event but nobody really cares who wins. There aren't any national teams. No national pride is on the line. No one is all that invested in the score. And if that's the case, why do we keep score?
We used to have something a bit more like the World Cup and in fact that's what we called it from its inception in 1977 up to 2006. It was between eight teams: the USA, the top two from the previous European Cup, and all-star teams from the Americas, Europe, Africa, Asia and the Pacific. It was somewhat popular when it started but even by the 80s it was a bit of an afterthought.
These various worldwide track and field team competitions have all lacked one of the basic things that makes soccer's World Cup so popular. In FIFA's World Cup, every single nation on earth is involved in qualifying, and virtually every corner of the globe gets a team into the "final" (the 32-team tournament we colloquially call the World Cup). Everyone has a team to pull for, or at least to hate on.
Like most Americans who are following the competition, I'm not really a fan of soccer so much as a fan of any US team no matter what the sport is. Cheering for a national team gives all of us exposure to whatever sport it is, and some end up liking it and deciding they want more of that sport. Here in the USA, the land of immigrants, people cheer for lots of national teams; the other night I saw a half-dozen college kids walking down the street in blue and white and carrying a Greek flag. And on and on. Track and field has got to get some of that action.
The model.
There is a model of national team competition that has worked very well for nearly fifty years. The European Cup was first held in 1965 and has gone through many different versions, but now it's an annual two-day competition and, much like professional soccer, it has four divisions with yearly promotion and relegation. The European Team Championships, as they are now called, are something the public and athletes find enjoyable and the meet gets broad television coverage.
The Germans won this year, breaking Russia's three-year win streak, and became the first home nation to win since the British men pulled out a miracle victory in 2000 at Gateshead. It's the kind of fun and different competition that track and field could really use.
My plan for a true track and field World Cup would not look much like FIFA's grand affair but a bit more like the ITF's Davis Cup. It would be annual, not quadrennial, and include multiple competitions spread out over the year. It would use the European Team Championships as both a model and a qualifying competition.
The plan.
Each of four different parts of the globe–Europe, Africa, the Americas and Asia & the Pacific–would each hold their own annual team championship competitions.
The African and Asian/Pacific team championships would be held on the same weekend as the European Team Championships already are (late June), but the western hemisphere schedule would require a May date for the Pan-American Team Championships. This is not a big problem and could fit within the Diamond League schedule.
Each regional team competition would follow the ETC format of a two-day meet between a combined men's and women's team for each nation, with 20 events for each gender and one entry per event. The one change I would make is to replace the track 5000 meters with a road 10k, run as part of a mass-participation race held on the morning between the two days' track competitions.
Each of these four regional team competitions would be organized into four divisions, with annual promotion and relegation between the divisions. This way, every nation on earth has something to shoot for: promotion to the next division, or at least avoiding relegation to a lower one. And the best teams, those in each region's first division, would be fighting for a top-two finish that qualifies them to the World Team Championships.
Those World Team Championships would be held in September, after the Diamond League wraps up, and follow the same format as the regional championships: eight teams, 20 men's events and 20 women's events, one entry per event, scoring on an 8-7-6-5-4-3-2-1 basis.
Who would qualify?
We already know how the European meet would work out because they actually ran it. Germany won and Russia was second, and both would qualify to the World Team Championships.
Pan-Americas Team Championships
While the intention is that this would be a combined men's and women's competition, it's a lot of work to dope these meets out so I just did the men's competition and called it close enough. Here's how I figured the Pan-American competition would go by using All-Athletics.com's world rankings:
1. USA (149)
2. Brazil (104)
3. Canada (103)
4. Jamaica (89)
5. Cuba (87)
6. Mexico (76)
7. Colombia (61)
8. Chile (51)
The USA and Brazil would qualify to the Worlds, while Canada just barely lost out. Colombia and Chile would be relegated to the second division, and Argentina and Trinidad & Tobago would be promoted for next year.
African Team Championships
1. South Africa (145)
2. Kenya (100)
3. Nigeria (99)
4. Botswana (83)
5. Morocco (81)
6. Ghana (73)
7. Uganda (71)
8. Senegal (68)
Like the Pan-American competition, one team is an easy qualifier to the World Team Championships but the second spot would be a battle to the wire.
Asia/Pacific Team Championships
1. Japan (126)
2. Australia (125)
3. China (114)
4. New Zealand (80)
5. Iran (71)
6. South Korea (70)
7. India (68)
8. Saudi Arabia (65)
Japan and Australia would battle to the end for the win and both would go to the WTC. It's eye-opening to see New Zealand (pop. 4.5 million) nipping at the heels of China (pop.1,350 million).
World Team Championships
The winner of a competition like this would be no secret, but second would be a real battle. I score it thus:
1. USA (133)
2. Germany (100)
3. Russia (98)
4. South Africa (88)
5. Japan (80)
6. Brazil (79)
7. Australia (76)
8. Kenya (66)
It just so happens that all six of the IAAF's confederations are represented above, and the sun never sets on this group of nations.
Issues
One big issue is that many stars would not take part, either because their nation didn't qualify or because they elect to forgo the meet alltogether (like we saw in Sacramento this week with many US stars). Would that kill interest in the world and regional team championships?
I'm going to say no, because the World Team Championships wouldn't really be about the stars. It would be about the teams. Teams are easy to cheer for. Here's what I mean: I can name maybe half a dozen US soccer players and maybe half a dozen on all the other teams put together, but I'm still watching the World Cup because I know the countries. This is what a WTC would tap into.
And look at those nations in the WTC final. If the USA doesn't have it's top-tier sprinter, the Yanks will still max out on points against that lineup (or very nearly so). The same goes for Germany's throwers, Russia's jumpers, and Kenya's middle-distance runners.
And only the Americans (and maybe the Russians) would attempt to heavily rely on athletes who spent the whole year competing on the Diamond League and at the Worlds or Olympics. Nobody else is that strong across the board. In essence, much of the World Team Championships would be a world championships for club-level athletes…which would be cool in its own way.
Another issue would be trying to fit the regional and world team meets into an already crowded global schedule. Again, I don't see this as a huge problem because my plan makes them add-ons to the beginning and end of the season, and because most teams wouldn't be relying on superstars in order to qualify to the WTC–the USA would still win the Pan-American meet while using a "B" team–and the teams in the second, third, and fourth divisions just don't have that many stars anyway.
I think the biggest issue is that this would be fun and innovative. It seems like we don't do fun and innovative in track and field, we prefer the traditional and stodgy. That's too bad, because this would be great fun to watch.