No Comments
The Weekend's Best Matchups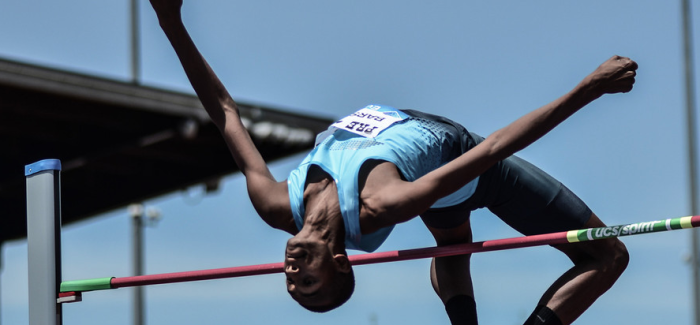 Jesse Squire | On 02, Jul 2014
The high jump world record could very well be broken on Thursday — but by whom?
This is an incredible weekend for the serious track and field fan. We have not one but two Diamond League meets — on Thursday and Saturday — plus national championships in junior track and field and the road 10K, Canada's National Track League returns, and more European team competition.
Hold onto your hats! I have more than 25 great matchups coming your way. And the weekend's single best matchup is…
High Jump Royal Rumble
Men's high jump, Thursday, 8:15pm local time (2:15pm ET)
There isn't much I can say about men's high jumping in 2014 that hasn't already been said, but I'll try. Not since the 1954 pursuit of the sub-4:00 mile has there been so much certainty that a particular barrier will eventually fall (in this case, the venerable world record of 2.45 meters) but so little certainty as to who will do it. Bohdan Bondarenko, Mutaz Essa Barshim, and Ivan Ukhov have all cleared 2.42m this year and have all just missed attempts at the world record height. They're backed up by another tough trio — Derek Drouin, Aleksey Dmitrik, and Erik Kynard — guys who would dominate the world in any virtually any other era.
Eleven men have jumped 2.34m or better in 2014, and ten of them are here. Something amazing is going to happen in this competition.
The best matchups of the rest of the weekend, in chronological order…
Diamond League Lausanne
Stade Olympique de la Pontaise, Lausanne SUI
Meet website
Live on Universal Sports TV on Thursday from 2:00 to 4:00pm (ET)
Webcasts: WatchAthletics.com, Trackie.ca
LaShawn Merritt vs Kirani James
Men's 400 meters, 2:03pm ET
Merritt and James are fearless in their willingness to face each other, but this is just the third time they've gone head-to-head this year. Merritt won the first one at the Drake Relays and James just barely won the second at the Prefontaine Classic, the first non-championship race in history to see two men under 44.00 seconds.
Mercy Cherono vs Genzebe Dibaba
Women's 3000 meters, 2:13pm ET
Dibaba went on a tear during the indoor season and broke three world records but seems a bit more human during the outdoor season. She has two major wins this year, the World Indoor title and the Rome stop on the Diamond League tour. Cherono also has two wins, the 2-mile at the Prefontaine Classic and the 3000 at the New York Diamond League meet.
Jeff Henderson vs The World
men's long jump, 2:25pm ET
The last new long jump prospect for the USA, Marquise Goodwin, went right from the Olympics to the NFL. After that we've just had triple jumpers (Will Claye, Christian Taylor) or decathletes (Ashton Eaton) dabbling in the long jump. Maybe we have a new one now in Jeff Henderson.
The up-and-coming 25-year-old out of Stillman College broke out with a win at the adidas Grand Prix (with a new meet record) and another win at the USATF Championships (recording a PR and coming up just short of a wind-aided 28-footer). He's going to get a real test here, going up against world leader Greg Rutherford and reigning world outdoor champion Aleksandr Menkov.
Tori Bowie vs Veronica Campbell-Brown
Women's 100 meters, 2:28pm ET
Is Tori Bowie for real? The converted long jumper shocked the world with an amazingly fast win over 200 meters at the Prefontaine Classic, and then backed it up with 100 meter Diamond League wins in Rome and New York. But she's going up against the great Veronica Campbell-Brown, who looked in good form while winning the Jamaican Championships. Another new name to watch here is Trinidad's Michelle-Lee Ahyee.
Late edit: both Bowie and VCB have withdrawn.
Michael Tinsely vs Javier Culson
Men's 400m hurdles, 2:38pm ET
Tinsley and Culson have each won two major meets this year–the Drake Relays and Shanghai Diamond League meet for Tinsley, the Hengelo IWC and New York Diamond League meets for Culson–and split their two meetings. Culson rates as the favorite since he's had the upper hand over the last few weeks. Jehue Gordon and superveteran Felix Sanchez are threats to win as well.
Justin Gatlin vs Tyson Gay
Men's 100 meters, 2:58pm ET
This is the matchup that is getting all the attention and Universal Sports is giving it top billing. But unlike the high jump, there's no chance a world record gets set here and little mystery as to who will win. Gatlin is at the top of his game and Gay is running his first race in over a year. Maybe in a few weeks this becomes a close matchup, but right now it's just a good race to watch.
Eunice Sum vs Yekaterina Poistogova
Women's 800 meters, 3:08pm ET
Eunice Sum is not the fastest runner in this race, at least as determined by 2014 times (her best is 1:59.33), but she's swept all three Diamond League races so far this year and comes in as a solid favorite. Poistogova is the fastest entrant and by a lot (1:58.55) but this is her first international race of the season.
Martinot-Lagard vs Wilson vs Oliver
Men's 110m hurdles, 3:18pm ET
Men's high hurdlers will race anywhere, anytime. Here we'll get a great race between Pascal Martinot-LaGarde, the only double winner on the Diamond League this year, and Ryan Wilson and David Oliver, who were 2nd and 3rd at the USATF Championships (winner Devon Allen is now preparing for college football).
USA 10km Championships
Held in conjunction with the AJC Peachtree Road Race
Friday, Atlanta GA
Race website
Amy Hastings vs Juliet Bottorff
Women's race, 7:30am ET
The men's race at the USA 10k Championships is a good one but the women's is just plain awesome for a midsummer road race. Hastings and Bottorff were third and fourth in the track 10k at last week's USATF Championships and are coming back to race again. Watch out for Rachel Ward, aka "running's Roy Hobbs," who was fifth in that same USATF Championships.
Diamond League Paris
Stade de France, Paris FRA
Meet website
Live on Universal Sports TV on Saturday from 2:00pm to 4:00pm (ET)
Webcasts: WatchAthletics.com, Trackie.ca
Will Claye vs Christian Taylor
Men's triple jump, 12:25pm ET
Claye and Taylor are former teammates at Florida who have gone on to dominate triple jumping at the international level. But for the first time, Claye has the upper hand in their rivalry. Claye has defeated Taylor in each of their last four matchups and set a new PR at the USATF Championships.
Joe Kovacs vs Kurt Roberts
Men's shot put, 12:45pm ET
Last week's USATF Championships might have been the changing of the guard for US shot putting. Old stars Christian Cantwell and Reese Hoffa are beginning to look just that — old — and Kovacs and Roberts came up with big throws to finish first and second. And, of course, when you're the best shot putters in the USA, that pretty much makes you the best in the world.
Michael Tinsley vs Javier Culson
Men's 400m hurdles, 2:03pm ET
Hey, wasn't this matchup listed in the Lausanne section? Yes, it was. These two, along with Felix Sanchez, are doing double duty just two days apart. That's some old-school track action, a throwback to the days when top stars might run an indoor meet on Friday in New York and another on Saturday in Los Angeles. Coming in fresh is Ashton Eaton, the decathlon world record holder who is taking a year away from the 10-eventer and making a real name for himself in this event.
Brittney Reese vs Tianna Bartoletta
Women's long jump, 2:07pm ET
Last week, Bartoletta nearly became the first woman to sweep the 100 and long jump at a US national championships since the nefarious Marion Jones (in 1998). After all, she had five of the six best jumps in the competition. All that matters, however, is the single best jump and Olympic/World/everything champ Reese came away with that. They're the top two on the 2014 world list and could put together another great battle.
Inika McPherson vs Europeans
Women's high jump, 2:10pm ET
McPherson has been competitive on the US level but not the world level, or at least not until now. She won the US indoor titles the last two years and won her first outdoor title last week, beating Worlds silver medalist Brigetta Barrett and American Record holder Chaunte Lowe. What was really eye-opening was the height: 2.00 meters, just one centimeter off the 2014 world lead (and a world record for the greatest differential between height cleared and athlete height — McPherson is just 5-foot-5). Here she'll get a chance to prove it's not one-off success, as she goes up against four other jumpers who have cleared 2.00 or better this year: Mariya Kuchina, Kamila Licwinko, Blanka Vlasic, and Ruth Beitia.
Novlene Williams-Mills vs Sanya Richards-Ross
Women's 400 meters, 2:12pm ET
Williams-Mills has won all of the first three Diamond League races in this event, while 2012 Olympic champion Richard-Ross has been recovering from toe problems that have plagued her for a year. She may be moving back up the ladder after a narrow second-place finish at the USATF Championships, and in the second-fastest time of the year.
Tero Pitkamaki vs Viteslav Vesely
Men's javelin, 2:23pm ET
Just about all of the top javelin throwers are in this field, but two stand out head and shoulders above the rest. Pitkamaki has three major wins in Scandinavia (Lahti, Oslo and Turku) while Vesely has two in other parts of the world (Eugene and Ostrava). Vesely has thrown further but Pitkamaki won their lone head-to-head meeting this year, at the last Diamond League meet in Oslo.
Emma Coburn vs Ethiopians
Women's steeplechase, 2:28pm ET
When the women's steeplechase was added to the international program 10 years ago, it was easy to predict that Africans would come to dominate it like they do the men's race. Right now it's Ethiopians at the top instead of Kenyans. What was not easy to predict was that a Diamond League meet would see an American dominate all of the world's best, but that's what happened in the opener in Doha. Coburn took third in her next outing and then won the USATF Championships in a time and fashion that suggests she's ready to run with world leaders Sofia Assefa and Hiwot Ayalew. We'll see.
Shelly-Ann Fraser-Pryce vs Allyson Felix
Women's 200 meters, 2:42pm ET
Fraser-Pryce got hurt in late May and did not look good for a while, and Felix is coming off a bad hamstring tear at last year's Worlds. Despite that, these two are still the class of the field and have a great rivalry. Tori Bowie and Blessing Okagbare are probably the next best in the field, and both are doubling back from Thursday's 100 in Lausanne.
Caleb Ndiku vs Yenew Alamirew
Men's 5000 meters, 2:50pm ET
Everybody who is anybody this year is in this race, but none have had as good a year as Ndiku and Alamirew. Each have won two major races; the World Indoor and Pre Classic for Ndiku, the Shanghai and Oslo Diamond League meets for Alamirew. They've split their two head-to-head matchups.
Martinot-Lagard vs Wilson vs Oliver
Men's 110m hurdles, 3:15pm ET
This is another hurdle matchup repeated from Thursday in Lausanne. Hurdlers make it easy to love hurdle races. One significant entry in this race only is Jamaican Hansle Parchment, who won a couple of big races early in the season but then came back to the pack.
Hurdlers vs Clarity
Women's 100m hurdles, 3:30pm ET
I said hurdlers make it easy to love hurdle races, and sometimes it's because almost literally anyone can win. The five major races so far this year — the World Indoor Championships, the Drake Relays, the Rome and New York Diamond League Meets, and the USATF Championships –have seen five different winners. Six hundredths of a second separate the top six women on the world list.
So spin the wheel, pull names out of a hat, or take a blind-folded toss at a dart board for these five women: Dawn Harper-Nelson, Queen Harrison, Sally Pearson, Lolo Jones and Kristi Castlin. Whoever wins will earn the title of "world's best hurdler" … for this week, at least.
Aregawi vs Obiri vs Simpson
Women's 1500 meters, 3:40pm ET
Abebe Aregawi had reeled off 16 straight wins at 1500 meters stretching from 2012 until the Prefontaine Classic, when Hellen Obiri beat her. This is the rematch and a chance for Aregawi to get even. Lurking in the background is two-time Worlds medalist Jenny Simpson, who always seems to be second or third behind these two.
European Cup Multis
France vs Russia
Saturday and Sunday
Meet website
The European Cup Combined Events is like the European Team Championships, a national-team event with divisions and annual promotion and relegation. The defending champion here is France, and Russia looks like possibly the team with the best chance of knocking them off. Each nation gets four entries in both the decathlon and heptathlon, and the best three of each are totaled for a team score.
USA Junior Championships
Saturday and Sunday
Hayward Field, Eugene OR
Meet website
Alexa Efraimson vs Elise Cranny
Women's 1500 meters, Sunday, 2:30pm ET
The US Juniors is a meet not typically geared towards spectators — even in Eugene, it's a free show — but this race is definitely one to watch. If you can, that is; no word yet on whether or not this will get the live webcast treatment from USATF.tv. Teen sensation Mary Cain is opting for the 3000 meters instead of the 1500, but these two are the two next best in American high school history.
The best analogy is that Cain is Jim Ryun and Efraimson and Cranny are Marty Liquori and Tim Danielson, but all are running at the same time. Last fall, Efraimson out-kicked Boise State's Emma Bates in a cross country race, one of only two races the NCAA runner-up lost all year. Cranny is just as fast, and both are faster than any collegian save Abbey D'Agostino ran in all of 2014 — and in fact, both would rate in the top dozen US collegians of all time, even though none if them have yet entered college.
Edmonton Track Classic
Saturday and Sunday
Foote Field, Edmonton AB
Meet website
Webcast link
Satan vs Runners
Devil's 5k, 3:30pm ET
This is the second stop on the Canadian National Track League tour, and organizers have been able to bring in most of the top Canadians (Brianne Theisen-Eaton, Derek Drouin, Aaron Brown) with a few foreign stars (Warren Weir, LaShawn Merritt, Justin Gatlin). From a track purist's point of view, the best race will probably be the men's 800, which is headlined by Americans Duane Solomon and Erik Sowinski.
But this meet is not like a NASCAR event, where pure racing is the draw. It's like an ARCO event, where getting fans in the door requires including goofy stuff like figure-eight boat trailer races (yes, this really happened at our local speedway). The EITC is a two-day event, with an all-comers meet on the first day.
And then there's the Devil's Race. It's the classic "devil takes the hindmost" race, where the last person at each lap is eliminated. It's a non-elite race that works well for a wide range of abilities because only the best are going the whole distance. Edmonton sends a guy in a devil suit out onto the track to take out the eliminated runner, "sometimes tackling them, prodding them with his fork or just carrying them off the track to eliminate them from the race." Jon Lovitz himself would be proud of the overacting. Pure entertainment.