No Comments
Five Things We Learned in Lausanne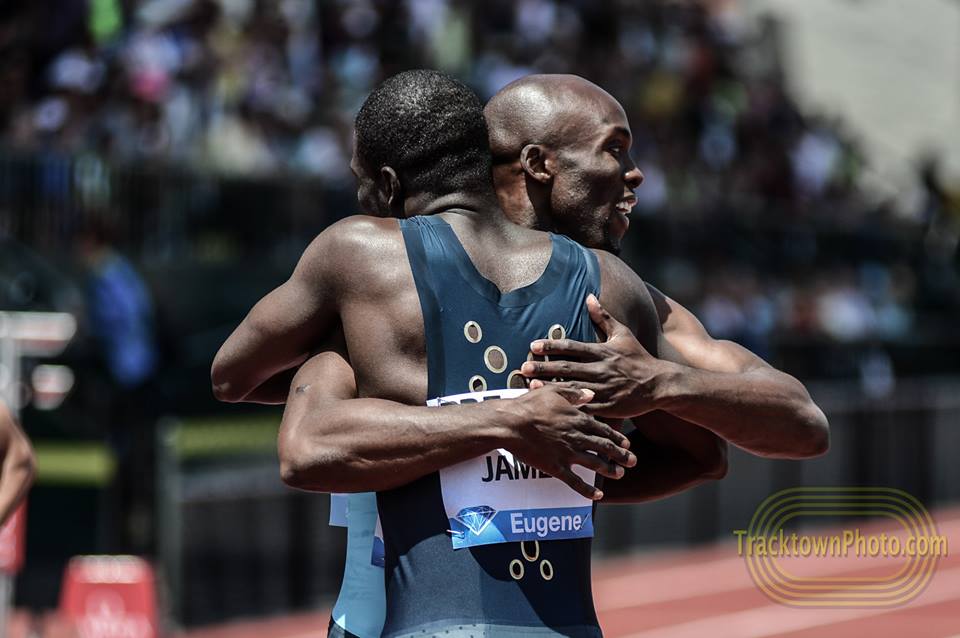 Jesse Squire | On 03, Jul 2014
Five quick reactions to some of today's Diamond League action in Lausanne…
1. Merritt vs James is the best rivalry on the track right now.
LaShawn Merritt and Kirani James are unafraid to race each other and have gone head-to-head three times so far this year, splitting their first two races. Their last one, at the Prefontaine Classic, was a photofinish and James came out ahead by inches while both recorded 43.97 seconds. It was the first non-championship race in history to produce two sub-44.00 second times.
Meet organizers wisely scheduled today's 400 meter race to lead off the TV portion of the meet. James took it out fast and held off a hard-closing Merritt, 43.74 to 43.92. It was a PR and Diamond League record.
2. The deepest event just got deeper.
The men's high jump is just plain ridiculous this year. Coming into the meet, there were five men who had cleared 2.40 meters or better this year, whereas the most in any previous year was three (in 1991). Yet another man cleared that height today, Ukraine's Andriy Protsenko, for six in a year. Mutaz Essa Barshim was just fourth with 2.38 meters, a height that would have won every World Championships from 1995 to 2011.
But the truth is that one man is clearly better than all the others, and that is Bohdan Bondarenko. He's lost just once this year (at the Rome stop on the Diamond League tour, where he was second), which is a continuance of last year's domination (he won five of the seven Diamond League meets and won the World Championships).
I'm not sold that this depth of competition will lead to a world record. If you look back at the record book, nearly all of the records set over the last 40 years or so were basically one-man shows, where the winner was decided very early. Javier Sotomayor, the man who has long held the indoor and outdoor world records, set all of his final three records on either his fifth or sixth jump of the meet. In 2013 and 2014, jumpers are far less likely to pass early because of the depth of talent.
3. If you're going to mug for the camera, you better back it up.
Yohan "The Beast" Blake had clawmarks painted on his cheek and put in fake teeth right before his TV introduction. He's clearly taking a page out of Usain Bolt's book about having fun for the fans. But then he went and ran a stinker of a race and finished sixth, and the whole thing made him look foolish.
The winner was Panama's Alonso Edwards, who ran 19.84 for his first sub-20.00 clocking since 2009. If you're looking for insight on a sleeper in this race, check out fourth place, one Wayde Van Niekerk of South Africa. Who the heck is that? He's a 21-year-old 400 meter specialist who pushed LaShawn Merritt all the way to the line at the adidas Grand Prix and recorded a huge PR. He now sits #4 on the world list, and he's my pick for the next man to break 44.00.
4. Relays are still where it's at.
With the dawn of the @worldrelaysbah, it might be a good idea for all @Diamond_League meets to end with a relay. #foodforthought

— Joe Battaglia (@JoeBattaglia75) July 3, 2014

The meet ended with the "UBS Trophy" women's 4×100 relay. It was an all-Europe affair and few if any of the teams would be Olympic medal contenders, but it was still a blast. The Netherlands beat back teams like Germany, France and Great Britain while breaking their national record. Switzerland also broke their national record, to the delight of the crowd.
5. One slip of the tongue…
Steve Cram and Stuart Storey, the English-language announcers on the world feed that Universal Sports picks up, are a great pair of analysts but even they goof up a little bit here and there. During the women's 3000 one or the other consistently mispronounced Irene Jelagat's name as "Jegelat". And that's just one vowel away from being pronounced as "juggalette", which is just about the last thing you'd expect to see at a European track meet sponsored by a Swiss bank. FYI: don't Google "juggalette" if you're at work, unless you just really don't like your job.