No Comments
Monday Morning Run: The storm before the other storm + leftover NYC Marathon thoughts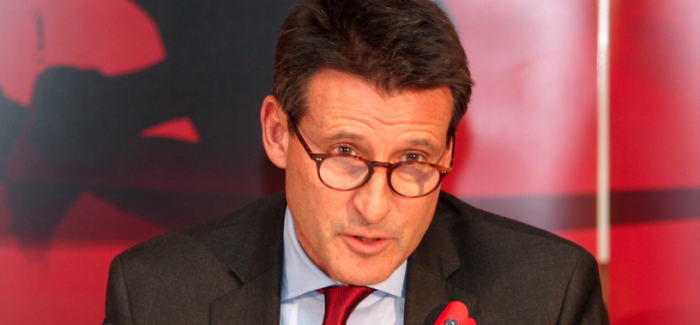 Kevin Sully | On 09, Nov 2015
Photo: Wikimedia Commons
Depending on when you read this, track and field is somewhere between in shambles and a sinking ship. Or maybe a sinking ship in shambles. WADA on Monday will give an independent report on the cover-up of doping violations within the spot. As of this writing, I'm unsure if it is revealing new information, or just confirming previously reported items. The allegations, the extortion of Lilya Shobukhova by high ranking officials in the IAAF and Russia being the most prominent, are commonly accepted as fact. The position of track and field now is that any scandal, regardless of how preposterous it may seem on it's surface, is immediately believed to be true, and for good reason.
So last year when L'Equipe ran a story that claimed Shobukhova had to pay a couple thousand bucks or her positive test would be revealed it was assumed to be true. No further follow up was necessary for track fans. And when ARD television showed systemic doping fraud in Russia there wasn't much though that there was another side to the story. Same with last week's news that French authorities were targeting former IAAF president Lamine Diack's for allegedly taking cash to cover up doping violations. It didn't need official confirmation because track and field news is has devolved to the point where there is no option but to think otherwise. If news broke that Diack spiked Ben Johnson's drink in Seoul, and was doing so at the behest of Ronald Reagan, we wouldn't need to wait for an independent inquiry to deem it to be true.
This is where my thinking is  before the latest, waiting for the other shoe to drop/brace yourself for sudden impact, moment. There could be new information on Monday that truly is a "game changer," but if it only goes so far as to say Diack and Co. are corrupt and the Russians are dirty, then there aren't going to be too many involved in track and field who are going to be shocked. That doesn't mean that it will be any less damaging to the sport, or that there won't be some revelation that takes the dysfunction and corruption to a whole new level of incomprehension. It's just going to take something monumental to make anyone become more cynical that they already are with operations of professional track and field.
Regardless of what happens on Monday with the WADA report, there is already enough for new IAAF president Seb Coe to deal with. He was vice president since 2007 so he doesn't quite have the distance from the previous regime that fully allows for him to play house cleaner. But he's tried to get ahead of the bad news. He canceled the IAAF Gala–the yearly ceremony where everyone wears tuxedos and evening dresses and they hand out the Athlete of the Year award. That seems a bit like calling off the senior prom because a bunch of teachers were caught cheating on the standardized test, but understandable considering that pomp and circumstance isn't exactly the face you want to show to the public when the credibility of your organization is under siege.
The latest news involving Diack, hasn't provided much cover. Instead, he has become less defiant than he was earlier in the summer, while still clinging to context.
Coe said the IAAF had tested more than 5,000 athletes since 2009, proof the organisation was serious about making the sport clean.
"The best way to cover up an anti-doping case is NOT to test athletes at all," he explained. "We will continue to lead the fight against drugs in sport on behalf of all clean athletes.
True, but for that to hold true those tests have to be actually valid. It's not enough to say, yes we test, when the people charged with enforcing the positives are horribly corrupt. In fact, it's probably worse than not testing—because without any tests there wouldn't be any illusions that they are trying to catch the cheats. Cash for covering up tests exacerbates the unlevel playing field and carries on the farce that there is a robust, comprehensive testing system in place.
There have been the comparisons to FIFA and Sepp Blatter, though some have correctly pointed out that at least Blatter's corruption didn't change the outcomes of any matches. Yes, it has reached that level that track has surpassed FIFA. Though, to defend track for a moment, the only reason FIFA hasn't taken money to cover up doping tests is because that would imply that FIFA actually cared about doping in soccer. They've proven adept at finding any and all possibly revenue streams so I'm sure if taking money to look the other way on positive tests were available, they'd jump at the chance.
Back to Coe, he also has begun to share the IAAF's response to the media with the public.
On Saturday, two of the five responses were "we have no knowledge of the this," which might be true but the lack of elaboration doesn't really scream transparency. Coe has pledged create an "independent integrity unit" next month to "hear all integrity-related violations committed by international-level athletes and their support personnel." And once the integrity unit becomes corrupt we know we will know we are in the middle of some dystopian trap.
New York City Marathon Leftovers
Not so subtle subject change! Wasn't the New York City Marathon great last weekend? We had a great recap story on the site about Stanley Biwott's victory. I wanted to add a few stray thoughts here on the race.
-The conditions were good on Sunday. There was no reason for the men to run as slowly in the beginning as they did other than they wanted to. The modest pace meant that it was a "run a few miles with an elite day" out on the course. There were several men with numbers on their bibs instead of names and they hung around longer than normal. Broadcaster Tim Hutchings referred to them collectively as "club runners," but I think we need a better name for them. "Club runner" doesn't quite encompass the wonder that is a runner with a 2:33 personal best going out at 2:15 pace just so they can hang with Wilson Kipsang for a little bit. So for now, we name these runners in honor of the aforementioned 2:33 man, who was wearing bib number 279 last Sunday.
@HouseofRun #279, while he hasn't done anything nutty has hung on so long. For me from here on out, they are all #279ers #TCSNYCMarathon

— ju@#$! freeze,QC™ (@jufreeze) November 1, 2015
-Split of the day goes to Stanley Biwott's 28:35 final 10K of the race. The slow start no doubt assisted with his ability to finish that quickly, but considering the hills in Central Park it is an incredible close. Honorable mention goes to Biwott's 35-40K split, which he ran in 14:19.
-A cautious pace in men's race, and even pacing in the women's race means not many nominees for most painful split of the day. Instead, I'll go in a slightly different direction and give the distinction to the entire men's lead pack for their effort in mile 20. They ran 5:14, not their slowest split in the race, but just eight seconds slower than the first four women ran for that same mile. That mile split did prove to be the last straw for Geoffrey Kamworor and company, who then ran 4:24 for mile 21–towing along Desisa and Biwott and dropping Kipsang.
-Is Geoffrey Kamworor confined to this fate of almost winning big races and if so, is there such a thing as free will?
– Mare Dibaba was named AIMS female marathoner of the year last week. She had a great season, with wins at the World Championships and Xiamen, but Mary Keitany's victory in New York gives her the best 2015 in my opinion. She ground down a deep and accomplished field in New York City and ended up winning by a large margin. Keitany was in such control this year, with never a panicked move or a rash decision throughout the entire race. She avenged her only loss of the year, to Tigist Tufa in London, and set herself up as the favorite for whichever fall marathon she runs.
-Meb Keflezighi was the first American man, finishing seventh in 2:13:32. He was part of the large pack that ran together most of the race before falling behind the leaders in the last six miles. Seventh is still a solid finish considering the firepower up front–the only runner that he "should" have beaten that he didn't was Yuki Kawauchi, who got him by three seconds. This was not the ideal race for Meb. His style is more suited to a solid pace-one that whittles down the list of contenders throughout the race. He's experienced enough to deal with a massive surge like the one on Sunday and not let it ruin his race, but it doesn't really allow for maximum Mebness where he inexplicable beats people he shouldn't. Interesting question after the race:
Meb's chances to make the Olympic team — better, worse or about the same as four hours ago? — Nick Zaccardi (@nzaccardi) November 1, 2015
I'd say better.He doesn't look any different than he has in the past several years and I couldn't imagine two or even three Americans finishing ahead of him on Sunday.
-The top non-Kenyan/Ethiopian in either race was Sara Moreira, who was fifth in women's race in 2:25:53. She led for a good portion of the race and only lost contact when Keitany and Tufa began to push the pace at mile 20. Moreira fell back, but rallied in the final miles and only finished 21 seconds out of second place. This run, and her third place finish last year, put her not just in the fastest non-East African status but a real contender to win a major marathon.
-I'm still in the mode of "any television coverage is preferable to a watching a race on your computer," so I'm tolerant when it comes to live broadcast snafus. But there were two instances on Sunday where it looked like ESPN was conspiring to drive away running fans from their television. Once, when both races were at a key moment, they dropped in a Sports Science segment explaining the differences between male and female runners. There was no reason why they needed to chose that particular moment to go away from the race coverage. The first half of the men's race had virtually no movement–that would have been the preferable time to learn about glycogen and stride rate.
The second instance was just your garden variety commercial break when the men had under two miles to run. It was down to Kamworor and Biwott at that point, with both men looking like had an equal shot at the win. In other words, this was the exact moment that people who tuned into the race wanted to see. If ESPN is treating the race like the sporting event that it is, this is when the coverage needs to not budge. This was the bottom on the 9th inning in baseball, extra time in soccer, the final two minutes of an NFL game and we were forced to take a breather and wonder what the race would look like when it came back.
-Kenyan Olympic team selection…….not an easy decision to make. Athletics Kenya will probably send Keitany and Florence Kiplagat to Rio, with the third spot open depending on what happens in the spring. The men's field became more convoluted after New York and will also need to be sorted out in the spring. Eliud Kipchoge is certainly a front runner for a spot, which leaves Wilson Kipsang, Dennis Kimetto, Stanley Biwott, Dickson Chumba among the leading candidates for the other remaining slots on the team. If a Kenyan other than those five wins in London, then it will get even more complicated and Athletics Kenya will probably panic and just throw Geoffrey Mutai on the team to make up for last time.