2 Comments
The Weekend's Best Matchups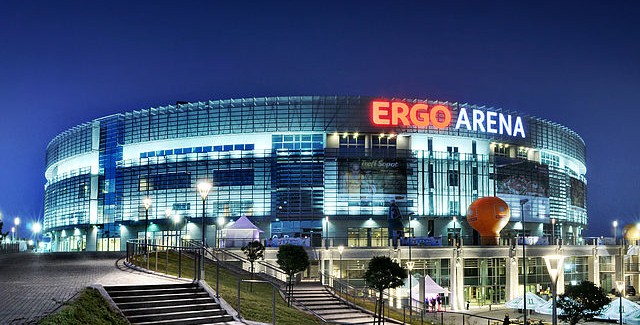 This weekend is the IAAF World Indoor Championships, to be held in the Ergo Arena in Sopot, Poland. Of course all the weekend's best matchups come from this meet.
The IAAF's meet website has schedules, start lists, live results, and everything else you could need.
Universal Sports will have live webstreams for the entire meet plus daily TV highlight packages. If you don't get Universal Sports, go to WatchAthletics.com for links to international feeds.
Keep reading after the top ten matchups–I've got an event-by-event quickie question time preview which I'll update prior to each of the meet's five sessions.
Ryan Whiting vs David Storl
This is one of the few events in the meet that line up the world's #1 and #2 athletes in their event to go head-to-head, and of those rivalries this is the most intense. Whiting barely lost at all last year but one of his losses was to Storl at the World Championships. Whiting is the defending champion and his winning toss at the USATF Championships is nearly half a meter further than Storl has ever thrown, but the German has a way of coming up big when it counts the most. The four longest throws of his career have been at major championships (Olympics, World Championships, and World Indoors).
Brianne Theisen-Eaton vs Hanna Melnychenko
Melnychenko won World heptathlon gold last summer to Theisen-Eaton's silver by just 56 points and looks ready to win again. The Ukranian has competed lightly this winter but set PRs in the shot put and 60 hurdles. Theisen-Eaton has also set two PRs this winter and in the same events. A threat to beat both and win gold is the USA's Sharon Day-Monroe, who underperformed at last summer's World Championships but broke the pentathlon American Record two weeks ago.
Anna Rogowska vs pressure
Few athletes get to compete at World Championship meets in their own nations and even fewer get to do it in their hometowns. Anna Rogowska, a Pole and a pole vaulter, will have this chance and rates as the gold medal favorite. She says she's facing some pressure but told the IAAF's Jon Mulkeen "I've been given an opportunity this weekend to win a gold medal in front of Polish spectators, so I hope to make the most of it because I might not get that same chance for a long time".
Yelena Isinbayeva, the outdoor world record holder and last summer's Worlds gold medalist, is pregnant and not competing. Jenn Suhr, the USA's indoor world record holder and Worlds silver medalist, hasn't quite put everything together. Worlds bronze medalist Silke Spiegelburg (Germany) is competing, as are the 4th, 5th and 6th-place finishers at last summer's Worlds, making this the deepest event in the meet.
Eaton and Ukhov vs record books
Ivan Ukhov has put together the best streak of high jumping in history over the last month but hasn't been able to break the indoor world record, set at these World Championships in 1989 by Cuba's Javier Sotomayor. Ashton Eaton says he's not specifically targeting his own heptathlon world record but he's so darned good that he could still break it.
USA vs Russia
Current events suggest the Cold War is not completely dead and a new US-Russia rivalry might be at hand. The two nations will fight for supremacy on the medal table, and might duke it out for gold in as many as four events: men's high jump (Kynard vs Ukhov), women's 400 meters (McCorory and Atkins vs Ryzhova), women's long jump (Polk and Bowie vs Klishina and Biryukova), and women's 4×400 relay.
Marvin Bracy vs the world
The USA sorely needs a new sprint star. Is 20-year-old Bracy the one we've been waiting for? How he responds to the challenge of his first World Championships will tell us a lot. He's made major and continual improvement over the indoor season and now rates as the favorite. Considering that the field includes Nesta Carter, the 100 meter bronze medalist at last summer's Worlds, a win here would be a huge accomplishment.
Ajee Wilson vs Jenna Westaway
If you're plugged into the pro track and field scene, you probably know who Ajee Wilson is. She's the best young half-miler in the world and finished sixth at last year's World Championships at the age of 19. Runner's World rates her as the favorite to win gold here and I agree. If she pulls it off, she'll the USA's first Olympic or Worlds gold medalist in this event since Madeline Manning in 1968.
You don't have to be plugged in at all to have heard of the other top American teenage half-miler, Mary Cain, who was entered in the 1500 but withdrew due to injury. But if you can identify the third North American teenage half-miler, one who could come away from this meet with a medal, you have to really be paying attention. It's Canada's Jenna Westaway. Who?
Nineteen-year-old Westaway is a "second-year" (sophomore) at the University of Calgary and was named last year's CIS' women's track athlete of the year. She's skipping this weekend's CIS Championships in favor of the Worlds. She's taken her 800 meter PR down from 2:10.48 last indoor season to 2:04.95 last summer and to 2:01.89 this indoor season. She set that PR while finishing second at the Millrose Games–just 0.08 behind Wilson. And if Westaway were to get on the podium here, it would be Canada's first Olympic or Worlds medalist in this event since…well, ever.
Distance runners vs qualifying rounds
Everything about indoor track and field is outdoor track in miniature. The venues are smaller and tighter. The season is shorter, as are many of the races. And opportunities to qualify in championship meet are shorter as well.
Qualifying here is brutal. In the 1500 meters, only the top two in each of three heats will automatically go on to the final, and just three more qualify by time. The 800 is even crazier–one qualifier from each heat plus three by time.
Athletes are fond of saying that they just want to get to the final and after that anything can happen, but here it's more than a cliche. Only 33% of the 800 meter runners will get to the final but 50% of the finalists will medal. Let's Run's distance previews gives every US distance runner at least a long shot at a medal, but it's also true that every single one of them is at risk of not making it to the final.
Bernard Lagat vs Father Time
Lagat has won the 3000 meters at the World Indoors three times, including the last two in a row, and appears poised to do it again. He won the US title against formidable opponents with a big kick off a fast pace. He is probably the favorite to win here, or at least co-favorite with Hagos Gebrhiwet. And he's the oldest athlete in the entire meet, even older than hurdler Terrence Trammell (who won his first major pro meet sixteen years ago).
Sally Pearson vs the Americans
In 2011 and 2012, Sally Pearson was all but unbeatable in the 100 hurdles and looked like the woman who might challenge the long-standing world record. Then in 2013 Pearson had a few injuries, and Brianna Rollins came along and really was unbeatable.
Pearson has run just three hurdle races this year but has sharpened up so quickly that she's a strong favorite for gold. Nothing in guaranteed in the hurdles, though, and she faces top competition from Americans Nia Ali and Janay Deloach-Soukup. Both set PRs in Albuquerque's thin air at the USAF Championships two weeks ago.
Come back for new questions before each of the meet's five sessions.
Friday afternoon's events begin at noon ET.
Schedule and start lists
IAAF live blog
IAAF radio coverage
Webcast link
12:00pm: Pentathlon long jump — Current projections show an extremely close battle between Theisen-Eaton, Melnchenko, and the Netherlands' surprising Nadine Broerson. Will any of the three take command here?
12:30pm: Heptathlon shot put — Eaton is slightly behind his world record pace after two events. Can he catch up here?
1:20pm: Men's long jump qualifying — Can the USA get a finalist? Two finalists? Is Florida State alum Ngoni Makusha regaining the dominant form he had in college?
1:35pm: Women's 1500 meter heats — It's tough to qualify, just two from each heat plus three time qualifiers. Can Treniere Moser and/or Heather Kampf get through?
1:55pm: Heptathlon high jump — Can Ashton Eaton get over 2.00 meters and keep on record pace?
2:05pm: Men's shot put final — The first medals of the meet will be awarded and it looks like a Moscow World Championships rematch between Ryan Whiting and David Storl. Can Whiting match what he did at the US Championships? Will Storl have another brilliant championship meet?
1:35pm: Pentathlon 800 meters — The second set of medals are on the line. Will Canada or the USA come away with any, and who will win?
2:55pm: Women's 400 meter semis — How many Americans will get through to the final?
3:15pm: Men's 400 meter semis — Again, how many Americans will get through to the final?
Friday morning's event begin at 4:00 ET
Schedule and start lists
Webcast link
4:00am: Women's High Jump qualifying — Can the USA's Inika McPherson make it to the final? It would probably take a PR.
4:15am: Men's shot put qualifying — Is Storl exhibiting the form to challenge Whiting? Is Whiting still throwing like he did at the USA Championships? Will Poland's Tomas Majewski give the home crowd a thrill?
5:25am: Women's 3000 meter heats — Can Gabe Grunewald and Shannon Rowbury get through to the final?
6:00am: Pentathlon 60 hurdles — Who will take the early lead, Theisen-Eaton or Melnychenko? Will Day-Monroe run well enough to stay in contention?
6:10am: Heptathlon 60 meters — Is Ashton Eaton in world record form? Is Canada's Damian Warner ready to win another Worlds medal?
6:25am: Men's 1500 meter heats — Just nine of the 23 entrants will make it through to the final. Will the USA's Lopez Lomong and Will Leer be among them? What about Canada's Nathan Brannen, or his former Michigan teammate, Kiwi Nick Willis? What about Britain's former US collegians, Lee Emanuel and Chris O'Hare?
6:35am: Pentathlon high jump — Can high jump specialist Day-Monroe make up big points? Will either Melnychenko or Theisen-Eaton leave an opening for the other?
7:00am: Women's 800 meter heats — Who will survive the brutal qualifying? Will Americans Wilson and Price make it? Which medal favorite won't?
7:05am: Heptathlon long jump — Will Eaton approach or exceed 8.00 meters?
7:30am: Men's 800 meter heats — Will Nick Symmond and Erik Sowinski qualify to the finals? Will any US distance running fans suffer fatal heart attacks due to the stress?
8:15am: Pentathlon shot put — Will strong shot putter Day-Monroe pile up huge points? Will weak shot putter Theisen-Eaton stay in contention?