One Comment
What We Learned at the USA Indoor Championships (day 2)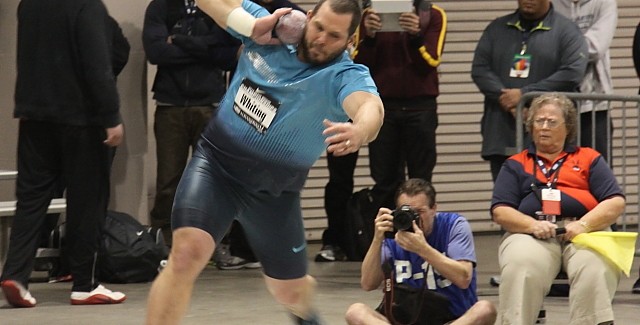 Ryan Whiting has become a beast of historic proportions. (Photo by Dane Schubert.)
What did we learn on the second and final day of the USA Indoor Championships?
USATF is its own worst enemy.
The height of comedy to me and my friends when I was ten years old was the joke, "How did Dolly Parton get two black eyes? She went jogging." USATF merely needs to put on a meet. The organization dealt itself two black eyes via a pair of controversial decisions that were not just poorly explained but basically not explained at all. The decisions were unpopular, but the biggest problem of all was the lack of transparency.
If you haven't heard what happened in Saturday night's women's 3000 meter race, click here to get the facts. A few days earlier another furor erupted when the seeding for the two-heat final of the men's 1500 meters left Riley Masters, one of only ten entrants to meet the World Indoor Championships qualifying mark, in the slow heat.
That problem with the 1500 was addressed within a few days and Masters was placed into the fast heat. (The problem was further addressed when scratches reduced the field to 15 entrants and the two heats were combined into a single final.) But the real problem was that the method of seeding wasn't made public, leaving us to wonder if there was any method at all. (When I asked a source with some knowledge of the situation whether oversight of Masters was through incompetence or bias, he said "51% of one and 49% of the other").
USATF isn't the only organization getting chastised–the NCAA always gets at least its share. USATF pentathlon runner-up Sammi Spenner is one of the best multi-eventers in collegiate history but won't get to compete at the NCAA Championships, because her Nebraska-Omaha team is in a mandated four-year postseason ineligibility period while transitioning from Division II to Division I. I guess this means we have one organization screwing athlete because it doesn't have enough rules and another because it has too many.
Youth dominates the 800 meters
The two men's half-milers and one of the two women's who made the US team for the World Indoor Championships have something in common: they're relatively young. This is good news in the long term for US middle-distance running.
Men's winner Erik Sowinski, who has been the best US half-miler throughout the 2014 indoor season and proved it with a strong win today, is barely 24 years old. In his second year out of Iowa and basically unknown until last year's Millrose Games, he has a reasonable chance at making the final at the World Indoor, and if you get into the final then anything can happen in the 800.
Runner-up Robby Andrews is younger still, a little over a month shy of his 23rd birthday. Andrews was once supposed to be the future of US half-miling but fell on a couple of rough years, so his run was especially encouraging. He used his trademark burst over the closing straightaway to go from last to second in the space of just over 50 meters. The guy has icewater in his veins and despite being in the back he stuck to his plan: don't run wide on the turns, because you'll lose as much as you gain. It helps to have the confidence that you can turn it on when you need it.
The women's winner, Ajee Wilson, is even younger yet. She'll turn 20 in May and her time of 2:00.43 is the second-best ever run indoors by a teenager (behind Ethiopia's Fantu Magiso).
Women's runner-up Chanelle Price knows what it's like to be a teen phenom and find it difficult to live up to high expecations. When she was a high school senior back in 2008, she ran what was then the second-fastest ever by a high schooler (2:01.61) at the Prefontaine Classic, a year after she won bronze at the World Junior Championship. Today's time of 2:00.48 was the second-fastest of her career, and this is the first national team she's made a national team for a senior championship event.
Ryan Whiting is a beast.
Maybe we already knew that, but today he showed us that his beastliness lies on another plane. He dominated the shot put last year but came up short at the World Championships, and I called him the best athlete of 2013 (regardless of event) who didn't win gold at the Worlds. If he can reproduce today's throw at any championship, he'll doubtlessly win.
He won today's shot put with 22.23 meters (72′ 11¾"). How far is that? Adam Nelson threw further indoors once in 2008. Other than that, no one else has gone that far indoors since the Berlin Wall fell. Outdoors, Nelson went further once and Christian Cantwell did six times, and other than that it's only been bettered by Cold War-era throwers or guys who served major doping bans (Randy Barnes and Kevin Toth).
Jenn Suhr is beatable.
Suhr won Olympic pole vault gold two years ago, broke the world indoor record at this meet last year, and followed it up with a Worlds silver last August. Yet she was beaten today by Mary Saxer, who won her first national title and made her second national team (she competed at the '12 World Indoors) and broke her PR with 4.71 meters (15′ 5½"). If Saxer can reproduce this at the World Indoors in two weeks then it will make her a legitimate contender for the win; she's tied for sixth on the world list and no one has beaten it by more than 5cm (2 inches).
Suhr had to go to the countback to beat Kylie Hutson, both clearing 4.66 meters (15′ 3½"), and wouldn't have made the team for the Worlds if Hutson had been able to clear the bar at Saxer's winning height. Suhr is confident and fit but struggling to put it all together; her best result of 2014 would have been good enough to tie Saxer but no more.
Will Leer is Samson.
Will Leer changed course last year and moved to Southern California. He made sure he fit into the Venice Beach lifestyle and grew his mustache into a "fu manchu" and let his hair get long and inspired a Southern Comfort advertising campaign. It paid off, either the move or the 'stache. He ran PRs at 1500, 3000 and 5000 meters and won a national indoor double (mile and 3000), albeit against a fields of lesser quality.
This year he went one better and now sports a massive beard and hair so long he has to tie it up for races. He hit a major win in the Millrose Games' Wanamaker Mile and with a mile PR (indoors or out) and today he took second, coming up just short of winner Lopez Lomong, arguably his best performance ever at a national meet given the deep field he ran against. It's his second national team (he ran the 1500 at the '10 World Indoors) and he looks ready to compete with the best.
So if a woman named Delilah tries to convince Leer to become less hairy, he needs to run away. Fast. And he can do that very well.