8 Comments
Just The Facts, Ma'am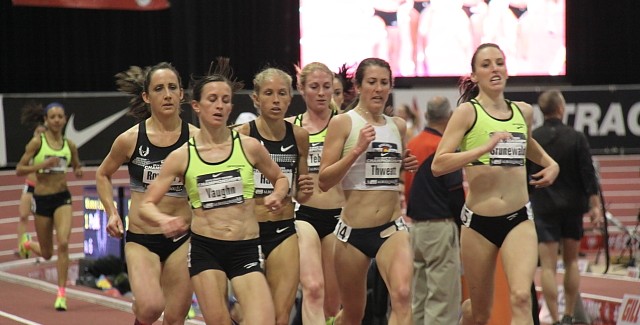 On Saturday night at the USATF Indoor Championships in Albuquerque, Gabe Grunewald won her first national title in the 3000 meters. Later that night, she was disqualified for "for clipping and impeding the stride of Jordan Hasay" on the final lap of the race. How that disqualification came to be is quite controversial, to say the least.
Here is what we know, or at least think we know.
At the beginning of the last lap of Saturday's race, physical contact occurred between Grunewald and Hasay. You can view the incident on the official race video at approximately the 10:09 mark. The official on the track raised a yellow flag, indicating a possible infraction. However, he ruled that no interference had occurred.
A protest was lodged on Hasay's behalf by her support staff, which was denied. An appeal was made to the jury of appeals (chaired by Sue Humphries and including Anne Timmons and Kim Dismuke) which was also denied. None of the above facts are in dispute, and according to USATF rule 119-4(c), "[t]here shall be no further right to appeal" but the jury "may…reconsider decisions if new conclusive evidence is presented" (emphasis added).
Another appeal was made, though, and this time is was successful. Grunewald was disqualified and lost her spot on the US team to the World Championships. That spot went to Hasay, who finished fourth and moved up to third but was the second finisher who has achieved the requisite qualifying mark.
The full statement from USATF:
During the women's 3,000-meter final contested Saturday evening, a meet official raised a yellow flag, indicating a possible field-of-play infraction by a runner. A review of the official's report by the Women's Running Head Referee and subsequently by the Jury of Appeal led to a ruling of no infraction. The Jury of Appeal then reviewed additional video evidence and reversed their initial ruling, disqualifying Gabriele Grunewald for a field-of-play infraction impeding Jordan Hasay. Protests and appeals were filed by representatives of athletes during the process. In accordance with USATF Competition Rules 111 and 119, the Jury of Appeal is a three-person panel appointed by the USATF Games Committee. Protests and appeals are governed by USATF Competition Rule 146. The decisions of the Jury of Appeal are final.
Note the statement: "The Jury of Appeal then reviewed additional video evidence". From where did that additional evidence come? What was it?
Paul Doyle, Grunewald's agent, says he contacted the meet's video production company, Eagle Eye, and was told that no new video had been submitted. The same video was simply resubmitted. This directly contradicts the USATF statement and somebody is misrepresenting the truth–USATF, Doyle, or Eagle Eye. And note that USATF's rules require new conclusive evidence. If no new evidence is submitted, then the Jury of Appeals' decision cannot be revisited, period.
Many athletes and fans took to various internet forms of communication and suggested that the real reason for the eventual DQ was undue pressure from Nike, USATF's main corporate sponsor. Hasay is sponsored by Nike and Grunewald is sponsored by Brooks. (If it's true that Nike would go to these lengths to get one of their athletes on the US team for a championship that, in the big picture, isn't all that important, then think about the pressure Nike-sponsored athletes are under and how difficult it must be.)
Where do we go from here? Doyle says that if Grunewald is not reinstated by Monday, then the lawyers get involved. He will file a "section nine arbitration petition", and if you're wondering what that is then you can start reading at Cornell's law website. Since all this took place in Albuquerque, maybe we better call Saul.