No Comments
Five Things We Learned at the USA Indoor Championships (day 1)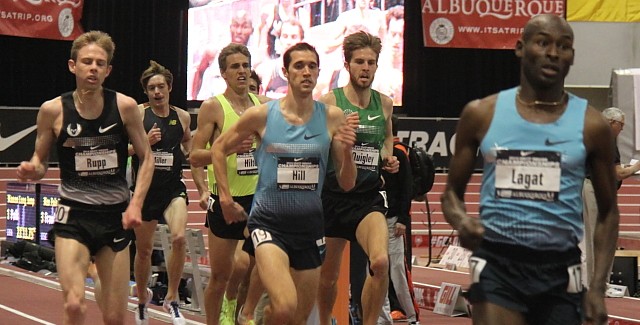 The USA Indoor Championships kicked off today in Albuquerque, New Mexico. What did we learn?
They've still got it.
The highlight races of the evening were the men's and women's 3000 meters. One was a clash of the titans, Bernard Lagat versus Galen Rupp with a deep supporting cast of most of the fastest indoor runners in US history. The other was missing half a dozen or so of the nation's top distance runners, which made it interesting in its own right because it was so wide-open.
The men's race played out much like it did here in Albuquerque in 2011 and 2012: the field was eventually winnowed down to Lagat and Rupp and one or two others, then Lagat struck with superior speed to pull away for a convincing win. This year's third wheel was Ryan Hill, who put up a tremendous fight and was ahead of Rupp going into the final turn but eventually succumbed and finished third. Lapped runners clogged the track on that last lap which played to the strengths of Lagat, the ace miler accustomed to weaving through traffic at a full sprint, but the result would have been the same anyway. "Kip" turns forty in December and seems to defy aging.
The women's race included one former USATF 3000 meter champion, Shannon Rowbury, but the physio tape on her hip and her unimpressive 2014 season made it appear that she'd just be along for the ride. The highlight of her career, a Worlds bronze, came five years ago and she hasn't set a PR in four years. While her 2013 season was still a good one, things can go south in a hurry in this sport.
A ridiculously slow early pace eliminated no one but it picked up in the middle of the race and got faster and faster as the laps ticked off. At the bell it there were three: new pro Jordan Hasay, miler Gabe (Anderson) Grunewald, and Rowbury. Hasay lost a fight for space with Grunewald around the penultimate turn and it looked for a moment that Rowbury might pull off the win. Grunewald, previously known mostly for a 4:01 1500 time and twice beating cancer, pulled away on the homestretch for her first national title. Rowbury held on for second and will be going to the World Indoor Championships, possibly the biggest surprise of the women's team.
Erik Kynard is a real pro
Kynard has been 23 years old for less than a month and struggled in today's high jump. He was getting plenty of height but the peak of it wasn't directly over the bar, his shoulder coming around too much and throwing off timing. Still, he won his first indoor national title and while at less than his best. He got the crowd into the event with the usual rhythmic clapping, then answered questions, signed autographs, and posed with youngsters for pictures.
He has bigger fish to fry; he wants to win his first Worlds medal in Poland in two weeks and needs every bit of time he's going to spend with coach Cliff Rovelto back in Kansas. His technique is off after traveling through Europe for most of the winter while Rovelto was still in Manhattan coaching the KSU Wildcats. But Kynard knows how to be a professional in track and field: be somebody that people want to watch and cheer for.
One strategy is going to fail for someone
The men's and women's 800 meter semifinals were brutal. Only heat winners automatically advanced to tomorrow's final and just three women and two men advanced by time. Three of four men's semifinals saw the qualifiers use the hang-back-early-then-finish-hard strategy, nearly all running from second or third and coming up strong at the end. It got Robby Andrews, Mark Wieczorek, Tyler Mulder, Michael Rutt, and Nick Symmonds to the finals (Symmonds is ill with a cold and just trying to get onto the Worlds team). The problem with this strategy is that while it works great when one person uses it, it's just not possible for five finalists to all simultaneously run the first two laps in third place.
The fourth heat saw defending champ Erik Sowinski go a different route: he went to the front and absolutely thrashed the competition. Maybe he made a weak heat look bad, but he really did look the best of all the qualifiers. If he goes to the front from the gun in tomorrow's final, maybe it will work and maybe it won't, but at least he won't try to do the same thing everyone else is doing.
The USA has another decathlete
Ashton Eaton is the undisputed world heavyweight champion of multi-events–decathlon, heptathlon, anythingthlon. But after that it gets a bit thin. 2011 world champion Trey Hardee has finished one heptathlon and zero decathlons since that 2011 gold, and 2008 Olympic champ Bryan Clay has moved into announcing. Two young decathletes filled out the US squad for last year's Worlds, Gunnar Nixon and Jeremy Taiwo, but nobody else was even close to the 'A' standard of 8200 points.
Over Friday and Saturday, a new multi-athlete emerged as a contender for international teams: Gray Horn. The man who was fourth at last year's national championships set four new PRs while winning the heptathlon (60, 60 hurdles, high jump, and long jump). He's still a bit weak in the throws, but those are the ones that can improve with age. Horn's college career at Florida ended in an ugly way, but he appears to have turned things around.
Team USA will get 400 meter medals
All season I've been saying that Natasha Hastings and Francena McCorory are possibly the two best quarter-milers of the indoor season. Russia's Ksenia Ryzhova has inserted herself into that picture with a couple of world-leading times, but then again Russians have recently gotten into a pattern of producing at home and failing on the road. In any case, Hastings and McCorory confirmed their status by running smooth semifinals today are ready to fight for the win tomorrow. Team USA's best-ever performance at the World Indoors was in 2012, where they won ten gold and eighteen total medals. If this year's team is to come close to that total, these two will probably play a big part.