One Comment
The Weekend's Best Matchups -- April 26-28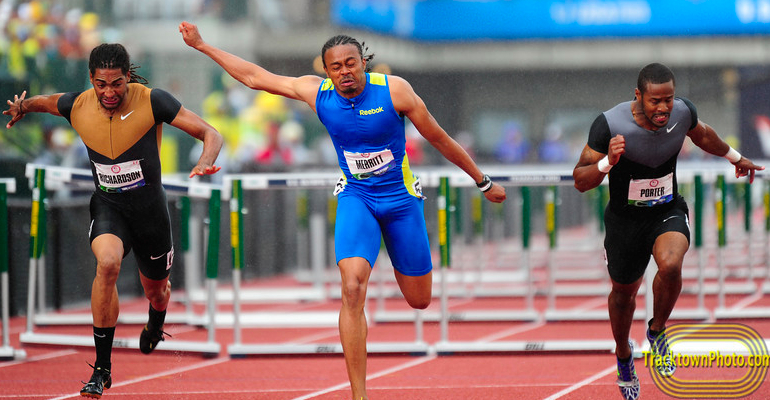 Jesse Squire | On 26, Apr 2013
Photo courtesy of TracktownPhoto.com
There is so much going on for track fans to love this weekend, and so many ways to follow and watch the action. There is even (gasp) a glut of TV coverage, never mind the possibility of seeing four or five webstreams at once. I want to lock myself in my basement bar for three days and do nothing but watch track and live off beer and beef jerky.
If you're looking for a way to better manage your time than that, this page is the key.
To get it down to a top ten, I had to cheat and combine some races and competitions into single items. Here we go!
1. USA vs Jamaica
Penn Relays
Franklin Field, Philadelphia PA
1:05pm-3:00pm ET
TV coverage live on NBC, 1:00pm-3:00pm ET
This is the 14th year of the "USA vs The World" competition at the Penn Relays. In the sprint relays, the main competition from "the world" is Jamaica, and the rivalry extends much further than just the pros. Jamaican colleges are making a bigger impact at Penn in recent years, and UTech won a Championship of America last year in the 4×200. The USA-Jamaica rivalry is most intense in the high school races, where the Jamaicans always bring their A-game and the noise can get as loud as at any NFL playoff game.
The Jamaican men are not bringing their A-game in the men's 4×100 (1:30pm); of their Olympic relay members from last year, only Nesta Carter is running. The Americans have basically all the top sprinters available save Tyson Gay. In the women's 4×100 (1:40pm) the Jamaicans pose a greater threat, with three-fourths of their Olympians present, but the US team is a lot tougher on the women's side too. The American women put on a stunning display at the Olympics, breaking an unbreakable world record, and the complete quartet was slated to run until Carmelita Jeter came up hurt.
The Bahamians bring their complete Olympic gold-medal winning team in the men's 4×400 (2:52pm), while the USA will include LaShawn Merritt and Manteo Mitchell, both of whom were injured and unavailable for the Olympic final. In the women's 4×400 (2:35pm), the USA women have enough depth to appear unbeatable, at least by the teams they're facing.
The men's distance medley relay (2:05pm) is always interesting and unpredictable, and the USA brings all of its best middle-distance athletes: Bernard Lagat, Nick Symmonds, Duane Solomon, Andrew Wheating, Matthew Centrowitz and newcomer Erik Sowinski are all reported to be available for duty. Opponents include most of the world's best middle-distance nations: Kenya, Ethiopia, Morocco, Great Britain, Ireland, Australia, and Canada.
A new race this year is the women's 4×800 relay (1:05pm). If you're wondering, the world record is 7:50.12, which works out to about 1:57.5 per leg. Don't worry about that be approached, it's one of those unbreakable Soviet records. But national records could very easily be beaten; for the competing teams, they are 7:57.08 (Russia), 8:17.91 (USA, also the Penn Relays record), 8:19.9 (Great Britain), 8:28.55 (Canada), and 8:39.5 (Australia). As for the others–Kenya, Ethiopia, Morocco–it appears they have no official national record in this event and certainly have never put a team under 8:30.
Results & Schedule | USATF release | Daily Pennsylvanian preview
Live TV coverage on NBC from 1:00pm to 3:00pm (ET)
2. Mary Cain vs the pros
Women's 1500 meters London Games Rematch
Drake Relays
Drake Stadium, Des Moines IA
Friday, 7:20pm local (8:20pm ET)
Possibly the most fun story of the domestic indoor season, if not the biggest, was the emergence of Mary Cain. Still just a high school junior, she not only broke every high school record on the books but took on and beat the best collegians and some of the top pros. More fun was that she took it all in stride and acted like a teenager.
This is by far the toughest field Cain has ever seen, comprised of basically all of the best North American milers. Jenny Simpson (2011 World Champion), Morgan Uceny (2011 Diamond League champion) and Shannon Rowbury (6th at Olympics, the best US finish in history) are all here, plus second-tier runners like Canadian Sheila Reid, Christin Wurth-Thomas, Gabriele Anderson, and Sarah Bowman. Cain passed tests indoors with flying colors; this is her mid-term exam.
Meet homepage | Schedule | Start lists | Live results
Live webcast on ESPN3 from 7:30 to 9:00 ET
3. Rival vs Rival
UCLA at USC
Saturday, 2:00pm local time (5:00pm ET)
While the relay carnivals are going in the northeast and Midwest, traditional rivals are going head to head in the west. Chief amongst them is UCLA versus USC, "the most storied dual meet rivalry in the nation" and the first honoree in my Dual Meet Hall of Fame I created last year. It should be close and intense–I've seen a dope sheet that predicts a men's final score of 83-82. The meet has some very good athletes, as world discus leader Julian Wruck (UCLA) and Olympian Bryshon Nellum (USC) are among the stars.
Schedule | Live results | Live webcast
UCLA release | USC release
Another tremendous rivalry meet is Arizona versus Arizona State (with Northern Arizona as a third competitor), one that dates back to 1908. Nobody is holding back in this one. Olympic silver medalist Brigetta Barret (Arizona) is doing a 400/high jump double, and Georganne Moline, her teammate and fellow Olympic finalist, is doing a 400/400 hurdles/4×400 triple. Lawi Lalang, Arizona's superstar distance runner, is signed up for a triple in the 1500, 800 and 3000. And if you think any of those are big workloads, you ain't seen nothin'. Arizona State's Keia Pinnick is tentatively entered in eight events.
Meet schedule
Arizona release | Arizona State release
For old and bitter rivalries, though, it's hard to top Washington versus Washington State. The teams first met in 1901 and they can't even agree on the number of wins each team has in the all-time series. They take this seriously, and this one will also be close and intense.
Schedule | Heat sheets | Live results | Live webcast
Washington release | Washington State release
A few other good rivalries this weekend are Sacramento State at UC Davis (Friday), Cal Poly at UCSB (Saturday), and Montana State at Montana (Saturday).
4. Current selves vs. former selves
Payton Jordan Invitational men's 5000 meters
Angell Field, Palo Alto CA
Sunday, 7:50pm local time (10:50 ET)
Earlier in the week, Daily Relay teammate Pat Price wrote about Alan Webb and Chris Solinsky, who have been down with injury over the last few years but aren't out (at least not yet). Solinsky was on top of the heap in 2010 and Webb was the world's fastest in 2007, but they've been far away from that in most of the intervening years.
Both Webb and Solinsky haven't been the same since, but will look to rebound this Sunday in the 5000 meters at the Payton Jordan Invitational. Neither would likely openly admit to how much they'd like to open with a bang, but they shouldn't have to. A good start to the spring can lead to a great summer. I, for one, hope they come to play and are rewarded for their continued diligence under duress. It's not going to be easy.
Schedule | Live results | Webcast on Flotrack (subscription required)
5. Penn State vs Princeton
Penn Relays Championships of America
Franklin Field, Philadelphia PA
Friday, 2:25pm / Saturday, 4:40pm
The Tigers won last year's Championships of America in the men's distance medley and 4 x Mile relay and Penn State won the 4 x 800 Championship. Princeton "defended" their title at the NCAA Indoor, but Penn State wants championships. From the Philadelphia Inquirer:
"There's definitely a little bit of hunger," said Penn State senior Casimir Loxsom, who ran on the 4 x 800 and SMR and now will also do a leg on the DMR and 4 x 400. "[The DMR] is a big focus for us. We have the potential to win five relays [including the 4 x 400 and 4 x mile]. We have the personnel to excel in all of them."
Princeton is not entered in the 4 x Mile (Saturday, 12:45pm) but is considered a strong contender in the 4 x 800 (Saturday, 4:40pm). The men's DMR (Friday, 2:25pm) is often called the "signature event" of the Penn Relays, and a close 4 x 800 is an awesome thing to behold. Don't miss these.
Schedule and live results | Live webcast ($$)
Walt Murphy's 14-page Penn Relays preview
TV coverage: live on Universal Sports, Saturday from 3:00pm to 5:00pm
6. Aries Merritt vs Jason Richardson
Men's 110m Hurdles London Games Rematch
Drake Relays
Drake Stadium, Des Moines IA
Friday, 6:30pm local time (7:30pm ET)
Do you want to know how good this weekend is for track fans? I'll tell you how good it is. This race puts together all three medalists from last summer's Olympics, including the brand-new World Record holder, and it only rates at #6. That's just nuts.
You've got Aries Merritt, world record holder, Olympic champion, and my choice for the single best athlete of 2012. You've got Jason Richardson, Olympic silver medalist and reigning World Champion. You've got Hansle Parchment, the out-of-nowhere young Jamaican who won Olympic bronze. The supporting cast by itself is a great field: David Oliver (former US record holder), Andrew Riley (only man ever to win NCAA 110H/100m double), Ryan Brathwaite (2009 World Champion), and Jeff Porter (2012 US Olympian). This race will kick off the elite Friday night competition and it deserves every bit of that honor.
Meet homepage | Schedule | Start lists | Live results
Live webcast on ESPN3 from 7:30 to 9:00 ET
7. LSU vs Texas A&M
Penn Relays Championships of America
Franklin Field, Philadelphia PA
Friday, 12:50pm / Saturday, 1:25pm and 6:00pm
The sprint relay events at Penn have been dominated by the LSU and Texas A&M squads for many years, and this year will be more of the same. The Tigers and Aggies are on the short list of favorites in the women's 4×100 (Friday, 12:50pm) and men's 4×100 (Saturday, 1:25pm) and 4×400 (6:00pm). Texas A&M has a good shot at the 4×200 titles for men and women as well, and LSU could win the women's sprint medley and possibly even the women's 4×800.
Schedule and live results | Live webcast ($$)
Walt Murphy's 14-page Penn Relays preview
8. Dawn Harper vs. Kellie Wells
Women's 100m Hurdles London Games Rematch
Drake Relays
Drake Stadium, Des Moines IA
Saturday, 2:46pm local time (3:46pm ET)
There are a ton of great lineups in the various "London Games Rematch" events (Drake can't use the word "Olympic") but the men's and women's hurdles are the best. Harper and Wells are the Olympic silver and bronze medalists and they're just the tip of the iceberg. The rest of the field consists of Ginnie Crawford (world #4 in 2012), Queen Harrison (world #7 in 2012), Tiffany Porter (world #9 in 2012), Kristi Castlin (world #10 in 2012), and Danielle Carruthers (World Championships silver medalist in 2011).
None of these will be the star of the show, though. That will be Lolo Jones, Des Moines native and the star of the entire weekend. After a winter of bobsledding, Jones says she's "Hercules strong" and it has allowed her to switch to a seven-step approach to the first hurdle–the same change that helped Aries Merritt destroy the world record last year.
Meet homepage | Schedule | Start lists | Live results
TV coverage is tape-delayed on ESPN2 at 8:00pm (ET)
9. Michigan vs Villanova
Women's 4 x 1500 Championship of America
Franklin Field, Philadelphia PA
Friday, 1:10pm ET
These are the two most-decorated schools in the history of the Penn Relays, and each would like to add to their collection of "big wheels". Villanova won the Distance Medley Championship of America on Thursday afternoon. Michigan elected not to enter, despite being the reigning NCAA Indoor Champions in the event, but might have personnel better suited to the longer race. Oregon is a possible interloper, even though Jordan Hasay will be on the opposite coast and running at the Payton Jordan Invitational at Stanford.
Schedule and live results | Live webcast ($$)
Walt Murphy's 14-page Penn Relays preview
10. Illinois vs Minnesota
Men's University Hy-Vee Cup
Drake Relays, Friday and Saturday
College team competition is one of the changes that have come to the Drake Relays as a result of the big injection of cash from Hy-Vee, the midwestern supermarket chain. University men and women will compete for the Hy-Vee Cup, determined by scoring the top eight places in each of five relays: distance medley (Friday, 11:25am), 4×800 (Friday, 7:30pm), sprint medley (Saturday, 10:07am), 4×100 (Saturday, 3:35pm) and 4×400 (Saturday, 4:52pm).
I'm guessing that the men's competition will come down to Illinois and Minnesota, as both qualified squads to the NCAA Indoor Championships in both the distance medley and 4×400, and both schools have entered a team in all five scored events. It will be interesting to see if this is something that fans, coaches and athletes take seriously and work hard at winning. Without team competition, we rarely pay any attention to places beyond first, and this could change that.
Meet homepage | Schedule | Start lists
Live results | Live webcast