3 Comments
"No winter lasts forever; no spring skips its turn"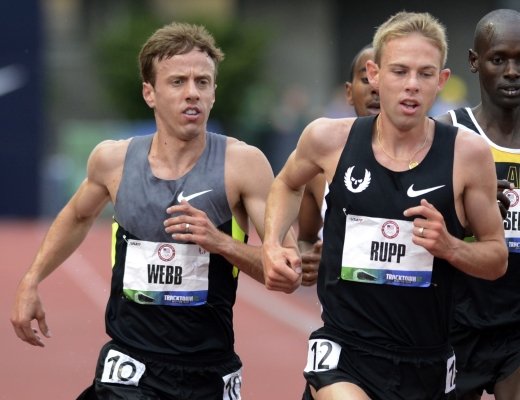 Pat Price | On 23, Apr 2013
It's a big week in track and field and it's also that time of year when new stars emerge, legends return to defend their place at the top, and then there are those that have fallen; that are trying to get back in the game. Famed New York Times Outdoor Editorials writer, Hal Borland, once wrote: "No winter lasts forver; no spring skips its turn." No matter how good or bad your cross country and indoor track seasons were, you could always look forward to the new horizon that spring would bring. Intervals on the track. Dual meets. Night time invitationals. All great stuff.
That winter that seemed to last forever could easily be related to Alan Webb and Chris Solinsky's recent woes with injury over the past few years.
Webb was on top of the world in the summer of 2007. He won the Paris Golden League 1500 in 3:30.54, an 800 in Heusden, Belgium in 1:43.84 and capped it off with a new American Record in America's event, the mile. He did so in an astounding time of 3:46.91. No one has run a faster time in the world since.
Solinsky's day in the sun was this weekend, three years ago (2010). He would shock everyone and run 26:59.60, setting the American 10,000 meter record in the process, in a race custom-built for Galen Rupp mind you. Nike even brought posters along with Rupp's image for fans to get autographed after he (Rupp) took down Meb Keflezighi's former record of 27:13.98. Solinsky would go on to break 13 minutes multiple times, with a best of 12:55.53 in Stockholm later that summer.
Both Webb and Solinsky haven't been the same since, but will look to rebound this Sunday in the 5000 meters at the Payton Jordan Invitational. Neither would likely openly admit to how much they'd like to open with a bang, but they shouldn't have to. A good start to the spring can lead to a great summer. I, for one, hope they come to play and are rewarded for their continued diligence under duress. It's not going to be easy.
For as Waylon Jennings said "This Is Not A Dress Rehearsal. We Are Professionals And This Is The Big Time." 
The big time starts tonight with the USA Road Mile Championships. The Penn Relays, Drake Relays and Payton Jordan Invitational will finish up the biggest week in spring track.
Stay tuned later this week as Jesse Squire previews the entire weekend's events. And if you're looking for some new music, check out Har Mar Superstar's Motown-inspired new album, "Bye Bye 17," which came out today on The Strokes lead singer, Julian Casblancas' label, Cult Records. Stream it free here.