No Comments
Weekend College Wrap -- April 25-28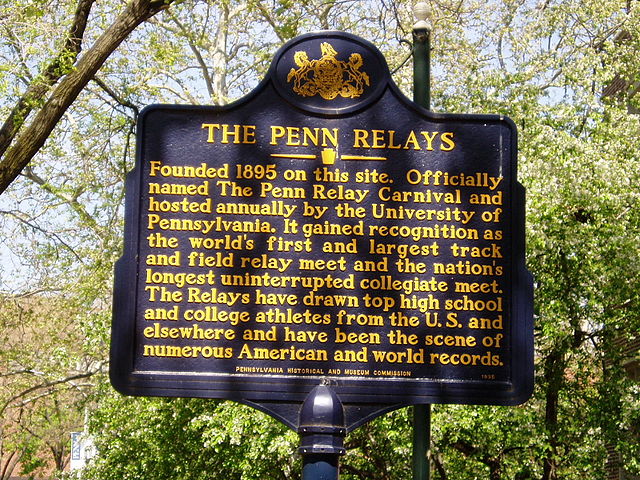 Jesse Squire | On 29, Apr 2013
Wow, so much happened this weekend. From Penn to Drake to the various west coast meets, this was the best weekend of the year for American track fans. But I have to start off with the biggest, loudest, craziest meet of any year…
Penn Relays
The big winners coming out of the Penn Relays were the Texas A&M Aggies. They earned twelve wins at the meet between their men's and women's teams, including five wins in the iconic Championship of America relays. If performance at the Penn Relays is any indicator of what might happen at the NCAA Championships in six weeks, the Aggies are in a great position.
Women's action
Meet recaps often start off with men's competition, but this year's Penn Relays were far more interesting on the women's side.
Texas A&M utterly dominated the short relays. Just third in the 4×100 heading into the second exchange, Kamaria Brown and Ashley Collier blitzed the last two legs to a clear win over UTech (Jamaica) and LSU. In the 4×200, the Aggies won by more than two and a half seconds, recording the 4th-fastest time in Penn history (which, of course, means the 4th-fastest time in collegiate history). They also won the little-run shuttle hurdle relay (which should be run a whole lot more, given its entertainment value), and took wins in the individual 100 meters (Olivia Ekpone), 100m hurdles (Donique' Flemings) and long jump (LaQue Moen-Davis). They did well, and it bodes well for their national title aspirations.
Just one Championship of America title is not a good sign for a team that has national title aspirations. This is doubly true if that team's strengths are in running events. Yet to say that the women's teams from Oregon and LSU "only" won a single big wheel trophy does not accurately describe the situation.
The Ducks took a close second in the 4×1500 meter race while missing arguably their best 1500 runner, Jordan Hasay, who ran at Stanford's Payton Jordan Invitational on Sunday in search of a World Championships qualifier. They also took a close second in the 4×800 relay, breaking the collegiate record in the process (more on that later). Then they turned around and won the 4×400 relay in jaw-dropping style, going under the Penn Relays and Franklin Field records. None of this is cause for alarm, and Phyllis Francis' blistering 49.9 anchor leg on the 4×400 should give Duck fans extra confidence. The only cause for worry from Oregon's weekend was their 4×100, which had baton trouble and finished a well-beaten sixth.
Another NCAA Championships contendor, LSU's women also won just a single Championships of America, in the sprint medley. Coach Dennis Shaver used his stars sparingly: just two events each for Bowerman Award winner Kimberlyn Duncan (4×100 and sprint medley) and NCAA indoor champion Natoya Goule (4×800 and sprint medley). And while the Tigers have some great individual stars, they lack the necessary depth in any one event area to contend against such ferocious competition.
A perfect example is in the 4×800 relay. Two great runners, Goule and Charlene Lipsey, ran the 1st and 3rd fastest splits of the day. Their other two legs were Nikita Tracey, a 400 hurdler moving up for the relay, and Samantha Levin, a sophomore just coming back from injury. So they finished third in the relay, but the results indicate they'll get massive points out of the 800 at the NCAA Championships.
An end in itself
It's just so great to wear Villanova across your chest. — Emily Lipari
It is important to realize that to some teams, the Penn Relays are not a stop on the road to the national championships. To those teams, the Penn Relays are the national championships. Villanova tops this list. Penn is nominally the home team at the Penn Relays, but 'Nova really is the home team. They bring a group of vocal and knowledgeable supporters, and tradition and history and pride run deep. Emily Lipari, the hero of the weekend, talked of "an old school approach" and "guts" and "heart".
In Thursday's women's distance medley relay, an expected battle with NCAA indoor champions Michigan never materialized as the Wolverines were a late scratch. Villanova ended up winning with relative ease, with Lipari anchoring in a split that basically equaled her lifetime PR in a non-relay race. She and teammate Nicky Akande dedicated the win to Gordon Finch, a Villanova associate AD who worked closely with the track team and who died unexpectedly last month at the age of 45.
In Friday's women's 4×1500 relay, Villanova finished third, but Lipari anchored faster than she's ever run a non-relay race. And then came Saturday.
By any metric, Saturday's women's 4×800 relay was simply one of the greatest college relay races ever run. Villanova led at the first exchange over Oregon, but barely, while LSU was back in seventh. A tremendous second leg by Natoya Goule zoomed LSU right back into the race, right behind 'Nova at the second exchange, while Oregon dropped back to fifth. A good third leg by Anne Kesselring brought Oregon up to second behind Villanova.
Oregon had Laura Roesler on anchor. PR: 2:01.75, NCAA indoor runner-up, Olympic Trials semifinalist. Villanova had Lipari. PR: 2:06.77, greatest individual accomplishment was 25th at the NCAA cross country championships. Roesler took the lead and gapped Lipari, as expected. LSU's Charlene Lipsey came up with 150 meters to go and looked to make a bid for the win as well.
But then Lipari didn't fold. She is one of those unusual athletes who is ordinary when running on her own but turns into a superhero with a baton in her hand. She came back, she chased Roesler all the way down the homestretch, and somehow edged ahead in the final five meters. Villanova and Oregon both broke the collegiate record (which had been the American Record until a few hours earlier). In third, LSU ran the sixth-fastest time in Penn history. Lipari's 2:02.25 leg was doubtlessly the greatest race of her life (so far, at least). For her efforts, Lipari was rightly named the relay event athlete of the meet.
It's about the team
I feel very strongly that college track and field must take a team-oriented approach if it is to improve its place in the sports world. Often this means scored competition, but not always. The Penn Relays is not scored, but it's impossible to deny that the meet is all about the teams rather than the individuals.
One simple reason that I think this way is because all of the teams already have instant name recognition. In any college sport, you have to be plugged in to keep on top of the constant rotation of star athletes, and the relatively large number of athletes in track and field makes that task even harder. But a general sports fan who turns on the Penn Relays and sees lineups with Villanova, Michigan, Texas A&M or LSU will have both a fairly easy time of keeping up with who's who–and they might have a rooting interest as well.
In other situations, it merely fits the athletes. I've had the chance to be around Michigan's top women runners a bit this year, and they strike me as team-first people. Cross country is the program's greatest source of pride, and the Wolverines won the Big Ten last fall and took fifth at the NCAA Championships. No one assumed the role of "top dog"; they said that the #1 runner changed from meet to meet and depended on who was having the best day. To borrow a Michigan phrase, they were less interested in being the leader than they were in being the best.
Jillian Smith, Rebecca Addison and Amanda Eccleston all could have run individual events at the NCAA Indoor Championships this year and done quite well for themselves, but they all turned it down to run the distance medley instead. They were rewarded with a national title.
On Friday, those three were joined by Shannon Osika in the 4×1500 relay, and again came away with a championship title with gutsy running. Eccleston said, "we definitely perform better when we run for other people, so I think we were all on our 'A-game' out there".
Men's competition
Like their women's teammates, Texas A&M was the dominant team at the Penn Relays. Their Championship of America wins came in the 4×200 and 4×400 relays. The latter was anchored by Deon Lendore in a very fast split of 45.1 seconds, and the former was redemption after the 4×100 team, favored to win, didn't make it through the heats. They also had individual wins in the 100 (Ameer Webb), 5000 meters (Henry Lelei) and 110m hurdles (Wayne Davis II) plus a runner-up in the steeplechase (Isaac Spencer).
The other team deserving of much praise is Penn State, who walked away with two of the most coveted Championship of America titles, the 4×800 and distance medley. In Friday afternoon's DMR, Penn State won with a strong and smart anchor by Robby Creese after a great 800 leg by Cas Loxsom, beating Villanova. In Saturday's 4×800, Loxsom blew the race open with a 1:46.30 leg, again leaving Villanova in his wake. He was named the meet's outstanding relay event athlete.
No one would hate Duke basketball if the Blue Devils didn't win and have fans who are, well, fanatical. And the greatest hate of Duke is reserved for those who bleed Tar Heel blue. Loxsom must feel the same way about in-state rival Villanova. His key quote:
"I heard all of those Nova fans with about 300 to go and said 'screw them'."
The right team won
One of the reasons I've enjoyed going to the NCAA outdoor championships over the last two years is that I haven't had to listen to Larry Rawson announce the meet on TV. (It's also why I dread staying home this year.) On this year's NCAA indoor championships coverage, Rawson went gaga over Oklahoma's four indoor sub-4:00 milers, saying that he wasn't aware of any team that had ever done that in a single season…all the while being ignorant of Oregon's five indoor sub-4:00 milers this season. I was yelling at the screen like your senile grandfather.
So I felt some degree of vindication when Oregon won the men's 4xMile relay on Saturday. Anchor Mac Fleet ran a smart race to win, beating Indiana's Andy Bayer–who is no slouch himself in tactical races, but had to be a bit worn down from the 3:55(!) leg he ran in Friday's distance medley.
Another volley in the high jump wars
Penn is all about the relays, and field events get almost no love at all. But one of the most memorable moments from my first trip to the meet two years ago was Penn freshman high jumper Maalik Reynolds trying to shut out the roar of the crowd and clear the winning height, as the USA and Jamaica battled it out on the curve behind him.
The men's high jump got big love this year. It's the event to watch, with two Olympic medalists returning for their senior years. Indiana's Derek Drouin (bronze) beat Kansas State's Erik Kynard (silver) in their two meetings this year. Last week, Drouin put up the outdoor world leader at a home meet in Bloomington, only to have it eclipsed hours later by Kynard at the Mt. SAC Relays in California.
On Saturday, Drouin won the high jump with a clearance of 7′ 7¾" (2.33 meters). That represents an outdoor PR and an outdoor Canadian record. It also broke the 37-year-old meet and stadium record, held by none other than Dwight Stones. In a classy move, Stones himself presented Drouin with his individual event athlete of the meet award.
But it wasn't the only thing Drouin did all weekend. He's an excellent all-around athlete, demonstrated by his third-place finish in the heptathlon at the Big Ten indoor championships, behind two All-Americans. Drouin led off Indiana's shuttle hurdle relay on Friday, helping the Hoosiers to a third-place finish.
Jamaica taking it up another notch
Jamaican teams have long had a presence at the Penn Relays, most notably in the high school races. The Jamaican national teams have come for the USA vs The World competitions since 2000. The one place where they've not had a lot of success is in college competition…until now.
Jamaica's University of Technology (aka UTech) won the men's 4×200 relay last year. This year the count went to two, as UTech became the first Jamaican university to win the men's 4×100 relay, and the University of West Indies (aka UWI) took their first-ever Championship of America in the sprint medley.
They tweeted it…
I have finally felt the feeling of being herded like cattle. As any person who has run a relay at Penn Relays can relate to…

— Derek Drouin (@ddrouin10) April 26, 2013
Wayne Davis II wins 110H, jogs to awards stand, photos, does interviews, jogs out of stadium w/ Coach McRaven, catches cab, on flight home.

— Wendel McRaven (@wmcraven) April 27, 2013
"When you come here for the first time, you are not just confronted by history, but … by passion & it's fantastic." — Seb Coe's 1st Relays

— Penn Relays (@thepennrelays) April 28, 2013
Drake Relays
Many changes came to Drake this year, mostly due to a massive influx of cash from the Hy-Vee supermarket chain. One that could have been interesting was the Hy-Vee Cup, a team scoring competition in the five most popular relays (4×100, 4×400, 4×800, sprint medley, distance medley). But based on news reports, no one seemed to care much besides the winners. Both the men's and women's titles went to Illinois.
The team grabbing the most headlines at Drake doesn't even compete in Division I. That was the Academy of Art, a San Francisco college that doesn't have its own track and only began competing in athletics in 2008. The Urban Knights broke the College Division record in the women's 4×100–and ran faster than Illinois, the University Division champions.
They outdid that, though, by winning the University/College shuttle hurdle relay in 52.50, which ties the collegiate record set by Texas A&M in 2010. The team was anchored by Vashti Thomas, the Urban Knights' all-around star who transferred from Texas A&M two years ago. Yep, she was also on the Aggies' record-setting shuttle hurdle relay team.
Other highlights of the meet…
Ole Miss Olympian Isiah Young won the 100 meters in 10.07, aided by a barely-over-the-limit wind of 2.1 meters per second.
The other sprint star at the meet, Alabama's Diondre Batson, only ran relays and had mixed results. He anchored his Crimson Tide 4×100 relay team to a 38.97 clocking, second on the 2013 collegiate list, but the 4×200 relay team failed to get the stick around.
Georgia's Carly Hamilton won the women's 1500 meters in 4:12.15, a meet record and the fastest college time of the year. Following was Missouri's Laura Roxberg in 4:13.53, the second-fastest of the year.
In a bit of a shocker, Nebraska won the men's 4×400 in 3:03.79, with three freshman in the quartet. That puts them at #3 on the 2013 collegiate list.
Illinois won the women's 4×400, with Ashley Spencer anchoring in a blistering 50.0. The only faster splits in the nation this week were at Penn, by Arkansas' Regina George (49.5, running for Nigeria), Oregon's Phyllis Francis (49.9) and Team USA's Natasha Hastings (49.9).
Dual Meets
Penn is the tradition in the northeast, and Drake is the tradition in the midwest. Out on the west coast, the tradition is rivalry dual meets.
The oldest and most intense of these rivalries is Washington versus Washington State, a meet that dates to 1901 and so bitter that the two sides can't even agree on how many wins each team has against the other. They came together for a very big deal, the first meet at UW's new track-only facility.
Tied in with alumni events, the inaguration of the distinctive purple track brought out more than three thousand spectators, and they saw a great meet. Paul Merca, Mr. Track and Field in the Evergreen State, has the nitty-gritty. In short: see-saw battle, upsets, unexpected heroes, everything there is to love about a dual meet. Washington won the men's competition, and their unexpected hero was half-miler Derek Daigre, who won the 800 in an upset. Washington State won the women's competition, and their unexpected hero was Ruby Roberts, who upset All-American Megan Goethals in the 1500 meters.
The highest level of performance was at the traditional "double dual", Arizona State versus Arizona versus Northern Arizona. Arizona State won the men's competition and Arizona won the women's, and the results were remarkable.
Three national dual meet records were set: women's 400 hurdles by Arizona Olympian Georganne Moline (54.94, breaks her own record set last year), women's high jump by Arizona Olympic silver medalist Brigetta Barrett (1.94m, ties record set by UCLA's Amy Acuff in 1995), and women's hammer throw by Arizona State's Chelsea Cassulo (69.52, breaks record set by USC's Eva Orban in 2009). Arizona's Lawi Lalang ran his first meet of the year and put up a tremendous 3:41.52/13:40.85 double, one of the best doubles ever run in a dual meet.
The most famous rivalry is USC versus UCLA, where the Bruin fans took a broom with them on the road and used it for the men's/women's sweep in front of a crowd estimated at 2,800. The most notable result was part of a triple by USC Olympian Bryshon Nellum, who won the 200 meters in a nifty 20.37 to go with wins in the 400 and 4×400.
Other duals: UC Santa Barbara swept Cal Poly, Montana swept Montana State, and Sacramento State beat UC Davis in the men's competition but the teams tied in the women's meet.
Payton Jordan Cardinal Invitational
The Payton Jordan meet is not really about competition, it's about running fast times (mostly to get qualifying marks for the World Championships and the like). So the recap is headed by a list of top times…
Northern Arizona's Diego Estrada ran 5000 meters in 13:15.33, a Worlds 'A' qualifier and second-fastest in collegiate history (behind only the great Henry Rono). In his wake, Northeastern's Eric Jenkins ran 13:18.57, also a Worlds qualifier and it makes him sixth-fastest in collegiate history. It's a bit of redemption for his disqualification at the NCAA Indoor Championships.
In the women's 10,000 meters, Iowa State's Betsy Saina ran 31:37.22, the third-fastest time in collegiate history and a Worlds 'A' qualifier. Oregon's Jordan Hasay ran 32:06.64, which puts her #4 on the all-time collegiate list.
But other things can happen. In the Brutus Hamilton Invitational at Cal, a sort of a companion meet to Payton Jordan, Wisconsin lost both of their great multi-event athletes for the season. From the Track and Field News message boards:
Cato and Ziemek won't be showing up at the decathlon, based on the hospital report from Berkeley. Ziemek took one vault and retired. Last seen with a big ice bag on his shoulder. Cato's situation was even more unfortunate. After an already heavy day which included a big long jump win (7.84) and participation on the Wisconsin 4×100 relay, Cato opened his pole vault after everyone else had been eliminated. Big clearances at 4.91, 5.15 and a PR 5.33 preceded a tragic ending. As Cato rocked back to start his run for his final attempt at would-be Wisconsin school record 5.40, a snap was heard and Cato immediately dropped to the ground screaming in pain. It was a freak accident which was diagnosed as a ruptured Achilles. Cato appeared later at the stadium in a walking boot, and said that plans were for surgery either on Sunday or Monday.
Awards
OK, awards time…
Teams of the Week: Texas A&M. Men and women. Period.
Athletes of the Week, sprints/hurdles: My pick for the men is USC's Bryshon Nellum, for the above-mentioned triple against USC, including a national-leading 20.37 in the 200. For the women, I'm going with Arkansas' Regina George, who ran the fastest split of the pro 4×400 race at Penn, a 49.5 on the Nigerian team.
Athletes of the week, distance: For their Penn Relays heroics, the obvious choices are Penn State's Cas Loxsom and Villanova's Emily Lipari.
Athletes of the week, jumps: high jumpers Derek Drouin and Brigetta Barrett. One broke a record held by Dwight Stones, the other tied a record set by Amy Acuff. 'Nuff said.
Athletes of the week, throws: UCLA's Julian Wruck put up the third-best discus throw in dual meet history (and his second-best dual meet throw this year) against USC. Oklahoma's Tia Brooks won the Drake Relays shot put with yet another 60+ foot throw (60′ 11¾", to be exact) but this time she actually had a bit of competition from Indiana State's Felisha Johnson.
Team Players: Arizona State's women lost to Arizona, but don't blame the Sun Devils' Christabel Nettey. She did four events and won three of them (100 hurdles, long jump, triple jump). Against archrival Montana State, Montana's Austin Emry won the 110 hurdles and long jump, took second in the high jump, and ran on the runner-up 4×100 relay.
Division II athletes of the week: St. Augustine's Taffawee Johnson ran on runner-up relays in the Championship of America 4×100 and 4×200 races at the Penn Relays, and took third in the 100 meter championship final. The Academy of Art's Vashti Thomas ran three relays at Drake, winning two in record tim, and tieing the national record in the shuttle hurdles.
Division III athletes of the week: At the SCIAC Championships, Whittier's German Fabela won the 400 meters in D-III leading time, anchored the winning 4×100 relay in a D-III leading time, and anchored the winning 4×400 relay. At the Drake Relays, Illinois College's Melissa Norville took third in the University/College long jump, beating 15 of the 17 D-I jumpers she faced and posting the best jump of the D-III outdoor season.
NAIA athletes of the week: Briar Cliff's Augustus Cowan took fifth at the Drake Relays University/College triple jump and posted an NAIA leader. Indiana Tech's Adella King finished third at in the Penn Relays 100 meter championship final and anchored her 4×200 team to fourth place in the Championship of America final.