No Comments
Moscow Daily for August 14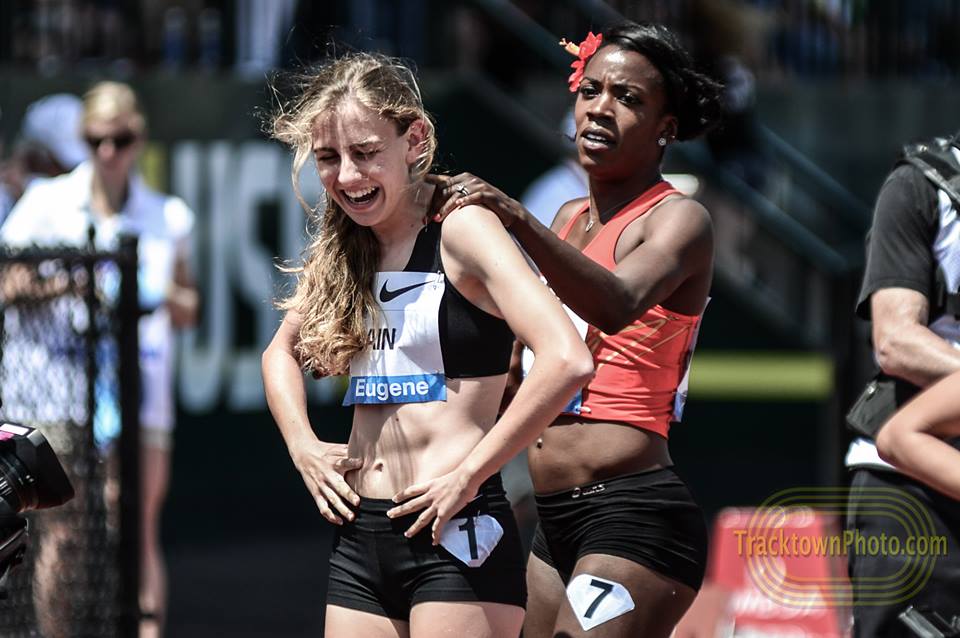 Jesse Squire | On 14, Aug 2013
The Cain Train leaves the station tomorrow at 1:20pm Eastern Time. Nothing seems impossible now. (Photo courtesy TrackTownPhoto.)
Our Moscow Daily recaps the day's action at the IAAF World Championships, offers up some analysis, and tells you what (and how) to watch the following day. Come back for all nine days of action from Russia.
Scoreboard
| | | | | |
| --- | --- | --- | --- | --- |
| Nation | Gold | Silver | Bronze | Points* |
| USA | 4 | 5 | 1 | 140 |
| Russia | 3 | 2 | 2 | 87 |
| Germany | 2 | 2 | 1 | 70 |
| Kenya | 2 | 2 | 1 | 57 |
| Ethiopia | 2 | 1 | 2 | 53 |
| Jamaica | 2 | 0 | 1 | 46 |
| Great Britain | 2 | 0 | 0 | 36 |
| China | 0 | 1 | 2 | 31 |
| France | 0 | 2 | 0 | 28 |
| Canada | 0 | 1 | 1 | 15 |
* = scoring in the traditional American 8-place fashion
There were just five events this morning, the ever-popular 50 kilometer race walk plus qualifying rounds in the men's 1500 and long jump and women"s 5000 and hammer throw. So we go straight to the national team analysis.
US Team Performance Analysis
All US runners qualified on in the distance races. In the men's 1500 heats, 38 starters were trimmed down to 24 semifinalists, so it's hard to read too much into the results, but it's a good sign that Matthew Centrowitz, Leo Manzano and Lopez Lomong all got automatic qualifiers and did not have to advance by time. The women's 5k was some outstanding work, as the USA will have three finalists in this event for the first time in Worlds history. Kim Conley, Shannon Rowbury and Molly Huddle all ran smart races and got through by place rather than time. As unimaginable as it was a decade ago, the USA has six finalists in the 5000 meters between the men and women.
Hopes were high that the USA could get three finalists in the women's hammer throw and it almost happened. Amanda Bingson and Jeneva McCall went through and Amber Campbell was just one place away from making it. There were some surprising casualties in the qualifying: world record holder Betty Heidler tanked, and Sophie Hitchon, Aksana Miankova, and Kathrin Klaas came up short too.
The men's long jump was both historically bad for the USA and better than expected. There will be just one American finalist, four-time champion Dwight Phillips. He was a long shot just to get into the final and hit a season's best by 6 cm to do it. The other two, George Kitchens and Marquis Dendy, did not jump well at all, Dendy in particular. He had a stellar indoor campaign then regressed and was added to the US team only due to his 'A' qualifier in March. He beat two guys, one who jumped 23′ 3″ and another who fouled three times.
We now live in a world where the USA is better at distance running than long jumping.
Canadian Team Analysis
There were just three Canadians in action this morning. The best result came from Nate Brannen in the 1500 meters, who took second in his heat and advances to the semis. He looked good and has a very real chance at the finals.
Hammer thrower Sultana Frizell, the Canadian record holder, finished four places out of advancing to the final. Sixteenth is ten places better than she did at last year's Olympics and her training situation this year has been much less than optimal, so the result should be considered a success.
Walker Evan Dunfee finished well back in the 50k in 36th place but did manage a personal record of 3:59:28.
Tomorrow
Here's how to watch tomorrow's action. All times are Eastern.
U.S. Television
Universal Sports, 1:30-4:00am (live)
Universal Sports, 11:30am-1:30pm (live)
Canadian Television
Daily highlight shows will air on Sportsnet. Visit Athletics.ca for broadcast times in your area.
Webcasts
UniversalSports.com will webcast whenever the TV channel is running a live broadcast, but you can only watch it if you're in the minority of Americans whose cable provider carries Universal Sports.
A better bet is WatchAthletics.com which will have a collection of foreign feeds for the morning session and evening session.
Yet another option is IAAF Radio, which is quite good and will offer live play-by-play from 1:30 to 4:00 AM and 11:00 AM to 1:30 PM.
How to Follow
The main hub of information is the IAAF website. Schedules, results, news, athlete info, whatever you need. You might want their smartphone app, too.
If you're cheering for a particular team–and who isn't?–both USA Track and Field and Athletics Canada have microsites for their Worlds teams. You can follow the exploits of US collegians with the USTFCCA.
What to Watch
11:00am: Men's high jump
College rivals Derek Drouin and Erik Kynard are both in the final, the latter scraping in by the skin of his teeth. Both won medals at last year's Olympics and are capable of a podium finish here, but the guys to watch are Mutaz Essa Barshim and Bohdan Bondarenko. It is not hyperbole to say that not only could a world record happen, but it might be needed just to win.
11:40am: Women's triple jump
No Americans or Canadians qualified to the Worlds. Can Caterine Ibarguen win Colombia's first Worlds gold?
12:20pm: Men's steeplechase
More Kenyan hegemony is expected and the favorites are Conseslus Kipruto and Ezekiel Kemboi. Can France's Mahiedine Mekhissi-Benabbad break the Kenyan winning streak? Can the USA's Evan Jager get on the medal stand? How high can Canadians Matt Hughes and Alex Genest finish? And what new dance moves will Kemboi break out if he wins?
12:45pm: Women's 400 hurdles
Team USA's two best hurdlers are not here. Kori Carter did not make the team and Georganne Moline hit a hurdle and fell in the semis. The two American finalists, Lashinda Demus and Delilah Muhammed, will have their hands full with Czech Zuzana Hejnova and Britain's Perri Shakes-Drayton.
1:00pm: Men's 400 hurdles
This one is wide-open. Dominican Felix Sanchez is the Olympic champion and appears to be hitting his stride at just the right time but Old Man Time is going to catch up with him someday, maybe right now. The USA's Michael Tinsley came in as a weak favorite and looks up to the task, but several others do too. The always-unpredictable Kerron Clement is in lane one.
1:20pm: Women's 1500 meters
Until February, it was a crazy idea to think that Mary Cain could hold her own against collegians and professionals. Until April, it was crazy to think she could make the US team for the Worlds. Until June, it was crazy to think she could make the final. At this point, nothing seems impossible for the youngest Worlds finalist ever in the women's 1500. She runs with confidence and poise and tactical acumen beyond that of most seasoned pros–and she's still only the USA's second-best entrant. Defending champion Jenny Simpson is in the form of her life and has the tools to win. Sweden's Abebe Aregawi is the heavy favorite but upsets happen.