2 Comments
The Parable of the Prodigious Son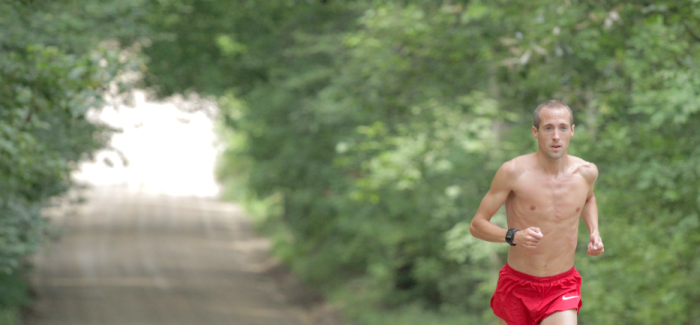 Daily Relay | On 30, Sep 2014

He continued: "There was a man who had five sons and two daughters. The second oldest child said to his father, 'Father, there are miles to be run.' So he let his son run to his heart's content. He quickly found that he was a talent.
Soon after, the son got together all he had, set off for a distant country and there, he continued to fill his heart with miles. After his time in Colorado has passed, there was a drought in distance running, and he began to seek another home. So he went further west, this time to Portland, to join with Nike. He longed to fill his heart with more miles, and found a group willing to give him anything.
Eventually, his heart had been filled with miles, but he longed for home. It is where the heart is, after all. So he set out and returned home. He said: "My legs covered much ground and accolades have come. But my family has grown, and now is time to return home." So he got up and went back to Rockford.
But while he was still a long way off, the townsfolk regaled in hearing of his successes, and were filled with compassion for him; they ran to their son, threw their arms around him and kissed him. The son said to them, "I have experienced much and have garnered many honors, but I'm home, again."
The townsfolk said, "Welcome back, Dathan. You never left."
This is the Parable of the Prodigious Son, also known as The Running Father II. It appears in only one of the Canonical gospels of Nike Running's Doctrine. According to the Gospel of Salazar, a young, successful runner travels from place to place as he trains with new coaches and teams. Along the way, he broke records and established himself amongst his country's best distance runners, but as his family grew, he yearned for the sense of community found in the town he once called home.
Nestled just a few miles north of Grand Rapids sits Rockford, Michigan, Dathan Ritzenhein's old home, and as of this summer, his home once more.. Back in June, the 31-year-old, along with his family, decided to move from Portland, Oregon back to the where he rose to prominence as a prep star. As a junior and senior, he became the first high school athlete to win back-to-back Foot Locker national titles.
…
The first time I stopped in Rockford, Michigan was on a Thursday. I had been driving for nearly 16 straight hours and decided, on a whim, that I would set up base camp in this small, Western Michigan town, tucked away from the rest of the world.
I left the familiar confines of the Interstate, and found myself on US 131. Now there's acres of space, littered with fields of wheat intermittently broken up by a gas station or two. I'm trying to get my bearings and starting to think that I took the wrong exit. Then, the fields come to an abrupt stop, and a decorated beige bridge comes into view. As I drive over the calm Rogue River, there's a banner hanging overhead: "City of Rockford: Discover the Charm!"
The reason that I pulled off the highway, other than the fact that I was starting to hallucinate from being on the road for too long and not nearly taking in enough caffeine, was to see Rockford for what it really was.
I soon discover the town is comprised of two major locations: the bridge and the main street. I've already driven over the former, and as I make a quick right turn, I find myself driving through the latter.
Rockford is the soul of middle America. It's Main Street, USA, not quite literally, but two of the four intersections I drive past are named after presidents. It's right before dusk, so it's not too late for families to get ice cream after a little league game. Teenagers are riding their bicycles up and down the nearby trail that cuts behind the storefronts. The corner tavern has its doors open just wide enough so I can hear booming laughter and faint jukebox music.
It's a wonderful, folksy city. Thomas Wolfe wrote 'You Can't Go Home Again,' but Ritzenhein has disproved it.
But, at the moment, Ritzenhein wasn't in town. I was just passing through. I loop back a week later and this time, he'd be home.
The second time I stopped in Rockford was on a Sunday. I had been driving for just three hours this time and, following morning Mass, I met Ritzenhein for a recovery run. He had raced the Bobby Crim 10 Miler the day prior, finishing 9th in 49:11. It was his first race back since the 2013 Chicago Marathon, where he finished 5th in 2:09:45. He was scheduled to run the Boston Marathon last spring, but withdrew in March with a sports hernia.
To make sure we rendezvous, Ritz has to drop a pin on a map and text me the location. The entrance to the Cannonsburg State Game Area, which is a popular spot for mountain bikers in the summer and hunters in the winter, is just off the quiet 4 Mile Road. It's about 20 miles southeast of downtown Rockford, close to Ritzenhein's childhood home, and where he's purchased an empty lot for his future house, which has yet to be built.
"Being home's been great," Ritz says. "My training has turned around and everything has gotten so much better since I got back. [My wife and I have] spent so many years away from the family, to be able to see our family, that we're both really close with, it's been really good."
It's not just Ritz that has ties to the Rockford area. His wife, Kalin, a two-time Foot Locker Nationals qualifier, also went to Rockford High School and was in the same high school class as Ritz.
"We were boyfriend and girlfriend in the sixth grade, and then she dumped me at the rollerskating party at the end of the end of the year," he jokes. "Then we never dated again until college."
While the two parted ways, Ritz to the University of Colorado and Kalin to Villanova, the spark was always there.
"I convinced her to come out and visit Colorado, she transferred that fall, and never went back. The Ritzenhein charm is pretty strong," he says with a smile.
After racing a hilly 10 miles yesterday, Ritz is a bit tight after getting out of his car, but seems to loosen up almost immediately.
I'm worried that I won't be able to follow Ritz on the single track trails, but he reassures me that I'll be fine, and tells me to hop in my car as he heads out onto the roads. In a cruel twist of fate, he goes right out of the parking lot, straight into an 800-meter uphill, but he doesn't seem the least bit fazed, or surprised. Ritz has run this road more times than he can count.
I'll soon discover, four miles later, that the house he grew up in is along the quiet path, covered by tall trees that provide an all too perfect cover from the sun and herds of cows lazily grazing out in the pasture.
"I have a lot more variety of running than many other places that I've trained elsewhere," he says. "I could run forever on dirt roads or trails, and so, I think that part for me is exciting too. I've lived in some great running towns, but Rockford is a hidden gem of running."
Rockford has been a town that's always been in full support of Ritzenhein's running career. One key feature, besides his family and the affectionate community, has been Gazelle Sports. The athletics speciality store located in the Grand Rapids area has been a mainstay of Ritz's running world from the start, and even introduced him to some of his first elite athletes while he was in high school. He had been speaking with representatives from the store for about two years, but when they approached him in January to gauge his interest in future running ventures, Ritz already knew in the back of his mind that he was heading back.
In addition to business plans, Ritzenhein will also serve as the assistant coach at Grand Valley State University. An inevitable move for a knowledgable athlete, Ritzenhein will get his start in the coaching world while having access to GVSU's first-class facilities.
When the harsh Michigan winter sets in, Ritz will have access to the 300-meter indoor track, on which he's done 6 mile tempos at 4:30 pace.
"If you go in lane six, it's 330-meters. It's almost as good as being on the outdoor track," he says.
He may not have the 500-meter Ronaldo Soccer Field on the Nike headquarters back in Beaverton, but he will be able to run on a 600-meter loop on the back-to-back artificial turf on campus.
Of course, Ritzenhein will have access to the Alter-G treadmill, one of the originals, which has just been recently hooked up in his garage.
"It's been an essential part to my career. I've been injured a lot, but I think it's also been one of the reasons why I'm able to comeback fast and strong."
Ritz decides that, even though it's been one the coolest Michigan summers he can remember, this mid-afternoon run is a bit too hot, so he strips off his volt yellow Nike singlet and hurls it into my car's driver seat as he glides by. The road has transitioned from a neatly paved two lane strip of asphalt to a wide dirt trail, which accommodates my car and his aerobic engine.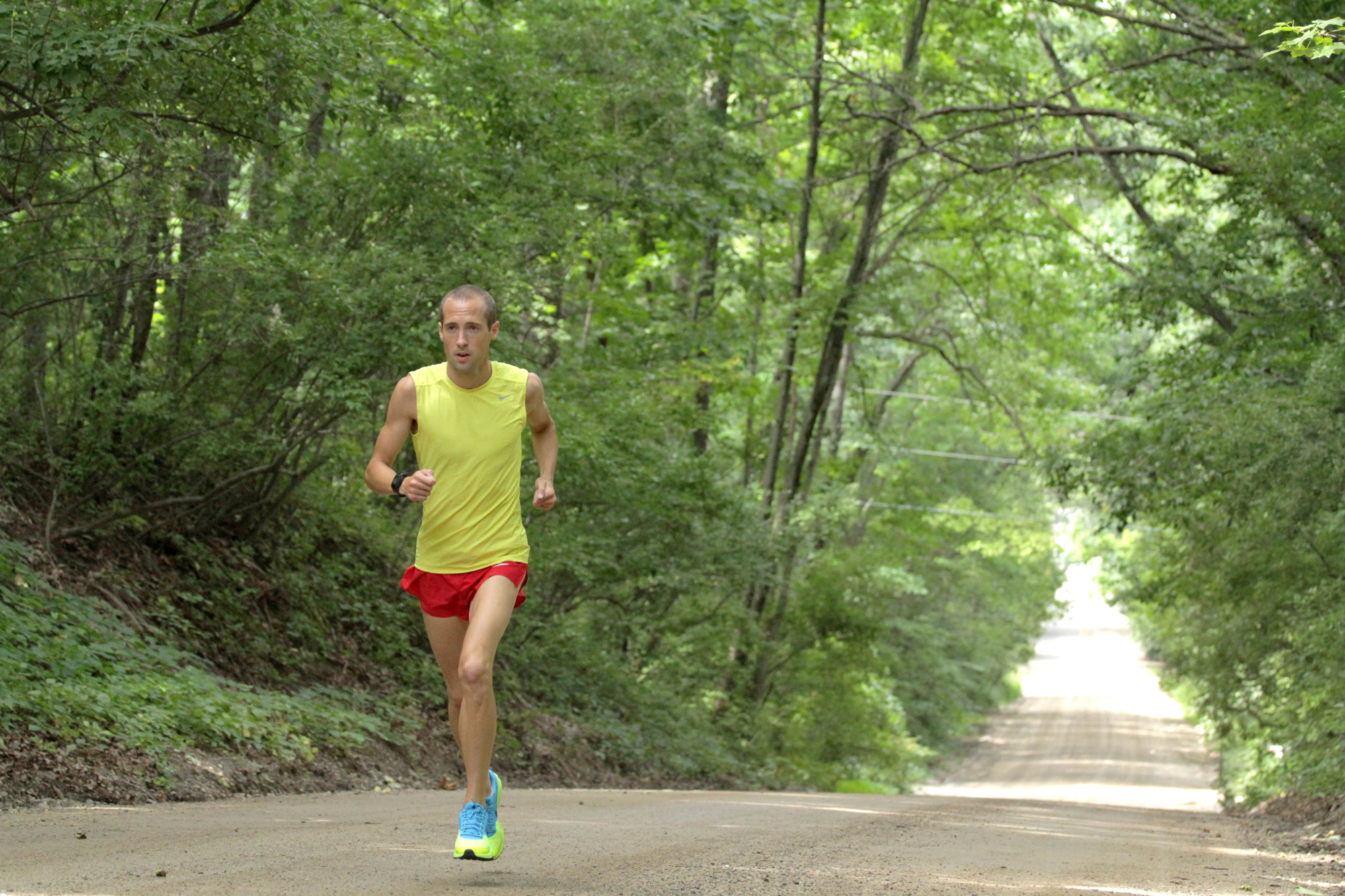 The soft surface here in Rockford is a perfect convenience for the oft-injured Ritz. He starts to rattle off the injuries he's had throughout his career and it seems like the list goes on forever.
"I've had every kind of injury imaginable," he says. "A lot of them have been really bad ones. I thrive on the challenge, but also, I just pick myself back up. I don't feel like I'm done. I don't feel like I want to go out that way every time. I just want to prove that I can come back. I can take a beating."
The goal this summer has been not to worry about his fitness, but to rebuild his body completely, physically speaking. In 2011, Ritzenhein had surgery to remove the sheath on his left Achilles tendon. However, Ritz was allergic to the stitches used during the operation and when the antibiotics didn't heal the infection, he was forced to the sidelines for longer longer than he had planned.
There was, of course, a silver lining.
"After my achilles surgery, and I was able to stay healthy for two and half years, which I never had been able to do before," he said. "I was convinced that it was because I was able to rebuild my body structurally and make it strong again. That's what I payed a lot of attention to this summer."
Fate is a funny thing, and I'm not sure if I'm a believer in it, and neither is Ritz. Like me, he doesn't have a strong conviction to one side or the other. Either way, he mentions that things do happen for a reason.
"It was devastating to miss that Olympic marathon team by such a small margin when I did in 2012, but I would have never come back and run 2:07 in Chicago either," he says. Ritzenhein finished fourth in Houston, TX, a mere eight-seconds away from punching his ticket to London.
I ask him where the '13 Chicago Marathon ranks among his brilliant career highlights. He starts with his number one accolade, which at first, comes as a surprise, but makes complete sense through the scope of Ritz's world.
"Making that Olympic team in 2012 in the 10K was one of the things that I'm most proud of: more proud of than breaking the American Record or winning a World Championship medal. Those things are career highlights, but personally, the satisfaction of coming back when you're down on the floor, that's what I love."
Almost five months after failing to make the marathon team, Ritz took to the track, and tried to finish in one of the top three qualifying spots while running under the Olympic "A" standard of 27:45. At a rainy Hayward Field, Ritz finished third in 27:36.09.
"I also like to think that maybe I'm like Ken Griffey Jr," he adds. "I've had a lot of injuries, but maybe that means I'll have a longer career. You get those breaks in there, but at the same time, it's been tough. I've been blessed to come back every time and I'm thankful every time I get out there racing."
I've never pinned Ritzenhein as an evangelical person, but he did have a strong Catholic upbringing, which is one of the factors that initially drew him to work with coach Alberto Salazar. Again, we start to talk about fate, destiny, and injuries.
"I don't think of things necessarily like I know everything," he says, "but I feel that connection, having grown up with that faith. I don't know if God has a plan for me or if I have that destiny. If that is the way it is, then I look at it like I had this almost career ending injury. Where is that in the plan? Is that making me realize how fortunate the rest of my life is. Or, be thankful for the gifts that I have and do the most with it. Or, does it mean that you make your own destiny? Whatever decision happens, God helps make you make the best decision."
Ritzenhein's path has brought him back to Rockford, where, unlike the biblical Parable of the Prodigal Son, Ritz has been forever grateful. His story is Parable of the Prodigious Son.
The road starts to narrow as the tree branches come close to brushing the top of my car. I'm forced to speed ahead of Ritz, hopefully not leaving too must dust in my path, as we careen down yet another hill. Then, all of a sudden, the forest comes to an end, and we're situated between two well-trimmed patches of fertile land.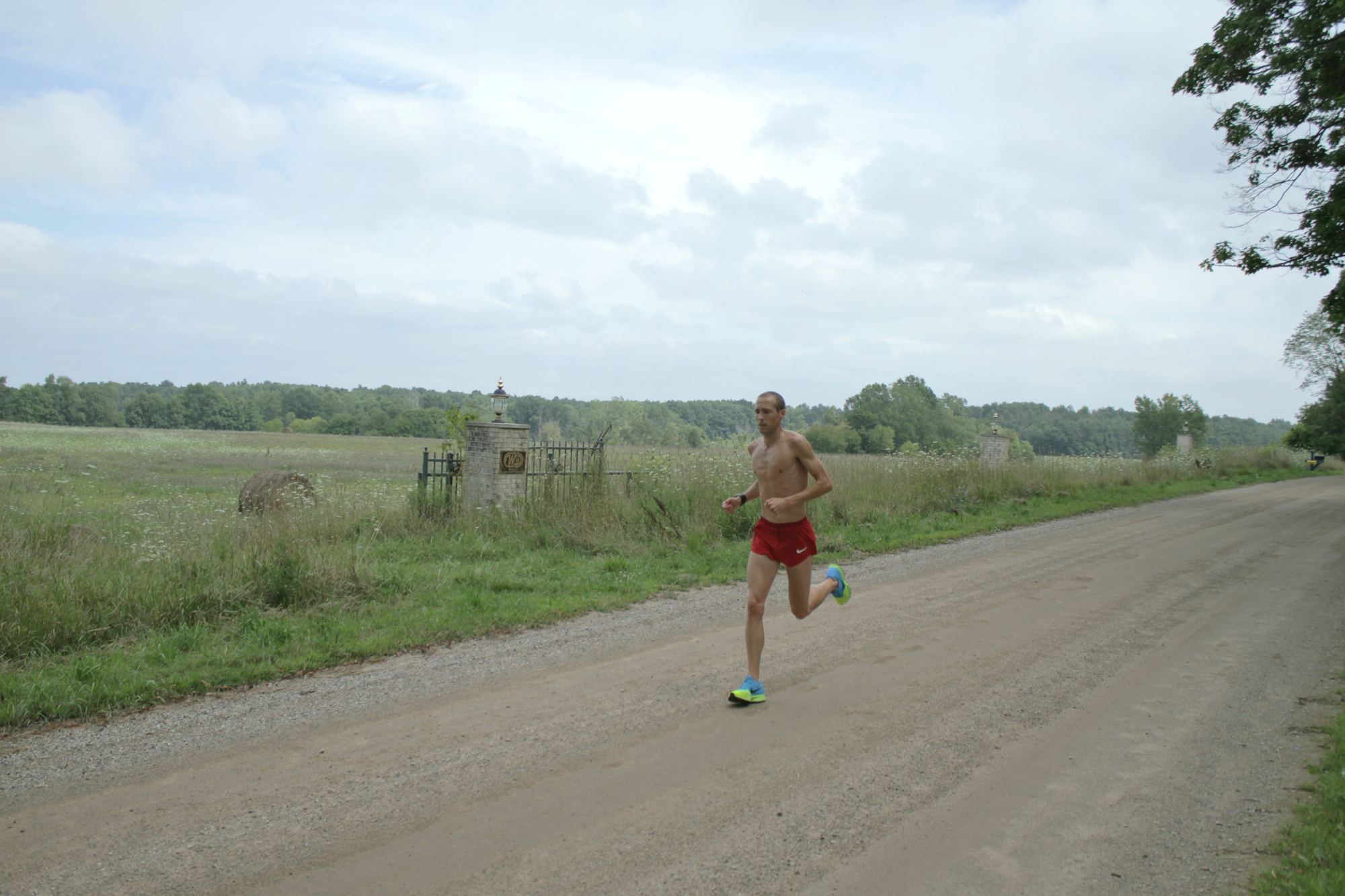 Just as I start to take some scenic shots, I notice Ritz waving his hand, signaling that it's been five miles and he's making his way back to the parking lot.
Not even the incessant noise from my camera's lens every half mile averts Ritz' gaze. Even during something as simple as a recovery run, he has a laser-like focus. Out here, by himself, he's isolated from the rest of the world, only focused on his effort and his effort alone. The same could be said for his coaching situation.
"I'm self-coached," he says. "I take advice from multiple people, including Alberto and Greg Meyer. I have a lot of resources of people, but I wanted to take some ownership of my training and try some new things."
Ritzenhein isn't one who's afraid to ask for help either. Jason Hartmann, who coached himself during the last few years of his career, would routinely send Ritzenhein his training and ask his opinion.
"I would tell him what I thought he was missing and he's someone I'd trust very much," Ritz says. You don't always look at things objectively. Sometimes, you look at things emotionally. Just having someone to keep you on track is good."
As it turns out, this isn't the first time the two have collaborated with training: Hartmann is a 1999 Rockford High School graduate and a former teammate of Ritz.
When we get back to the parking lot, he's full of stories, mostly about his family, and his plans for the afternoon. Days before my arrival, for no reason, really, I notice Ritzenhein's Twitter biography: "Dad, Husband, and professional distance runner." The last part, which could be divided into a slew of subcategories, is the last to be listed. Distance training might require plenty of solitude and dedication, but over the years, Ritz has found support through his devoted wife and growing family.
"I started being a very self-centered person that didn't care about anyone but myself," he says. "You go out find that right person, and I was very fortunate to find my wife when I was young. She was the soulmate for me. She's been through all the hard times, and there's been more of them than good times.
"But then when you become a parent, your outlook changes. Certain things don't matter that mattered before. I cared more about what people thought before and really, I care about what my friends and family think now. That has changed."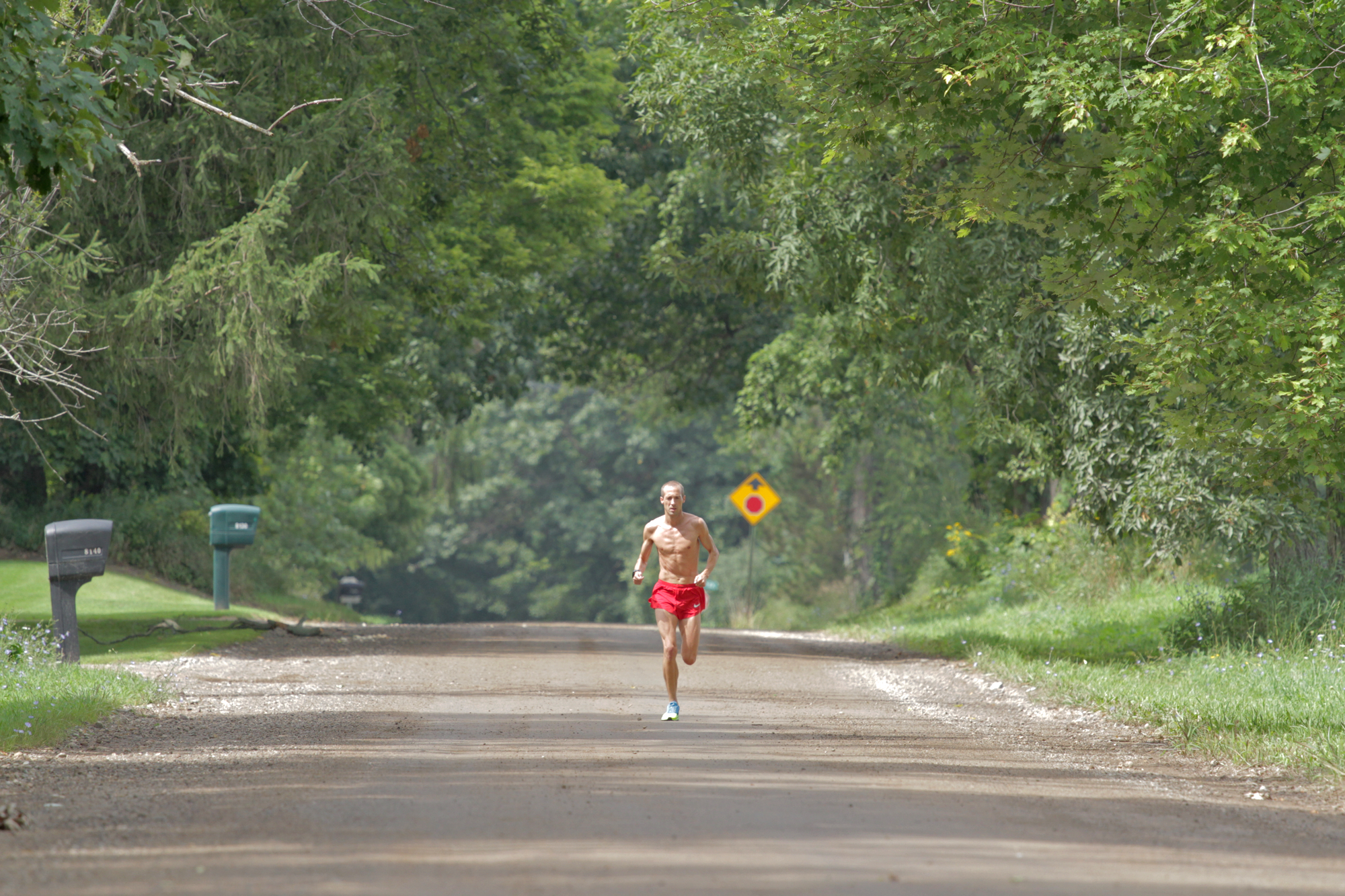 Before we part ways, I ask Ritzenhein if I can see the site of his future home. It's only a few miles from the parking lot and beside a post-run weight session at the nearby Anytime Fitness, today's work is over.
I follow Ritz through the rolling hills until we come to what seems to be the region's peak, located at Settler's Grove. As soon as we enter the community, Ritzenhein pulls over to the first empty plot of land and gets out of his car. It's here where the construction crew will soon break ground.
Our arrival was spotted by who I initially thought was a future neighbor, but it turned out to be Ritz's realtor, Jeff. He's a University of Michigan alumnus who, back in the day, ran for the Wolverines.
Before they even get to talking about the house, Jeff asks Ritz about the Bobby Crim 10 Miler. Then about his family. Then about me.
After two days in Rockford, I had discovered the city's charm. The townsfolk are genuine, friendly people who don't just care about Ritzenhein as a runner, but as a whole person. They're happy to have him back.
It's like he never left.

Mitch Kastoff is a freelance writer based in Portland, Oregon. Contrary to popular belief, he did not invent the high five. If you enjoyed these ramblings or have any comments, questions, or concerns, feel free to reach him on Twitter or by email.