One Comment
The Monday Morning Run: Simpson grinds out an American record, records aplenty in Boston and Barshim soars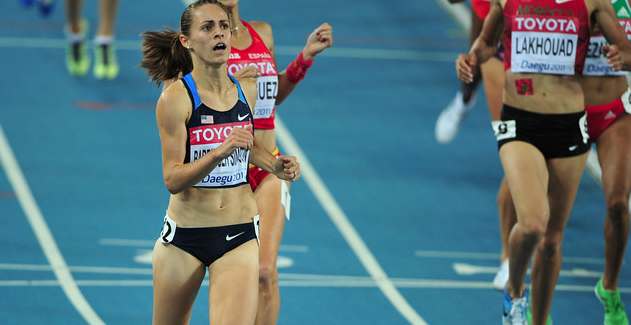 Kevin Sully | On 09, Feb 2015
Photo: TrackTownPhoto
If you enjoy middle-distance races, then the indoor season is for you. At Saturday's New Balance Indoor Grand Prix, there were six races between 1,000 and 3,218 meters. Not all of them panned out, but in true mid-distance fashion they all were unpredictable in their own way. Elsewhere, there were World Cross Country Championships implications in the US and Mutaz Essa Barshim continued to impress in the high jump.
The Medalists
The top three performances of the week….
Gold: Jenny Simpson
Simpson won the two-mile and set an American record at the New Balance Indoor Grand Prix. The two-mile race had all the makings of a procedural race–a record attempt, one major star, good (but not great) competition. It easily could have been an emotionless time trial. But Simpson's approach to the race gave it a little something extra.
Simpson ran closely behind the rabbit for a few laps, until taking control of the race herself. At that point, the three Ethiopians, Sentayehu Ejigu, Buze Diriba and Gotytom Gebreslase still were in contention.
Then, Simpson began to tighten the screws. She continued to press the pace until the rest of the field said "uncle." The winning margin, almost nine seconds, indicates a snoozer, but this was fun to watch and not just because Simpson crushed the old American record and ran 9:18.35. It was the style of running that made it captivating.
In running, there are different types of leading. The most common is the going out too fast form of front running. That is usually a symptom of a lack of confidence and ends with positive splits and negative memories. Then, there is leading that gives you the best chance to win. Simpson has done the latter to perfection.
This flies in the face of following just for the sake of following that has become a scourge in middle distance races. That strategy doesn't work for most of the field and yet it is used with regularity. Over the past year, Simpson showed running "smart" and leading aren't mutually exclusive. On Saturday, the field wasn't as strong as what she will see outdoors, but there were still threats. She needed to be the aggressor if she wanted the fast time and she needed to be the aggressor so that none of the Ethiopians would even have a chance of outkicking her.
Silver: Nick Willis
He's only 31 and yet I can't shake the feeling that Willis is going to have Bernard Lagat levels of longevity. Last summer, he set personal bests in the 1,500, mile, 3,000 and 5,000 and looks to be in similar form early in 2015.
In Boston he set another personal best, this time in the mile when he kicked hard off a fast pace to win the race in 3:51.61. It was a dominant victory, about 1.5 seconds clear of Ben Blankenship, and also a national record for New Zealand.
Bronze: Mutaz Essa Barshim
-Barshim, in the midst of a winter barnstorming high jump tour of Europe, cleared 2.40 in Slovakia.
That is his best indoor jump ever and only three centimeters from his personal best outdoors. On Sunday in the Czech Republic, he failed to jump 2.35, but he still won the competition. His main rival, Bohdan Bondarenko, has been quiet thus far this winter.
Surging….
-Matthew Centrowitz
He looked calm, cool and collected in the 1,000 at the New Balance Indoor Grand Prix, winning in 2:17.00 and defeating Erik Sowinski and Pat Casey. The shorter distances have been kind to Centrowitz the last two weeks, first a great 1,200 leg in the distance medley relay in New York and now a smooth victory in a 1,000 over an 800-meter specialist, Sowinski.
I'd say Centrowitz is using the indoors to work on his speed and tactical skill, but he has always had plenty of both. Next week's Wanamaker Mile at the Millrose Games with Centrowitz, Willis, Lagat and others is now the most anticipated event on the schedule.
-Chris Derrick
Off the track, the biggest American race took place at the USA Cross Country Championships in Boulder, Colorado. As expected, Derrick continued his successful career on the mud and grass, covering the 12-K course in 36:18 and beating runner-up Bobby Curtis by 30 seconds. It was Derrick's third win in a row and he celebrated accordingly
Chris Derrick @CDerrickRun @BowermanTC winner 36:14 Mens 12K #GoStanford #NerdNation @BoulderUSAXC #USAXC 07 Feb 2015 pic.twitter.com/XS4vEqVc6A

— TrackAndFieldPhoto (@TnFphoto) February 7, 2015
This race also serves as the qualifier for the World Cross Country Championships with the top six earning spots to China. Dathan Ritzenhein placed third, but has already stated he will skip the race in order to prepare for the Boston Marathon. That leaves Ryan Vail, Patrick Smyth, Maksim Korolev, Andrew Colley on the team with Derrick and Curtis. Like most World Cross Country Championships rosters, all of this is subject to change.
-Laura Thweatt
The women's race in Boulder wasn't as star studded with many of the top women focusing on the track. A a cross country race with Molly Huddle, Shannon Rowbury and Jenny Simpson would be phenomenal to watch right now, but they weren't in Boulder. Laura Thweatt was and she easily won the 8K race in 27:42.
Mattie Suver, Jen Rhines, Brie Felnagle, Sara Hall, Elaina Balouris went 2-6. Like Ritzenhein, Hall is running a spring marathon, so there will be some additions to the American team.
-Treniere Moser
A week after almost catching Ajee Wilson at the line, Moser won the 1,000 at the New Balance Indoor Grand Prix and for the second week in a row, she beat her training partner Mary Cain.
-More obscure world records!
The records keep piling up for American middle distance. On Saturday, New Balance US ran 10:42.57 in the women's distance medley relay and set a world record. The interest on the last lap, however, was focused more on the race than the record.The New York/New Jersey Track Club team, anchored by Nicole Tully opened up a gap on Brenda Martinez of the New Balance team.
At the time it looked like Martinez had forgotten she had a kick. She quickly responded and flew past Tully for a narrow win. After the race, Martinez said she wasn't sure what lap they were on, hence the delayed sprint finish.
Slowing….
-Galen Rupp
Rupp announced that he is ending his indoor season after just one meet due to illness. Rupp said in a press release that,
"….the last 4-5 weeks I have not felt like myself. I had some tests done last week which confirmed that I was fighting a virus and will need to take some time off to recover. Despite backing off significantly in my training the past week I have not been getting better and will not be competing in any more races this indoor season."
This certainly adds some context to his loss last week at the Armory. We will probably have to wait until March or April to see if there are any lasting effects.
-Field events in Boston
There were only three field events contested in Boston. The men's shot put, women's high jump and women's pole vault all had very small fields and didn't generate much excitement. But it's not as if these events are dormant all winter. The aforementioned Barshim is jumping all over Europe and this past weekend Renaud Lavillenie had three attempts at the world record in the pole vault in France. There is top level jumping, vaulting and throwing going on, just not in the meets in America.
When you see Barshim jumping in the equivalent to high school gyms in Europe, you have to think it can't be too hard to get him in front of an American crowd just once this winter.
Winners who didn't win
-Dathan Ritzenhein
Third place at the USA Cross Country Championships in the midst of marathon training is another good result for Ritzenhein. Two months out from Boston, it's a positive sign that he is healthy and racing frequently.
-Bernard Lagat
The most thrilling race of the week was the men's 3,000 in Boston where Dejen Gebremeskel narrowly defeated Bernard Lagat. Lagat had the lead at the bell, but Gebremeskel slid by with 50 meters remaining and went past on the outside. Even though he lost, finishing speed like that has to be encouraging for Lagat as he tries to make another run at a medal this summer.
In Other News
-Coburn loses American record
Emma Coburn's time from the Glasgow Diamond League 3,000 steeplechase was not ratified as an American record because she was not drug tested after the race. In a statement, Coburn said she was unaware of the rule. Though not a record, her time of 9:11.42 still stands making her the fastest American to run the event. That means she can run slower than her personal best and set an American record.
It's a somewhat similar situation that used to exist in men's marathon where the world record was slower than the 2:03:02 that Geoffrey Mutai ran on the record ineligible Boston Marathon course.
So, Coburn gets to keep the time and her sponsor, New Balance, is still honoring the monetary bonus for the record. The way she has been running, she will go under 9:11 this summer and this incident will serve as a cautionary tale to other runners. It also will totally confuse Google in ten years when you try to figure out when the American record was broken.
-Bolt Opener
Bookmark the live stream now for a Jamaican meet that is probably going to be running two hours behind schedule. Organizers of the Camperdown Classic say that Usain Bolt will compete at Saturday's meet "barring injuries or unavoidable engagements." No wiggle room there.