One Comment
Goodbye Diamond League, Hello Battle of the Sexes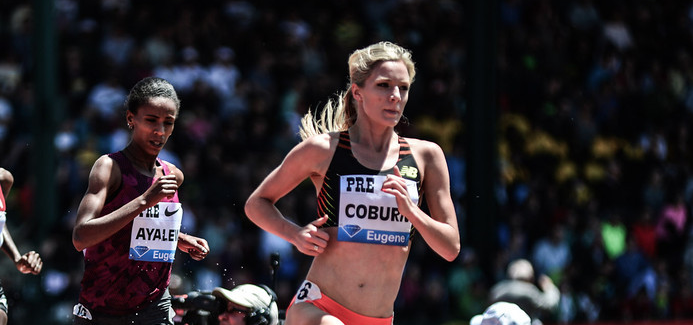 Daily Relay | On 10, Sep 2014
Photo via TrackTownPhoto
In 1976 ABC aired a new show, Battle of the Network Stars. ABC, NBC and CBS each chose 10 of their top actors and actresses, outfitted them in classic 70's gear, and asked them to compete against each other in random athletic contests. Unintentional comedy of the highest order ensued.
The first contest came down to the outcome of the final sprint relay. Curiously the organizers decided on a rare 6-person, 800m relay, run in this order: 100, 100, 200, 100, 100, 200. The clip is below. If you enjoy the majesty of relays, ancient track surfaces, pedestrian split times, blatant zone infractions and possibly the worst baton exchange of all time (1:20 mark) you owe it to yourself watch the race from start to finish:
Next watch all hell break loose when CBS captain Telly Savalas challenges NBC's victory, leading to bizarre run-off between the captains of the first and second place teams. I feel like Stefon from Saturday Night Live when I say this clip has everything: vintage Howard Cossell, racial stereotyping, the athlete formerly known as Bruce Jenner, smoking on the track, a grown man taking things way too seriously, the world "hullabaloo", and the victor being carried off on his team's shoulders. Note that, the entire time, no one ever brings up that NBC dropped the baton and should have been disqualified for that alone. Either way, enjoy:
I bring this made-for-TV circus to your attention because American track & field could use a bit of popular culture interest right now. At the end of the Diamond League season in a non-championship year there have been precious few mass media moments outside a pregnant woman running the 800m. Most of the United States is unaware that the sport is taking place, let alone who its top stars are.
So here's my pitch to any channel who is listening: an American Battle of the Sexes meet. Let's keep it simple. Each race will only have 4 runners – the two American men and two American women with the fastest times that calendar year, as well as one 4×100 and 4×400 relay team of each gender. Let's also take a page from the 1976 playbook: find a track overlooking the Pacific Ocean, invite a number of non-competing athletes and C-list celebrities to wander around the inside of the track to add to the general chaos and, my pièce de résistance, sign Joe Namath and Lolo Jones as hosts.
Sadly, this will never happen. The first reason is philosophical: it falls under the category of too good to be true. The second is technological: we would need a new starter gun, one programmed to fire off two signals at a stagger to compensate for the difference in men's and women's times. As commissioner of this imaginary event I decree the stagger will be the average of the difference between the men's and women's world leads at the end of each of the last 10 seasons, as sanctioned by the IAAF. Therefore the staggers are as follows:
100m: 1.04
200m: 2.44
400m: 5.36
800m: 13.87
1500m: 28.13
5000m: 1:35.38
10000m: 3:44.19
3000m SC: 1:11.41
400mH: 5.28
100mH/110mH: 0.52 (female stagger)
4x100m relay: 4.35
4x400m relay: 21.73
Aided by a little creative imagination, here is what would happen if the meet was scored in the 5-3-1 format and each runner equaled their best time of 2014. Team captains are Alberto Salazar for the men and Jackie Joyner-Kersee for the women. Certainly nothing could go wrong with those choices.
100m
The pageantry kicks off with an exhibition 100m where Usain Bolt jokingly races against the cast of Cirque du Soleil and takes home a check for $50k. The #BoltBrand thus bolstered, he takes to signing autographs as the real race takes its mark. Surprisingly, Tori Bowie edges Justin Gatlin at the line by slimmest of margins – one hundredth of a second – to take the American title. Tianna Bartoletta edges out Mike Rodgers for third. Women 6, Men 3
200m
Gatlin and Bowie shotgun a Gatorade and jog back to the start line to do it all again. Gatlin loses again, this time to Allyson Felix, who wins by .10 seconds. Anti-doping zealots rejoice and declare it a national holiday. Bowie comes in third. Women 12, Men 6
400m
Lashawn Merritt does what he always does when Kirani James isn't around: just wins, baby. He beats Francena McCorory by .20 seconds. Sanya Richards-Ross grabs third. Women 16, Men 11
800m
Matt Scherer and Phoebe Wright are the rabbits, wearing full throwback 1970's gear. Ajee Wilson wins an extremely tight race, with Duane Solomon less than a tenth of a second behind. Erik Sowinski nips Brenda Martinez for third. Women 21, Men 15
1500m
Jenny Simpson is ahead by such a margin that she acts like she is about to do a Mekhissi-Benabbad coming down the home stretch. She wins by two seconds. The camera cuts to a wildly grinning Joe Namath. Thus we miss Leo Manzano and Matt Centrowitz both out-leaning Shannon Rowbury at the line to claim 2nd and 3rd respectively. Women 26, Men 19
5000m
Galen Rupp wins without breaking too much of a sweat. Ben True takes second, with Molly Huddle a distant third, six seconds behind Galen. Rowbury is 12 seconds behind in fourth. It's the first 1-2 sweep of the afternoon by either gender. Men 27, Women 27
10000m
Salazar tricks Rupp into thinking this is his cool-down and he becomes the only multiple winner of the afternoon. The race eats up 30 minutes of airtime but Namath fills in some of the gaps by making a few passes at Lolo on live TV. Viewership skyrockets. Huddle comes in second, 19 seconds after Rupp finishes his cool-down. Bobby Curtis and Jordan Hasay are even farther back, finishing in third and fourth place respectively. Men 33, Women 30
3000m Steeplechase
Newly-minted American record holders clash in the contest most hotly debated race on the LetsRun message boards. Emma Coburn holds off a feisty Evan Jager by five seconds to win the Battle of the Blonds. Stephanie Garcia finishes third, beating Daniel Huling by two seconds in the undercard Battle of the Brunettes. Men 36, Women 36
110mHH / 100mH
The track looks like a Salvador Dali painting with different start lines and mismatched hurdles. The women have to hold for their only staggered start but they finish 1-2, with Dawn Harper-Nelson in first and Queen Harrison out-leaning Ronnie Ash at the finish by .01. Oregon wide receiver Devin Allen comes in last but does catch an unexpected pass that Namath fires at him seconds after crossing the finish line. Lolo steps in front of Harper-Nelson's victory cartwheel to remind viewers she will be on the new season of Dancing With the Stars. Women 44, Men 37
400mH
Fan favorite Ashton Eaton takes the track along with Mike Tinsley, Kori Carter and Georganne Moline. Tinsey wins comfortably and Carter takes second. Eaton grinds out third by .03 over Moline to keep the men in striking distance. Women 47, Men 43
It's a tight contest coming into the final two relays, using the 5-0 winner-takes-all scoring method.
4x400m
David Verberg,Tony McQuay, Christian Taylor and Lashawn Merritt are galvanized by Salazar's emotional speech and run the team of DeeDee Trotter, Sanya Richards-Ross, Natasha Hastings and Joanna Atkins off the track, winning by three full seconds. It's all coming down to the final race. Women 47, Men 48
4x100m
Unfortunately, the American men are represented by … the University of Florida. Yes, thanks to an embarrassing DQ at the World Relays in the Bahamas the US men are represented by Antwan Wright, Hugh Graham Jr., Arman Hall and Dedric Dukes. The collegians face off against a team of professionals – Tianna Bartoletta, Alex Anderson, Jeneba Tarmoh and LaKeisha Lawson. The women win the race by .76 seconds. It's all over. Final Score: Women 52, Men 48.
But wait ….
Not satisfied, Salazar challenges one of the hand-offs in the 4×100. He claims an exchange zone infraction on the final hand-off. Additional race video provided by a Nike drone "confirms" the challenge. Joyner-Kersee gets in Salazar's face until Namath finally brokers a compromise. Salazar and Joyner-Kersee will face off in a straight 200m race, no stagger, to determine which team wins the inaugural Battle of the Sexes. They take their marks. The gun goes off. I mean, come on, tell me you wouldn't watch that.
Garth Poorman (@DolphusRaymond) lives in Philadelphia. He has never participated in a 6-person, 800m relay.