No Comments
College Weekend Recap: Battle in Beantown and Roy Griak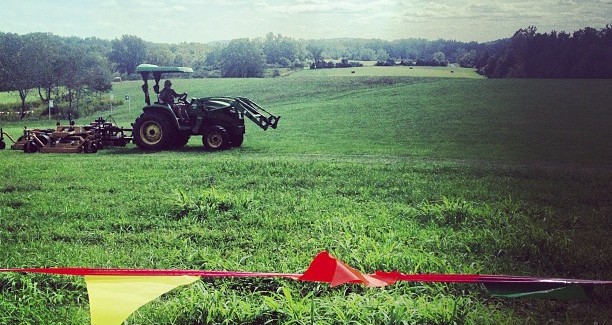 Jesse Squire | On 29, Sep 2014
Virginia's Panorama Farms is a home cross country course like no other.
(Photo: uvacrosscountry.tumblr.com)
The College Weekend Recap returns after the summer break and an early fall layoff. There's a lot to look at in this first weekend of real college cross country action.
So why didn't I recap any of the last four weekends? I have two answers, and the first and most honest is that I've been much too busy. But the other reason is that the last four weeks of action haven't meant much of anything.
College cross country is much like the NFL, albeit with less domestic violence and head trauma. The NCAA Championships are like the Super Bowl and conference championship games all rolled into one. The regional championships, from which 31 teams qualify to the NCAAs, are like the early rounds of the NFL playoffs. The period of time from now until the conference championship meets is like the NFL's regular season. And that makes the previous four weeks very much like the NFL's pre-season.
Remember, qualifying to the NCAA Championships is via two mechanisms. The top two teams in each of the nine regions get automatic bids, and then another thirteen teams get at-large bids based on wins over qualified teams during the "regular season". The period during which wins for at-large status are tracked began this weekend.
During the first four weeks of the college season, up through eight days ago, it literally does not matter one iota who wins and who loses. Most teams use those early-season meets as a way to evaluate B-team talent and as half-effort rust-busting tuneups for their stars, and everyone is trying to avoid injury. In other words, exactly how NFL teams use their pre-season.
The parallel even extends to how the teams relate to their fans, although the number of fans is just a bit smaller in college cross country. The NFL strong-arms its fans into pre-season games by tacking them on to season-ticket packages. Occasionally the NFL does some creative scheduling, such as the annual Hall of Fame game at Canton McKinley High School's Fawcett Stadium, but not often. Many college cross country teams take this time of year to try to do different things to draw attention.
There were traditional rivalries, such as Harvard-Yale-Princeton, Lafayette-Lehigh, Army-Cornell, and Bowling Green-Toledo-Eastern Michigan. Oregon, the masters of self-promotion, tied their lone home meet into the football team's home opener by bringing in Michigan State, the same team the Ducks played the following day in Autzen Stadium. Texas A&M encouraged fans to come to their new home course with promotional trinket giveaways.
There were some early-season meets that, at first glance, didn't seem to do anything to draw attention. They did, but only if you know the lay of the land. Consider the twin women's powers on the north coast, Michigan and Michigan State.
Michigan's opening meet was at 10am on Friday, August 29 in the town of Dexter, some 16 miles from the main UM campus. It looks like the worst possible time and place to draw attention, away from campus and during work and school hours. But it's actually the best time and place.
First of all, it's not during school hours. In order to keep the tourism season going, Michigan law forbids schools from opening prior to Labor Day. The hordes of runners at schools like Dexter, Saline (site of the Michigan Track Classic), Ypsilanti (Tiffany Porter's alma mater), and Ann Arbor's three high schools could all come and watch. Ann Arbor is the running mecca of the Great Lakes region, and its biggest event is the annual Dexter-Ann Arbor Run, a point-to-point half-marathon similar in spirit and style to the Boston Marathon. The Dexter Dreadnaughts just happen to be among the best small-school cross country programs in the entire nation. So if you want to capitalize on Michigan's incredible depth of distance running talent—and the Wolverines have done that—then that's the time and place to show off your team.
Michigan State's Spartan Invitational takes place two weeks later and, for college teams, it's nothing more than an unscored early-season exhibition race against second-tier competition. But again, it's a clever promotion for the college teams. They race immediately prior to the high school portion of the meet, a massive event with more than 5,000 students from around the state. It's those kids' first serious race of the year and a road trip to run on a Big Ten course at a Big Ten campus. When all races are put together, it's Michigan's second-biggest annual running event.
What about now that the meets have started to count for points towards national qualifying? Everyone is concerned with three and only three things: getting to the post-season, being positioned to do well when they get there, and avoiding injury between now and then. Again, this makes Saturdays sound an awful lot like every
Battle in Beantown
Boston College hosted the first meaningful meet of the year, the Coast to Coast Battle in Beantown, at the historic Franklin Park course. The men's team title went to #3 Oregon and the women's to #1 Michigan, so no surprises there.
Duck superstar Edward Cheserek, the defending NCAA champion, ran his cross country win streak to 5 races by a narrow margin over teammate Eric Jenkins. Jenkins, a New Hampshire native and formerly at Boston's Northeastern University, looks to be a key to Oregon's hopes to upend Colorado as national team champions. An eye-opener for Oregon was unheralded Daniel Winn in fifth place. Two more Ducks, track stars Sam Prakel and Matthew Melancon, both finished in the top ten. Only two other ranked teams were in the field, #8 Syracuse (second) and #16 Providence (third).

The Michigan Wolverines had tougher competition in the women's race, facing off against #5 Georgetown (second) and four more ranked teams. The race wasn't particularly close, as the Wolverines came out ahead by the score of 55 to 77. It should be noted that Michigan ran their full A-team while Georgetown sat out two of their top seven, including All-American Samantha Nadel. Still, Michigan certainly looks like a #1 team and is firing on all cylinders right now.
Boston College's Liv Westphal defended her home turf and came out the winner by more than 20 seconds over Michigan's Erin Finn, who was immediately followed by teammate Shannon Osika. They claimed such All-American scalps as Georgetown's Katrina Coogan (4th), Dartmouth's Dana Giordano (6th), and Eastern Michigan's Victoria Voronko (8th). If this is not a one-off performance for Osika, then the former USATF junior cross country champion could make the difference in the Wolverine's pursuit of their first-ever NCAA title.
Roy Griak Invitational
Results | Flotrack coverage (subscription required)
The annual Roy Griak Invitational at Minnesota's Les Bolstad Golf Course was the biggest and most meaningful race of the weekend, especially in the women's competition.
#3 Michigan State dominated that women's race, putting six women across the finish line before runner-up #9 Iowa State had four, and winning by a score of 66 to 102. Led by All-Americans Rachele Schulist (5th) and Leah O'Connor (9th), the team looked every bit as tough and sharp as their in-state rivals (see above).
In a deep meet like this, the most meaningful results are usually not at the top of the scoreboard but just underneath it. Unranked Baylor finished fifth and beat two ranked teams in the process, #28 Minnesota (seventh) and #11 Butler (fourteenth), a result that likely will give them a big boost in earning an at-large bid to the NCAA Championships.
Fourteenth for the Bulldogs? Yes, and they ran their full squad. Head coach Matt Roe blamed the heat—he has his team train early in the day, figuring that preparing for heat isn't important come November and late October—but that's still a rough result and one that could come back to bite them in the deep and tough Great Lakes region.
The individual race was touted as a battle between NCAA track champions Shelby Houlihan (1500m) and Emma Bates (10,000m) but it never materialized. Houlihan pulled away from a group of frontrunners at the end of the race while Bates faded to sixth. Last year, Bates' only losses in cross country were to women now running as pros, Abbey D'Agostino and Alexa Ephraimson, so this at least appears to be a step back from where she was twelve months ago.
The men's race had no highly ranked teams and that opened it up for an upset. Led by individual champion Nate Jewkes, unranked Southern Utah came out ahead of thirty teams including #19 North Carolina, #24 Texas, #27 Iowa State and #29 Colorado State. "This is a major victory for the SUU cross country team," said SUU head coach Eric. "This is the strongest team we've ever had at SUU."
The meet will rewrite the bottom half of the men's national rankings this week. Second place went to Colorado State and unranked Minnesota came third, while #19 North Carolina finished well back in ninth, just one place ahead of D-II Grand Valley State.
Other meets
Stanford Invitational
Results | Flotrack coverage
Despite a wrong turn late in the race, #5 Stanford's Joe Rosa and Maksim Korolev finished nearly 20 seconds clear of the field. The pair lost about five seconds when Korolev, a graduate transfer from Harvard, got confused and Rosa corrected him. Those were the only two of members of the Cardinal's A-team and so their third-place finish will not be figure in the at-large qualification for the NCAA Championships. The #4 Stanford women won even while running mostly a B-team.
Panorama Farms Invitational
Results
The Virginia Cavaliers swept their own invitational, held at a course unlike any other. The men's race was very close, with the scores ending up as #13 Virginia 47, Furman 51, and #12 Iona 54. I'm not sure what to make of Iona's defeat since they sat out some of their top runners but not all of them.
Cowboy Jamboree
The Oklahoma State men's and women's teams won their own invitational with ease.

Division II
Each week I'm going to take a look at a non-Division I level of cross country, and this week it's Division II.
This year's NCAA Division II Championships will be hosted by Bellarmine University at Louisville's Tom Sawyer State Park, the same course that hosted the Division I championship meet two years ago. It will be a bit later than usual, December 6, in order to be part of the Division II Fall Festival of Championships.
Unlike Division I and Division III, there are no at-large bids to the national championships. There are anywhere from three to six automatic qualifiers out of eight regional meets, and the numbers shift from year to year based on the previous year's national championships results. Individual qualifiers are also cut-and-dried, the top three in each region who are not on qualifying teams.
Adams State is the traditional powerhouse of Division II cross country. The Grizzlies are the two-time defending men's champions and have eight more men's titles and fifteen women's titles. The program was brought to prominence by legendary coach Joe Vigil (who mentored such athletes as Deena Kastor) and Damon Martin has kept it going. When Adams State doesn't win, as often as not the champion is Western State, their Rocky Mountain Athletic Conference rivals. No surprise that Adams State is #1 in the men's poll.
A new power has come into prominence. The Grand Valley State Lakers are the two-time defending women's champions and currently ranked #1 on the women's side and #2 on the men's side.
The top returning men from last year's championships are Adams State's Tabor Stevens, the defending national champion, and American International's Mike Biwott, who finished fourth. Stevens won the steeplechase and took second in the 5000 at last spring's NCAA outdoor championships while Biwott skipped the track season.
The top returning women from last year's championships are Grand Valley State's Allyson Winchester (third) and Bentley's Tara Dooley (fourth).
We'll get to see how these teams match up against Division I talent next week, when Adams State goes to Lehigh's Paul Short Run and Grand Valley State goes to the Notre Dame Invitational. And as always, the Rocky Mountain Athletic Conference meet on November 8 will be a mini-national championships.