One Comment
The Monday Morning Run: Lagat's American record, Zharnel Hughes shines, USATF dysfunction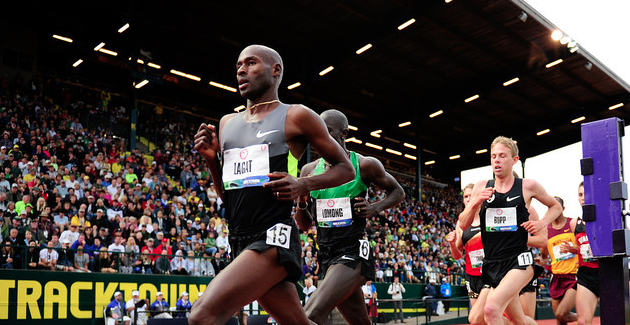 Photo via TrackTownPhoto
Now that the professional outdoor season has begun in earnest, the next few months are starting to look pretty interesting for American track fans. The following events take place in the United States before the end of July: NCAA Championships, two Diamond League meets, World Junior Championships, Drake Relays, Penn Relays, and five meets throughout the country as part of the new American Track League.
Track and field usually reaches its apex in August or September, but this year you may want to pay more attention up front. With the meets above, and the string of three big city marathons coming up, April until the end of July is going to be a very solid stretch, especially for American viewers.
Before we get too carried away, let's remember a few guidelines for following track and field in a non-championships year.
1) Don't read too much into upset
Remember when Tyson Gay beat Usain Bolt in Stockholm in 2010? Bolt blamed a sore back, but some hinted that Gay's win showed Bolt's vulnerability. Since then, Gay hasn't won an individual medal and Bolt has five–all gold.
2) There will be fast times, it's just not clear when
Unless it is a rarely contested event, fast times typically come at the end of the season. It's much less predictable in a non-championship year. With athletes peaking at different times and fast fields sometimes popping up mid-season, many top marks will seemingly come out of the blue.
Bolt's ran his 19.56 200 in 2010 in May. The two fastest 5,000 times in 2010 were set in May, in 2006 (another non-championship year) the two best were set in August. There really is no way of predicting. Brace yourself for speed early. Or speed late.
3) Non-championship years can mark the beginning/end of eras
I guess this is true of any season, but with all the downplaying of the off-year, you would think that there wouldn't be many takeaways. David Rudisha didn't become a dominant force until 2010 when he broke the world record twice in late August. Priscilla Lopes-Schliep and Jeremy Wariner both occupied the top ten lists in their respective events. Neither has been a factor for a medal since.
4) Non-championship year success isn't always replicable
Andrew Wheating is still chasing the 3:30.90 1500 he ran in Monaco in 2010. Ditto for Chris Solinsky, who looked on his way to many Olympic and World Championship teams after he ran 26:59 in the 10,000 at the Payton Jordan meet in May.
David Oliver ran eight of the nine fastest times in the world in 2010, but didn't win a major medal until 2013. Without the constraints of a championship, those who are in rhythm can stay in rhythm without having to worry about a national team to make or a medal to chase.
5) Good head-to-head match-ups will be hard to come by
Even in an Olympic year, when appearance fees are peaking, it is hard to get the best two on the track at the same time in the marquee events. The informal track fan rule says that the more the public wants to see two runners face-off, the less likely it will happen.
With fewer incentives to run, many athletes will cut their seasons short if they aren't running well or develop any sort of health problem. So don't count on Blake vs. Bolt. Instead be content with Lashawn Merritt vs. Kirani James. Want to see Rudisha vs. Mohammed Aman? We can't count on that happening, but can we interest you in Sally Pearson vs. Brianna Rollins?
To the rest of the run!
The Medalists
The top three performances of the week
Gold: Dejen Gebremeskel
Two weeks after they finished second and third at the World Indoor Championships, Bernard Lagat and Dejen Gebremeskel tangled at the Carlsbad 5000. Despite the location of the race, it was Gebremeskel who came in with the experience advantage. The Ethiopian had won the race three separate times, while Lagat was making his debut at the road 5k distance.
As expected, the pace was fast. A solid pack went through the mile mark in 4:13. Lagat, Gebremeskel and Augustine Choge stayed within a few feet of each other until the last mile when Gebremeskel started to separate. He extended his lead and crossed the line in 13:13. Lagat finished second in 13:19, breaking the American record of 13:24–a record that extended way past its expected expiration date.
In the women's race, Great Britain's Julia Bleasdale was the surprise winner. Bleasdale split 4:44 and 9:36 for the first two miles before breaking away from the pack and winning in 15:06. Iowa State grad Betsy Saina hung on for second in 15:22. Brenda Martinez opened up her 2014 season in fourth with a time of 15:25.
The Albuquerque rematch between Gabe Grunewald and Jordan Hasay never materialized. Hasay placed 7th and Grunewald finished 9th. Their legs never tangled.
Silver: Geoffrey Kipsang
It's late March, which means that most of the world's half marathon talent is preparing for one of the major marathons this spring. Still, if the words, "World Championships" are used, big names will show up. Especially in Kenya, Ethiopia and other East African countries where the distance running pool is deep enough to spread over both the 13.1 and 26.2-mile events.
Geoffrey Kipsang continued his impressive string of half-marathons on Saturday when he won the World Half Marathon Championships in Copenhagen, Denmark. Kipsang covered the course in 59:08, 13 seconds ahead of Samuel Tsegay of Eritrea. Pre-race favorites, Zersenay Tadese and Wilson Kiprop placed fourth and sixth respectively.
This is Kipsang's fifth time under one hour in a half-marathon, yet he hasn't been able to find the same success in the marathon. He has placed third in his last two attempts at the Berlin Marathons and fourth in the 2013 Rotterdam Marathon. When does a half marathon embrace who he is? Kipsang outlined his goals after the race:
to break the World Record in half marathon and to show my real potential to the World in full marathon" – World Champion Geoffrey Kipsang

— Global Sports Comm (@GlobalSportsCom) March 29, 2014
Bronze: Champs
It's a high school meet in a foreign country, but we pay attention to the Jamaican Boys and Girls Championships (Champs) because of the spectacle and the speculation. Part Texas high school football, part premier league soccer, part (fill in the blank with another sport with a crazy environment), there is something about watching future stars compete at the ground level. From this, there is the speculation. For better or worse, ever promising talent that emerges is the next Bolt/Blake/Campbell-Brown/Fraser-Pryce, a by product of competing in a meet where gold medalists hold the meet records.
As much as you try to avoid getting caught up in it, Champs always produce several startling performances that make us wonder if we have just seen a world record holder in their infancy.
In 2011, it was Ristananna Tracey and her multiple wins, including breaking Melaine Walker's meet record in the 400 hurdles. In 2012, 15-year-old Shauna Helps ran 11.50 for a classification record in the 100. Last year, it was Delano Williams who won the 100 and 200 on his way to competing World Championships in August.
And those are just a few of the stories. If you dig in the results, you can find ungodly times at every age classifications.
This year, Champs gave us with a few names to follow in the future. Zharnel Hughes won the Class 1 (ages 16-19) 100 in 10.12. Both he and the second place finisher, Jevaughn Minzie, went under Yohan Blake's record of 10.21 from 2007. Hughes looks to be built more like Warren Weir than Blake, but at this age its difficult to tell how his body will develop.  It's worth noting that Hughes is a year-and-half older than Blake was when he set the mark. Not exactly an equal comparison.
Hughes also ran 20.32 in the 200 semifinals before withdrawing from the final. In his absence Minzie got the win in 20.50, outside of Usain Bolt's Champs record of 20.25.
But Bolt did have one of his marks eclipsed. In the 400, Javon Francis ran 45.00 and took more than three tenths off Bolt's record in the event. Beating a Usain Bolt record means enormous expectations for Francis. But should there be?
Just as was the case with Hughes/Blake there is a significant age gap between Francis and Bolt at the time they set the record. Francis is 19 and will turn 20 before the end of the year. Bolt was 16 when he ran 45.35 in 2003. 45.00 is still extremely fast for a 19-year-old. He could never improve and still make World Championship and Olympic finals, but "the next Bolt" talk is a bit premature.
Surging….
Eritrea
Who says half-marathoning isn't a team sport? Probably most of us, but they gave a team score at the World Half Marathon Championships, so we might as well discuss it. The Eritrean men put three in the top five to win convincingly over Kenya and Ethiopia. Samuel Tsegay, Zersenay Tadese and Nguse Amlosom combined for a team time of 2:58:59. Kenya finished second in 2:59:38 and Ethiopia was third in 3:00:48.
Even Eritrea's non-scoring runners were on point. Their fourth and fifth runners finished seventh and eighth, meaning all five or Eritrea's entrants were in the top eight.
Kenya was the heavy favorite coming into the weekend. Their entire team had personal bests under one hour. But other than Kipsang, they struggled. Wilson Kiprop only managed a sixth place finish and their third runner was tenth. Ethiopia was equally as inconsistent with finishers placing third, ninth and 14th.
Josphat Boit, 21st in 1:01:33, led the United States to a seventh place finish.
Kenyan Women
From what I learned about half-marathon scoring in the previous section, I know that we can't technically say the Kenyan women fifteen'd the field in Copenhagen. However, the fallback descriptor any time a team sweeps the top five spots is to default to cross country scoring.
Gladys Cherono led the charge for Kenya winning the race in 1:07:29. She was followed by Mary Ngugi, Selly Kaptich, Lucy Kabuu and Mercy Kibarus. Kenya's overall team time was four minutes better than Ethiopia, who finished second.
The American women fared better than the men. Annie Bersagel and Lauren Kleppin finished 13th and 14th and the team placed fifth behind Kenya, Ethiopia, Japan and Italy.

Leonard Komon
Komon won the Berlin Half Marathon on Sunday in 59:14, the fastest time ever in a debut. The 10K and 15K road world record holder looks to have great potential at the longer distances.
Trayvon Bromell
He runs for Baylor so he falls under Jesse's purview. However, I wanted to mention him here because it doesn't look like he will be competing in college for much longer. Bromell won the Texas Relays on Saturday in 10.01, tying the world junior record. The track in Austin is fast, and Bromell did get the benefit of a + 1.5 m/s wind, but he also ran a wind legal 10.02 the previous day in qualifying.
Three others have run 10.01 as juniors (only one of the marks is official). How have those three fared?
Darrel Brown of Trinidad and Tobago ran 10.01 in 2001, but only improved by .02 seconds the rest of his career. Jeff Demps's 10.01 came as a high school senior at the 2008 Olympic Trials. That is still his personal best. Yoshihinde Kiryu ran 10.01 in Japan last year. It's too early to make any judgement on his career.
Elsewhere at the Texas Relays, Leo Manzano won the 800 in 1:47.34 and Ameer Webb, edged Wallace Spearmon in the 200, 20.38 to 20.39.
Slowing….
USATF
Four weeks have past and there still has been no resolution to the disqualification debacle at the USA Indoor Championships. Ken Goe of the Oregonian lays out the entire chain of events, including the latest statement by USATF Stephanie Hightower.
USATF has consistently been slow to react over the last month–only issuing statements after media and athlete reaction has risen to a boil.
Their inability to admit fault or even communicate regarding Andrew Bumbalough's DQ, is particularly confounding. No working group or committee is required to say that the officials screwed up and the wrong call was made. Little is lost by admitting fault. Bumbalough didn't lose a spot on the World Championship team and the outcome of the race wasn't altered. The NBA, NFL and MLB have all apologized for officials' mistakes in games where much more money is at stake than an indoor track meet.
Instead, the USATF have doubled-down on their inanity and opted to draw out what should be an easy fix.
Champs Mascot
Mascotting takes on a different form at track meets. They are supporters of the event, not a specific team. They don't live and die with the outcome and as far as I know, provide no entertainment involving a trampoline or a cannon. Their options are limited to posing for pictures, slapping a few high fives and an occasional piggyback ride.
The Champs mascot, appropriately named Champsy, went way beyond creepy lingerer and into obsessive stalker territory after Zharnel Hughes's record run. Champsy, who has human features, yet still manages to look like a life sized version of a Teddy Gram, tracked all of Hughes's movements after the 100 meters. Champsy patted Hughes on the back. Champsy brought him water. Champsy tapped him on the shoulder. Champsy posed for pictures with Hughes. Champsy cut off a lock of his hair….
Bolt News
A foot injury will reportedly keep Usain Bolt out until June. He wasn't planning on racing until June anyway, so the headline should read, "Bolt to miss meets he wasn't planning on running." Nick Zaccardi reports that Bolt is receiving medical treatment for the foot in Germany.
The Week Ahead
Kenenisa Bekele will make his much anticipated marathon debut on Sunday at the Paris Marathon. Winning is a manageable feat for Bekele. Paris doesn't have the depth or the fire power of the other major marathons this spring. Only two entrants, Abdullah Shami and Mark Kiptoo, have personal bests under 2:07. Shami turns 40 in July and Kiptoo is 37 and has only run one marathon. Aside from Bekele, the field is filled with mostly second tier Ethiopians and Kenyans and supports Mo Farah's critique that Bekele is taking an easy route in his first attempt at the distance.
Bekele's best competition might come from another debutante, Mule Wasihun, who ran a 1:00:08 in his tune-up half marathon.
On the track, Richard Kilty is scheduled to compete at the Florida Relays.  Which other sprinters will join him? Out west, there might be some early season distance highlights from the Stanford Invitational.