One Comment
Daily News Roundup: Cain shooting for a World Junior Record?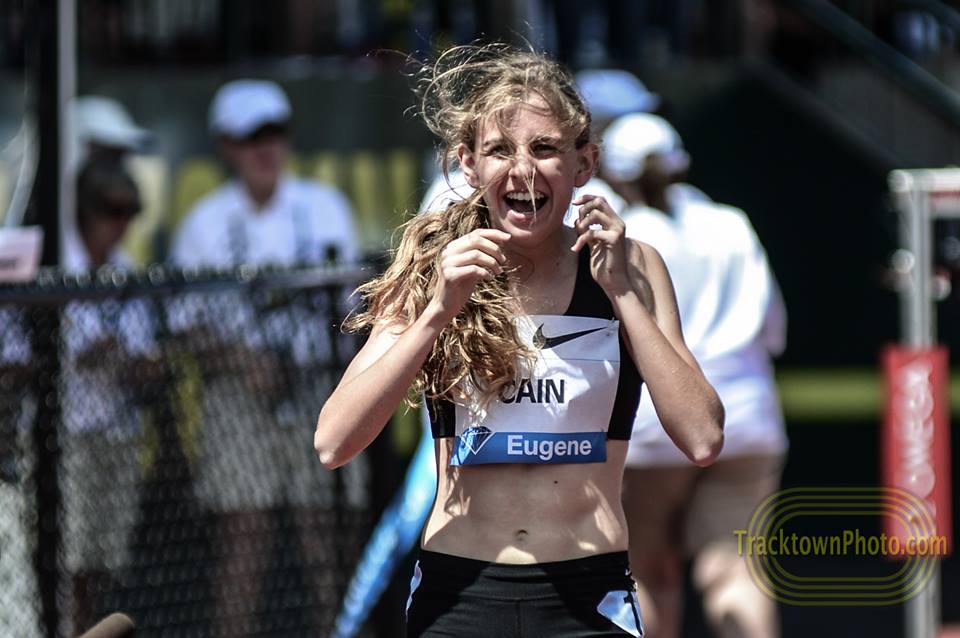 Jesse Squire | On 09, Jan 2014
Mary Cain holds no World Junior records…yet. (Photo by TrackTownPhoto)
The New Balance Indoor Grand Prix announced a few of their star entries yesterday, and one of them was young Mary Cain. She'll be running an odd distance, the 2000 meters.
Cain is still a junior (U20) competitor in 2014, so naturally we might wonder if she's making some kind of record attempt here. According to the IAAF release, the world junior indoor record is 5:52.18 set by Zola Budd in 1985.
If you want to nit-pick, it's not the World junior indoor record because the IAAF doesn't keep world junior indoor records for 2000 meters. Likewise, USATF doesn't keep American indoor junior records for that distance either.
In any case, does Cain have a shot at that record? If things go according to plan, she'll already have run a couple of races by the time this 2000 rolls around on February 8. She's slated to run a 1000 on January 16 and a mile on January 24, both at Boston University's Track and Tennis Center, so she'll be sharp.
How good is 5:52.18 for 2000 meters? That's a hard question to answer. At last year's New Balance Indoor Grand Prix, Cain broke the US junior indoor records for 3000 meters and 2 miles, and it looks like she passed the 2000 mark at 6:02.63. That tells us something but not a lot. Fortunately this nifty calculator gives us some parameters for guesswork. It says that 5:52.18 roughly equal performance to somewhere between 4:35 and 4:39 for the mile and between 9:01 and 9:12 for 3000 meters.
That's more than doable for Cain. Her first two January races last year were 9:02.10 for 3000 meters on Washington's oversized track and 4:32.78 for a mile at the Armory. Considering the tremendous progress she's made in the last year, she'd have to have a poor outing to miss breaking this "record".
So if the world junior indoor "record" is easy pickings, what about other records?
| | | | | |
| --- | --- | --- | --- | --- |
| US Indoor Record | 5:34.52 | Mary Slaney | Sunkist Inv '85 | ~ 4:23 mile |
| World OD Jr Record | 5:33.15 | Zola Budd | 7/13/1984 | ~ 4:22 mile |
| US Outdoor Record | 5:32.7 | Mary Slaney | 8/3/1984 | ~ 4:21 mile |
| World Indoor Record | 5:30.53 | Gabriella Szabo | 3/8/1998 | ~ 4:20 mile |
| World Outdoor Record | 5:25.36 | Sonia O'Sullivan | 7/8/1994 | ~ 4:16 mile |
I don't think any of these are in reach for Cain right now. On the other hand, she's made a habit of doing what was previously thought impossible. In any case, you want to have these numbers handy because you never know what Cain might do.
Links
The new House of Run podcast is up! Our own Jason and Kevin discuss Nick Symmonds's decision to leave Nike, Asbel Kiprop's alleged legal troubles, America's entrants in the Boston Marathon and the candidates for the best track meet in 2014.
News
Runner's World's Morning Report has all of yesterday's news.
News from early this morning: Kenenisa Bekele will make his marathon debut in Paris on April 6.
The first Bowerman Award women's watch list has just been announced.
Let's Run's Robert Johnson says it's not in track's best interest to have every big meet in Eugene. My response: exactly what other communities are lining up and willing to invest big money? Besides, the USATF Championships (other than the Olympic Trials) aren't going to be there in the immediate future, maybe ever.
Kara Goucher may be looking to leave Nike. To give you an idea who has the upper hand in athlete contracts, Nike apparently has the power to nix this move through a clause giving them right of first refusal.
Manhattan's Armory Track and Field Center celebrates 100 years.
The future of the National Distance Running Hall of Fame is in doubt.
Britain's Athletics Weekly talks to Ashton Eaton about his 2014 goal: tackling the 400 hurdles.
Spikes Mag talks to World 800 meter champion Mohammed Aman.
What to watch
Chariots of Fire, the 1981 Oscar winner for Best Picture, will be on HBO Family Channel at 3:20am tomorrow.
Video of the day
It's throwback Thursday, so here is the epic 2004 Olympic 5000 meter final, a titanic battle between Hicham El Guerrouj and Kenenisa Bekele.