2 Comments
Daily News Roundup: Teams Matter, part 3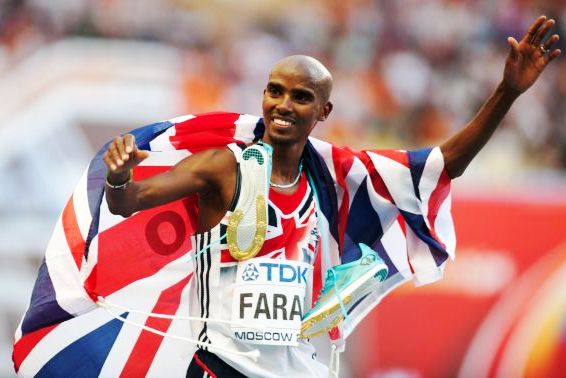 Jesse Squire | On 08, Jan 2014
There's a reason the Brits go bonkers for this guy, and it's not because he runs for Nike.
Over the last two days I've talked about how team identity and team competition is where track and field and road racing manages to do fairly well in terms of drawing fan interest and media attention. Team competition draws the most interest in Japan via their ekiden road relays (where road racing is very popular) and the healthiest parts of track and field in the USA–high school track and the big relay carnivals–also emphasize team competition.
The least team-oriented level of track and field is the professional one, and it's also the level that is struggling the most. Outside of the Olympic Games and Olympic Trials (and, to a much lesser degree, the World Championships), professional track is nearly invisible to the broad sporting public.
What do those competitions have that the Diamond League and other invitationals lack? It's quite simple. Athletes compete for their national teams. That's where team identity can play a role in professional track.
I'm not suggesting that athletes should explicitly compete for their country in the Diamond League and other such circuits. The whole system of athlete sponsorship is based around the athletes acting as walking billboards for their sponsors, and national uniforms would kill that system. But I am suggesting that it's how we, the established track fans, already often watch these multi-national professional invitationals. Who you cheer for is very often determined by your nationality (and possibly your ethnic heritage). In some way, that needs to be played up.
Don't believe me that national identity is big in pro running? Yesterday the B.A.A. announced all the American elite entries to the Boston Marathon en masse. These runners have different sponsors, different backgrounds, and different competitive levels. They have little in common besides their citizenship. Still don't believe me? O.K., the only New York City Marathon winner who has landed on Letterman's show is Meb Keflezighi, who is also the only American NYC winner in the last three decades.
A revolutionary way in which nationality could be played up in professional track is to change the way in which athletes qualify for the Olympics and World Championships. Right now it's a weird double-qualification system: athletes need to achieve qualifying marks within a set period of time but also must be selected to compete by their national federations. I propose instead that we do away with qualifying marks, and that the results of various competitions be used to award some number of Olympic/Worlds slots to each nation in each event, which the federations may then fill as they please. (This is not a new idea; it is pretty much exactly what happens in Olympic bobsled and luge.)
If the results of the Prefontaine Classic or Paris' Meeting AREVA had a direct affect on the quantity of national representation in the Olympics, I think the sports press would be all over those meets. The exact mechanics of determining qualifying slots are many and varied–the number of ways to set it up is limited only by the imagination–but the basics are that it should be pretty easy to get one slot in an event, harder to get two, and pretty hard to get three.
The IAAF could use this system to promote its second-tier championships. For example, if a country wins a medal in the 4×800 at the upcoming IAAF World Relays then it would automatically get three slots in the 800 meters at the next Worlds. Win a team medal at the World Cross Country Championships and you would get six World/Olympic distance slots (three in the 5000, three in the 10,000). Lower totals could be handed out for, say, top-eight finishes. This kind of reward system would probably help the World Cross Country Championships, which is struggling to get enough entrants. Few nations can challenge for a medal at the WXC but finishing in the top eight is within reach of dozens, and under my system there would be good reason to try for it.
Links
The House of Run's Jason and Kevin take four minutes in The 4 x 1 to discuss Symmonds to Brooks, Ritzenhein and Flanagan in Boston, and the best meet of 2014.
News
Runner's World's Morning Report has all of yesterday's news.
Meets and races announcing fields…
New Balance Indoor Grand Prix (Saturday, February 8): Jenn Suhr (PV), Ryan Whiting (SP), Hagos Gebrhiwet (3000m), Mary Cain (2000m, possibly a World Junior record attempt), Nick Willis vs Leo Manzano (mile).
Millrose Games (Saturday, February 15): a new event, the Paavo Nurmi 2000 Meter Race, will have Bernard Lagat, Nick Willis, Evan Jager, Cam Levins, and German Fernandez.
Standard Chartered Dubai Marathon (Friday, January 24): Meselech Melkamu, Meseret Hailu
College news…
The first Bowerman Award men's watch list has been announced.
Buried in this Runner's World article: Florida State freshman football star Devonte "Kermit" Whitfield plans to join the Seminole track team. (A check of the track team's roster finds a hastily added spot for Whitfield.) This is fairly big news because a) until now, he was not planning to do so and b) he's fast enough to score points at the NCAA Championships.
Gary Cohen has a typically long interview with Dartmouth star Abbey D'Agostino.
Speaking of D'Agostino, she'll still be coached by Mark Coogan even though he's left Dartmouth for a New Balance corporate job.
More from Let's Run
Oregon's student newspaper previews the Ducks' track season.
Two bits from England's The Guardian:
Is UK Athletics boss Neils de Vos' big pay bonus warranted? Maybe…mmm, not really.
Adharanand Finn (author of Running With the Kenyans) writes about the Hakone Ekiden and suggests it's the greatest race on earth.
What to watch
Prefontaine (1997) will be on Flix tomorrow at noon.
Video of the day
One wag's picks for the ten greatest (male) high jumpers of all time.