No Comments
College Track Bracketology: The Final Four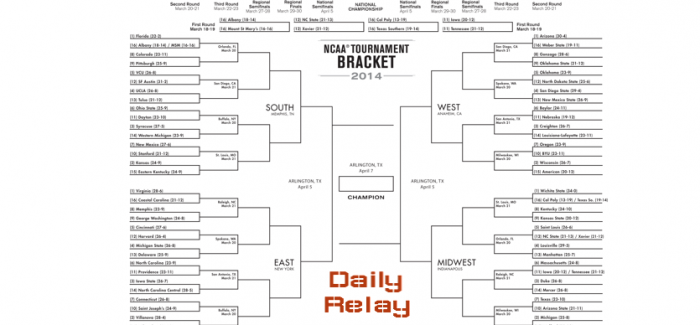 Over the last two weeks I've been running a virtual college track tournament of sorts.
I started with the bracket for this year's basketball tournament. Each "game" matches up great track and field athletes in each university's history, with the winner decided by career accomplishments and a subjective decision of who was "better".
But the key is that once an athlete has been used, he or she cannot be used again. So, for example, Ohio State will keep Jesse Owens in reserve until he's really needed. Thus the "best" athlete in each school's history might not come up until later rounds–-but they might have to be used in early rounds to get past a tough opponent, leaving the team vulnerable in later rounds.
We're now down to a final four. Of the teams that made it into March Madness, these are the ones with the greatest track and field tradition. Here we go!
UCLA vs Ohio State
To get here, UCLA used 80s-90s sprinter/hurdler Gail Devers, 80s sprinter Florence Griffith-Joyner, and 80s-90s hurdler Kevin Young. Ohio State used 30s high jumper Mel Walker, 80s-90s quarter-miler Butch Reynolds, and 50s sprinter/hurdler Glenn Davis.
This could be the championship right here. Each of these universities will call on the greatest athlete in their entire history–not greatest in track and field, but greatest, period.
Ohio State's greatest is Jesse Owens, a man who hardly needs introduction. He won all eight NCAA Championships events he entered in his two years of eligibility (freshmen were not eligible in his day, and the AAU screwed him out of the rest of his career in 1936), still the most by a single athlete in NCAA history. He won four events at the 1936 Olympics, and at one time or another he set world records in every one of those events.
UCLA's greatest is Jackie Joyner-Kersee, a woman who hardly needs an introduction. She came to UCLA to play basketball but became a star on the track. She won just two NCAA championships (the heptathlon, in 1982 and '83) and then things really took off after college. She won seven gold medals in Olympic and World Championships competition and still holds the heptathlon world record.
Who wins? Owens was the greatest in the history of college track and field. Joyner-Kersee is the greatest in the history of track and field, period. It's a tough one, but if the question is "whose career would you rather have?", the answer is Joyner-Kersee's.
Winner: UCLA
Harvard vs Villanova
Harvard has used turn-of-the-century sprinter Bill Schick, 20s long jumper Ned Gourdin, and 90s half-miler Meredith Rainey-Valmon. Villanova used 90s miler Sydney Maree, 50s miler Ronnie Delaney, and 80s miler Marcus O'Sullivan.
Harvard has used up its best athletes but still has Dora Gyorffy, the 2001 NCAA high jump champion and perennial Hungarian national team member. Gyorffy's highest finish at a major championship is 7th at the 2001 Worlds.
Villanova has plenty of top athletes left, and brings out 1960 Olympic pole vault champion Don Bragg. An NCAA champion and six-time US champions, he held the world record for nearly a year.
Winner: Villanova
San Diego State vs Oregon
San Diego State used 30s pole vaulter Jack Rand, 70s long jumper Arnie Robinson, and 40s long jumper Willie Steele. Oregon used 70s thrower Mac Wilkins, distance legend Steve Prefontaine, and 60s sprinter Harry Jerome.
San Diego State got this far on the back of two of the all-time great long jumpers. This round brings out the best the Aztecs have left, current star Shanieka Thomas. The triple jumper out of Jamaica just won her second NCAA title and is on the Bowerman Award watch list.
Oregon has no shortage of tremendous athletes. This time around the Ducks will use Galen Rupp, the 2009 Bowerman Award winner. He won five NCAA championships, has won seven US championships (and counting), an Olympic silver medal, and holds four American records.
Winner: Oregon
Kansas State vs Michigan
Kansas State got to this point with current high jump star Erik Kynard, 50s sprinter Thane Baker, and 30s shot putter Elmer Hackney. Michigan used 80s long-distance runner Lisa Rainsberger, 20s long jumper DeHart Hubbard, and turn-of-the-century all-around thrower Ralph Rose.
Kansas State's greatest athlete is Kenny Harrison, the 1996 Olympic triple jump champion. He also won the 1991 World Championships, three NCAA titles, and six US championships. That '96 Olympic win is still the Olympic record and #2 on the all-time world list.
Michigan's greatest athlete is Eddie Tolan, the 1932 Olympic champion in the 100 and 200 meters. He won just a single NCAA title, the 200 meters in 1931, but won four US national championships. He set world records at both the 100 yards and 100 meters.
Winner: Michigan
Next week I'll finish off the tournament to see who has the greatest track and field tradition of all. Be sure to come back and see who wins!