No Comments
The Monday Morning Run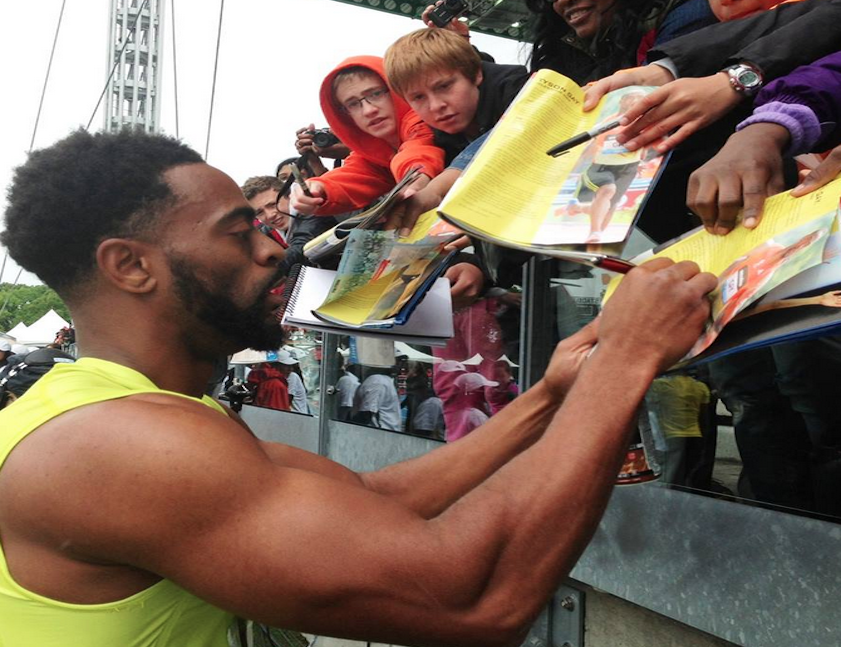 Kevin Sully | On 28, May 2013
Photo Courtesy of Adidas Grand Prix
The Adidas Grand Prix dominated the track and field headlines over the weekend. If you haven't already, check out Daily Relay's recap of the rainy, wet conditions in New York and the story of the strange men's 5,000 which featured strong performances by Hagos Gebrhiwet, Ibrahim Jeilan and Ben True. In the shorter events, Tyson Gay ticked off another solid 100, Veronica Campbell-Brown won into a headwind and David Rudisha controlled the race again from the front.
But it is possible in track and field to have a successful day and not finish first. We begin by looking at some athletes who didn't win, but turned in strong performances
Winners Who Didn't Win
-Brenda Martinez and Morgan Uceny
As expected, Sweden's Abeba Aregawi easily won the women's 1500 in 4:03.69. Behind her though, there were interesting developments for the Americans in the event. Brenda Martinez had another great run finishing third in 4:06.25 and Morgan Uceny showed her first sign of life this season with an 7th place finish in 4:08.49. The American depth has been building the last few years, but this year there are also some strong story lines to keep tabs on throughout the summer:
Uceny trying to regain her form in time to qualify for the World Championships (and also stay upright if she gets there). Jenny Simpson attempting to defend her world championship in Moscow. And then there is Mary Cain, who will have everyone's attention.
-Natasha Hastings
With Amantle Montsho's impressive win and Sanya Richards-Ross's injury, Natasha Hastings's second place finish was overshadowed. The 26-year-old beat out Francena McCorory and Novelene Williams-Mills and ran her fastest time since 2007, 50.24. Considering Richards-Ross's health and Allyson Felix's desire to focus on shorter events, the women's 400 will be more competitive than anticipated in Des Moines.
-Wallace Spearmon
The 200-meter specialist came up short in his bid to defeat an IndyCar on an episode of Discovery Channel's MythBusters last week. Despite the loss, a couple of takeaways that should make him feel better.
-Because the race was on concrete, Spearmon was racing in flats.
-The race distance, 30 feet, was not to Spearmon's advantage. As he admits, he is not known for his start.
-He was racing a car.
Maybe Maurice Greene or Asafa Powell could have kept it closer, but in human versus car, I'm always betting on the car.
Things That Didn't Happen
-Shelly Ann Fraser-Pryce and Allyson Felix Face Off in a 150
It appeared to be a perfect match race. The gold medalists at 100 and 200 meters racing on a 150 meter straightaway in the streets of Manchester. Allyson Felix and Shelly Ann Fraser-Pryce had both shown good early form–a hint that the competition could actually live up to the billing despite its quirky set-up and early date on the calendar. But it didn't happen. Fraser-Pryce backed out days before the race and left Felix to take the easy victory in a world best time of 16.36.
-Sanya Richards-Ross Debuts
The return of Sanya Richards-Ross will have to wait at least one more week after the gold medalist withdrew minutes before her expected 2013 debut on Saturday. NBC's Lewis Johnson reported that Richards-Ross had her spikes on and was prepared to race, but opted out after her toe bothered her in warm-ups. Richards-Ross had surgery on her big toe last September. In her absence, Amantle Montsho won in a meet record of 49.91.
-Brittany Reese Helped Your Fantasy Team
This is pretty specific because I'm sure most of you have far too much to do with your time to spend it on fantasy track and field. However, if you happen to play the IAAF Fantasy Athletics game, you are well aware of how the gold medalist in the long jump can terrorize your squad. Case in point, two weeks ago in Doha you were probably hesitant to pick her because she could be rusty in the the first Diamond League meet of the season and, despite her brilliance, she is prone to fouling.
Wrong move.
She jumped out of the pit in Doha and set a meet record and personal best of 23-9 ½. Safe pick for New York then, right? Incorrect again. Perhaps it was the poor conditions, but Reese didn't make it out of the preliminary round fouling twice and finishing 8th.
Injury List
Maybe it has been the bad weather across the globe–or perhaps the extremely talented can afford to be extra cautious, but in the last two weeks the following athletes have either injured themselves during competition, or withdrawn from a race:
Yohan Blake
Sanya Richards-Ross
Shelly Ann-Fraser Pryce
Sally Pearson
Asafa Powell
Carmelita Jeter
Wallace Spearmon (presumably after he raced the car)
Aries Merritt
Including Vivian Cheruiyot, who is expecting a baby and will miss the 2013 season, that is seven World Championship or Olympic gold medalists from 2011 or 2012. Of the group, Pearson seems to have had the worst luck, suffering from a hamstring tear that will keep her out until July at the earliest.
The prospects for Richards-Ross and Jeter appear more optimistic. As of this writing, both are are scheduled to compete in Eugene on Saturday. Though he is away from racing, Yohan Blake is at least entertaining us in other ways:
"My big goal this year is to retain my title at the World Championships and to win three gold medals there. I have told myself that this year I am going to be an alien because I want to invade; I want to take over the world," Blake declared.
Miscellany
-A pair of Canadians, Damian Warner and Brianne Theisen, won the Hypo Meeting in Gotzis, Austria. Ashton Eaton, Trey Hardee and Jessica Ennis all did not participate.
-In what could only generously be described as a tempo run, Mo Farah won the Bupa London 10,000 in 29:14 on Sunday. From the IAAF report:
He raced back towards Westminster along Victoria Embankment swapping hand-slaps and high fives with the mass of runners jogging in the opposite direction along the other side of the carriageway. Many stopped to take photos and do "The Mobot," Farah's signature victory gesture.
It is a simple rule, but when you are high fiving during a race you are either not working very hard, or are comfortably ahead.  In Farah's case, it was both.
His easy effort in London is understandable considering the field that will greet him at the Prefontaine Classic 10,000 on Friday.