4 Comments
SPEED Rankings #4 Sprints and Hurdles: Bye bye Bolt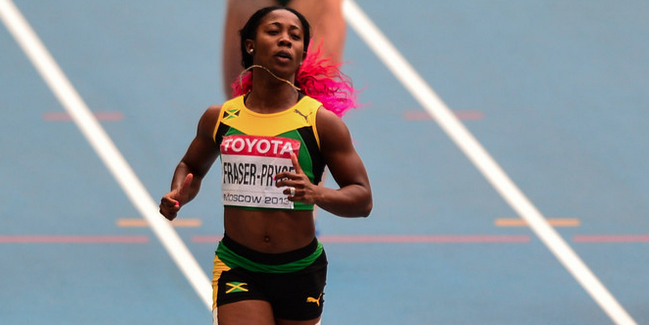 Kevin Sully | On 17, Jul 2015
Before you jump into the Monaco Diamond League meet, here's the latest update of a bi-weekly tradition. Remember, these rankings are unscientific and most likely inaccurate.  They are based on the predicted finish order if the World Championships were held right now.
Men's 100
1) Justin Gatlin
2) Asafa Powell
3) Tyson Gay
4) Andre De Grasse
5) Trayvon Bromell
Monaco will be moving day with Gatlin, Gay, Jimmy Vicaut and Bromell all in the field. We just saw Gatlin and Gay in Lausanne and I think there results will hold steady. I'm interested in seeing Bromell post-USAs and whether or not Vicaut can continue his great season and improve on his 9.86 from the Paris Diamond League. De Grasse will race the 100m and 200m at the Pan-Am Games in Toronto unless he decides to turn to pro in the next six hours and fly to Monaco. Not the worst idea…….
Gatlin has the three fastest times in the year. The silver lining to someone with Gatlin's past the  is that they aren't really in a position to turn down races, even though it has been a recent tradition of the world's fastest man to compete as little as possible. Since there are meets where Gatlin literally cannot compete, he's not in position to pass up Diamond League opportunities. We are such a long way from pre-suspension Gatlin where he and Asafa Powell ran in difference sections of the 100m at the Prefontaine Classic in order to avoid racing each other.
Missing for the first time from the SPEED Rankings is Usain Bolt. Based on his form this year I think it's reasonable to keep him out of the top five in this event. He stays in the 200m top five because it isn't as deep. In order to be on this list I think you need to be capable of sub 9.90 and I don't see Bolt running that type of time today. Maybe his trip to Germany to get treatment on his back will pay dividends when he returns to the track in London.
Women's 100
1) Shelly-Ann Fraser-Pryce
2) Murielle Ahoure
3) Tori Bowie
4) English Gardner
5) Blessing Okagbare
This top five stayed the same with Veronica Campbell-Brown and Dafne Schippers also in contention. To repeat, 1-8 is going to be very close in Beijing or at least 2-7. Fraser-Pryce has the slightest separation between the rest of the field. She ran 10.74 in Paris to secure the world lead.
Because Usain Bolt overshadows everything in his path, it's easy to forget that he and Fraser-Pryce are contemporaries. She is only four months younger and they both won their first gold medal at the 2008 Olympics. Bolt's imprint on track and field has been much larger and he has more medals and world records than Fraser-Pryce. But, she has managed to win four golds in the 100m, including back-to-back Olympics. With Bolt hurting, and having to deal with Justin Gatlin, she is the one in a better position to  makes history and become the first three-time Olympic 100m champion.
Men's 200
1) Justin Gatlin
2) Andre De Grasse
3) Usain Bolt
4) Zharnel Hughes
5) Wayde Van Niekerk
2005 was the last year Jamaica didn't win a medal in the men's 200 at a World Championship or Olympics. Without Bolt, they may come up empty this year.
Gatlin is more dominant here than in the 100, and his margin grows the longer the race just like Bolt in his prime. Gatlin has the four fastest times on the year. That domination is magnified by the lack of depth worldwide in this event. Only four people have broken 20 seconds this year in wind legal races.
Women's 200
1) Allyson Felix
2) Tori Bowie
3) Shaunae Miller
4) Murielle Ahoure
5) Jenna Prandini
Felix won in Lausanne while she, and her coach, still debate the double. Bowie didn't run the 200 at the US Championships, but she is a top five runner. Miller has a difficult decision on which event to run and is apparently only going to run the 200 or the 400 in Beijing.
All this means that the top three 200m runners in the world may not run the event at the World Championships (four if you count Shelly-Ann Fraser-Pryce). That opens the medals up for Ahoure, Prandini and Elaine Thompson.
The diluted fields make an appealing target for Fraser-Pryce and/or Felix to hop into and try to win a second medal. For Felix, the schedule is difficult for World Championships, but she would get some relief in the 200 if the fields stay the way they are. If you told her at the beginning of the year she just had to beat Ahoure, Prandini and Thompson to win the gold she would have jumped at the chance.
Men's 400
1) Kirani James
2) Wayde Van Niekerk
3) Lashawn Merritt
4) Abdalelah Haroun
5) Isaac Makwala
The 400 has been very strange and very global. Runners from Grenada, South Africa, the US, Qatar and Botswana make up the top five. James, who looked destined to run away with the gold medal, lost to Van Niekerk in Paris. Van Niekerk, for his part, has spent the last three weeks morphing into a slower man's Michael Johnson. Makwala, who is on nobody's list of the top five 400 runners of all-time, ran the fifth fastest time ever.
Adding to the fun is Haroun, who doesn't even have a birthday on the IAAF website. It's just says 1997. Regardless of whether he was born on January 1st or December 31st, he's is running incredibly quick and leads a group of teenagers who could make the World Championships final (add Steven Gardiner and Machel Cedenio to that list).
Amidst all the chaos is Merritt, who is methodically chipping away at his season's best. His latest race was his fastest yet, a 44.36 clocking in Edmonton. With four entrants into the World Championships, I'm curious how many Americans get into the final. There is so much parity that it could be all four or, with only a little bad luck, they might end up shutout of the final.
Women's 400
1) Allyson Felix
2) Shaunae Miller
3) Francena McCorory
4) Sanya Richards-Ross
5) Christine Day
The women's 400 that we thought we were going to see in Beijing got blown to pieces at the US Championships. Richards-Ross and McCorory finished outside the top three, which eliminated the two fastest women in the world at the time. If Felix runs the 400 in Beijing, McCorory is only on relay duty. If Felix passes on the 400, then McCorory is in. Richards-Ross didn't advance past the semifinals at USAs so she is out of the individual 400m. Regardless, 40% of this top five won't run in Beijing and it could be as high as 60% if Miller runs the 200.
Miller now shares the same 200/400 pro/con chart with Felix after she ran 49.92 in Lausanne. That looks like the easier path to a medal than the 200, but it's hard to say for sure until we know what Felix is running. Natasha Hastings and Phyllis Francis, the two other Americans on the team for the World Championships, would be six and seven if this list was extended. Neither ran great in Lausanne.
Men's 110 Hurdles
1) David Oliver
2) Orlando Ortega
3) Pascal Martinot Lagarde
4) Omar McLeod
5) Aleec Harris
Everyone is so close together at the top and the list of medal candidates really runs ten deep. . Oliver, Ortega and McLeod have all broken 13 seconds. Ortega has the world lead from Lausanne, running 12.94 to Oliver's 12.98. Still, in a one race, or one meet scenario, I'd go with Oliver based on experience and consistency.
Martinot-Lagarde hasn't run a great race since his win at the Prefontaine Classic. McLeod crashed out of a race in Europe–hopefully he is 100% when he returns. Harris has experienced the peaks and valleys of entire season and we are barely halfway through July. He rocked the indoor season and the beginning of the outdoor campaign, went flat for a few weeks and has now fully bounced back. He made the US team and ran 13.11 in Paris.
Women's 100 Hurdles
1) Dawn Harper Nelson
2) Sharika Nelvis
3) Jasmine Stowers
4) Kendra Harrison
5) Tiffany Porter
In the last installment of these rankings, Dawn Harper Nelson wasn't even in the top five. Predicting hurdle races makes us all look like fools. Particularly me in this case. She won USAs and the Lausanne Diamond League and is back atop the hurdling world. If she wins the World Championships this year, it would be seven years between global championship gold medals.
Nelvis now has the world lead of 12.34, which she ran in the semifinals of USAs. Harrison bumped two favorites off the team in Eugene, Stowers and Queen Harrison, and will be interesting to watch in Diamond League meets to see if she has another tenth of a second in her this summer.
Stowers encapsulates the plight of American high hurdling depth as she went from potential American record holder to not even on the team in the span of a few weeks. There is no reason why all four Americans shouldn't make the final and Porter is really the only one who can break up a medal sweep.
Men's 400 Hurdles
1) Bershawn Jackson
2) Johnny Dutch
3) Javier Culson
4) Michael Tinsley
5) Kerron Clement
Jackson has been the best all year and is still holding steady. He has the world lead and is the man to beat in the Diamond League race. His training partner Dutch is close behind and has younger legs. Maybe that will help him overtake Jackson when we enter August.
The most interesting addition to the list is Kerron Clement. He came from nowhere to qualify for the US team in Eugene. This has been his pattern the last few year–magically appearing in time to qualify for national teams after being off the grid for the early months of the season. He's the world's best hibernating hurdler.
On the last posting of the SPEED Rankings, the US had the top eight marks in the world, they now have the best 11.
Women's 400 Hurdles
1) Shamier Little
2) Cassandra Tate
3) Zuzana Hejnova
4) Kaliese Spencer
5) Sara Petersen
Little has the world lead and the US title and is probably America's lowest profile gold medal threat for Beijing. Tate was second behind her at the US Championships.
Hejnova is closing fast after winning in Paris with a perfectly timed effort. Can she ascend quickly enough to catch Little? The two had completely opposite approaches to the season with Little extending her NCAA season and Hejnova just now showing signs of life after debuting very late in the year.
Petersen became the third woman under 54 seconds when she ran 53.99 in Paris