One Comment
Rudisha shines through the rain in New York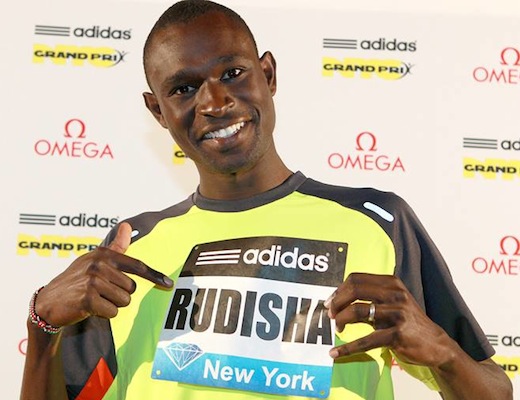 Daily Relay | On 26, May 2013
photo courtesy Adidas Grand Prix

"I wonder if you've skied in warmer weather than this."
"I think I have, actually."
That exchange between a reporter and former All-American Nordic skier Ben True after the latter finished fourth in the Men's 5,000m was probably not what either party expected or hoped to have on Memorial Day weekend in New York City. But the elements were perhaps the central character in the Adidas Grand Prix at Icahn Stadium on Randall's Island, an event that also featured Olympic champions and world record-holders (as well as top athletes not named David Rudisha).
In the Women's 1500m, with two pacemakers and world-best Abeba Aregawi in the race, it seemed like a meet record (4:01.60) was likely to fall and that much of the field would be dragged in under the World Championship "A" standard of 4:05.50, but a 70-second second lap made the hopes of reaching that mark impossible for all but Arigawi (4:03.69) and Kenya's Hellen Obiri (4:04.84), neither of whom needed it.
"It was pretty tactical — it felt comfortable," said Brenda Martinez of that slow second lap. She was not watching the clock and didn't realize the second lap came in at more than 70 seconds before closing with a 63-second last quarter for a 4:06.25 finish, good for third place.
Martinez, one of the breakout American runners of the season, already has the "A" standard. Potential USA teammates in Moscow, Morgan Uceny and Shannon Rowbury, do not.
Uceny, like many of her competitors across all disciplines Saturday, did not express much frustration with the elements.
"I don't really mind running in the elements," she said after season-best 4:08.49, good for seventh place. "I'm kind of happy it didn't rain as much. Moving to England, I know what the wind feels like – we've been practicing in the wind. I felt like I was home."
"I'm not worried about the 'A' standard. I know there's a chance to chase it afterwards. All I'm thinking about is finishing in the top three [at US Trials]."
Indeed, if Uceny – or Rowbury, who also ran a season best in finishing fifth at 4:07.36 — is in good enough shape to qualify for Worlds in the deep American field heading to Des Moines, Iowa, then she doesn't figure to have a problem getting under 4:05.5 at either the Trials or some time on either side of that meet.
Both runners competed in similarly windy conditions on the track that will host the US Championships last when they ran to slower times at the Drake Relay in late April.
In the sprints, DeeDee Trotter, the 2012 Olympic 400m bronze medalist, ran the 200m and set a personal best at 23.03 to finish fifth. Despite the modest PR, neither she nor the winner, Veronica Campbell-Brown, could ignore that the elements affected the competition.
"We're a little chilly, and the wind was not favorable in the turn," said Trotter. "I'm trying to get under 23, but I keep having these unfavorable conditions."
"Sprinters like it warm," said Campbell-Brown simply, after her winning time of 22.53 (-1.3).
It may surprise some that shot putters would prefer it to be warm as well, or at least warmer than the frigid conditions in which they threw at about noon on Saturday.
"Sideways rain is always very difficult," said Reese Hoffa (20.69m) after his second-place finish to Ryan Whiting (21.27m) in a competition in which Americans went 1-2-3-4. Hoffa improved his distance on every put in the six rounds. "My hands got warmer on each throw, and that made a big difference."
Elsewhere, American steeplechaser Bridget Franek, despite finishing fourth in an "A" standard-surpassing 9:35.42, did not feel like she had proper preparation.
"I was frustrated with the warmup opportunity, in terms of space and timing," said Franek, who admitted that conditions weren't quite as bad as she anticipated in her race, won by Kenya's Lidya Chepkurui in 9:30.82. "I think we were all surprised at how quickly we were out there."
Others, though undoubtedly affected by the conditions, still produced efforts notable in any climate.
Early Saturday morning, Janay DeLoach-Soukup set a meet record in the long jump by leaping 6.79m into a headwind, defeating, among others, Brittney Reese, who fouled on two of her three jumps and failed to advance to the final three rounds of jumps.
In the Men's 200m, despite cruising through the finish, Warren Weir ran 20.11 (+0.9), which is merely the second best time in the world so far this year.
Brigetta Barrett, who finished third in the high jump at 1.91m hours after qualifying for the NCAA Championships at the West Regional in Texas (in 1.79m), wasn't battling just the weather but also a late-night flight that forced her to travel from the airport directly to the meet. She viewed the conditions as an opportunity to challenge herself.
"Everyone can jump in the sunshine, but it's moments like this that test your athleticism and test your mental capacity as an athlete," said the University of Arizona senior, who came up one height shy of Croatia's Blanka Vlasic's meet-record 1.94m.
Though no one was thrilled with the conditions, and some griped about them, most were like Martinez, who summarized the common sentiment.
"Everyone had to go through it — I'm not going to complain."
Finally there was Josh Mance, who won the Men's 400m (part of the Adidas GP but not a Diamond League event) in 45.59, indicated that the weather had him thinking of another American track and field local.
"It was a lot like Oregon — I felt like I'm in Eugene today," he said. "The wind was wild out there today."
The next Diamond League event: the Prefontaine Classic in Eugene, May 31-June 1.
Of note
Sowinski stumbles: US Men's indoor 800m champion Erik Sowinski was in a group of three runners behind the incomparable Rudisha (1:45.14) when he clashed with Timothy Kitum 25 meters from the finish. Sowinski stumbled and fell, saying after, "I've never had my legs feel like that, just give out like that." Sowinski was convinced he was headed for a second- or third-place finish. He had a burn on the back of his right shoulder due to the fall but insisted he is uninjured.
Manza-No sponsor: Apparently an Olympic silver medal was not enough to keep a sponsorship in a non-Olympic year for Leo Manzano, who says he is in "tight negotiations" for a sponsorship deal. Manzano had a poor start and finished in eighth in the 800m in 1:48.89.
Dream mile but no dream time: The Boys Dream Mile was intended to be a chance for several of America's top prep middle-distance runners to take a crack at breaking the four-minute mark. The wind and cold made that an impossibility, but Ben Saarel closed strong around Edward Cheserek to win in 4:02.72. Saarel, a native of Salt Lake City, is heading to the University of Colorado. No one besides Saarel broke 4:05. The 4.50-GPA student's last three weeks? AP tests, state meet, Adidas GP. Next stop? The beach.