4 Comments
5 Questions with Ben True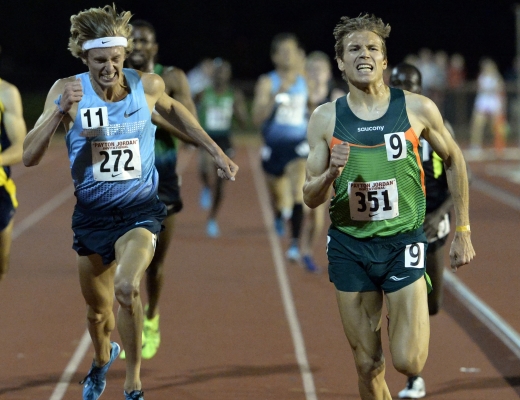 Pat Price | On 14, May 2013
photo courtesy TrackAndFieldPhoto.com
Welcome back to 5 Questions, where we will pick the brains of people from all areas of the running scene. Today, we were lucky enough to catch up with Ben True. Follow Ben on Twitter @BenTrue and check out his blog, "In the Arena with Ben."
5 Questions with Ben True
1. Daily Relay: Congrats on your recent win, PR and World 'A' Standard at Payton Jordan. Did the race unfold the way you predicted?
Ben True: Thank you very much! The race was pretty much as I was predicting, with a relatively relaxed first 3k and then having to work to get the 'A' standard. However, I didn't think I would have to lead as much of the race as I did, but figured that I'd rather lose the race and get the standard, than win and miss the 'A.' Luckily, I was able to do both – which was a bit of a pleasant surprise.
2. Daily Relay: You are coming off a 1500 PR and a strong 6th place finish at the World Cross Country Championships, not to mention a win at Gate River. How exciting was your Worlds experience and what has changed over the past year to bring to the "next level" of distance running?
Ben True: My experience at Worlds was amazing. I honestly thought going into the race that a great day would be a top twenty finish. Every lap that I was able to hang with the leaders my confidence grew and grew, until I told myself that there was no chance that I would let them drop me. The race has helped me gain the confidence that I need and affirmation that I am on the right path. I have been putting in a lot of hard work over the past few years, without the results to show for, and it is nice to begin seeing the results of all my hard work.
3. Daily Relay: In late 2011, you signed with Boston-based Saucony. Being a northeast guy, how do you like being a tied to a shoe company that is so close to where you grew up?
Ben True: It's great to be able to work with such an amazing company. Having Saucony's HQ so close to where I train is wonderful. They know exactly what I need in terms of clothing and shoes, and are very responsive with my needs. Us New Englanders tend to be very resilient and stick together, and I am very fortunate in having Saucony in my corner!
4. Daily Relay: You mentioned the 10k is the goal this year. Now that you have the A in the 5000, any chance of doubling at USA's?
Ben True: I'll be honest and say that I am taking things one step at a time, but with that said, the 10k is the focus this year and what I will be running in Des Moines. I would like to run a few more fast 5ks this summer, but the 10k is the goal for USAs and Moscow.
5. Daily Relay: You are signed on to run the 5000 at the Adidas Grand Prix in New York on Saturday, May 25. Do you have any other plans before USA's and after?
Ben True: Currently, that is the only race on the docket for before USAs. After Des Moines, I'm planning on heading over to Europe for a few races, scheduled to race in Cork and Heusden in early July. After that, things are up in the air.
If you enjoy 5 Questions, check out the archive of previous interviews over at Writing About Running