No Comments
The Monday Morning Run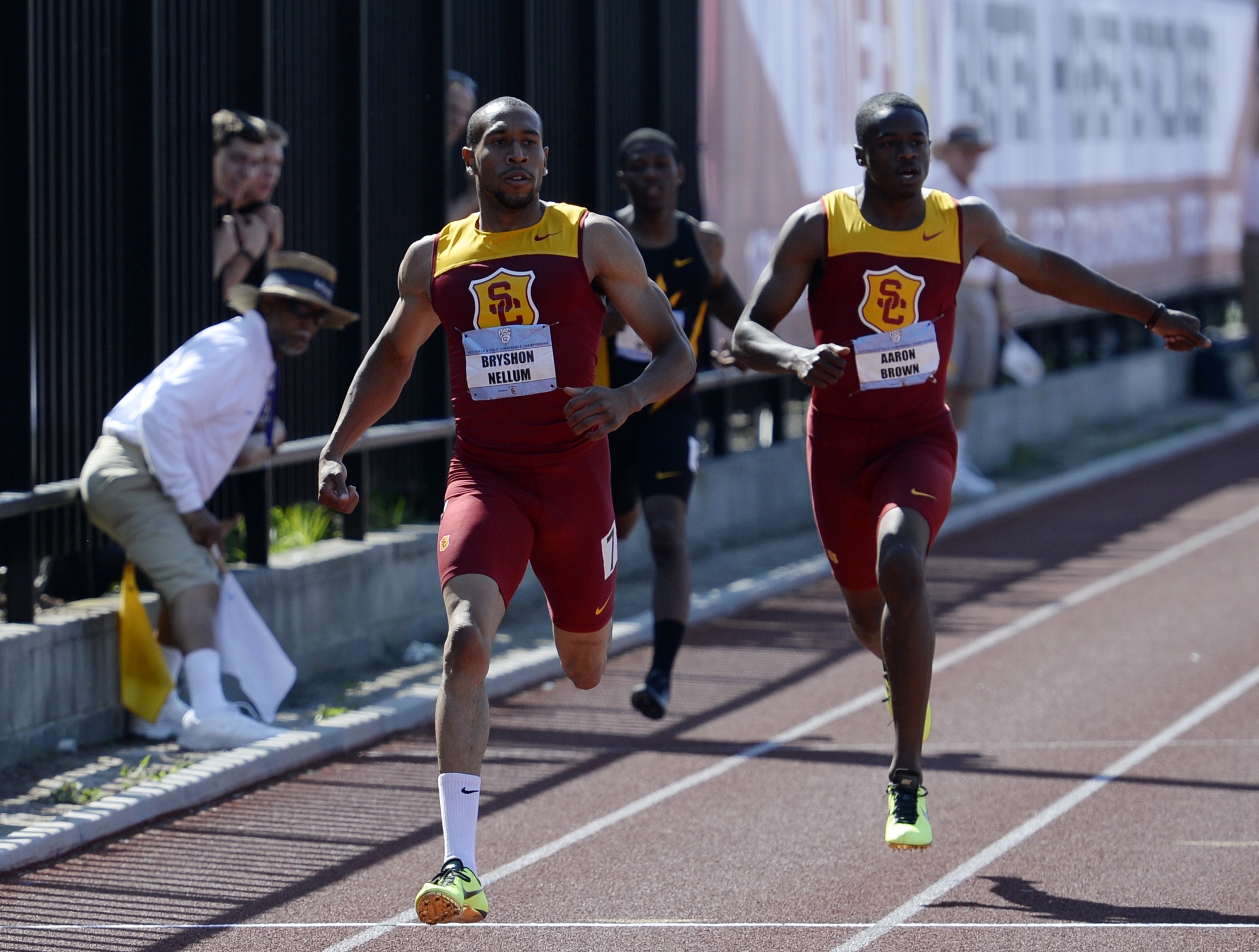 Kevin Sully | On 13, May 2013
I spent the last two days at the Pac-12 Championships at USC. I'll leave it to Jesse to go further in-depth with his College Weekend Wrap, but I wanted to highlight a few collegiate athletes who will have a large presence throughout the summer.
–Bryshon Nellum is adjusting quite well to life after the Olympics. The silver medalist, and 6th year senior for USC, blew by Oregon's Mike Berry over the final 100 meters to set a personal best of 44.74 in the 400. The time exceeded his expectations and puts him right in the middle of an American 400 field that he describes as "wide open."
-The front of the women's 400 hurdles on Sunday was Diamond League quality. Kori Carter of Stanford once again got the better of Olympian Georgeanne Moline. Carter won the race in a world leading 54.21. Moline was a close second finishing in 54.71, the third fastest time of the year, and Turquoise Thompson of UCLA was third in 55.18.
-She wasn't running in Los Angeles, but Brianna Rollins of Clemson solidified her place amongst the already crowded America women's field in the 100 hurdles. While Dawn Harper, Kellie Wells, Lolo Jones and Queen Harrison were racing each other in Doha, Rollins ran a personal best of 12.68 at the Georgia Tech Invitational on Friday. As usual, this event is setting up to be one of the most competitive of the US Championships next month. The unpredictable nature of the hurdles combined with the incredible American depth typically means the following:
1) If you can make the final of the US Championships, anything can happen.
2) If you finish top three and make the American team, you are probably going to make the final of the World Championships.
3) If you can make the final of the World Championships, see #1 from above.
Doha
In that women's 100 hurdles in Doha, Dawn Harper was brutally efficient winning in 12.60.
The women's 1500 proved my made up adage that two rabbits are better than one. The pace making was good through 1,000 and Abeba Aregawi of Sweden stormed to victory from there in a scintillating 3:56.60. The former Ethiopian beat Faith Kipyegon and current Ethiopian, Genzebe Dibaba, who both finished under 3:58.
Amantle Montsho pulled away from Allyson Felix in the women's 400 winning the race in 49.88.
The loss breaks the streak of 10 consecutive wins in Doha for Felix. Meaningless stats aside, Felix ran a solid race in 50.19, but she looks to once again be focusing on the 100 and 200 this season. Joe Battaglia reports that Felix ran the longer race for pretty much the same reason every sprinter does the 400–her coach made her.
.@allysonfelix focus for '13 is 100/200. Why's she running 1st 400 since Daegu at @dldoha? "It's all about giving Bobby what he wants."

— Joe Battaglia (@JoeBattagliaNBC) May 9, 2013
-In the men's 800, David Rudisha ignored the rabbit and let the field think they had a chance before shutting the door over the last fifty meters. Preferred Rudisha descriptor the week, "languid."
–Hagos Gebrhiwet sprinted away from all the other competitors in the men's 3,000 for an easy win in 7:30.36. Not a thrilling race, but you should still watch the video because of the great view of all the empty seats (unrelated note, the Diamond League is still without a sponsor).
-Full Doha results, including big marks by Brittany Reese and Ryan Whiting can be found here.
Other Sprints
-Elsewhere, Tyson Gay ran 19.79 at the notoriously fast track in Clermont, Florida. A track so quick, you apparently aren't allowed to film within 500 feet of it.
-After Gay's spectacular 100 debut last week in Kingston, the world (32 people give or take) waited for the response from Usain Bolt in the Cayman Islands. Would he try to top Gay's 9.86? Could he break 9.8? No, and no. Bolt's statement was a whimper as he barely beat training partner Kemar Bailey-Cole and finished in a sluggish 10.09. Warning, do not watch video below unless you want to be infuriated by horrible camera angles.
Miscellany
Joe Batttaglia reports that Nick Symmonds is potentially being groomed to become the next star of ABC's, "The Bachelor." The key quote from the story.
"People may say that I do this stuff just for publicity. To those people I say, so what if I am?" Symmonds said. "The sport of track and field needs more publicity. If there is a way an athlete like myself, or Lolo Jones, or Sanya Richards-Ross or any other athlete can, in a positive way, increase exposure for our sport then isn't that a good thing?"
I don't think most people mind if Symmonds is doing it for publicity. If he said love was the main motivation, then there would be some questions. According to Wikipedia, the long-term success rate for contestants on the show is 6% (1 out of 16).
Regardless, I predict widespread support among the track and field community if he is selected. Symmonds would be guaranteed to last longer than ultramarathoner Josh Cox did on the sister show "The Bachelorette," (Cox lasted two episodes) and if there is one thing that track runners can get behind, it is outperforming  ultramarathoners in any way possible.