One Comment
Weekend College Wrap -- May 9-12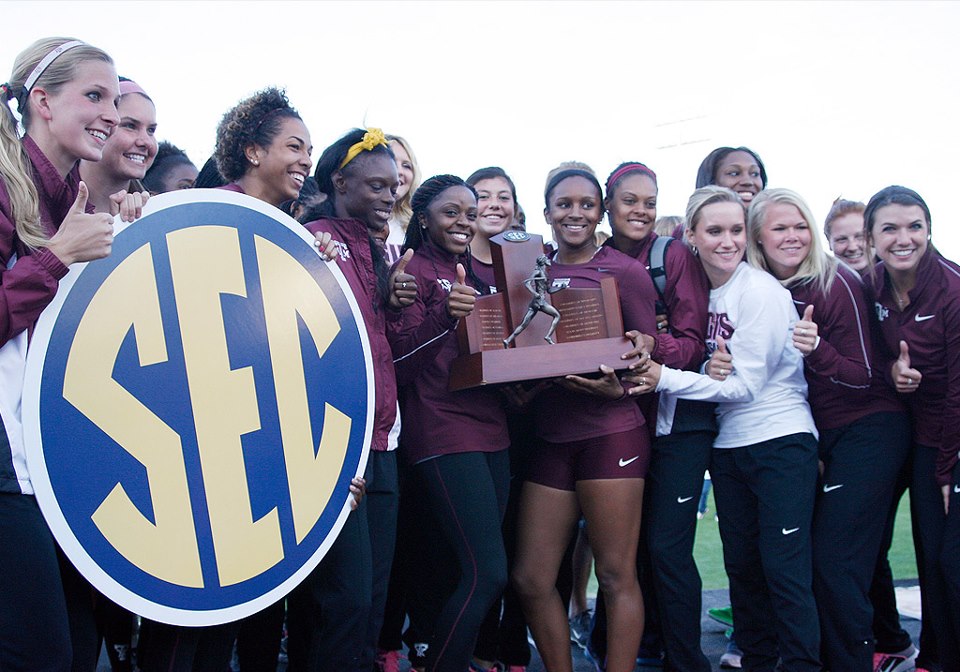 Jesse Squire | On 13, May 2013
This was conference championship weekend for the top leagues. Let's first take a look at the action in the SEC, Pac-12 and Big Ten.
SEC Championships
Women's team scores: Texas A&M 117, LSU 112, Arkansas 109, Florida 106, Georgia 87, Missouri 49, Kentucky 46, South Carolina 41, Tennessee 38.5, Mississippi State 35, Auburn 32.5, Alabama 20, Vanderbilt 16, Mississippi 9
Results
This was expected to be close, and it was. Old rivals LSU and Texas A&M took it down to the wire. The score see-sawed all day, with LSU scoring in every event except the 400, while Texas A&M scored in fewer events but piled up the points when they did. With three events left, it was LSU 97, Texas A&M 97.
The third-to-last event to be scored was the triple jump, where LSU's Keri Emmanuel had a subpar outing. Sixth at the NCAA Indoor Championships, she managed only fifth here, while Texas A&M picked up fifteen points with a 2-3-8 finish.
That put an awfully big load on the tiny shoulders of distance runner Laura Carleton. Even if she won the 5000 meters–which she did at the SEC Indoor Championships–then LSU's 4×400 relay would still have to beat the Aggies. That would be a tall order; remember which event LSU didn't score in? Yep, the 400.
Carleton ended up fourth in the 5000, rendering the relay question rather moot. Texas A&M won their first SEC title in their first year in the conference.
"This was a big meet for us," said Texas A&M head coach Pat Henry. "I think as anybody knows who follows the sport, in this conference you have to qualify well in those first couple of days to set yourself up for the final day."
"It may look like it comes down to the last couple of events, but what happens over the course of the past couple of days is what dictates a lot of what happens on the final day. This group lined up and got after it."
LSU's Kimberlyn Duncan is rounding into top form, winning both the 100 and the 200. In the longer race, her specialty, the 2012 Bowerman Award winner ran 22.35, a time she's only beaten once in collegiate competition without aiding wind.
An expected 400 meter showdown between Arkansas' Regina George and Georgia's Shaunae Miller never materialized, as Miller was a scratch. George went on to win in 51.74, 0.01 off the outdoor collegiate leader. No word as to why Miller pulled out.
LATE EDIT: Miller hurt her foot during the 4×100.
Men's scores: Arkansas 152.5, Florida 123, Texas A&M 118, LSU 72.50, Georgia 56, Alabama 52, Kentucky 46, Mississippi 39, Auburn 37, Missouri 37, Mississippi State 33, Tennessee 33, South Carolina 16
Results
As close as the women's competition was, this was not. The Razorbacks scored in nearly every event, an amazing accomplishment given the quality and quantity of opponents in the SEC. The outcome was hardly ever in doubt, and the Hogs have now won the SEC seven times in a row (indoors and out).
"I'm really proud of our athletes and my coaches," head coach Chris Bucknam said. "There's a lot of hard work and a lot of dedication. They just go the job done today. We had a big day and came away with five wins. They call came in about a 30-minute span so we got some real good momentum going. I'm proud of them."
This being the SEC, the sprints were hot. The new find of the year, Alabama's Diondre Batson, confirmed his form by winning the 100 meters. The 200 meters was even better, with Ole Miss Olympian Isiah Young winning over Texas A&M's Ameer Webb, the two-time NCAA indoor champ, in an NCAA-leading 20.20.
Another great showdown came between a pair of sophomore pole vaulters, Arkansas' Andrew Irwin and Ole Miss's Sam Kendricks. Irwin is already a two-time NCAA indoor champion, but Kendricks beat him at the Texas Relays in March with a massive 5.81 meter (19′ ¾") clearance. Fans hoped for a showdown, but the pole vault can be a fickle master and great athletes sometimes just fizzle. But this time, we got what we hoped for.
The third height, 5.41m (17′ 9″) eliminated all but Kendricks, Irwin, and Tennessee's Chase Brannon. Kendricks took the advantage by making that height on his first attempt while the other two only managed to get over on their third attempts.
The next bar, 5.51m (18′ 1″) saw six straight misses between the three vaulters before Kendricks and Irwin got over, but Brannon was eliminated. On the tiebreaker, Kendricks still led.
At the next height, 5.59m (18′ 4″), both missed on their first attempt, and Kendricks missed on his second, but Irwin pulled got over the height and took the lead. Kendricks missed his final attempt, and Irwin had the title.
Pac-12 Championships
Maybe this should be renamed the Duck Conference. Oregon swept the men's and women's titles for the fifth time in a row, and the men won for their seventh time in a row.
Women's team scores: Oregon 139, Arizona 123, Arizona State 110.33, UCLA 87.33, Stanford 86.5, USC 81, Washington 55.33, Washington St. 42, California 41.5, Colorado 32, Utah 14, Oregon State 6
Results
We are an all-around team, it is good to know that my team will hold each other accountable and well pick up where everybody left off and if you don't make then somebody else is going to come out pick you up and carry you with them. That's what Oregon is all about and we definitely showed it today.
–English Gardner, Oregon's defending NCAA 100 meter champion
In the days leading up to the championships, the Ducks had some doubters. The USTFCCCA computer was one, as it had Oregon ranked #7 to Arizona's #5. Another was Portland Oregonian sportswriter Ken Goe, whose initial formchart showed Oregon losing to Arizona (due at least in part to thoughts that energy would be saved for next month's NCAA Championships).
But Oregon head coach Robert Johnson would have none of that. "Like I said from the very beginning, the most important meet we have is the meet that is in front of us," he told Goe. "That is the Pac-12 Championship. It is a championship. Any championship you get a chance to win, you want to go out and win."
Some alarm bells went off when English Gardner, Oregon's defending NCAA 100 meter champion, false-started out of the 100 semis on Saturday. "Very, very disappointed in myself," she said to Daily Relay's Kevin Sully. "It's something…I haven't done since I was 8 years old, so I definitely beat myself up about it. But I'm gonna get out here and compete for my team."
As it turned out, that was the only thing that went wrong for Oregon. In Gardner's absence, teammate Jenna Prandini won the 100 meters. Led by Gardner, the Ducks went 1-2-3 in the 200, and they dominated other events too: 1-2 in the 400, 1-3-5 in the 800, 2-3-5 in the 1500. So complete was the Oregon dominance that they barely used Jordan Hasay, the distance ace featured on the cover of this month's Running Times.
In that 200 meters, Gardner broke Gail Devers' meet record. "Jenna Prandini made up for some of my sorrows, but there was a little bit of bitterness leftover for the 200," she told Sully. "I just went out there and I just ran it I didn't think..I didn't overanalyze the race at all…I just went out there and went."
Speaking about the 4×100, which has had its problems this year but went smoothly here for a season's best time, Gardner said, "I felt great, finally we got some good handoffs on that 3rd turn of ours. We went out there and we came to rock. I'm pleased with my girls, we hit our marks…we came out with a W and I can't be any happier with that."
Saturday's competition was highlighted by a collegiate record. Arizona's Brigetta Barrett, the reigning Olympic high jump silver medalist, finally broke the record she's been pursuing for the better part of two years. Her height of 1.99 meters (6′ 6¼") broke the record held jointly by Amy Acuff (UCLA), Destiny Hooker (Texas) and Kajsa Bergqvist (SMU). Incredibly, it came on the heels of a 55.63 run in the 400 meter heats, which led Sully to deadpan:
Barrett finished 4th in her heat. She is much better at the high jump.
.(Note: I dared Sully to interview her Ali G-style, asking only about the 400 and ignoring the high jump, but she disappeared before he could do it.)
The women's 400 meter hurdles was anticipated to be the best race of the meet and it was. Arizona's Georganne Moline finished fifth in the Olympic final last year, but was beaten by Stanford's Kori Carter at the Jim Click Shootout last month.
Carter showed it was no fluke. She was leading coming off the turn and Moline began to close, but she found another gear over the last two hurdles and pulled away. Carter won it in 54.21, the world's leading time for 2013 and second-best in collegiate history. Moline finished second in 54.71, #3 in the world. UCLA's Turquoise Thompson was a well-beaten third, but still faster than any other collegian this year.
The timing of the regionals and the two U.S. Diamond League meets means that several of these west-coast college stars can go up against the pros, a development that is good for both college track and the Diamond League. Moline will run at the Prefontaine Classic (held on the Saturday between the NCAA regionals and nationals), and Barrett will jump at the Adidas Grand Prix (doing her regional at Texas on Friday and the Adidas meet in New York the following afternoon).
Men's team scores: Oregon 149.5, USC 108, UCLA 98.5, Arizona State 94, Washington 76, Colorado 70, Arizona 67, California 66, Washington St. 45, Stanford 43
Results
Oregon won its seventh men's title in a row and had nearly half again as many points as the runners-up. The previous head coach, Vin Lananna, liked to play things close to the vest but the new guy, Robert Johnson, goes for Ws and doesn't hold back.
Obviously the Ducks are by far the best team in the west. Could they contend at the NCAA Championships? Right now it looks unlikely, but you never really know.
The most interesting development out of this meet was Lawi Lalang's resurgence. During the 2011 fall and 2012 winter seasons, he was an unstoppable force, but became a mere mortal during last year's outdoor season. This year looks more pointed towards the outdoor season, as this was only his second outdoor meet of the year. On Friday night he won his first ever track 10k, finishing it off with a 61-second last lap–and that was after running a 3:41 heat in the 1500 meters, the equivalent of a sub-4:00 mile.
On Saturday Lalang led wire-to-wire for a dominating 3:38.53 win, then opted out of the 5000. He has regional qualifiers at three different distances–1500, 5000 and 10,000–and we'll have to wait to see which he chooses.
By far the deepest men's event at the Pac-12 Championships was the 400 meters, where USC Olympian Bryshon Nellum faced off against Oregon's Mike Berry, himself an international athlete (2011 World Championships). Berry ran 45.14, third best in the NCAA this year, but Nelloms blew by him on the homestretch to win in 44.76. It puts Nellum #2 on the world list, and the only collegians who have run faster this early in the season are Butch Reynolds and Quincy Watts.
Nellum said, "Just the experience at the Olympic Games brought me to a whole new level of track and field, so now running with the best in the world I knew I was able to come back and if I work hard and stay dedicated, stay healthy, I'd be able to perform the way I did today." After the 400, he came back and won the 200 in 20.33, second-best in the NCAA (and breaking the stadium record, held by none other than Ato Boldon).
Running in third place and in only his second-ever collegiate meet was Stanford's Steve Solomon. He's the two-time defending Australian champion and sports a 44.97 PR, run at the London Olympics. Not yet 20 (his birthday is on Thursday), he won a bronze medal at last year's World Juniors. But what caught Sully's eye was his cooling vest. When Kevin saw that, he had to find out what was going on.
"I overheat. It is weird because I've always overheated, as soon as I get really hot I get all nauseous sometimes I pass out…I don't run in it, once the race is finished I throw the vest and it really cools me down and I'm back to normal."
As far as adjusting to life in the US and at college? No worries, mate. "I'm having the time of my life being at Stanford, really, really enjoying every day, loving the weather, loving the classes, loving the training. The main motivating factor for me to come was my coach back home thought it was an awesome opportunity. Her backing to say "come over" was the final straw and I'm loving it."
A fellow Aussie, Julian Wruck, won the discus throw for UCLA. He's been dominant this year and breaking records wherever he goes. Here he broke the stadium record held by the great John Powell, set thirty years ago.
Big Ten Championships
Men's team scores: Nebraska 131.5, Minnesota 93, Wisconsin 86.5, Illinois 86, Iowa 85, Ohio State 84, Indiana 67.5, Penn State 59, Purdue 56, Michigan 36, Michigan State 33.5
Results
Back at February's Big Ten Indoor Championships, the top five men's teams all finished within five points of each other and Wisconsin pulled out a miracle victory. No such thing happened at the outdoor championships, as Nebraska left the rest of the conference in the dust.
The Huskers scored 135½ to runner-up Minnesota's 93, and got points in 15 of the 21 events. The Huskers' profile is the complete opposite of the rest of the Big Ten, a conference whose strengths lie in the distance events and the hammer throw, and those are the events where Nebraska drew a blank.
The gutsiest performance of the day was by Indiana's Andy Bayer, who doubled up with victories in the 1500 and 5000 meters. He led wire-to-wire in the shorter race, and less than two hours later he lined up for the 5k. It turned into a one-on-one battle with Wisconsin's Reed Connor, with the two going hammer-and-tongs over the final lap. Bayer took it by a mere 0.19 seconds. That's nothing for the Hoosier senior; he won last year's NCAA 1500 meter title by a mere 0.01 seconds.
Minnesota's Harun Abda pulled off the biggest upset of the meet when he beat Penn State's Cas Loxsom, the star of the indoor championships and the Penn Relays.
Women's Team Scores: Penn State 133, Illinois 120, Ohio State 86, Michigan 82, Michigan State 76, Nebraska 75, Wisconsin 74.5, Minnesota 66.5, Indiana 38, Purdue 37, Iowa 31
Results | Recap
"This was a very rewarding win for us," said Penn State head coach Beth Alford-Sullivan. "I think we had 20 different women score, and we scored in the 17 of the 21 events, which really shows the strength and balance of our program, and that's what we're all about."
Awards
Who wins the awards during this championship weekend? Let's take a look.
Teams of the week: The teams that looked like NCAA title contenders were the Arkansas men, who dominated the toughest conference in the nation, and the Oregon women, who put on a display at the Pac-12 Championships.
Athletes of the week, sprints/hurdles: The men's award goes to USC's Bryshon Nellum for his tremendous double at the Pac-12 Championships. Stanford's Kori Carter put up a world leader in the 400 hurdles at the Pac-12 Championships, one that is even more remarkable coming on short rest after a win in the 100 hurdles (in 12.76, the second-fastest in the NCAA).
Athletes of the week, distance: Arizona's Lawi Lalang dominated the Pac-12 at 10,000 meters and 1500 meters. Wichita State's Aliphine Tuliamuk-Bolton pulled a heavy load at the Missouri Valley Conference Championships, wining the 5k and 10k and finishing sixth in the 1500 meters.
Athletes of the week, jumps: Arizona's Brigetta Barrett is an easy choice, as she broke the long-standing collegiate record in the high jump. On the men's side, LSU's Damar Forbes wins it for his wind-aided long jump win at the SEC Championships–wind or no, 8.34 meters (27′ 4½") is a big jump.
Athletes of the week, throws: Both go to a pair of Pac-12 discus throwers. UCLA's Julian Wruck continues to impress, as he threw a distance that only ten other collegians have ever beaten (65.41m/214′ 7″). The women's award goes to Arizona State's Anna Jelmini.