One Comment
The Non-Track Fan's Guide to the Olympics: Women's running events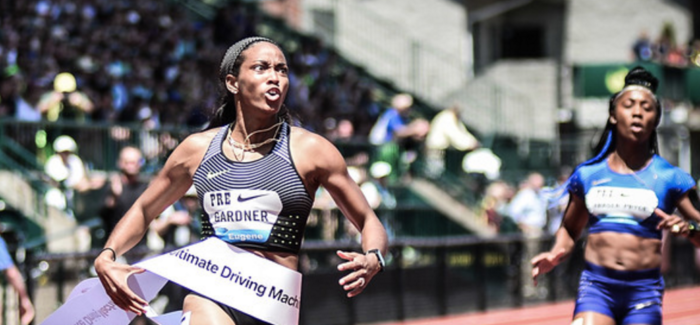 Kevin Sully | On 10, Aug 2016
Part one of the Non-Track Fan's Guide to the 2016 Olympics, featuring the men's events, can be found here. Today, I'm focusing on the women's events. I included the date of the final, the key names to know, why you should watch and some talking points to help you seem smart.
Event: Women's 100m (Aug. 13)
Names to know: Shelly-Ann Fraser-Pryce (Jamaica), Elaine Thompson (Jamaica), Dafne Schippers (Netherlands), Murielle Ahoure (Ivory Coast), English Gardner (USA), Tori Bowie (USA), Tianna Bartoletta (USA), Michelle-Lee Ahye (Trinidad and Tobago), Veronica Campbell Brown (Jamaica)
Why you should watch: Like Bolt, Fraser-Pryce is going for a record third straight Olympic 100m gold. Unlike Bolt, she's not the favorite. She will have to work some Fraser-Pryce magic to get on the podium after struggling this season. If form holds, the winner should come from the quartet of Schippers, Thompson, Bowie and Gardner. Of that group, only Gardner seemed to be a medal threat four years ago. In 2012, Bowie was long-jumping (but not in the Olympics), Thompson was an unknown and Schippers was competing in the heptathlon.
Also, a Gardner post-race celebration will assuredly be epic.
Talking points:
"Of all the things to derail Fraser-Pryce…..a toe injury……..man……."
"Boooo-E….not Boh-E."
Event: Women's 200m (Aug. 17)
Names to know: Elaine Thompson (Jamaica), Dafne Schippers (Netherlands), Murielle Ahoure (Ivory Coast), Deajah Stevens (USA), Tori Bowie (USA), Jenna Prandini (USA), Veronica Campbell-Brown (Jamaica)
Why you should watch: A chance for a double gold if Thompson, Schippers or Bowie wins the 100m. Also it's a chance to mourn the absence of Allyson Felix.
At the World Championships last year, Thompson and Schippers ran top-10 marks all-time. Those two, plus Bowie, mean the winning time will once again be very fast. Conventional wisdom says your favorite for this race should be whoever runs the best in the 100m. But be different and pick Schippers regardless. Chalk it up to her "heptathlon strength."
Prandini and Stevens are two of about 56 runners with Oregon connections in this meet.
Talking points:
"I'm as surprised as you are about the rise of women's sprinters from the U of O."
Event: Women's 400m (Aug. 15)
Names to know: Allyson Felix (USA), Phyllis Francis (USA), Natasha Hastings (USA), Shaunae Miller (Bahamas), Christine Day (Jamaica), Novelene Williams-Mills (Jamaica), Stephanie Ann McPherson (Jamaica), Christine Ohuruogu (Great Britain)
Why you should watch: It's Felix's only individual event. She's the face of American track and field and will only make a few appearances. Don't miss them.
Her main rival is Miller, who is younger than Felix and has a faster time in 2016. The positive for Felix is there exists a feeling of untapped potential in the 400. Last year was the first time she ran only the 400 at a championship meet. She'll probably need a lifetime best to win gold, but she is capable of doing just that.
Talking points:
"Hastings might have gone out too fast."
"Do you think ________(race winner) would have beaten Caster Semenya?"
Event: Women's 800m (Aug. 20)
Names to know: Caster Semenya (South Africa), Francine Niyonsaba (Burundi), Margaret Wambui (Kenya), Eunice Sum (Kenya), Ajee Wilson (USA), Kate Grace (USA), Melissa Bishop (Canada), Marina Arzamasova (Belarus)
Why you should watch: What's more exciting than track and field? How about the opportunity to shed light on the complex issues of gender in sport? The faster Caster Semenya runs in the 800m, the louder the noise. My guess is that any reasoned, nuanced opinions on the topic from Semenya's competitors will be drowned out by the most controversial statements. I hope I'm wrong.
Semenya has a chance to set the world record. It would take a sizable improvement, but she's running faster now that she has in her entire career. Any other year, Niyonsaba, Bishop, Wambui, Sum and Wilson would all be in the hunt. Semenya, however, is the only one capable of running 1:55. It's her race to lose.
Talking points:
"Nope, don't tweet that."
"Don't post that one either."
Event: Women's 1500m (Aug. 16)
Names to know: Genzebe Dibaba (Ethiopia), Faith Kipyegon (Kenya), Sifan Hassan (Netherlands), Laura Muir (Great Britain), Dawit Seyaum (Ethiopia), Jenny Simpson (USA), Shannon Rowbury (USA), Brenda Martinez (USA)
Why you should watch: Dibaba's coach was arrested at a hotel in Spain with EPO and syringes. Several of the coach's athletes (including Dibaba) were staying at the hotel during this time. The coach has denied the claims, but there is still a cloud over the event.
The combination of Dibaba's fast times and associations make this messy. A Dibaba win had the potential to create the most awkward press conference of the meet until Lily King and Yulia Efimova took to the stage. Why do you have to take everything from us, swimming? Can you leave us nothing these Olympics?
Last year, Dibaba was the runaway favorite. On the track she's been lower profile this year. I still don't think she's beatable. The before, during and after will be a strange viewing experience. None of the three US athletes hav had a problem speaking out about issues in the sport and all three have the ability to get on the medal stand.
Talking points:
"_____________________ looked great in the rounds."
"Pay close attention to who gets second."
Event: Women's 5000m (Aug. 19)
Names to know: Almaz Ayana (Ethiopia), Mercy Cherono (Kenya), Vivian Cheruiyot (Kenya), Hellen Obiri (Kenya), Senbere Teferi (Ethiopia)
Why you should watch: It'll be a true upset here if the US gets a medal. The women's 5000m might be the running event where the Americans have the longest odds. They are facing one of the fastest runners of all-time (Ayana) and a Kenyan trio, all of whom have run considerably faster than the American record this year. To boot, the best American runner in this event, Molly Huddle, isn't running the 5000m.
Ayana is wonderful to watch. She doesn't seem to be interested in partaking in sprint finishes. She puts herself out there by the halfway mark and tries to squeeze the life out of the field. That's typically a risky strategy, but it hasn't hurt her yet.
Talking points:
"Nope, they aren't going to jog for the whole race, just the beginning."
"Can we start the debate about whether Ayana is one of the greatest of all-time?"
Event: Women's 10,000m (Aug. 12)
Names to know: Almaz Ayana (Ethiopia), Tirunesh Dibaba (Ethiopia), Molly Huddle (USA), Emily Infeld (USA), Vivian Cheruiyot (Kenya), Betsy Saina (Kenya), Gelete Burka (Ethiopia)
Why you should watch: It's the first running event final of the meet and a great chance for you to test the strength of your web stream. Even though this Dibaba has been around forever, nobody is quite sure what she is capable of. She's one of greats of all-time, but she's running against someone who is great right now in Ayana.
Between Huddle and Infeld, there is serious "snuck out a bronze" potential. Last year, Huddle was doing just that until she celebrated early and got out-snuck by Infeld.
Talking points:
"Looks like Tirunesh is destined for the roads."
"Why aren't they panning back to the race for third?"
Event: Women's 110m high hurdles (Aug. 17)
Names to know: Nia Ali (USA), Kristi Castlin (USA), Brianna Rollins (USA), Tiffany Porter (Great Britain), Alina Talay (Belarus), Cindy Roleder (Germany)
Why you should watch: US sweep? Even without the world record-holder, they still have the three fastest in the meet. But here is a hurdles disclaimer that things can go awry quickly. Last year at the World Championships, the US was shut out of the medals. Rollins won the Trials and has the best entry mark in the field. Ali is super clutch and Castlin is running the best she has of her entire career.
Talking points:
"I think it's time to have a discussion about raising the height of the hurdles."
"If they were allowed, the US could probably have six runners in this final."
Event: Women's 400m hurdles (Aug. 18)
Names to know: Eilidh Doyle (Great Britain), Zuzana Hejnova (Czech Republic), Janieve Russell (Jamaica), Dalilah Muhammad (USA), Ashley Spencer (USA), Sydney McLaughlin (USA)
Why you should watch: Seventeen-year-old McLaughlin will be the youngest American track and field athlete to compete at the Olympics since 1972. And she juggles!
.@usatf's Sydney McLaughlin has SKILLS ? (via @usatf) pic.twitter.com/xtVpmWHkJJ

— NBC Olympics (@NBCOlympics) August 2, 2016
McLaughlin finished third in the Trials, but the US is strong in this event, so there is a decent possibility she makes the final in Rio. Muhammad is the best in the world this year, and if she runs quicker than she did in July, she'd be in range of the American and world records. Russell was off the team because of an injury but appears to be a late add after passing a fitness test.
Talking points:
 "(staggering runner) lost her rhythm."
Event: Women's 3000m steeplechase (Aug. 15)
Names to know: Ruth Jebet (Bahrain), Hyvin Kiyeng Jepkemoi (Kenya), Habiba Ghribi (Turkey), Emma Coburn (USA), Sofia Assefa (Ethiopia), Hiwot Ayalew (Ethiopia)
Why you should watch: By my count there are eight events where a world record is possible. The women's steeplechase is one of them. Jebet and Jepkemoi scared the mark earlier this year at the Prefontaine Classic in what developed into the greatest steeplechase race in history. You remember where you were for that one.
Emma Coburn is the medal hope for the United States. She holds the American record and can figure into the medals especially if Jebet or Jepkemoi (literally or figuratively) stumble. If both run up to their potential, then Coburn needs to beat the rest of the field to medal — a difficult but doable task. Coburn and Evan Jager on the podium means we will remember these Games as the time when the steeple was turned on it's head.
Talking points:
(While someone is googling how many barriers there are in the steeplechase) "Make sure to include the water jump in your count. Technically, they are different than the other barriers."
"Question for the group…..how much would it cost for you to run for Bahrain?"
Event: Women's 4 x 100m relay (Aug. 19)
Names to know: USA, Jamaica, Great Britain, Trinidad and Tobago, Netherlands, Germany, Canada
Why you should watch: If you are a Team USA fan, close your eyes and say a quiet prayer until the anchor leg has the baton. When you open them, the US will either be:
a) Running toward gold
b) Not in the picture because the baton is in an undisclosed location
c) Running toward gold……only to be disqualified later because they ran out of the exchange zone.
If the baton passes are clean (and legal), the US should win. Their top three 100m runs are overwhelming and having Jenna Prandini to round out your squad is a lot like Klay Thompson being your third option on offense.
Talking points:
(if Felix is on the team) "You put Felix on the team because of experience. Period."
(if Felix isn't on the team) "You don't put Felix on the team because she wasn't even top three in the 200. Period"
Event: Women's 4 x 400m relay (August 20th)
Names to know: USA, Jamaica, Great Britain, Bahamas, France, Canada
Why you should watch: Despite Felix's ungodly 47.7 split, the US lost this event at the last year's World Championships to Jamaica. The Jamaican group is back, but the US is chocked full of talented quarter milers. Felix's speed can cover up any sub-par legs. With the available roster, however, the US shouldn't really have any weak spots that need to be covered up.
I thought the same thing last year though and Jamaica won, so I'm not ready to call it yet. France and Great Britain both have runners that are famous for coming from wayyyyyy back in the final 100 meters and both will be in the bronze medal mix.
Talking points:
"Anybody get a split on that leg?"
"They don't drop the baton in this one."
Event: Women's marathon (Aug. 14)
Names to know: Mare Dibaba (Ethiopia), Amy Cragg (USA), Shalane Flanagan (USA), Desi Linden (USA), Visiline Jepkesho (Kenya), Helah Kiprop (Kenya), Sara Moreira (Portugal), Tifi Tsegaye (Ethiopia), Tigist Tufa (Ethiopia), Estonian triplets
Why you should watch: It's the perfect companion to your Sunday morning ritual. All three members of the US team are capable of finishing in the top three. Flanagan and Cragg train together in Portland and will most likely work together. Linden runs the type of race that you should use on your weekend 5K (smart and steady). Ethiopia and Kenya are strong, as usual, though Kenya isn't bringing their most experienced/successful group. My prediction is that Ethiopia will get the better of them, but I'll leave that to be debated between you and your brunch companions on Sunday.
Talking points:
"Trust me, Linden wants to be that far back in the first half."
"Why no Mary Keitany for Kenya? WHY NO MARY KEITANY for KENYA?"