No Comments
Sunday's Best Matchups at the USATF Championships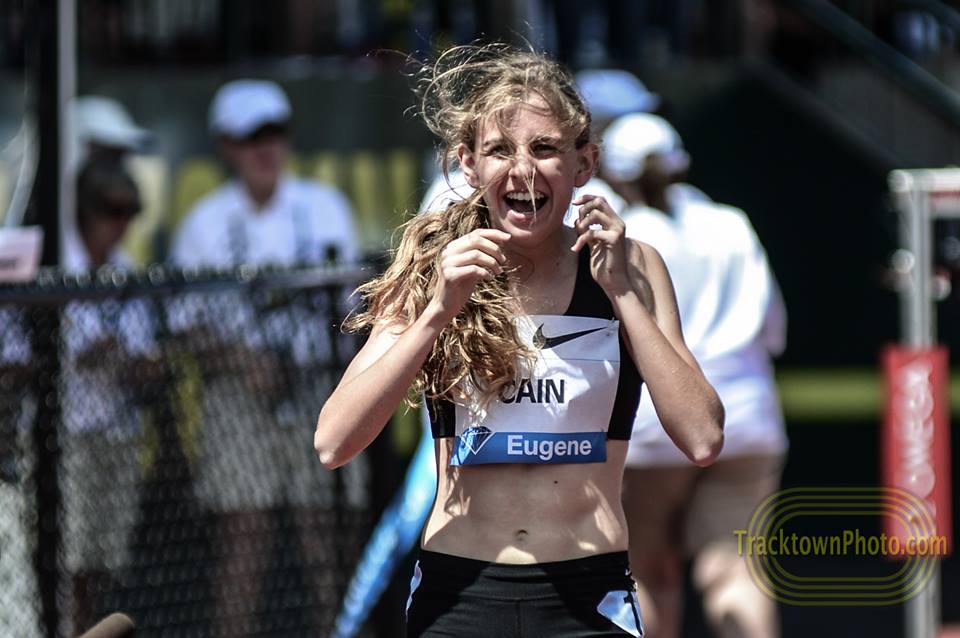 Jesse Squire | On 29, Jun 2014
Can Mary Cain live up to the expectations? It seems impossible, but she's doing the impossible. (Photo: TrackTown Photo)
Today is the final day of the USATF Championships and I have seven tasty matchups for you. But first, you might want to take a look at what happened yesterday.
Kevin Sully took a deep and detailed look at Saturday's action.
Here are yesterday's full results.
Your key web links for today…
Meet website
Live webcast at USATF.tv from 2:30pm ET
Schedule, start lists and live results
TV coverage is on Universal Sports from 3:00 to 4:00 and on NBC from 4:00pm to 6:00pm (ET), during which time the webcast will switch to field events only.
And today's best matchups are…
Lowe vs Barrett vs McPherson
Women's high jump, 12:05pm local time (3:05pm ET)
Brigetta Barrett won silver medals at both the 2012 Olympics and 2013 Worlds while a collegian at Arizona but her first professional season has been a bit of a dud. But if she puts it together she'll win. Lowe, the American record holder, has made an amazing comeback to elite status after having her third child. McPherson's career best can't match those of the other two but she's consistent.
Jeff Henderson vs Will Claye
Men's long jump, 12:15pm local time (3:15pm ET)
Henderson is a consistent jumper who has slowly gotten better and better. He's never won a USA title but this could be the year; he won the New York stop on the Diamond League tour with a meet record of 8.33 meters, which was his first career jump beyond the 27-foot mark. Will Claye could easily foil Henderson's bid for a win, as he's an Olympic bronze medalist in the event and clearly on top of his game with a triple jump PR on Friday. But strangely enough, Henderson's PR is now better than Claye's.
Moline vs Williams vs Carter
Women's 400m hurdles, 1:05pm local time (4:05pm ET)
The USA has four of the world's top ten this year but one of them, Kentucky's Keni Harrison, opted for the 100 hurdles at the USATF Championships. That leaves Georganne Moline, Tiffany Williams and Kori Carter to battle it out for the title. Moline has run the fastest times but has a bad habit of hitting hurdles; it's the reason she never won an NCAA title, and she nearly fell in yesterday's final. Williams is probably the most consistent of the three but her short stature could be a disadvantage.
Martinez vs Wilson vs Roesler
Women's 800 meters, 1:30pm local time (4:30pm ET)
The USA now has four internationally-competitive athletes in the women's 800; Brenda Martinez, Alysia Montano, Ajee Wilson, and Chanelle Price. Martinez, Montano and Wilson were all finalists at last year's World Championships, and Price won gold at this year's indoor Worlds. Montano is 34 weeks pregnant (which did not keep her from contesting the heats) and Price pulled out of the semis with a minor injury. This would suggest the race is between Martinez and Wilson, but Oregon senior Laura Roesler has looked very good through the first two rounds and is a serious threat to win.
Mitchell vs Young vs Dukes
Men's 200 meters, 2:09pm local time (5:09pm ET)
Curtis Mitchell was a star at Texas A&M who left school a year early to turn pro and the first few years of that didn't go so well for him. He was truly awful for a while. But last year he got it back together, made the US team for the Worlds, and came out with a surprise bronze medal. Isiah Young is the defending champion in this event (initially second but elevated to first after Tyson Gay's disqualification). But the guy who is sharp and ready to beat both of them is NCAA champion Dedric Dukes, the only American under 20.00 this year.
Mary Cain vs expectations
Women's 1500 meters, 2:39pm local time (5:39pm ET)
I had a conversation yesterday about how virtually no one in professional track and field appears interested in promoting anything other than themselves, and even then most shoot themselves in the foot while doing that. If you're a fan of RuPaul's Drag Race (and you should be since it's the best reality show on TV) think of pro track as the annoying, self-centered, tone-deaf drag queen known as Mimi Imfurst, and realize that track and field is getting sent home early in the reality show competition that is the hierarchy of American pro sports.
But every so often our sport is handed such a guaranteed winner that even we can't f**k it up. Mary Cain is the best thing to happen to track and field in decades. A bubbly, vivacious teenager right out of central casting who seems genuinely happy with everything she does, and what she does is nothing short of amazing. She's taking on seasoned pros and beating most of them, even while worrying about things like prom and AP exams.
It was like a dream up through the end of this year's indoor season, and then it seems like she's taken a step backwards. She hasn't raced much outdoors and what she's done is still truly great for a high school senior but not as good as twelve months ago. We should have no worries; this is all part of a long-term development plan by coach Alberto Salazar to go back to the basics of building endurance through increased milage and physical strength in the weight room.
So this race today may be the first time she is not able to live up to the expectations placed on her by the press. No one is going to beat Jenny Simpson in this race, but an on-top-of-her-game Mary Cain can beat everyone else. But is she on the top of her game?
Devon Allen vs pros
Men's110m hurdles, 2:52pm local time (5:52pm ET)
Meet management has elected to end the meets with the high hurdle finals on both Saturday and Sunday. This is a smart thing to do not only because the hurdles are inherently the most exciting of the short races, but because the best Americans aren't skipping the national championships like many of the sprinters are. And when you're looking at all of the best American hurdlers, you're looking at most of the world's best hurdlers.
That's what makes this race so interesting on several levels. It's a mini-World Championships to begin with, but it could also be a changing of the guard. With the exception of the injured Aries Merritt, all of the top pros are here–David Oliver, Ryan Wilson, Jason Richardson, Jeff Porter, Omo Osaghae–but I'm not sure that any of them are the favorite. The two fastest Americans this year are Pac-12 rivals Devon Allen (Oregon) and Aleec Harris (USC) as they have run faster than any of the pros.
Allen won the NCAA title two weeks ago in a shocking upset. The Duck freshman ran 13.16, second-fastest in college history and in his first year of running the 42″ barriers. He won his heat yesterday with the fastest time of the day and talked about running 13.00 or faster today. He might be the best freshman hurdling talent since Renaldo Nehemiah–and whereas "Skeets" ended up leaving track in favor of the NFL, Allen is already a football player but could be stolen away from the gridiron with enough success on the track.