7 Comments
National Championships preview - Women's throws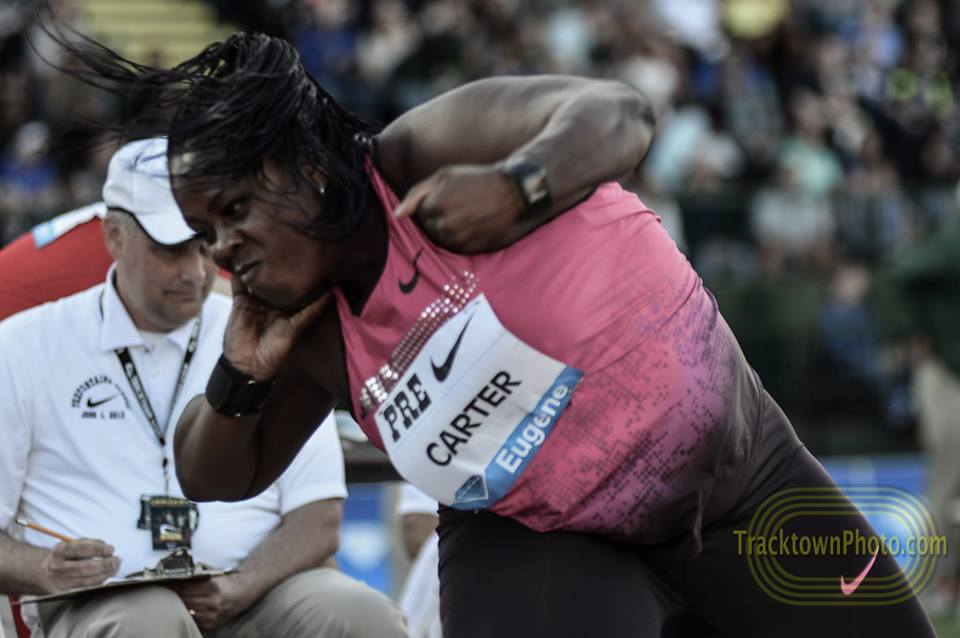 Jesse Squire | On 15, Jun 2013
We're working our way towards the biggest domestic competitions of the year, the USATF Championships in Des Moines and the Canadian Championships in Moncton. In an effort to highlight events that too often go ignored, I'm taking several days to preview the field events (click here for yesterday's preview of the men's throws).
A word about the listed standards: in general, one entry in an event at the Worlds needs to have met the 'B' standard, and any additional entries need to have met the 'A' standard. Jim McDannald covered the specifics earlier this week.
Make sure and bookmark the Daily Relay Coverage of the 2013 USA Outdoor Track and Field Championships and follow @DailyRelay for updates!
Final: Saturday, 1:00pm local time (2:00pm ET)
Standards: 'A' – 18.30m, 'B' – 17.20m
US women's shot putting has improved its standing in the world over the last few years, but one of the two internationally-competitive Americans will not be competing here. Jillian Camarena-Williams, the 2011 Worlds bronze medalist (the first Worlds/Olympic medal won by an American woman since 1960) is out for the season recovering from back surgery.
The other internationally-competitive American, Michelle Carter (Nike), is doing just fine. She's thrown 64′ 5¾" (19.65 meters), almost a foot and a half further than the next-best American, and is a prohibitive favorite. She's as close to a lock for making the US team as there is outside the automatic "wild card" entries.
Three more US throwers have achieved the 'A' standard: collegians Tia Brooks (Oklahoma) and Felisha Johnson (Indiana State) and pro Jeneva McCall (New York AC). NCAA champion Brooks has been highly consistent and only disaster will keep her out of the top three. The third spot is likely to be a great battle between Johnson an McCall. Any of a number of others could get on the team if the above falter, as the USA has eight athletes who have achieved the 'B' standard.
At this week's Canadian Championships, Arizona senior Julie Labonte is a heavy favorite to win. She is the only Canadian athlete to have achieved the 'B' standard and need only finish in the top three to assure her spot on the Worlds team.
Final: Sunday, 2:20pm local time (3:20pm ET)
Standards: 'A' – 62.00m, 'B' – 59.50m
Three US throwers have achieved the Worlds 'A' standard. That means they'll all make the team for the Worlds, right? Not exactly.
First of all, the national allotment of three entries can consist of two 'A's and one 'B'. So if a 'B'-qualified athlete finishes in the top three, they're in. Second of all, distances in the discus are so affected by wind conditions as to make marks a very imprecise way of predicting competition results.
That said, Gia Lewis-Smallwood (Nike) is the favorite to win. Only once this year has she lost to an American thrower, when she finished fourth at San Diego's Triton Invitational. That meet was an example of the kind of craziness that could happen at the USATF Championships; the other two 'A'-qualified athletes were in that meet, won by Aretha Thurmond (Nike) but Liz Podominick (RNF) finished sixth.
Two 'B'-qualified athletes finished second and third at that meet, unsponsored Whitney Ashley and Anna Jelmini (Arizona). Jelmini won this year's NCAA title and was upset by Ashley at last year's championships, so both have proven they can get it done under pressure.
Two athletes who were expected to make a difference at the USATF Championships but won't are veteran Stephanie Brown-Trafton, who is having a baby, and Texas A&M freshman Shelbi Vaughan. Vaughan finished fourth at last year's Olympic Trials, part of stunning senior year where she twice broke the national high school record and won a bronze at the World Juniors. She hasn't been remotely close to that form this year and didn't even make it to the NCAA Championships.
If Labonte chooses to enter the discus at the Canadian Championships she'll probably win it, but the nation has no Worlds 'A' or 'B' qualified athletes and isn't likely to get one.
Final: Saturday, 3:30pm local time (4:30pm ET)
Standards: 'A' – 72.00m, 'B' – 69.50m
The USA has five 'A'-qualified athletes in this event and the competition to make the Worlds team will be keen. Those five — Jessica Cosby-Toruga (Nike), Amanda Bingson (Nike/New York AC), Gwen Berry (Nike/New York AC), Jeneva McCall (New York AC), and unsponsored Amber Campbell — have competed against each other with regularity this year, and all five have come out winners against the others. Trying to sort it out is about impossible, but note that Campbell has won two out of the last three USATF Championships. This might be the most unpredictable event in Des Moines.
One other athlete who just might be able to make an impact is Chelsea Cassulo (Arizona State), the fast-improving NCAA champion.
Sultana Frizell is the only Canadian with a Worlds 'B' standard and has thrown more than 20 feet further than anyone else. She should have no trouble winning her fourth national title and securing a place on the Worlds team.
Final: Thursday, 6:15pm local time (7:15pm ET)
Standards: 'A' – 62.00m, 'B' – 60.00m
There are two competitions in this event at the USATF Championships. The first is women vs. women for the national title. The second is women vs. the measuring tape, since no American has yet thrown the requisite 60 meters to qualify for the World Championships.
The only two Americans who have thrown that far with any consistency over the last two years are Kara Patterson (Asics), who is still rehabbing from knee surgery, and Rachel Yurkovich (Nike), who also hasn't done anything of note this year is not competing this year..
The only other active US athlete who has ever thrown over 60 meters is Brittany Borman (Nike), who pulled off a minor miracle to win last year's Olympic Trials and hit the standard. This year she's been more consistent but still needs an improvement to hit the standard. If she doesn't make it at the USATF Championships, she'll have until July 20 to try.
If anyone is to challenge Borman, it could be Brianna Bain (Stanford), who was the top US thrower at the NCAA Championships.
The javelin is the lone throwing event in which Canada is in a better position than the USA. Krista Woodward hit the 'B' standard in May and will be on the Worlds team just so long as she finishes in the top three at the national championships. Given that her worst outing this year is more than seven feet better than any other Canadian's best, she should be able to do that.
Tomorrow I'll take a look at the women's jumping events at the USATF and Canadian Championships.