No Comments
Saturday's Best Matchups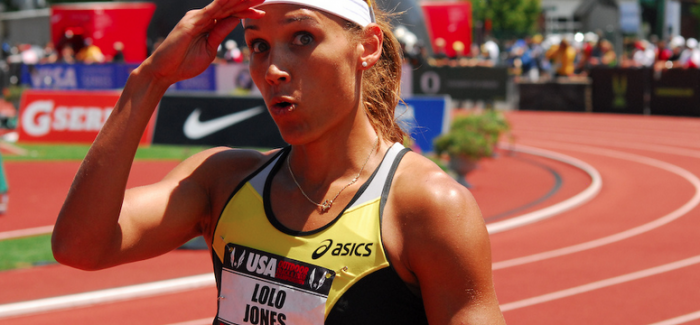 Jesse Squire | On 28, Jun 2014
Guess who won her qualifying heat yesterday? Lolo Jones might be back into hurdling shape already.
What are the best matchups in today's action at the USATF Championships? I'll take you through them, but first let's look at what happened yesterday.
Yesterday's action
Kevin Sully provided us a good recap of yesterday's action in his Friday report.
Some notes to add…
The men's discus was won by Alabama redshirt freshman Hayden Reed for his second straight big upset. He unexpectedly won the NCAA Championships two weeks ago too. The last collegian who swept the NCAA and USA titles in a single year was Nevada's Kamy Keshmiri in 1992. The last collegian to sweep both titles whose career didn't end with a positive drug test was Mac Wilkins in 1973.
Trey Hardee won the decathlon by an astonishing margin of 692 points–in other words, he could have skipped the 1500 and still won. It's his best score since winning silver at the 2012 Olympics.
Behind the great finishing battle between Molly Huddle and Shannon Rowbury, Texas' Marielle Hall added a third place finish to her already impressive season. She was NCAA champion just two weeks ago.
Today's best matchups
Your key web links…
Meet website
Live webcast at USATF.tv from 1:30pm ET
Schedule, start lists and live results
TV coverage is on NBC from 4:00pm to 6:00pm (ET), during which time the webcast will switch to field events only.
Aaron Brown vs Justyn Warner
Canadian Championships men's 100 meters, 2:10pm local time (1:10pm ET)
If you want to see a national championship meet where basically all the stars actually show up and compete, turn your eyes north (and east). The Canadian Championships are taking place this weekend in Moncton, New Brunswick, and you can watch it online.
Aaron Brown is pretty clearly the new Canadian sprint star. The USC Trojan finished second in both the 100 and 200 at the NCAA Championships two weeks ago and erased Atlee Mahorn's 23-year-old national record in the 200. Warner, the older brother of decathlon star Damian, anchored the Canadian 4×100 relay teams that suffered heartbreak at the 2012 Olympics and elation at the 2013 Worlds. The spoiler could be Andre De Grasse, the national junior college runner-up who is headed to USC next year.
Bingson vs Cosby vs Campbell
Women's hammer throw, 11:00am local time (2:00pm ET)
Amanda Bingson comes in as the favorite. After all, she's the defending champion and American record holder, and has come within two feet of that record this year. It sounds like she should win easily, but that's not what tireless hammer throw promoter Martin Bingisser thinks. Here's what he had to say about the challengers in his championship preview:
Jessica Cosby, on the other hand, just barely missed making the World Championships team last year and has returned this year with a personal best of 74.20 meters. She enters the meet with the second best mark of the group. Amber Campbell also also had a very consistent season. If I had to bet I would say it is Bingson, Cosby, and Campbell, but this will be so close only a stupid man would actually lay money down.
Sanya Richards-Ross vs Francena McCorory
Women's 400 meters, 1:05pm local time (4:05pm ET)
There are an awful lot of events in these championships where the stars either aren't here or clearly don't want to be. This is not one of those events. Both the stars of the past and future are racing and both are taking it seriously.
After a great Olympic year and gold medal, Sanya Richards-Ross has been battling a toe problem for the last year and a half. She ran her fastest time since 2012 in yesterday's semifinal, just 0.02 faster than the semi for Francena McCorory, the reigning World Indoor champion. The difference is that McCorory was only 0.19 off her personal record in that semi whereas Richards-Ross has gone a whole lot faster.
Emma Coburn vs meet record
Women's steeplechase, 1:56pm local time (4:56pm ET)
Earlier this year, Coburn became the first American woman to ever win a Diamond League steeplechase, and then followed it up with a solid second-place finish in the next Diamond League meet. Both times she was close enough to the American record that it appears likely that she will break that record sometime this year. There are a lot of good runners in this final but none should come anywhere near Coburn, and her only real foe is the clock.
An unpaced national championship meet held in the middle of the afternoon in hot and sunny Sacramento is not the time or place that an American distance record will be broken. But the meet record is very much in play, which is 9:27.59 by Anna Willard at the 2008 Olympic Trials.
Leo Manzano vs Will Leer
Men's 1500 meters, 2:14pm local time (5:14pm ET)
Leo Manzano is a fierce kicker who does very well in championship meets. Well, sometimes. He's a hit-and-miss runner who runs great and awful races but never average ones. He's had a whole lot more hits than misses this season since he found a new sponsor and coach after wandering in the wilderness for over a year.
Leer is also having a great year, winning the Wanamaker Mile at the Millrose Games, making the US team for the World Indoor Championships, and then taking sixth in the final. He's a bit of a kicker too.
This is a middle-distance race and one with no huge favorite. It's the kind of race where literally anything could happen.
Collegians vs semi-pros
Men's 400 meters, 2:42pm local time (5:42pm ET)
LaShawn Merritt ran the heats and then withdrew from the semifinals. David Verburg is pretty clearly the second-best American quarter-miler right now after Merritt but he inexplicably failed to qualify to the final.
What we have in this final is three collegians (Mike Berry, Vernon Norwood and Brycen Spratling), one sponsored pro (Manteo Mitchell) and four athletes listed as "unattached", meaning they have no sponsor. This race is a bit like a second-division soccer league because the top one or two finishers might be promoted to the first division of American quarter-miling.
The leading post-collegians are Josh Mance, a 4×400 Olympian, and Kyle Clemons, a member of the "no-name" American relay team that set an indoor World Record at the World Indoor Championships. The three collegians finished second, third and fourth at the NCAA Championships two weeks ago (behind Trinidad's Deon Lendore), led by Oregon's Mike Berry.
Rollins vs Harrison vs Harper
Women's 100m hurdles, 2:52pm local time (5:52pm ET)
Brianna Rollins came into the USA championships last year fresh off destroying all collegiate records. In the US final she broke the American record and went on to win the World Championships. She has raced much more sparingly in her first season as a pro and it shows. She's just not anywhere near what she was at this point last year. But as soon as she does whatever she needs to be back at that level, she'll obviously be the best of a deep American hurdling corps.
After yesterday's heats, Queen Harrison and Dawn Harper look most likely to step through any door that Rollins leaves open. Harrison leads the IAAF's Diamond Race with five points to four for Rollins and Harper. Both Harrison and Harper won their heats, Harrison with the fastest time, while Rollins was just third in her heat. And then there was another shadowy figure who won her heat too–I'm not sure if you've heard of this woman named Lolo Jones.