2 Comments
USA Championships Friday Report: Bumbalough close, but Lagat prevails again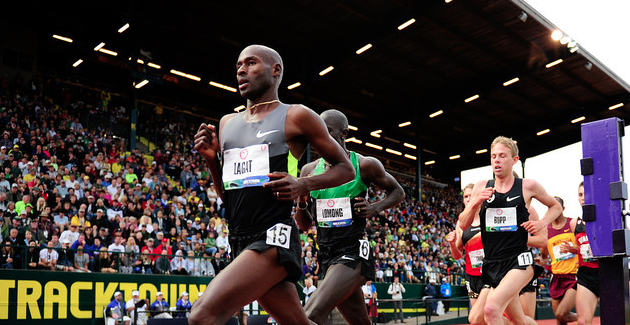 Kevin Sully | On 28, Jun 2014
Photo via TrackTownPhoto
With 200 meters remaining in his race, Andrew Bumbalough is smiling. Not a broad or triumphant smile, but one that sneaks onto his face mostly by habit. It's his form of a grimace. Some runners' faces contort in agony when they tire. Others remain stoic. Bumbalough's lips curl upward in between gasps of air. A bit of pain masked as euphoria. He says it happens all the time, but three miles into this 5,000 meter race it stands out more than usual.
On Friday at the USA Championships, the smile also has a bit of optimism behind it. Bumbalough moved to the front of the pack with 600 meters remaining. Now, he is just half a lap from his first US title.
Bernard Lagat, the 11-time US champion, looms in 3rd place. Leading up the race, Bumbalough tracked Lagat's recent performances. None of his results were spectacular.  For the first time in many years, Lagat looks vulnerable– or at least vulnerable enough for Bumbalough to give himself a shot at winning. Maybe the 39-year-old was finally showing his age.
At the bell lap, Lagat, is farther back than normal. Usually, he would have taken over the race by now, or at least be on the shoulder of the leader, ready to launch his customary kick.
On the final curve, Bumbalough peeks at the video board. It still looked good. The smile creeps onto his face. There is still a gap between him and Lagat.
Then, it happens.
130 meters to go-– Lagat starts to move closer to Bumbalough.
120 meters to go–Lagat shifts out in lane two. His eyes get big. It all starts to look very familiar.
110 meters to go— Lagat's neon singlet flashes past Bumbalough.
100 meters to go—Lagat's gone. The public address announcer lets out a "Woooooo," cause how else can you describe Lagat's finishing speed?
Bumbalough holds on for second.
"When you see that silky, smooth stride roll by you," Bumbalough says after the race, "It's a little devastating."
This has been Lagat's career. Crushing hopes one devastating kick at a time. There is no good way to race against him.  The best option is probably just wait until he gets old.
But the loss didn't come without lessons. Though Bumbalough came up short, perhaps a blueprint for future races emerged.
"I think I've been a little timid in the past. Sometimes you have to trust your instincts," Bumbalough said.  "I decided to roll the dice a little bit. Maybe you'll see more of that from me in the future."
Some observations from Friday's action:
-Outkicking the kicker is developing into a trend at these championships. Thursday night, Kim Conley overtook Jordan Hasay in the final straightaway to win the women's 10,000. Friday's, 5,000 also had a dramatic finish. Molly Huddle reclaimed the lead from Shannon Rowbury in the final 10 meters. Rowbury made a huge move with 200 meters remaining and looked to be headed for a comfortable win before Huddle mounted one last surge to get the win.
-Friday was a day of withdrawals. Lashawn Merritt, Allyson Felix, Chanelle Price and Abbey D'Agostino did not compete. As expected after their 10,000s the night before, Jordan Hasay and Galen Rupp scratched from the 5,000.
–Will Claye had the best performance of the day. He leapt 58-3 in the triple jump to set a personal best. Immediately after the jump Claye scaled the fence on the far side of the track and ran into the crowd.
Will Claye win's U.S. triple jump title w/backwards hat, does Lambeau Leap, starts hugging and kissing people. pic.twitter.com/13I9IGHrMU

— Nick Zaccardi (@nzaccardi) June 28, 2014
-If I gave you 500 tries, would you have guessed that Gotye's, "Somebody That I Used To Know" was the song played over the loudspeakers during the first mile of the women's 5,000? Nothing gets you pumped up to run 12.5 laps quite like angst-filled indie rock.
-For the record, Gotye was followed by Maroon 5's Cross My Heart.
-The media area was crowded so I watched most of the action from the stands. I was standing by the start line during the women's 100 hurdles prelims. A few minutes before the first heat began a group of guys in their late teens or early twenties came up the stairs and stood next to me. Upon seeing Lolo Jones one guy in the group let out a "Oh……..my…….God……." It sounded like he had just stumbled on the pyramids in Egypt or got his first glimpse of the Grand Canyon.
–Sanya Richards-Ross's trainer/physiotherapist (I only recognized him because I may or may not have watched a few episodes of her reality show) jumped about two feet in excitement after she won her prelim heat. Richards-Ross ran her fastest time of the year, 50.03, and is now a slight favorite to win the 400 tomorrow.
-There were three restart in the men's 100. Two men ran under protest. Both men were disqualified.
–English Gardner's mixed zone skills are strong. Last year after the NCAA meet she announced she was going pro without any prompting. On Friday, she talked to reporters for several minutes after her semifinal heat, even though the final was only 2.5 hours away.
-There was a substantial crowd in the bleachers on the homestretch. However, I'd say more than half left after the 100-meter finals and before the 5,000s. There was a steady stream of this for five minutes. 
But guys, you are going to miss the 5Ks! https://t.co/pcDxIX17MA

— House of Run (@HouseofRun) June 28, 2014