One Comment
USA Championships Saturday Report: McCorory wins, Richards-Ross returns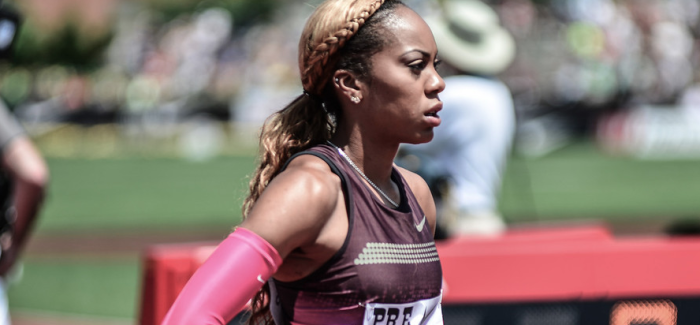 Kevin Sully | On 28, Jun 2014
Photo via TrackTownPhoto
After all the medals she's won,  Sanya Richards-Ross isn't one to be happy with a loss.  But Saturday's 400-meter at the US Championships in Sacramento tested that theory.
One year after an injury-shortened season and up against fierce competition, Richards-Ross was in the strange position of running well, yet still coming up short.
"To be able to break 50, most people won't understand, but it's a big deal," she said after placing second in 49.66, less than two tenths back of Francena McCorory.
It's a big deal because Richards-Ross has struggled to regain her form since her double gold year of 2012.
It's a big deal because of the race McCorory had to have in order to win. Running to Richard-Ross's inside, McCorory made a late push in the homestretch. Her time, 49.48, is a lifetime best, fastest in the world this year and makes her the fifth fastest American woman of all-time.
"I ran my lights out today," McCorory said.
It was just enough to hold off Richards-Ross, who has only been training for three months. An injury to her toe kept her out of most of 2013. She still feels the pain during training and after competition, but during races it doesn't affect her.
On Saturday, she looked like the same runner who has been at the top of her event for almost ten years. The win didn't come, but aggressiveness and pop were easy to see.
"I thought I had done enough, but Fran ran a phenomenal race. She PR'd today to beat me."
After the race, she hugged her father and the rest of her support team, content with second place. For the time being.
"I'm happy for her (McCorory), but next year it is going to be a different story."
More from Saturday:
-Sabermetrics is superfluous in track and field, but I'd like to see someone create a "Kick rating" stat. It would measure an athlete's winning percentage in races where they are tied or slightly behind with 100 meters remaining. Basically, I just want this stat to see if Leo Manzano has won more races in this fashion than Bernard Lagat.
Manzano responded on Saturday afternoon with a blistering last 100 meters to win the men's 1,500. Pat Casey, Lopez Lomong and Will Leer rounded out the top four places in race that featured most of the country's best.
-The women's 100 hurdles was also very deep. Dawn Harper Nelson and Queen Harrison ran 12.55 and 12.56 into a headwind. Lolo Jones had a solid weekend and placed third in 12.65. America record holder Brianna Rollins struggled and finished fifth in 12.81. At no point last year did I, or anybody else who follows track, think Rollins would ever lose to Jones again. How quickly things change.
-Rabbits and cool weather be damned! The women's steeplechase was surprisingly quick. Emma Coburn ran the second fastest time of her life and won the race comfortably in 9:19.72. The time was a meet record and the third fastest time performance by an America. Behind Coburn, four of the next five runners set personal bests. And they weren't small improvements either. Ashley Higginson and Aisha Praught (who finished 2nd and 4th) each cut more than six seconds off their personal best.
–Jason Richardson is embracing the changes in the non-championship year.
"(I) switched sponsor, which means I had to switch the coach, which means I had to switch states. I went from Los Angeles, California to Clemson, South Carolina," Richardson said after the first round of the 110 hurdles.
Richardson dropped Nike in favor of Adidas. John Smith, Richardson's coach for the last several years, only works with Nike athletes so Richardson had to go in search of a new coach. And since there is a dearth of professional hurdle coaches, Richardson ended up moving from Los Angeles, to Clemson where he is coached by Boogie Johnson. Johnson also works with Queen Harrison, Brianna Rollins and Spencer Adams.
Over the past three years, Richardson has been the most consistent American hurdler. He was world champion in 2011, silver medalist in 2012 and fourth at the World Championships last year.
Despite the success, he felt the move was necessary. "(A) huge adjustment socially, physically, spiritually, mentally, financially…….every "-ally" you can think of pretty much."
–Devon Allen continued his rapid ascent in the hurdles. It was only the prelims, but rising sophomore for the University of Oregon ran a smooth 13.41 to win his heat. When asked if his success this spring on the track has made him reconsider his commitment to playing football he replied, "not yet."
The men's final on Sunday is shaping up to be a great race with Allen taking on veterans David Oliver, Jason Richardson, Jeff Porter and Ryan Wilson.
-There is a significant trickle down effect taking place in the men's high jump this year. Erik Kynard hasn't challenged the world record, but he does seem to be benefitting from the intense competition in his event. He won the competition with a clearance at 7-8 ½ (2.35 meters) and then took three unsuccessful attempts the American record height of 7-10 ¾ (2.41 meters).
-The crowds were larger today than they were on Friday. Announced attendance was 9,227. One challenge with the configuration of the stadium is the field events. Some of the long throws were held outside the stadium and the runways for the horizontal jumps and pole vault are on the side opposite the main grandstand.
It's great for the jump fanatics, who created their own little colony during the men's triple jump on Friday night, but it does move the jumpers out of the site of a majority of the spectators.
-In her first major competition of the year, Brittney Reese won the long jump over Tianna Bartoletta. Reese jumped 22-8 ½ to best Bartoletta by just over two inches. Torie Bowie scratched from the competition after suffering an injury in the 100 on Friday.
-I was a little surprised when I saw Bryshon Nellum's name on the start list for the 200. He injured his hamstring at the 2013 USA Championships and missed the rest of the season. Friday's preliminary heat in the 200 was just his second race of the year. He qualified easily in the prelims of the men's 200 in 20.68.
Nellum is now sponsored by Nike and lives in Los Angeles. He is coached by his college coach, Ron Allice and is interested in competing in the 200 and 400.
-As the women's 400 suggested, the track at Sacramento State University is fast. They began installation of the new Mondo Super X 720 surface in April and just completed the job in May. Lolo Jones said it is comparable to the track used in Beijing for the 2008 Olympics.
-The on-field PA announcer took a jab at Eugene before the women's steeplechase. With his feet in the water pit he made a comment having some "Eugene sunshine" and then took a drink from a water bottle. None of the people sitting near me in the stands got the joke.
-More on the PA announcer. He completely flubbed Nik Stauskas's last name when he introduced the newest member of the Sacramento Kings to the crowd at Hornet Stadium. Maybe Sacramento is a track town after all…..