No Comments
The Weekend's Best Matchups: London Marathon and more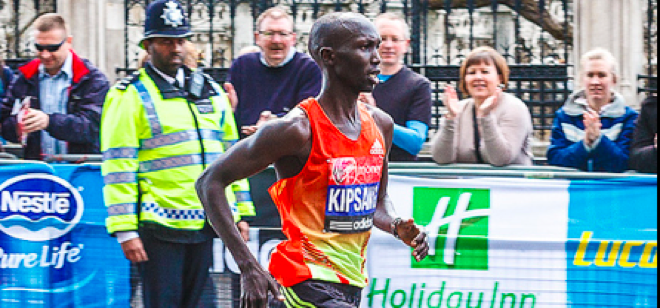 Does the world record get broken this weekend? There's a lot of money to be made if it does.
1. Everybody vs Everybody
Women's race, Virgin Money London Marathon
Sunday, 9:15am local time (4:15am ET)
Race website
Live webcast from 3:55am ET
The London Marathon always puts together great lineups but they took it to another level this year.
There are now six invitational races in the World Marathon Major series, plus the Olympics and World Championships. The women's champions of six of those eight races (as of the end of 2013) are entered in the London Marathon. It's just nuts.
The major contenders:
Tiki Gelana, the reigning Olympic champion
Edna Kiplagat, the reigning World champion
Priscah Jeptoo, the defending London and New York champion
Florence Kiplagat, the defending Berlin champion
Aberu Kebede, the 2013 Tokyo champion
Tirunesh Dibaba, first-time marathoner but 12-time World/Olympic champion
It may not be hyperbole to say that this is the best field ever assembled for a women's marathon outside of the Olympics. The depth of this race is absolutely insane, and any of the six athletes above are favorites to win. Priscah Jeptoo has the best odds as of right now seeing as how she won London and New York last year, but the fickle nature of the marathon makes me think there's no possible way she wins three in a row. If you're looking for a smart long shot, take Feyse Tadesse, a steady up-and-comer who won the Paris Marathon last year in course-record time.
2. World Record Holder vs "world record holder"
Men's race, Virgin Money London Marathon
Sunday, 10:00am local time (5:00am ET)
The men's race in London isn't quite as deep as the women's, but it's still one of the best races ever put together. The top-end lineup…
Wilson Kipsang, the defending Berlin champion and official World Record Holder
Geoffrey Mutai, the defending New York champion and unofficial world record holder
Stephen Kiprotich, the reigning Olympic and World Champion
Tsegaye Kebede, the defending London champion
Emmanuel Mutai, the London course record holder
The race not only has great athletes, it has something else that marathons rarely have: star power. Marathon rookie and London native Mo Farah is so popular that his fans literally shake the stadium. The pacemaker is Haile Gebrselassie, the greatest and most popular distance runner of all time. This is worth getting up early to see.
3. Rookies vs 26.2 miles
Virgin Money London Marathon
Three great track runners are making their first attempt at the classic marathon distance, making the Virgin Money London Marathon live up to its name—and make no mistake, they are being well compensated for their efforts. The above-mentioned Tirunesh Dibaba and Mo Farah are making their debuts, as is Ibrahim Jeilan.
Last week in Paris, Kenenisa Bekele made his marathon debut and he hit a home run. He won the Paris Marathon in a course-record time of 2:05:02. That has set the bar rather high for Sunday's first-timers, but the truth is that they don't have to live up to it. Eventual success in the marathon is not dependent on initial success but on talent, durability, and tactical intelligence. Remember Meb Keflezighi's first marathon? It was a 2:12:35 flameout for ninth place in the 2002 New York City race, but less than two years later he won an Olympic silver medal, and eight years after that he pulled a 4th place rabbit out of his hat.
None of this is going to keep English fans from pulling hard for Farah. No British man has won a major international marathon since Paul Evans won Chicago in 1996. If he manages to have a shot at a miracle victory, the roars of the half million spectators might register on the Richter scale.
4. Runners vs Records
Virgin Money London Marathon
The men's race matches up the two of the fastest marathoners of all time. There is the official World Record holder, Wilson Kipsang, who ran 2:03:22 last September in Berlin. There is also the unofficial "world record" holder, Geoffrey Mutai, who ran 2:03:02 in Boston in 2011, a course and conditions unacceptable for a record. So it's entirely possible that the World Record is broken, and a pack of half a dozen or so runners are planning to go hit the halfway point on pace to do just that, in 61:45. The payout for a record is a cool $125,000.
Mo Farah is taking a more conservative approach and planning to hit the half marathon in 62:15. No, wait, "conservative" isn't the word. "Sane" is the right word. Last year the pack went after the world record, they all blew up, and the man who followed Farah's plan—Tsegaye Kebede–overtook the lead late in the race for the win. Farah's stated goal is the UK record of 2:07:13, set by Wales' Steve Jones way back in 1985. (The red dragon tattooed on my left shoulder will not allow me to call it a "British" record; Craig Ferguson once noted that Celts are united by "detesting the English with an all-consuming passion".)
Hope springs eternal that Jerome Drayton's 39-year-old Canadian record of 2:10:09 might finally be broken. Reid Coolsaet missed that record by less than a minute in 2011 and is coming off a good run in Fukuoka last December. Maybe this is the year it happens.
5. Cal vs Stanford
Edwards Stadium, Berkeley CA
Saturday, 10:00am local time (1:00pm ET)
This is the 120th running of an affair they simply call "The Big Meet", the longest-running dual meet rivalry in all of college track. Deep and intense hatred for a familiar foe is the cornerstone of college sports, and that's usually enough to make this meet highly entertaining all on its own. This year, though, it has something more on the line.
The Cal Bears' men's team is currently #2 in Track and Field News' collegiate dual meet rankings. A win here would run their record to 6-0, which would be unmatched by any major conference team and would likely vault them to #1 in the rankings. Cal's best-ever finish is third, in 1986. Winning the national dual meet championship was once such a big deal that former Washington State head coach John Chaplin wasn't sure he'd prefer the NCAA title to the dual meet title.
And what's in it for Stanford? Besides the pride of winning a meet whose tradition is older than radio broadcasts, they could screw things up for Cal. There's nothing so satisfying as knocking off your rival.
6. Brittany Funk vs Brooke Pleger
Women's hammer throw, All-Ohio Championships
Coy Field, Cincinnati OH
Friday, 4:00pm ET
Meet home page
Funk and Pleger are currently picked for second and third at the NCAA Championships in the latest Track and Field News formcharts. They are intrastate and intraconference rivals, competing for Akron and Bowling Green respectively. They are the second and third returning throwers from last year's NCAA Championships, but what makes this matchup so intriguing is that we really don't have much idea of how good either of them is or is going to be.
Excellence at the top levels of college track is all about improvement from one year to another. Funk has already broken her personal record and this is Pleger's season opener. Who is the top athlete here and whether either will challenge for the NCAA title is all about making a big step up from last year.
And has there ever been an athlete with a name that clamored for "bump up" music more than Brittany Funk?

7. Shelbi Vaughan vs Anna Jelmini
Women's premiere discus throw, Sun Angel Classic
Sun Angel Stadium, Tempe AZ
Saturday, 2:00pm local time (5:00pm ET)
Meet home page
This is another matchup of top women's college throwers, this time in the discus. Texas A&M's Vaughan was expected to make a big splash last year as a freshman, given the high level at which she competed in high school, but it didn't quite work out that way. She's back at the top of the heap this year and finally broke her high school PR, albeit by a single inch.
Arizona State's Jelmini knows a thing or two about Vaughan's experiences, as she held the national high school record that Vaughan broke. She was NCAA runner-up twice in a row before finally getting the win last year.
8. Danielle Dowie vs Ashley Spencer
Women's 400 hurdles, Texas Invitational
Mike Myers Stadium, Austin TX
Saturday, 3:50pm local time (4:50pm ET)
Meet home page
Dowie is a two-time All-American in the 400 hurdles and won that event at the Texas Relays, but she might not even be the best at it on her team. It could be Ashley Spencer, the star quarter-miler and former World Junior champion. She's run the event a few times and sports a 56.32 PR. I don't know whether Spencer is making a move towards a new event or simply doing some early-season strength training, but either way this could be fun to watch. Texas coach Tonja Buford-Bailey knows a thing or two about the long hurdle race–she once broke the world record in the event (but finished second behind the new record holder).
Another women's 400 hurdle matchup this weekend is between Turquoise Thompson and Shevon Stoddart at UCLA's Rafer Johnson/Jackie Joyner-Kersee Invitational, where they'll both be running the flat 400. That meet is an interesting combination of a collegiate tri-meet (UCLA against BYU and TCU for the alphabet soup championship) and an early-season rustbuster for pros.
9. East vs West
Yonge Street 10k, Toronto ON
Sunday, 9:00am ET
Yonge Street, aka "Main Street Ontario", is the site of the annual 10k which will draw about 7,000 competitors this year. A new feature has been added to make this pro race stand out: the elite Canadian entries have been split into "East" and "West" teams. The total times of the top two men and women on each team will determine the winner.
The East team will be managed by Speed River manager Chris Moulton and will include Around The Bay 30k champ Krista Duchene, the second-fastest Canadian marathoner of all time. The West team will be managed by Richard Lee, coach of the BC Athletics Endurance Project. He had this to say:
"[This] harkens back to the 1980′s with the Toronto Olympic Club and the Etobicoke Husky Striders versus the Richmond Kajaks and the (University of Victoria) Vikes. That produced many of the strongest distance runners in Canadian history. The competition between clubs, groups or regions, adds a little more importance, excitement and flavour to events like the Toronto Yonge Street 10k. It's great that the Canada Running Series is adding a little spice to the regular road race scene."
Another interesting matchup among Canadian runners this weekend is at Arizona State's Sun Angel Classic, where Nicole Sifuentes and Nicole van Buskirk will race over 1500 meters. Sifuentes broke the Canadian indoor record for the distance at last month's World Indoor Championships (where she won bronze), but Van Buskirk beat her at last year's Canadian Championships.
10. Harvard vs Yale
McCurdy Track, Cambridge MA
Saturday, 12:30pm ET
Meet home page
Cal versus Stanford may be the longest-running dual meet series in college track, but this is the oldest. First held in 1891, Harvard leads the men's series with 62 wins to Yale's 48 (there has been one tie) and leads the women's series, 24 to 11. Harvard's women are #16 in the lastest Track and Field News dual meet rankings.