No Comments
Monday Morning Run: Bolt/Rudisha return, Q & A with Jared Ward and Huddle rolls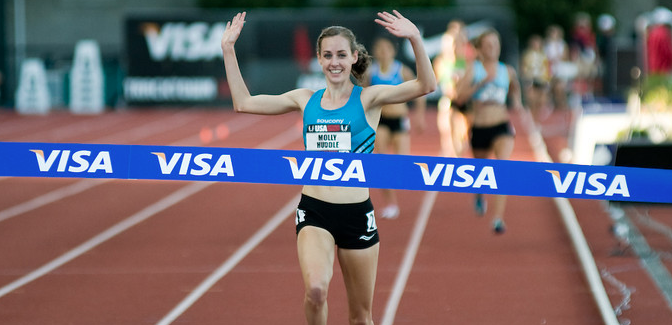 Kevin Sully | On 16, Mar 2015
Photo: TrackTownPhoto
It was a very busy week in the world of running. There were three major road races in the United States, and appearances on the track from David Rudisha and Usain Bolt.
The Medalists
The top three performances of the week
Gold: Daniel Limo
Los Angelinos have a reputation for their lack of fortitude when it comes to the weather. Every bit of rain causes massive slowdowns on the roads and any time the temperature dips below 50, Jimmy Kimmel sends out a video crew to chronicle the locals' reaction.
But, the weather wasn't overhyped for the Los Angeles Marathon on Sunday. It was legitimately hot. Race organizers moved the start up to accommodate for the warm temperatures. They also sent out of notice to not run too fast and risk overheating. When I drove near the start at 5:30 a.m. it was already 70 degrees. It was not a day to run fast.
The elites played it safe in the conditions. A group of about six runners passed halfway in 1:05:10. By mile 19, Edwin Koech broke away and his lead grew to 14 seconds with five miles remaining. Within a mile, Daniel Limo erased the gap to Koech and had a nice buffer of his own. From there, his lead continue to grow and his eventual margin of victory was more than two minutes. The temperature at the finish for the first finishers was in the mid-70s, not disastrous, but more than enough to slow professionals who are used to racing in the 40s and 50s. Or, as we call it in Los Angeles, an ice box.
Silver: Molly Huddle
On the other side of the country, Huddle won the New York City Half Marathon in 1:08:31. The win continues Huddle's great string of races in 2014 where she set personal bests in the mile, 5,000 and 10,000. It also raises possibilities of what she can do at the longer distances.
Huddle beat Joyce Chepkirui by 11 seconds and put more than a minute on Olympic silver medalist Sally Kipyego. Despite all the personal bests, Huddle still finds herself with a very difficult task to medal during track season. The Kenyans and Ethiopians are so deep in both the 5,000 and 10,000 and Genzebe Dibaba's performances this winter only make things tougher for Huddle. Huddle is the best current American female without a global championship medal. Is this the year that changes?
Bronze: Ogla Kimaiyo
Compared to the men's race in Los Angeles, the women started especially slow. The lead pack stayed together until about 19 miles with the main group sometimes having as many as 12 runners. Kimaiyo of Kenya and Russia's Natalya Puchkova broke away and the two stayed together until the 22nd mile. Finally, Kimaiyo cut away and won comfortably in 2:34:10.
Asked and Answered
Jared Ward won the US Marathon Championships in Los Angeles. Ward set a personal best of 2:12:35 and finished third overall. I spoke with him after the race.
Why do you think you've taken so well to the marathon?
Ward: Probably one big thing is I just love the training. I love those long runs, I love the long tempo runs. Those were my bread and butter workouts for the 5K and 10K anyway. And so I think one reason I think I've excelled is just because I love it–all aspects of it. I love the race, I love the training. It's an exciting time when two or three months out from a marathon, you say ok, it's time for marathon training, let's amp up those long runs and I'm married to a massage therapist so she keeps me healthy.
Has having kids impacted your training at all (Ward and his wife have two children)?
Ward: Sure, kids wake you up in the night and stuff, but I would say it has positively impacted me on an emotional level which is maybe more important. I love my family, I love being home with my family and spending time with my kids. When life is good and there is balance in your life I think that you are blessed for that.
On the broadcast they mentioned that on a flat course with good weather you could run 2:10. Does that sound about right?
Ward: I think so. That's what Coach (Ed Eyestone) had said. I came back after Houston (half-marathon) and said, "Hey Coach I'm ready to try running 5 minute pace in the marathon," which is 2:11 high, 2:12 flat. And he said, "Really?" He was surprised and I was kind of taken aback when he said, "I was thinking a little faster than that." And (he) came out and was doing VO2 conversions and things like that and saying, "You know I think you could be a little bit faster, let's amp up the training." I like to think so (in 2:10 shape), but it's hard to say until you do it.
Do you think it will take under 2:10 next year to qualify for the Olympic team?
Ward: It's just so hard to predict, but I'll control what I can by getting as fit as I can and coming out and playing.
$25,000 first prize purse, is that the biggest of your career?
Ward: Yeah, oh yeah. I can go home and buy some diapers for the kids.
Surging….
-Usain Bolt
It's March 16th and Usain Bolt has already raced more meters this year than he did in all of 2014. Bolt ran 46.37 for a 400 at the G.C. Foster Classic in Jamaica. In the process, he beat some solid names included Edino Steele and Javon Francis. Francis is the 20-year-old who ran an incredible split at the 2013 World Championships 4 x 400. Steele was on that same relay team and has a career best of 45.38. With Steele and Francis, this wasn't an automatic victory for Bolt. In fact, it was stronger than some of the 100 meter fields that he ran against in 2014, though that probably says more about his competition last year.
On Saturday, he looked like he was going all out. The time was far from his personal best, but it was better than the 46.44 he ran in March of 2013.
-David Rudisha
Bolt and Rudisha healthy and racing again….this is starting to look like 2012. In fact, much of Rudisha's debut looked familiar. He did it in Australia at the Sydney Track Classic where he has had success in previous years. He had Sammy Tangui setting the pace, his longtime rabbit/sidekick. Most recognizable was the huge margin of of victory. Rudisha accelerated (or at least it looked that way) with 200 meters remaining and put to rest any challenge from second place finisher Alexander Rowe, winning in 1:45.02.
What this means against a better field is anyone's guess, but he is far ahead of where he was in 2014 and opening in March is much better than running your first race at the Prefontaine Classic like he did last year.
-Blake Russell
39-year-old woman finishes her first marathon since 2008 sounds sort of like a headline on The Onion. It also describes Blake Russell who was the first American across the line at the Los Angeles Marathon. Russell ran 2:34:57 to finish third overall and win the US Marathon Championships.
After running in the Beijing Olympics, Russell took time off to have children and then struggled to complete a marathon. She regained her form in Los Angeles on Sunday, emerging from a large pack of women and beating runner-up Heather Lieberg by 35 seconds.
-John Legere
T Mobile CEO John Legere is a fan of professional running. I didn't know that until this weekend when he started offering large amounts of money (probably not that large for the CEO of a major telecommunications company) to athletes based on their performance at the New York City Half Marathon. He offered Meb Keflezighi $25,000 if Meb was in the lead when the runners exited Central Park.
.@nyrr if @runmeb is leading as they exit @CentralParkNYC in #UnitedNYCHalf I'll give $25k to charity of his choice, if wins $50k,or both 🙂

— John Legere (@JohnLegere) March 15, 2015
Then, Legere widen his net to include other Americans in the race.
@djritzenhein @MattTegenkamp @abumbalough @runmeb $50k for sub 61 and $100k sub 60 to charity of choice @NYRR #UnitedNYCHalf @nyrrmaryruns

— John Legere (@JohnLegere) March 15, 2015
Meb was, in fact, leading when the field left Central Park and Legere was true to his word.
.@runmeb @nyrr #UnitedNYCHalf $25,000 for The MEB Foundation delivered! pic.twitter.com/FVtMCbSDSk

— John Legere (@JohnLegere) March 15, 2015
You are never too rich for bunny ears.
I'm excited for what this means if more running obsessed millionaires become interested in road racing. Imagine the possibilities if Zuckerberg starts throwing crazy amounts of cash at the Berlin Marathon just to see how much chaos he can create.
-Leonard Korir/Stephen Sambu
In the actual race in New York, Korir edged Sambu 1:02:06 to 1:02:07. Both men competed in the NCAA system and now represent Kenya. The first American to cross the line was Andrew Bumbalough who ran 1:02:04 in his first attempt at the distance and finished fifth overall.
He placed ahead of marathoners Dathan Ritzenhein and Meb Keflezighi, though those two are heavy into marathon training with Boston just about four weeks away. Still, great debut for Bumbalough and will get us all talking about his marathon potential.
-Dathan Ritzenhein/Meb Keflezighi
The two avoided any major trouble at the New York City Half Marathon and they look on course for Boston. Ritzenhein ran 1:02:07 and Keflezighi was 10 seconds behind in 1:02:17.
I try not to read too much into half-marathons before a marathon. A fast one can foreshadow success or it can mean that the runner is peaking too soon. Ditto with a disappointing race. The one obvious extrapolation is that Keflezighi ran faster than he did last year, which means you can expect his margin of victory in Boston to be even bigger than it was last year.
-Kaylin Whitney
Off the track, 17-year-old Kaylin Whitney announced last week that she is becoming a professional sprinter. The news doesn't come as huge shock because Whitney has run 11.1/22.49 and she is already working with a professional training group in Florida. Nick Zaccardi has as nice piece on the expectations on Whitney and her chances of making the American team for the World Championships and Olympics.
Like Christopher Taylor last week,it is very hard to tell how these sprint prodigies will develop. In the distance events, the answer usually was poorly. Mary Cain is working toward changing that perception.
Physiologically, it's easier to see understand why a female distance runner succeeds at a young age. The most commonly referenced stat is that no female Foot Locker Cross Country champion has ever won the NCAA Cross Country Championships. If you go a step beyond that and compare high school success to professional success, there is an even smaller correlation. So while there aren't thousands of Mary Cains, there are plenty of female distance runners who start out like Cain, hit their peak in 9th and 10th grade and are never heard from again.
For the 100 and 200, it appears more complicated. Power is so crucial that you'd think extra years in the weight room would be integral to success. Yet, we've seen several teenagers compete with the best in the world before they turn twenty. The best example of a phenom fulfilling expectations in the sprints is also one of the slightest, Allyson Felix.
In the current landscape of American sprinting, even a modest personal best by Whitney will put her in the mix at US nationals.
-Amy Hatings/Ben True
It was overload for American road races this weekend. The US 15K Championships took place in Jacksonville at the Gate River Run. Amy Cragg (formerly Amy Hastings) won the women's race, as a tune up for the Boston Marathon and Ben True won the men's race as a tune up for track season.
Slowing….
-Ryan Hall
Hall dropped out of the Los Angeles Marathon just past the halfway point. When he stepped off the course he was still the first American in the race, but his lead was evaporating. He ran 5:22 and 5:46 for miles 12 and 13 and the pack of Africans who he was running with the first five miles had long ago left him in no man's land.
Hall's 2:17 from Boston last year is his only result in the marathon since the beginning of 2012. He had the number one seed time entering Sunday's race, but that is a personal best that is far past its expiration date. His career since 2012 has been average and he looks like a runner chasing his old self rather than one adapting to the current reality. Five years ago this was a winnable race for Hall. Actually, five years ago this race would have been too easy for him. Even in the heat he could have managed to run under 2:10.
Despite all this, I still don't think he is completely out of contention for one of the three US spots on the Olympic team. Hall's decline hasn't coincided with a great rise in American men's marathoning medal hopes. There is Meb (because there will always be Meb), but that is only name I'm confident in at this point for the 2016 Olympic Trials. Marathoners are one race away from relevance. They don't need to grind through an entire season. They just need to hit it right once and the entire outlook changes.