4 Comments
The Monday Morning Run: Bailey v. Jamaica, Stowers shines and Haile retires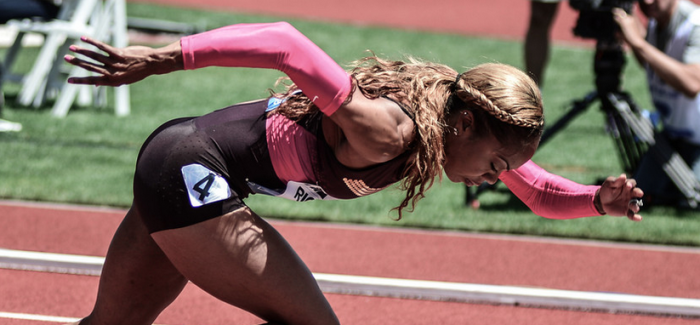 Kevin Sully | On 11, May 2015
Photo via TrackTownPhoto
The best meet of the weekend was the Jamaica Invitational in Kingston. You probably didn't see this meet live because in order to do so you had to pay $5 to a website that didn't exactly scream credit card security. I figured it was way too early in the season to invite Malware onto my computer or to get my identity stolen in the name of track and field . Those risks are usually reserved for the bigger meets in July or August. Instead, I held off and caught the highlights the next day. As expected, it was a great meet and was a nice addendum to last week's World Relays.
If, like me, you didn't watch the meet live, allow me to get you caught up.  I'll get to the typical segments of the Monday Morning Run below, but first let's follow up on a few of the most interesting stories from the Jamaica Invitational.
Would Ryan Bailey continue to torment Jamaica?
No….well kinda. Asafa Powell, clad in full bodysuit, ran 9.84 and easily beat Bailey in the 100. This was a fulfilling victory for Powell and the Jamaicans after Bailey mocked Usain Bolt after the 4 x 100 at the World Relays. Bailey was slow out of the blocks on Saturday, but recovered to run 9.93.
The tailwind of +1.8, Bailey's stumble, and Powell's history make me very cautious about projecting anything too optimistic for Powell after a race this early in the season. It certainly is good news for the Jamaican relay team. With Yohan Blake still out, their easiest path to victory in Beijing will include Powell. If he holds this form, and Bolt gets into 9.7 shape, the Americans will have their hands full.
Bailey, on his part, didn't seem too flustered by the defeat. Only a day later he was back tweeting Jamaican Warren Weir.
Too bad @Warren_Weir wasn't in that 100 last night. Wonder why he changed his mind and didn't run @Chad4short 😂😂😂 #SeeMeAtTheLine

— Ryan Bailey (@RBailey_sprints) May 10, 2015
Weir responded by taking a picture of his medals. The cynical side of me thinks that both Weir and Bailey are in on this. Soon, we are going to find out that they have been playing up the rivalry to gin up interest all the while texting and playing Call of Duty against each other on the side. I don't want this to be true. I'm just preparing you in case it is.  
Is Elaine Thompson for real?
Very much so. The woman who appeared out of nowhere to break 11 seconds last month, won the women's 100 in 10.97. She beat Blessing Okagbare and Allyson Felix and the broadcasters proclaimed her the "new Jamaican star." During the race, she looked extremely poised and held her form throughout the race. It's a small sample size, but Thompson doesn't have the look of a newcomer excelling through sheer talent. She runs a very technical race and looks well coached and well prepared. Even if she regresses, she is a good enough margin ahead of the rest of the Jamaicans that she has a great chance to make the Jamaican team. I also see her becoming a big factor in the first few Diamond League races.
Would Ajee Wilson run 2:00 flat again?
Yes. Commercial breaks on network television can now set their watch to Wilson running 800 meters. She was 59.26 at halfway took the win in 2:00.65. Wilson is so comfortable leading a race from the start that I don't think there is any way she falls out of the top three at US Championships next month. She's like her own rabbit except she always finishes.
Can there be a third man in the 400?
This question was predicated on the other two being Kirani James and Lashawn Merritt. James has already proven himself this year with the top two times of the season. Merritt has looked vulnerable though it is still early. Kingston was a good chance for another name to jump up and put themselves beside the big two.
I thought it might be Javon Francis and it looked that way for about 355 meters. Then, Yousef Al Masrahi and Merritt went past Francis with Al Masrahi taking the win in 44.59. Merritt ran 44.80 and Francis set a personal best of 44.90. So it looks like there either will be a third (or fourth) man in contention for the win in Beijing, or maybe it will just be James all by his lonesome and Merritt and the others will be left to chase the silver.
What kind of shape is Tori Bowie in?
I tried to determine the pecking order in the sprints last week in the first edition of the SPEED rankings. Integral in that was deciding where to put Tori Bowie. She was the best American sprinter last year, but I wondered if she could carry it over to 2015. Bowie ran 22.29, good enough for second place ahead of Shelly-Ann Fraser-Pryce and behind Shaunae Miller.
Leaders getting caught in the final 50 meters was a theme running throughout this meet (women's 400, men's 400, women's 400 hurdles), and it bubbled up in this race when Miller blew by everyone after being well back after the curve. Her 400 meter strength took her past Bowie and Fraser-Pryce and to a national record of 22.14.
Bowie ran 22.29 and Fraser-Pryce went 22.39. Both solid times for this time of the year.
Could Aleec Harris stay undefeated?
Yes. He easily won the 110 hurdles with a time of 13.16. His best competition, David Oliver, was overseas at the Great City Games. Harris has proven he can consistently run under 13.25. The question is, will he be able to continue to drop time throughout the summer? As good as he has been in 2015, it will probably take a time right at 13 seconds to win gold.
The Medalists
The top three performances of the week
Gold: Haile Gebrselassie
After the Great Manchester Run, Gebreselassie announced his retirement from competitive running. I started writing on this site long after Gebrselassie's peak, so mentions of him here have been scarce. Ever since the 2012 Olympics he's been more of ceremonial figure– appearing at races, running fast half-marathons and rabbiting the London Marathon.
Despite his gradual fade from the top tier of distance running, he has still been very fast–setting age group records along the way. Retirement in running doesn't mean the same thing that it does in other sports. He says he is still going to continue running and I bet if he feels like he is good shape he will find his way to a starting line somewhere in the world.
His elite racing career stretched from the early 1990s all the way through 2013 when he raced a half marathon against Kenenisa Bekele and Mo Farah. All of the races he was involved in seemed to be special. He's set records, won a boatload of medals, got punched in the back of the head while winning and was involved in one of the greatest finishes in the history of the 10,000 meters.
That race—the 2000 Olympic final against Paul Tergat–is always the first race in my mind when I think of Gebrselassie's career. I was 16 at the time and a distance running fan. At that point we were living in the pre-you know everything about everyone because of the internet, era. Still, you knew about Gebrselassie because he was the one name you had to know if you professed to follow distance running.
But, that didn't mean you actually ever saw him run.
This was also the time before webcasts and 50 different obscure sports channels. Your only chance to see him came during the Olympics or World Championships and even then it was confined to a scant few seconds of highlights–maybe a bit more if you were lucky.
The race with Paul Tergat in Sydney was so good that they had to show it even though it was a 10,000. I probably saw it on tape delay, but that didn't matter. The guy I had heard about won a gold medal in the most spectacular way possible.
Consider Gebrselassie's placement here a lifetime achievement award. 
Silver: Jasmine Stowers
She did it against no competition, but when you run 12.39 there isn't going to be many women that can stay with you in a high hurdles race. The wind was the maximum allowable +2.0, though if you ask any hurdler they swear that a tailwind can be more of a hindrance than a help when trying to clear barriers. The 12.39 personal best backs up Stowers's 12.40 from Drake Relays and puts her far in front of everyone else in the world. The deepest event in the United States is becoming one dimensional.
Stowers is on pace to break the 100mh AR at Pre or Nationals. Hasn't been pushed at all year and already 2 WL at Drake and Jamaica

— Ato Boldon (@AtoBoldon) May 10, 2015
Bronze: Sanya Richards-Ross
Two weeks ago, Francena McCorory beat Sanya Richards-Ross by almost a second in a 400 at the Drake Relays. In the week between that race and Saturday, Richards-Ross ran two 400s at the World Relays. Those two relay legs were enough to turn the tables because she destroyed McCorory off the final curve in Jamaica, winning in 49.95.
Sanya Richards-Ross' 49.95 is the fastest a woman has run 400m this early in a year since Allyson Felix's 49.83 on 5/9/08. #stats

— Nick Zaccardi (@nzaccardi) May 10, 2015
Surging….
-Bohdan Bondarenko
You haven't forgotten about the men's high jump already have you? Mutaz Essa Barshim is laying low after his phenomenal indoor season and we hadn't heard much from Bohdan Bondarenko until this weekend. He jumped 2.37 in Japan and grabbed the world lead.
After last season, you probably aren't too impressed by a 2.37. We were spoiled with 2.40s all last year that it is easy to forget that between 2000 and 2012 there wasn't a single jump of 2.40 outdoors. Zero. In 2013 and 2014 there have been 15 clearances of 2.40 or higher.
-Jessica Ennis-Hill
In her first race back, Ennis-Hill ran 13.14 in the 100 hurdles at the Great City Games. That's a strong first effort for a hurdler, let alone a multi-event athlete. Ennis-Hill had a child in 2014 and hadn't compete since she withdrew from the 2013 World Championships with an injury. If she is able to get anywhere near where she was in the 2012, Great Britain will send a tremendous group of heptathletes to Beijing.
-Ashton Eaton
Eaton wasn't off last year like Ennis-Hill, but he did spend time away from the multi-events and experimented with the 400 hurdles. Fortunately for the 400 hurdles, he is no longer doing that event. Unfortunately for his fellow decathletes, his attention is now squarely on his usual (ten) events. At the Oregon Twilight meet on Friday, Eaton ran a wind-aided 10.20 in the 100 and then posted a 46.27 in the 400. Both impressive performances, the latter even more remarkable because he lost by .01 to Bryshon Nellum, an Olympian in the 400.
Ashton Eaton…….making people feel bad in their focus event since 2008.
-200 Hurdles
As if the idea of a 200 meter straightaway wasn't enough of a sadistic trick, they decide to put endless amounts of hurdles in your path. The odd distance race did produce one of the best races of the day at the Great City Games, the street meet in the UK. Megan Beesley narrowly defeated Katarina Johnson-Thompson in an event both will be glad they don't have to run for at least another year.
-Pedro Pablo Pichardo
There have been faint rumbles about the vulnerability of the triple jump world record for several years. American Christian Taylor looked like the most logical candidate to take down Jonathan Edwards's 18.29 jump from 1995, but he has stalled out at 17.96. Taylor is still probably the frontrunner, though the emergence of Pichardo marks another jumper who can potentially crack 18 meters this season. Over the weekend, Pichardo posted a mark of 17.94, placing him sixth on the all-time list. A world record is not nearly as likely as it is in the men's high jump, but keep your eye on the infield as the Diamond League gets going.