2 Comments
Looming questions before Rio: Bolt's health, who gets the most NBC airtime and will Dibaba run?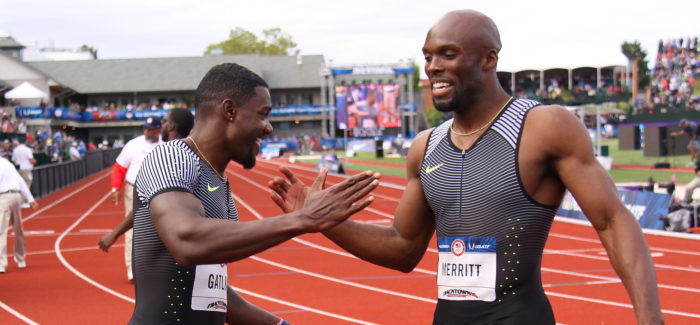 Kevin Sully | On 20, Jul 2016
From a competition perspective, the U.S. Olympic Trials answered most of the biggest questions entering Rio. We learned which American high hurdler would be left off the team. Strangely, it was the one with the American record. We also found out that Lashawn Merritt runs a very fast 200m for someone who admittedly doesn't know how to run the race. And finally, we discovered that changing the Olympic schedule for a planned double is not a guarantee of future success.
The rest of the Summer Olympic sports are spending the week grappling with what to do with Russia. Track has that one figured out (at least for the time being), but there are still plenty of items to be sorted out in the next three weeks. Here are few I'm wondering about:
1. Is Genzebe Dibaba going to run?
As it currently stands, she's done nothing to prevent her from competing in the Olympics. There is, however, the minor mix-up from the end of June where her coach, Jama Aden, was arrested with EPO and syringes in a Spanish hotel where Dibaba and other athletes were staying.
Drug testers were on site at the hotel when the Aden bust took place and took samples. The results have not been released. As of now, Dibaba is entered in the 1500m. Even if the test results become public before the Olympics (the first round of the 1500m is on August 12th) there is time allotted for appeals and arbitration. Meaning, unless the Ethiopian federation changes course, Dibaba will be on the starting line and a messy women's 1500m is avoidable.
It's a bizarre spot to be in. There have been rumors about other top runners plenty of times, and of course there have been proven cheaters that have returned to compete after suspension. But in a way this is stranger. This is someone floating in that area of near certainty, yet because of the limitations of time, is somewhat untouchable — at least for this moment.
Having your coach caught with EPO in a hotel where you were staying is the closest thing to guilt you can get to track, while still being technically allowed to compete. If you want to break down the likelihood of someone cheating, I'd represent it like this:
If Dibaba does indeed run in Rio, it will initiate a historically awkward race. The interplay between the competitors will be fascinating, particularly because it's the 1500m — an event that has so many revisions at the Olympics. The women's 2012 Olympic 1500m final has been edited so many times that the "strikethroughs" almost outnumber those in plain text. As a result, women who run the event have become adept at talking about suspicious performances in a roundabout way.
Q: What do you think of the gold medalist's performance?
A: It was unbelievable. Hard to explain, really.
Q: What do you mean unbelievable?
A: I don't know, it's difficult to say (grabs water, shakes head).
That's the tactic used when there isn't much evidence other than this person I never heard of just showed up and won the Olympic final, does anybody else find that kind of weird?
With Dibaba, innuendo will be gone.
Q: What do you think of the gold medalist's performance?
A: Her coach got caught with EPO in a hotel where she was staying.
Q: So, are you saying that she is–
A: Yes. Did you listen to what I said? Her coach got caught with EPO in a hotel where she was staying.
I don't see how it goes any other way. If the stakes weren't as high as they are in the Olympics, I could see some women protesting/boycotting the final. But if you believe she's cheating, I guess you stay in the race with the hopes that silver is as good as gold in the mind of the public and, eventually, the record books.
In the short-term, it appears impossible for Dibaba to receive her due process and, at the same time, a fair race to take place at the Olympics. If ever there was a time for someone in an administrative office to make a call and request an athlete get sick or injured, this is it. And this doesn't just apply to Genzebe Dibaba and Ethiopia. There are others in Aden's training group, many of whom are medal threats, who are scheduled to run in the Olympics. I'm not sure how to salvage this. It's good the investigation into Aden became public prior to the Olympics, but it's also tricky that it came without leaving enough time to sort it all out before the gun goes off in Rio.
2. How healthy is Usain Bolt?
Clarity around Bolt's health is supposed to come on Friday at the London Anniversary Games where he is scheduled to run the 200. This will be his first race since he withdrew from the Jamaican Olympic Trials in the heats of the 100 at the beginning of July. Jamaica utilized their fail safe, break glass in case of emergency, wild card policy to name Bolt to the team and bump off whoever got third.
To Jamaica's credit they did have a policy in place for this specific situation and it has been used before. Not that they needed one. Bolt could have lost a limb mid-Trials and there would be consensus to still give him until the end of month to rule him out. It might grow back.
But Bolt didn't lose a limb, he only has a hamstring strain. Last year, the London meet also served as his fitness test before the championships. He barely raced in 2015 before coming out and running a 9.87. Meanwhile, Justin Gatlin was clicking off 9.7s and winning his races by five meters on a weekly basis. Bolt's 9.87 wasn't the fastest time in the year, but it clearly gave him enough confidence heading into the World Championships. In Beijing, Bolt improved incrementally from London, Gatlin fell flat and Bolt won gold 9.79 to 9.80.
After that race, and into 2016, there didn't seem to be any drama left in the 100/200. Gatlin was running slower than the did in 2015 and Bolt opened up much sharper in 2015, perhaps enlivened by his escape in Beijing. Things were following along this path until the injury. Now, we are getting sucked right back into the idea that Bolt might be vulnerable in Rio. Gatlin might not be as fast as he was last year year, but part of that could be by design to avoid an early peak. And even with a slower start, he still has the two fastest times of the year.
So, mid-July 2016 is looking much closer to mid-July 2015 than I could have imagined. Missing from the comparison, at least so far, is the looming sense of dread felt by many in the track world about the prospect of Gatlin, the man with two drug suspensions, beating the magnanimous Bolt. This was the oversimplification that loomed over the 2015 season.
A Gatlin victory, we were told, at the World Championships was a cataclysmic event that would push track off a cliff. If you are inclined to believe that type of thinking, then what are the ramifications if Bolt loses to Gatlin at the Olympics, the only stage bigger than the World Championships? I haven't heard/read much on that topic this year because I think most people believe Bolt will be fine. And based on last year's results, if he's anywhere close to Gatlin's fitness in Rio, it's over. But until we see some evidence of Bolt's health, it remains a possibility, and a much greater one than I would have thought two months ago. For his part, Gatlin has positioned himself as the number one challenger to Bolt. If someone is going to capitalize on a less than 100% Bolt, it's him. Brace yourself track doomsday preppers, your nightmare scenario may be coming at an even worse time than you feared.
3. Which track stories will command the most media attention?
I'm not speaking of the brewing controversies, rather the on/off track stories that are ripe for soft features that we will be beaten over the head with for ten days. This doesn't have anything to do with the competition on the track, but it will be helpful to know which athletes and stories our non-track friends will be texting us about. Here are my top eight as of now:
Usain Bolt's legacy
Vashti Cunningham's age/father
Tori Bowie's humble beginnings
Bernard Lagat's age/children
Meb Keflezighi's age/children
Boris Berian used to work at McDonald's
Sydney McLaughlin age
Ashton Eaton's dominance
Notably absent from this list are Allyson Felix (200/400 double, four golds) and Aries Merritt (kidney replacement) because those stories didn't make it out of the Olympic Trials. Also not in the top eight are, David Rudisha: Masai Warrior (it's just very cool to say Masai warrior after you bring up an 800m runner), Shelly-Ann Fraser-Pryce's chance for history, Justin Gatlin's "redemption" and Mo Farah's twins.
Of the 8 above you can divide them into four categories: backstory, age, youth, historic greatness. So, who is the NBCiest? I'll break them up into group and decide the first round. You can go from there.
Historic greatness: Usain Bolt (legacy) vs. Ashton Eaton (dominance)
In any other competition, this is not a first round match-up. Both men are historic greats. But one runs in the most popular race, while the other competes in an event that is difficult to follow and is chopped up into brief highlight packages.
Eaton is American, which gives him a bump for domestic television audience, but Bolt's name recognition is so high that any hometown advantage is washed away by the all encompassing Bolt. Bolt's claim at history is stronger (first man to win the 100m in three Olympics). Eaton does have the more famous significant other with his wife a favorite for a medal setting up all sorts of world's fittest couple stories.
Advantage: Bolt
Backstory: Bowie's humble beginnings vs. Berian working at McDonald's
Tori Bowie hails from rural Mississippi and has had incredible rise in the sport the past two years. Berian's journey to the Olympics was equally quick and it started at the place that is a metaphor for dead end jobs — McDonald's.
When it comes to human interest stories, one mention of McDonald's carries plenty of weight. Also, Berian got sued by Nike so he has two major corporate tie-ins. Is that enough to move Berian's past Bowie? I don't think so. Bowie runs the 100m and 200m and has a chance for gold in both, that's too much for one former fry cook, current 800m front-runner to overcome.
Advantage: Bowie
Age: Bernard Lagat (age/children) vs. Meb Keflezighi (age/children)
Lagat is 41-years-old and has two adorable children. Keflezighi is 41-years-old and has three adorable children. Lagat pulled a major upset to win a thrilling 5000m in Eugene and qualify for his fifth Olympic team. Keflezighi made the marathon team in perfunctory Meb fashion in February. This one is a toss-up. Both have top five potential in Rio. Meb might be a bit overshadowed by Galen Rupp in the marathon whereas Lagat is by far the biggest American name in the 5000m.
Meb's backstory is more widely known and his event takes 10 times longer than Lagat to complete. Producers are going to need to fill the time they could be showing the race with something else. Enter the 10-minute Meb deep dive.
Advantage: Keflezighi
Youth: Vashti Cunningham's (age/father) vs. Sydney McLaughlin (age)
On the other end of the age spectrum sits Cunningham and McLaughlin. Cunningham, 18, finished second in the high jump at the Olympic Trials. McLaughlin was 16-years-old when she took the third in the 400m hurdles and will be 17 when she takes to the track in Rio.
In track and field terms, both are incredibly young. McLaughlin will the youngest American track Olympian since 1972. This isn't gymnastics where an age rule is needed to prevent pre-teens from competing. So Cunningham and McLaughlin are rarities, first for making the team and because they have legit shots a medal. Cunningham is one of only four women who have cleared 1.99m this year and McLaughlin is seventh on the yearly world list (fifth among women who will compete in Rio). Cunningham's chance for gold, combined with her age and family name make her an impossible story to ignore.
Outside niche track circles, Cunningham qualifying for the Olympics was the story of the Trials. That's strange for someone who finished second in a field event. Right now, I think McLaughlin gives a more dynamic interview She speaks so candidly, it's startling. In terms of other U.S. track prodigies, she exists somewhere between Mary Cain's giddy stream-of-consciousness and Cunningham/Allyson Felix's restraint. This was McLaughlin on-track interview after her Olympic Trials final:
Lewis Johnson: And Sydney, at 16, a high schooler, all the records, but now you're going to the Olympics, what do you think?
McLaughlin: I can't breathe. I'm just happy it's over with…..thank you though.
Of course she was happy it was over. Everyone who competed was happy it was done with. Even for the favorites, Olympic Trials are psychological torture chambers. That's the brutal honesty that teenagers are known for.
Still, Cunningham has the NFL factor and the possibility of gold. I stood next to her dad for a few minutes during the hammer throw competition at the Trials. He wasn't just passively watching while chatting with people. He was taking in every throw. Why he was at Hayward Field to see the hammer throw on an off day, I'm not sure. But it was still cool to think that a quarterback I grew up watching every Sunday has some part of him that is a track nerd like the rest of us.
Advantage: Cunningham