No Comments
AJ Digby Prepares for the Paralympics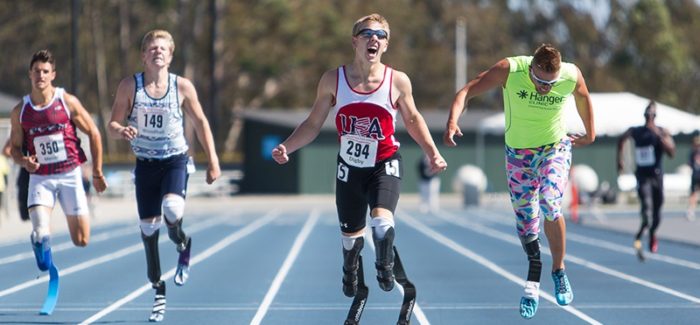 Jesse Squire | On 28, Jul 2016
This kid could be the next two-sport Olympic star.
While announcing a high school indoor meet three years ago, a local high school kid grabbed my attention as he got into the blocks for the 400 meters. He was a double below-the-knee amputee and wore carbon fiber prostheses, much like those made famous by Oscar Pistorius.
I snapped a picture and tweeted it. Digby nearly won his heat, running right around 60 seconds. RunnerSpace posted it on their Instagram and I figured that day was his fifteen minutes of fame. I was wrong.
His name is A.J. Digby, and he continued to get some level of attention in the local media. He competed in a number of sports for Otsego High School, including football (varsity special teams and long snapper, JV quarterback). He was a decent sprinter by small-school standards, with PRs of 23.13 and 52.24 for 200 and 400 meters. He graduated in May and will attend the University of Mount Union in the fall to study sport business.
The schedule for the first weekend of the track and field Olympic Trials was built so that NBC's television coverage could include short segment of live coverage from the Paralympic Trials. One of them was the men's T43 100 meters (I'll explain what that number means in a bit). As the start list was introduced, I was surprised and happy to see Digby running. He finished fifth, showing off a nice hurdle move to avoid a competitor who fell at the finish line, and I figured that was the end of his season. Again, I was wrong.
Later in the weekend, Digby finished second in both the 200 meters and 400 meters, with massive new PRs of 21.99 and 47.98. It was announced that he was on the US Paralympic Team in both events. His times rank so highly in his category that he is now a medal favorite in Rio, and gold is a very real possibility.
Of course I was excited that a local kid made good – but I also needed to know how he got so fast in such a short period of time.
How does Paralympic sport work?
Before meeting with Digby, all I knew about the Paralympics and associated sports could be boiled down to Oscar Pistorius, Tatyana McFadden, and watching the Murderball documentary. Here's what I learned.
The first Olympic-style international handicapped games were in conjunction with the 1948 London Olympics, where most of the competitors were disabled British war veterans. The first time the Paralympics were held as they are now, in Olympic venues immediately after the so-called "able-bodied" games, was in Seoul '88.
There are an entire galaxy of classifications, from vision impairment to cerebral palsy to amputation to wheelchair and more. Digby's classification is T43, which is double below-the-knee amputees. T stands for track, and an F stands for field.
Due to there being so many classifications, qualifying for the US Paralympic track and field team is not as straightforward as it is for the Olympic team, otherwise national teams would swell to unmanageable numbers. The IPC determines each nation's quota of track and field competitors based on times and results of competitions over the preceding few years. This year the USA earned slots for 40 men and 28 women.
The USOC in turn bases its selections not only on the results of the Paralympic Trials, but on those who meet or exceed various standards based on times that won medals in past years. Like I said above, finishing in the top three is not enough, since there are many events in about two dozen classifications and only 40 spots available for the entire men's team. Digby was selected because his 200 and 400 meters times suggest he has a strong chance at winning a medal.
The T43/44 classification also competes in a 4×100 relay. Digby is in the pool for possible selection, but the final choices will be made at a relay training camp in early August at the Olympic Training Center in Chula Vista, California.
Just like Pistorius, Digby suffered from fibular hemimelia, which means that he was born without fibula in either leg. His feet were amputated before his first birthday and has worn prostheses ever since. He comes from an athletic family, is a self-described sports nut—"my whole life I wanted to play football"—and he first got interested in track after watching the 2008 Paralympics.
How did he get this fast?
While Digby attended Otsego High School, when not training with his school team he works with D.J. Michel, a coach from nearby Eastwood High School. I didn't know this until I ran into Michel at the Olympic Trials in Eugene, which he attended in order to see one of his former athletes.
Michel and the rest of the Eastwood coaching staff do great work developing talent. While its zip code puts the high school in Pemberville (a rural small town frozen in time, like a Norman Rockwell painting come to life) it really isn't in anything except a sea of corn, wheat, and soybeans. Its enrollment numbers are comparable to conference rival Otsego, but Eastwood has produced NCAA track champions in Division II (Justin Welch, Findlay) and Division III (Jimmy O'Brien, Ohio Northern) and six alumni are currently competing for college teams.
My first question to Michel was how Digby was able to cut off more than four seconds in the 400 meters in the six weeks between the end of the high school season and the Paralympic Trials.
Basically, it came down to improved technology and learning how to use it.
The Paralympics won't be Digby's first rodeo. He also ran at last year's IPC World Championships (the parallel event to the IAAF Worlds), held Doha in October. Michel accompanied him, and the two of them looked around at the competition and realized that Digby's carbon fiber prostheses were seriously outdated. They also had absorbed a lot of wear and tear from football. And while their stiffness was once appropriate for a high school freshman, but were too soft and spongy for the larger, stronger athlete he has become over the last three years.
"They were super-soft", Digby told me. "It was over-compressing. We weren't getting the energy return that we were putting into it, which is the whole point of the prosthetic leg."
So Digby got new, updated prostheses, but at first they were not an improvement. The local prosthetician Digby works with is very good at his job, especially at building the "sockets" that Digby's lower limbs fit into, but had no experience with these kinds of high-tech athletic legs. They simply weren't oriented in a way to let Digby run up to his potential. He and Michel got help from the USOC in working with the prosthetician in making initial adjustments to get them oriented right. After that, Michel and Digby made trial-and-error adjustments to fine-tune the system, much like a bicycle or auto mechanic would do.
It wasn't until Digby's last competition before the Trials that things really started to come together. He finally broke 23 seconds for 200 meters, and he and Michel knew big results were on the horizon.
The Workout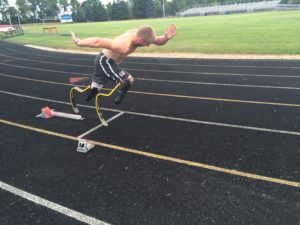 I came to Eastwood's Freedom Field on a hot Midwestern afternoon to see Digby practice. Today's workout was a series of block starts around a turn, some to 40 meters and some to 80, followed by weight lifting.
I asked Michel if there is any difference between training a Paralympic athlete and an able-bodied one. He said the vast majority of it is exactly the same. There are a few minor differences; one is that most of the mobility exercises in his warm-up routine are done lying on the track, since balance is a problem for an athlete with no ankles and only very small points of contact with the ground. (He did, however, show remarkable balance in various skipping drills.) Another difference is that breaks must be taken every so often to dry off his lower limbs, because if they start slipping in his prosthesis molds it can lead to sores on his skin, and those can be major problems for anyone with prosthetic limbs.
The one other difference is that starting, accelerating, and turning are bigger challenges for athletes with artificial limbs. Michel put mini-cones on the track for today's workout to help keep Digby's attention on where he needs to be. Also, while the USOC has provided tremendous technical help, there's still a lot of self-discovery going on. For example, they have found that Digby starts better when he uses only one foot pad on his blocks.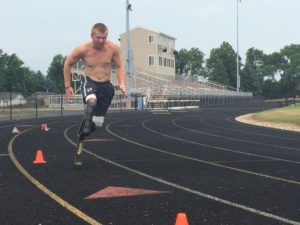 Results of the workout were recorded and sent to the USOC. This kind of oversight is necessary for Digby and Michel to receive their USOC training stipends. Digby also said he's part of the USADA program and has to file his "whereabouts status". He said the smartphone app is a wonderful development and make it easy to update his location, since the plans of a popular 18-year-old on summer vacation are subject to a good bit of spontaneity. Sure enough, the next day. . .
Got drug tested today after work, glad i can compete in a drug free sport

— AJ Digby (@Digby_AJ) July 22, 2016
What's next
Obviously, the big goal is the upcoming Paralympic Games, held in Rio de Janiero on September 7 to 18. NBC will offer a combination of television and online coverage. The finals for Digby's events are September 12 at 6:32pm (ET) for the 200 meters, and September 15 at 10:38am (ET) for the 400 meters.
But that's not all. Digby will be a freshman this fall at Mount Union, whose track program has been quite successful on the Division III level. His 400 meter time from the Trials would have won last year's Ohio Athletic Conference title and benn on the cusp of qualifying to the D-III national meet. It appears likely that Digby will run for the Purple Raiders, and if so he'll make a big impact.
He wouldn't be the only Paralympian in NCAA track. UT-Arlington's Tobi Fawehinmi is a triple jumper in the F46 class (unilateral upper limb impairment) and a good one, finishing 17th at this year's West regional. In a more similar situation to Digby is Trenton Merrill, a T44 athlete (single below-the-knee amputee) who competed for Azusa Pacific in 2013 and '14 with PRs of 23.07 and 53.18.
Digby unlikely to do much if anything for Mount Union during the indoor season, though. One reason is that indoor track's tight turns are his kryptonite, but a bigger reason is that he's got other things on his plate. Three years ago he picked up another sport: sledge hockey, the adapted form of ice hockey.
"One of my disabled friend's parents asked us to come out and try it", Digby said. He had played hockey before on an informal level with friends, usually playing goalie since his skating abilities are compromised. "I like physical sports, I thought let's try it…from the first day, I loved it. It was a whole new sport for me. The team aspect of it and the physicality of it, I fell in love with it right away." It satisfied his desire to "get out there and crunch some people" that high school football only partly filled.
After only three years of play, he is now on the USA's reserve team for international competition. By 2018 he might be good enough to be on the "A" team and earn a trip to the Winter Paralympic Games in Pyongchang, South Korea.
"[Hockey] works out perfectly because it's the exact opposite of track season, so I'm never burnt out from track and I'm never burnt out from hockey. They complement each other very well."