2 Comments
Steepler Carl Stones knows his spartan lifestyle is nothing special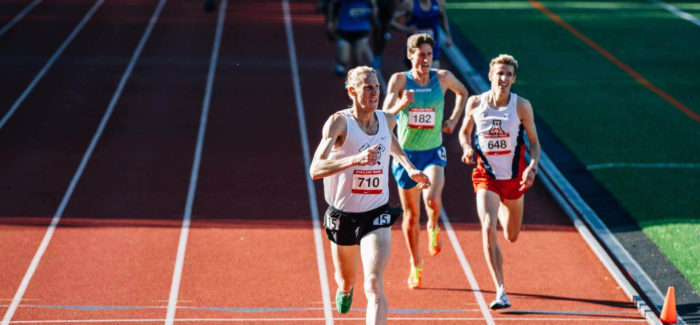 Daily Relay | On 19, Jul 2016
By Paul Snyder / Special to DailyRelay.com
"Sardines are less than a dollar a can and super nutritional; plus you can eat them every day, since they have less mercury than other fish."
I'm sitting at a bench in downtown Eugene, Oregon, across from my old friend Carl Stones, the 24th man into the men's steeple field of 24 at the 2016 Olympic Trials. He brought a PB of 8:35 to the line, but after a rough race, failed to advance to the final. He's 6-foot-5 with high cheekbones, broad shoulders and, currently, several scratch marks on his nose from his cat, who accompanied him in his beat-up Toyota Solara, which he drove from his home in Tulsa to Oregon. His hair, when let down, reaches the middle of his back, but if you've seen him around town or on the track, he pulls it up into a bun and has been asked if he's Evan Jager more times than he can count.
We sat down so he could tell me about the journey that led him to his first Olympic Trials — and he's now describing the nutritional and cost-cutting benefits of a sardine-rich diet.
Like many of the athletes competing this week, Carl is unsponsored, and he pieces together odd jobs to support himself and fund his ambitions as an elite athlete. When the Round Rock, Texas, native graduated from the University of Tulsa in 2012, he suddenly had a decision to make. He had just earned the final All-American spot in the men's steeplechase, and the notion of continuing to compete now seemed justifiable. He came to Tulsa with modest PRs (9:25 for 3200), after never qualifying for the state meet in Texas. His college career was marked by steady and consistent improvement, so why not keep going and see if that trend kept up?
"I never thought that I would want to continue running until maybe the end of that spring season," said Carl. "So it was late in the game when I started looking for a group to join."
Having temporarily moved back home with his parents for the summer, he reached out to Rogue, an Adidas-sponsored training group based out of nearby Austin. After a conversation with the coaching staff, the offer to join came.
"I was really excited," Carl recalls, "I got an offer and just immediately took it."
Things didn't pan out exactly as hoped over the next two years.
"I learned a lot and had a really great time, but for me, having so many friends in the area, Austin was a very distracting atmosphere, and there was a ton of temptations not conducive to running that I didn't do a great job of managing."
An injury in the spring of 2014 — the first major one of Carl's career — forced him into a period of reflection and honest self-evaluation. While warming up for a tuneup workout ahead of the Payton Jordan meet, Carl mis-stepped and twisted his ankle, which resulted in several torn ligaments and an avulsion fracture.
"I was forced to think about what I was doing," he said. "Things were coming around at that point, but I realized I wasn't living the life I should have been to run at a high level. I gave myself an ultimatum: fully invest or quit the sport."
That October, one surgery and months of recovery later, Carl found himself back in Tulsa on a short road trip to celebrate his birthday. While catching up with Steve, his coach at Tulsa, and his son (Carl's former teammate-turned-assistant-coach), Taylor, the conversation meandered to the possibility of Carl coming back to town to train and help coach.
"They pitched it as a place where I could train free of distraction, and I took that as a sign."
Tulsa isn't a conventional training Mecca. The weather is unpredictable and can be downright volatile. There's not much in the way of a running community. It's not at altitude and doesn't have a premier city park. But it's in the foothills of the Ozarks, so there are hills and trails. And despite its geographical similarities to Austin, Carl found it quieter. Fewer people. And fewer distractions.
He moved back full-time late in the spring of 2015. An old teammate had recently purchased a house on foreclosure near the University of Tulsa to fix up and rent out and was offering it to Carl at an unbeatable price. He could walk to and from the track after workouts. There were just one or two caveats.
"It's kind of in a meth-ridden, very impoverished neighborhood that's in the process of being bought up by the University of Tulsa and bulldozed to be rebuilt," said Carl.
Several times Carl awoke startled to see a neighboring home had been razed, and on at least one occasion, a man asked to rummage through Carl's backyard for scrap metal.
"It didn't seem like the safest place, but I never had any issues. My neighbors were very nice."
Though break-ins and petty larceny aren't uncommon in the area, Carl had little to worry about.
"I only moved up with a futon and some stools. Otherwise the house was empty."
He didn't even bother with a table. The stools were the perfect height for the built-in bar top in the kitchen.
"I decided to go without cable and internet, since it was a lot of money for a one-year contract, and I didn't know how much I'd actually be home to use it," he said. "I could go to a coffee shop or the school for internet, and could go to a restaurant or bar to watch a Spurs game if I wanted to."
More notably, he went without heat. An Eagle Scout, Carl has a sleeping bag graded to temperatures far colder than a Tulsa winter can bring.
To fund this meager lifestyle, Carl coached part-time, picked up shifts at a local running store, and worked a bit as a handyman, generally for professors from his alma mater.
At no point during our conversation did Carl come across as remotely self-pitying. In fact, I had to remind him about the austerity of his lifestyle numerous times. He even sounded convinced that his training over the last year was un-noteworthy.
"It's what you'd see in a ton of programs: a major focus on longer stuff through fall and winter; usually a weekly long tempo of 8-10 miles; you know, run 110 to 120 miles per week; some good hard hilly dirt road long runs. Just your typical super aerobic structure."
This closely resembled his training while still competing for Tulsa.
"Come the spring, with basically eight years of that in the tank, I could go to the track a little more often and get in more work over hurdles," he noted, adding, "A lot of people try to get super fancy with certain aspects of training, but for me the simplicity and strength focus works best."
No shit.
This is a guy who, four days before his prelim, had $15 in his bank account, was crashing on a friend's couch in Portland, and still needed to get to Eugene. I asked if he ever thought about how he was probably living more rustically than most of his competitors, thinking I'd "ah-ha!" him into admitting to being something of a badass and stop being so damn humble.
"Sadly, this is probably more common than you'd think," he said. "Things add up quickly if you don't have somebody paying for your travel or aren't paid a salary. When you're at a meet, you lose a lot of money."
He continued to make me feel bad and ignorant but not intentionally, because he's a nice dude.
"I had some good hourly work, but it's an opportunity cost when you're racing and not working. A four-day trip to Oxy can cost you 30 hours of wages, on top of the cost of travel itself."
Dang.
"The end of the season stretches a lot of people very thin financially, but you have to take that chance. I had to continually defend my 24th (and final) slot in the trials so I was in Oregon for two weeks before the Trials began."
Point taken.
In true Carl fashion, he closes out his recap of the past year with some sage wisdom:
"Everywhere that we've gone this season with the exception of Stanford — if you have friends to crash with in Palo Alto you can probably just ask them to sponsor you — we've had a place to stay. It also makes the meets fun. There are a million people you know from a million different places. It's made a huge difference both financially and enjoying the process. If you want to run, you have to be real with yourself and know that it's going to be really shitty at times, and you might be eating sardines and eggs and checking the mail every day for your paycheck. But that turning to that community helps. There's not a lot of things I regret, and I think I'd do it all again."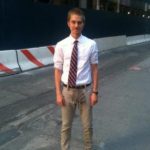 Paul Snyder is – among other things – a freelance writer living in Flagstaff. You can email him at paulopolooza@gmail.com or follow him on Twitter (@danieldingus) although I'm not sure why you'd want to.
He also does some Microsoft Paint portraits worth checking out on Instagram (@paintwhynot).