One Comment
Post-Trials Thoughts and Hopes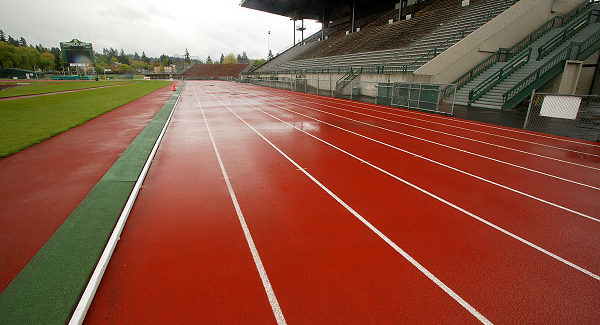 Jesse Squire | On 14, Jul 2016
I watched the first half of the Olympic Trials at home on television and on the web (as most of you did), then got on a plane and saw the second half in person with good friends (as a small minority of you did).
I had a lot of time in airports and on airplanes on the day after the Trials ended, and had a lot of thoughts rattling around my head. I originally started writing a blog some fifteen years ago as a means to express the musings that came to me in the hours and hours spent in marathon training, and right now I'm going go back to that. The Trials are more or less the end of the domestic season; we'll still have the one-off TrackTown Summer Series in just under three weeks, but there is a real air of finality at the conclusion of a championship meet.
******
After the final session on Sunday, I met up with the Track and Field News gang and their friends at a local Eugene watering hole. Managing editor (and main stadium announcer) Garry Hill mentioned that, like always, he got a bit teary-eyed when the shebang was over. He thinks it's the best track meet there is – even better than the Olympics themselves – because of the do-or-die nature of the selection process. It is a meet with consequences; the difference between third and fourth is a chasm the size of the Grand Canyon.
I agree, but I also like it because it brings together everyone and everything in this country related to track and field. It's kind of a quadrennial AthletiCon. I mean, if you're outgoing you can meet just about anyone in this sport you'd ever want to meet. While standing in line for food at Portland International Airport I noticed that the woman in front of me happened to be Molly Huddle, the 10,000 and 5,000 meter winner, and I told her I enjoyed seeing her compete. And it's not just athletes, it's coaches and writers and fans and organizers and everyone else who makes things work (or sometimes not, as the case may be). They're everywhere at the Trials, they're used to being invisible for the other 51 weeks of the year, and they're generally open to talking to people who appreciate their efforts.
******
Hill asked me about my highlight of the meet, the thing I liked best. I replied that it was the men's 5000 meter final, no doubt about it. I thought that was one of the classic races of all time. The thing I like about sports is that there isn't a script. Predictable outcomes are boring, and that race most certainly was not predictable. Runners at this level of competition never try an early breakaway, but Woody Kincaid and Brian Schrader did just that after 1000 meters. Breakaways then never hold for very long, but this one did for three laps. Then there was another breakaway late in the race, another big departure from the norm, this time by Galen Rupp, and it looked like he was going to steal the race. And then he got eaten alive in the last 300 meters because five men closed in 53 seconds or better, including an insane 52 from a 41-year-old man.
And I think I liked it so much in part because I got to see the whole thing with my own eyes, without an intermediary. I now hear that, during this men's 5000, NBC cut to a live interview with Ben True's wife with two laps remaining. If watching at home, I would have been so apoplectic as to cause a stroke.
See, the thing I hate about how NBC covers track and field, especially in relation to anything Olympic, is that they see it as a show and not a sporting event. Shows have scripts, sports don't. Shows have stars and you don't upstage them, but sports heroes often end up being the most unlikely people. This inherent unpredictability is a good thing…unless you are an NBC Olympic television producer.
******
I won an award. Specifically the Adam Jacobs Award, presented by the Track and Field Writers of America for outstanding achievement in online writing. I was not present at the awards breakfast to accept, in no small part because I was writing.
I remarked that I didn't even think I did the best writing job on this website, but Kevin Sully didn't pony up the $30 TAFWA membership. Too bad for him.
This brings things full circle in some way. I first attended the Olympic Trials in 2008 as a fan who also did some work for Adam Jacobs' site, TheFinalSprint.com. I did not have media credentials, I just had a ticketed seat on the backstretch, but I did work his one-off Running Film Festival. Less than a year later, Jacobs passed away at the age of 24.
******
On Saturday afternoon I spent three hours chatting with Dipen Shah, one of the most important people you've never heard of at the Trials (and many other large, unwieldy track meets), and I could easily have spent three more. He is a freelance web developer who created and managed the Trials live results site. He's smart, gregarious, and interesting, and, like most truly successful people, he doesn't think he knows everything but also thinks there's no problem he can't eventually solve. It's going to take a while to figure out how to make an article out of that encounter, but I think it will be worth it.
******
Unlike the stereotype of people who spend all day working on computers, Shah understands people and relationships and work cultures (and it's one reason he was so fun to talk to). He said that in order to make big changes for the better, you have to be willing to take chances. You have to be willing to fail—and he said, because of that, there's an awful lot of fear of trying new things in track. There's too much of the "we're going to keep doing things this way because we've always done it this way" attitude in track and field. We agreed that NBC's television production model is clearly in that group that is strongly resistant to change. And if there's anything observers of track and field can agree on, it's that the sport will either change or die.
In his typical fashion, Vin Lananna used the Trials as the means to announce his candidacy for the USATF presidency, an election I can't see him losing. It's interesting to note that the USATF CEO position was offered to Lananna, who turned it down because he thought he could do more for our sport as leader of the Track Town USA organization. I think he was right; he would not have been able to lead bids that landed the World Juniors, World Indoors, and World Championships.
As I understand it, USATF works kind of like a school district where an elected board hires a superintendent to do the work of running the district. The USATF CEO is a full-time paid position, whereas the President is a purely volunteer position and generally held by people with other employment. I don't know if it's possible for Lananna to remain in charge of Track Town USA while also acting as USATF president, but it might be.
In any case, if there's anyone in track and field in the USA who combines the vision of a different and better future with the political skills to bring people together and make it happen, it's Lananna.
******
So where does domestic track and field go from here?
There are two big issues for the next few years.
Issue One:
Oregonian sportswriter Ken Goe noted on Monday that Eugene's human infrastructure is beginning to break down under the weight of seemingly every major domestic meet.
There is no question Eugene has done a great job with the meet, raising the bar for anybody else wanting to place a bid for 2020 or any subsequent Olympic Trials.
TrackTown USA president Vin Lananna clearly wants the Trials in Eugene in 2020 at the newly renovated Hayward Field, in large part to serve as a dress rehearsal for the 2021 World Outdoor Championships.
In the abstract, it makes sense. But I was struck while reporting a story I did a couple weeks ago by the undercurrent of fatigue I found among many long-time boosters of the sport in Eugene. Some are more than willing to pass the torch to another community.
Goe also mentions that "for track & field to be a major league sport, it needs to stage championships in major league markets," and that's definitely true. If the same quality of experience was held in a city with 10 or 20 times the population of Eugene, then I think there just wouldn't be any space on press row for an operation like the Daily Relay.
The sport has been nursed back to health in Oregon but elsewhere is as endangered as the California Condor once was. Which leads me to…
Issue Two:
What will Vin Lananna do as USATF president?
There is no other announced candidate at the moment, and I cannot imagine any that could possibly beat him. For me, it's basically a forgone conclusion that he will win the election.
With that in mind, I have to think that no Lananna plan these days is small potatoes. He always thinks big. So I look at his latest brainchild, the upcoming TrackTown Summer Series (which is starting as a single meet, not a "series") as the first step in something bigger.
We've known for some time that the USA's biggest needs in track and field are domestic post-collegiate competition, especially at the sub-Diamond League level, and a means to extend stateside interest past the US Championships. Filling these gaps alone would be great if the series can continue into another year and expand to the other participating cities of San Francisco, Philadelphia, and New York.
But I suspect that the bigger plan is to help these other cities learn how to do what Eugene (and, to a lesser extent, Portland) has done to put on excellent competitions. At first, I wondered why these particular cities were chosen as part of the Summer Series. They are large cities with good facilities who have standing organizations with demonstrated abilities to organize major events.
Maybe it's wishful thinking to imagine the 2020 Olympic Trials at Icahn Stadium or Edwards Stadium, but at the end of an Olympic Trials, it seems possible to dream big.