No Comments
Kipyego's second-place finish rooted in disappointing 2015 experience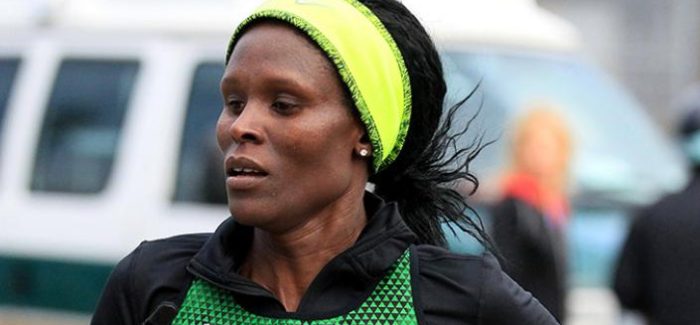 Brendon Desrochers | On 06, Nov 2016
(Photo courtesy New York Road Runners)
NEW YORK — "At the finish line after I dropped out, I saw my coach and the first thing I told Coach Rowland is, 'Sign me up for the next one.'"
That was what Sally Kipyego told Oregon Track Club coach Mark Rowland the day she dropped out of her first attempt at the marathon in New York in 2015 and exactly 53 weeks before finishing second in the 2016 New York City Marathon on Sunday.
It wasn't a fortuitous debut attempt for the 30-year-old Texas Tech product and native of Kenya. Making sure this year's race was a much better experience was foremost in Kipyego's mind leading up to and after the race.
On Friday she said, "My goal is to make sure that what happened last year doesn't happen again. … I just want to be on stage and be competitive, but I also want to have a good experience."
"I would rather run a much more conservative race just to have a good experience," she said postrace.  "Just because this is a new distance for me and I wanted to have a good experience."
If you were watching the broadcast Sunday, you didn't see much of Kipyego's experience. You saw Mary Keitany humble a terrific women's field for her third straight New York City Marathon victory in 2:24:26. You saw Keitany lead a breakaway at 15K with Aselefech Mergia and Joyce Chepkirui. You probably saw Keitany run the final 11-plus miles by herself and even threaten the course record before finishing less than a minute off it.
Throughout all that, you hardly saw Kipyego. Running even splits, she moved up from fifth at halfway (1:13:54) to second by the finish (2:28:01; 1:14:07 second half). She picked off Mergia by Mile 15, Molly Huddle by 25K and Chepkirui in Central Park at Mile 24.
Several minutes after Keitany clinched her third straight win, the telecast switched to Kipyego entering Columbus Circle and Huddle soon thereafter, separated by about 75 meters for the final, mostly uphill, 400m. At last, this was Kipyego's chance to get her moment, but the camera panned almost immediately to Huddle behind her. Soon after the camera was back on Keitany holding the Kenyan flag for approximately the same amount of time that Athletics Kenya should be skewered for leaving the 34-year-old off its Olympic team.
When at last we saw Kipyego again, it was as the hare to Huddle's fox, the American 10,000m champion finishing fast. But the camera angle was deceptive. Kipyego looked over her shoulder, saw Huddle and prevented her from getting closer than 10 seconds over the final 200m meters.
"The biggest lesson that I learned from last year is that the marathon is definitely not a sprint," said Kipyego. "And just because you feel good for 20 miles doesn't mean that much in a marathon. You need to be able to survive to the whole 26.2 miles."
Despite winning silver in the 10,000m at the World Championships in Daegu in 2011 and the London Olympics in 2012, Kipyego floated under the radar in the buildup to Sunday's race. She occupied a nether region between exciting debutant – like American Olympians Huddle and Kim Conley — and established contenders – like Keitany, Mergia, Chepkirui and Boston Marathon course record-holder Buzunesh Deba.
There were reasons to think Kipyego's breakthough was possible. Her buildup was much different than in 2015. Last summer, after making the Kenyan 10,000m team, she ran and finished fifth at the World Championships in Beijing (one spot behind Huddle) and had an abbreviated buildup for New York City. This year, she fell short of her goal of making the Olympics, but her preparation for New York City benefited.
"It was a very disappointing thing for me to miss Rio," Kipyego said Friday. "Cause I planned everything around going to Rio — everything was to run to Rio. And then I went to Kenya to the trials and I had a bad day on the track. I was really disappointed. It gave me time to come back and prepare. Hopefully on Sunday, that will show."
Indeed it did. With her second-place finish, Kipyego had her best performance over any distance at least since setting the course record in the New York City Half Marathon (68:31) in March 2014. She immediately becomes a name to be considered for any major marathon victory – once you get past Keitany and London and Olympic champion Jemima Sumgong.
Kipyego is now fully committed to the marathon.
"I might do track here and there," she said after the race. "But I think it's just that time to move to the next level and I think that marathon is going to be the next venture for me moving forward. Maybe a spring marathon is my next goal."
The full buildup showed her ability to hold on for the full distance and her potential to succeed at the highest level of road racing.
"My training has gone really well this year and I've given myself enough time to prepare properly," she said Friday. "I've done 25-milers; I've done 22-milers to make sure that what happened last year doesn't happen again. … [Dropping out] made me respect the distance a lot more. You have to do the work –there's no way around it."
She took that respect into her successful first completed marathon Sunday.
"I think I respected the course. I held back a lot and I didn't go and I ran within myself. I think that was the greatest gift that came out of last year. But I think I ran well today because I had the experience last year."