2 Comments
From LA to NYC, Pennel shows he might be next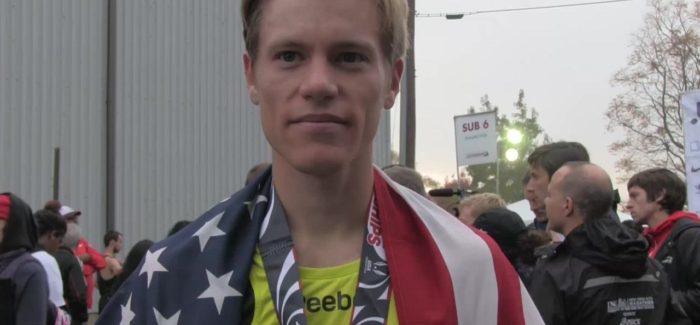 Brendon Desrochers | On 06, Nov 2016
(Image courtesy USATF)
NEW YORK — In a year of unprecedented American success in elite-level distance running, Tyler Pennel's name will be little more than a footnote.
In the marathon alone, Galen Rupp debuted and won the Olympic Trials and then bronze in Rio. Jared Ward was the surprise third-place finisher at Trials and finished sixth in Rio. All three American women finished in the top nine there.
On Sunday in New York, Americans made both podiums (men's and women's elite) in the same year for the first time since 1994. Abdi Abdirahman, took a trick out of Meb Keflizighi's book, becoming the oldest male podium finisher ever at age 39. Molly Huddle will draw most of the headlines domestically after running the most impressive American female marathon debut since Shalane Flanagan's here in 2010.
All that is to say that few are talking about Pennel, but his performances in 2016 might warrant some chatter. He capped his season with an eight-place finish in New York in 2:15:09, nine months after he was at the center of another marathon 3,000 miles away.
In February, on a super-heated Saturday morning in Downtown LA, Pennel was with the lead group at the US Olympic Marathon Trials at mile 15. A spot in the top three would put him in the Olympics. The field was showing requisite caution considering the conditions, but Pennel decided to make a move to pull away from the more than 20 other competitors within a couple seconds of the lead.
He dropped a 4:56 16th mile and then a 4:50, then a 4:52 and then a 4:55. Those were the first four of nine straight miles where the leaders ran 4:56 or faster after just two such miles in the first 15 miles of the race.
"I just felt really good there," Pennel said Thursday at New York City Marathon media availability, looking back on his decision to push the pace when he did. "I kind of just said I'm going to run how I feel. That next mile, I was almost surprised no one went with me.
"I got a little excited and felt like let's take advantage — I was feeling good," he continued. "I started pushing it then. When I first took the lead, I felt like I was floating along."
For a while, he gapped the entire field, before Rupp and Keflizighi closed him down. ("I was surprised no one went with me," he remembers.) Through 19 miles, he had 15 seconds on the rest of the field and was seven miles from the Olympics, if he could hold on.
He couldn't.
Pennel's next two miles were 5:08 and then 5:20 while Ward ran 4:59 and 5:02. Suddenly, he was 12 seconds off the podium and fading.
"The heat just got to me," he said. "Looking back at it, coming through the start/finish where it was so crowded and so much energy, I got excited and made the move. What I wish I maybe would have done, that second mile I was running, maybe just fall back and not push. "
Pennel's move made an impression on the three men who made the team that day.
Rupp: I thought I had to cover any move. I just tried to cover it as gradually as possible.
Ward: When Tyler took it out, it made me nervous.
Keflizighi: When Tyler made the move and Galen was there, they were sub 4:00[-mile] guys. (I think I ran 3:42 for 1500m). … Tyler made that race.
One man made the race, the other three made the team.
So, instead of serving as grand marshals at the New York City Marathon, like Olympians Ward and Keflizighi, Pennel was out on the testing course trying to make his mark. Though he had a full buildup to Sunday, his fitness entering that buildup had been compromised by a sacral fracture in his right hip.
"I took two months off for it," said Pennel, whose coach, Ryan Warrenburg of ZAP Fitness, was strict with his rehab. "My coach said, 'The first four weeks I want you to move as little as possible.'"
Pennel said that, despite his lack of fitness entering his marathon buildup, he entered Sunday's race in as good a shape as he had been in February, and his performance proved it. He was more cautious on the roads and bridges of New York than he was on the scorching pavement of LA.
"About Mile 4, we were kind of yo-yoing, and they took off," said Pennel after the race. "Me and Jon Grey kind of got to the back, and we looked at each other and went like, let 'em go, and Jon and I ran together until past [Mile] 16, and then I was kinda on my own from there."
(Grey of the Boulder Track Club pulled out after 21 miles.)
The ups and downs of New York fit Pennel's background and training better than the flat Trials course did. He trains out of Blowing Rock, North Carolina, was born in Golden, Colorado, and went to school at Division II Western State in Colorado.
"Where I train, we train on hills all the time," Pennel said. "It's hard for us to find flat places that are paved. Twin Cities is not an easy course."
(Pennel won the Twin Cities Marathon in October 2014 in a personal best of 2:13:32. That was also the US Marathon Championships that year.)
If the hills were to Pennel's liking, the fast first half wasn't. Dathan Ritzenhein, who later withdrew with a heel injury, helped make sure the early pace was honest. In the previous two New York City Marathons, the eventual winner went through halfway in the 66:50s. On Sunday, 21 runners went through in 66:15, including Pennel, who was in 14th in 65:19.
"I can't go out and run 2:06, 2:07 in New York," Pennel said pre-race. "I can go out and run 66:30 at the half and feel good and close well."
Might the race have gone even better for him if it went out slower? It's hard to say.
"It starts getting tough [after First Avenue]," Pennel said postrace. "You get in the Bronx and you turn and you sort of lose momentum.  And then I started cramping probably around [Mile] 21 in my hamstring. … I was able to keep it under control until probably the end. The last 200 meters, it started to go really bad, but I timed it just right then."
His timing wasn't quite right at Trials, but Pennel's hamstrings held up just long enough in New York City.
The question for 2017 and beyond is whether his 2016 performance is part of a trajectory that has him joining Ward, also 28, and Rupp, 30, among the top early-prime American marathoners or whether he'll mostly be remembered as a good marathoner who made one courageous move that almost got him on the 2016 Olympic team. But didn't.