One Comment
The Weekend's Best Matchups: NYC Marathon and College Cross Country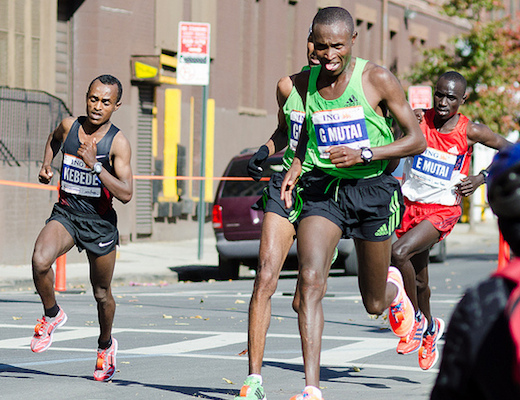 Jesse Squire | On 30, Oct 2014
Can Geoffrey Mutai win in New York again?
This is the best weekend of the fall for running fans. We have dozens of college conference championships (and state high school championships too), plus the biggest media event in all of running: the New York City Marathon. ESPN will have live coverage of the event and will give it the full ESPN treatment while half a million people line the streets of the Big Apple to see the world's best runners go head-to-head.
But for my money, the best single matchup of the entire weekend is much smaller but one I've been anticipating since July.
Michigan vs Michigan State
Women's race, Big Ten Championships
Ashton Cross Country Course, Iowa City IA
Sunday, 10:45am local time (11:45am ET)Meet website
This is the showdown we've been waiting for all season. Every single week this year, the #1 spot in the polls has been held by either Michigan or Michigan State. They've avoided each other all year but now have to face off. They are intense rivals across all sports but especially in women's cross country, where they've won all of the last four conference titles (and Michigan's only victory out of those, in 2012, was on Michigan State's home course).
For a great long-form look at this great rivalry, read Mitch Kastoff's The Michiganders. No, seriously, read it. Mitch did great work there.
The rest of the weekend's best matchups, in chronological order…
Arkansas vs Ole Miss
Men's race, SEC Championships
Harry Pritchett Running Course, Tuscaloosa AL
Friday, 10:00am local time (11:00am ET)
Meet website
Arkansas is #23 in the latest coaches' poll and Ole Miss is listed as "receiving votes", so at least on paper this could be competive. In any case, the Rebels are having one of their best seasons ever. Ole Miss has never won the men's title at the SEC Championships and has been runner-up just once (1968), while Arkansas has won 21 of the 23 league titles up for grabs since they joined the SEC.
Cranny vs Houlihan
Women's race, Pac-12 Championships
Friday, 10:00am local time (1:00pm ET)
Meet website
TV coverage: Monday at 9:00pm ET on Pac-12 Networks
#3 Oregon is the favorite to win the women's title in the Pac-12, although I think #7 Colorado stands a decent chance of winning. In any case, the most interesting part of the race will be for the individual title between Shelby Houlihan (Arizona State) and Elise Cranny (Stanford). Both are better known as 1500 meter runners—Houlihan won the NCAA title last June while Cranny finished 4th at the World Juniors in July, and their PRs are just 0.06 seconds apart—but both have impressed in cross country this fall and have been mentioned as NCAA Championship contenders.
Colorado vs Oregon
Men's race, Pac-12 Championships
Friday, 11:00am local time (2:00pm ET)
Here we have the #1 and #2 teams in the country facing off, yet it's not my pick for the best matchup of the weekend. What gives? For one, I live in Big Ten country and, like Sarah Palin, I can see the evil empire (Michigan) from my house. But another reason is that Colorado is so much better than everyone else that Oregon pulling the upset isn't on anyone's radar. Still, It's #1 vs #2 and that's a big deal. Further down the line could be just as interesting: can UCLA beat Stanford? The Bruins haven't done that since 1994, the year before a whiskered man named Vin Lananna came to Palo Alto and turned around an ailing Stanford program.
Cheserek vs Korolev
Men's race, Pac-12 Championships
Here's another #1 vs #2 matchup that isn't getting the hype it deserves. Edward Cheserek (Oregon) and Maksim Korolev (Stanford) are the top two returning athletes from last year's NCAA Championships, and neither has allowed anyone but a teammate be been near them at the finish this fall. Behind these two lies another race for third, one that has major implications for the NCAA Championships in three weeks. Can Oregon's Eric Jenkins challenge Korolev? How close will Colorado's top guys be? What about Korolev's teammate, Joe Rosa?
Iowa State vs West Virginia
Women's race, Big 12 Championships
Rim Rock Farm, Lawrence KS
Saturday, 10:00am local time (11am ET)
Meet website
#6 Iowa State is the favorite over #9 West Virginia but not by a lot, and this being a relatively small meet complicates matters further. The Cyclones depend on a tremendous 1-2 punch in Crystal Nelson and Katy Moen, but how much these two are ahead of everyone else doesn't matter—they can't score less than 3 points between them. Depth wins in a small meet, and that gives the Mountaineers a real chance. If they win, it would be only the second Big 12 title in any sport for West Virginia since they joined the league.
Princeton vs Dartmouth
Women's race, Heptagonal Championships
West Windsor Fields, Princeton NJ
Saturday, 11:00am
Meet website
"Heps" is a misnomer any more. It used to be a seven-team circuit that existed only in cross country and track, but things morphed over the years and now it's the eight Ivy League schools. Anyway, this looks to be the most closely matched of the big meets this weekend: Princeton is #25 and Dartmouth is #26 in the latest coaches' poll.
Portland vs BYU
Men's race, West Coast Conference Championships
Baylands Park, Santa Clara CA
Saturday, 11:00am local time (2:00pm ET)
Meet website
The Portland Pilots used to rule men's cross country in the West Coast Conference. They won every championship meet from 1979, 32 in a row. And then BYU broke that win streak in the very first year they joined the conference. Since then it's been a see-saw back and forth, with Portland retaking the title in 2012 and BYU taking it away in 2013. College rivalries are often sport-specific, and this is a perfect example.
Keitany vs Kiplagat
Women's race, NYC Marathon
Sunday, 9:10am
Web coverage: Runner's World | ESPN Endurance | Let's Run
Live TV coverage from 9:00am on ESPN2 and ESPN3.com
Mary Keitany is a two-time London Marathon champion and the 2011-12 World Marathon Majors jackpot winner, but she hasn't raced much since then due to the birth of her second child. She does have two very fast half marathons to her credit this year, so it looks like she'll pick up where she left off—but she's never won a marathon over course as difficult as New York's, nor has she won without a pacemaker.
Edna Kiplagat is the 2010-11 World Marathon Majors winner (pending the disqualification of Liliya Shobukhova) and her wins include the kind that have eluded Keitany: over tough courses (such as New York '10) and without pacemakers (such as the '11 and '13 Worlds). She's also coming off a win in London and her tune-up half marathons show very good form.
Mutai vs Kipsang
Men's race, NYC Marathon
Sunday, 9:40am
Geoffrey Mutai holds the New York City Marathon course record (as well as the Boston course record) and was the 2011-12 World Marathon Majors champion. Wilson Kipsang holds the London course record and, until recently, held the world record too. If he wins here, he'll be the World Majors champ for 2013-14 and come away $500,000 richer. It's understandable that they are the favorites and getting the lion's share of attention.
But on this week's House of Run podcast, I picked Ethiopia's Lelisa Desisa to win. While Mutai was a beast of a runner in 2012 and 2013, to me he doesn't look quite as good this year. Kipsang dropped out of his last race in August with a "slight foot injury" and I see that as a bad sign. Besides, marathoners' time at the top tends to be very short and Desisa has been amazingly consistent, so I'm going out on a limb and predicting an upset.
Old vs Young
The two US runners who are getting the most pre-race hype in New York are Meb Keflezighi and Deena Kastor, both of whom won Olympic medals ten years ago. That's an eon in marathoning. Very few runners from either the men's or women's races in 2004 are still competing at all, and none are anywhere near the levels that Keflezighi and Kastor are. Kastor broke the half marathon world master's record earlier this year and has a very real chance at the marathon record (if the weather cooperates), and Meb is less than a year away from being able to pursue masters' records.
But they both could very easily lose to young up-and-comers. 24-year-old Luke Puskedra is making his marathon debut, and I picked him as top American on the House of Run podcast. Mitch Kastoff, our newest addition to the Daily Relay pool, has the story on Puskedra.
25-year-old Lauren Kleppin is just finding her stride as a professional distance runner. Her biggest claim to fame is a 2:28:48 at the Los Angeles Marathon in March, and she is coached by none other than Andrew Kastor, husband of Deena.
USA vs The World
The USA is such an inward-looking nation that international sports mostly don't register in the mainstream press unless Americans are winning them. That's an additional reason why Meb's win in Boston this year was such a big deal. Do any Americans have a chance at winning the New York City Marathon? Probably not, but that was the conventional wisdom going into the NYC race in 2009 and Boston last April, and Meb won both.
Still, I don't think lightning will strike twice in one year. If an American is going to win this, I think it will be in the women's race. Both Desi (Davila) Linden and Deena Kastor are in their best shape in years, and if they're at their best then there are scenarios where they enter Central Park in contention for the win. Bad weather would feed into their race plans, and the current forecast calls for headwinds of 20+ mph for most of the race.
Schulist vs Finn
Women's race, Big Ten Championships
Ashton Cross Country Course, Iowa City IA
Sunday, 10:45am local time (11:45am ET)
Meet website
A subtext for the UM-MSU team battle at the Big Ten Championships is the individual contest for first, which likely will come down to the Spartans' Rachele Schulist and the Wolverines' Erin Finn. Finn won last year's Big Ten title and is improved from last year, but Schulist (sixth last year) has improved even more and has a real chance at the upset.
Wisconsin vs Michigan
Men's race, Big Ten Championships
Sunday, 11:45am local time (12:45pm ET)
This is the 100th running of the men's Big Ten cross country championships, and Wisconsin has won 46 of them. The Badgers' streak of 14 straight wins came to an end last year when they finished third behind Indiana and Michigan. The last time the Wolverines won was a year after Kevin Sullivan finished up his collegiate career in Ann Arbor, and he's back in town as the new cross country coach. Wisconsin is the favorite but the upset is quite possible.