3 Comments
Luke Puskedra's First Date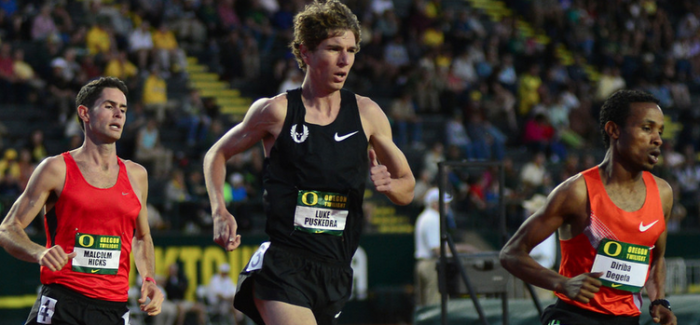 Daily Relay | On 30, Oct 2014
Photo via TrackTownPhoto
Luke Puskedra doesn't want to make it too formal. Why would you? There's no need for an official title. That would make the situation complicated. Let's just keep things simple. It's for the best.
I mean, they're just getting food. That's it. Food. It's not like it's some candlelit dinner on the Cinque Terre beachfront. He's taking her to Papa's Soul Food in Eugene, OR. It's jus—oh, she asked if he can pick her up?
Does that make it a date?
Wait, should he bring her flowers? Don't wear your tattered University of Oregon Cross Country t-shirt: you need to impress her. For God's sake, find a button-down shirt. When was the last time you ironed this? This is going to be a disaster.
Okay, let's not overreact here. Maybe this isn't a first date. It definitely won't be one if you show up seven minutes late. It definitely won't be a date if you choose the brisket and she orders the pulled pork sandwich. But what if she eats the sloppy-pressed foodstuff with a knife and a fork, does that mean she cares about her appearance? Does that mean she's trying? Is this a date? You should have brought flowers, you goof.
Whether or not this particular interaction was a "date" is a matter of semantics, and depends on which party is recounting the tale. But date or not, this wouldn't be the last dinner Puskedra would share with his future wife, Trudie, a former Oregon tennis player.
This weekend in New York City, Puskedra has plans for another first rendezvous – this time with no ambiguity and a clear title: his marathon debut. He'll be taking the plunge into an event that he might as well wind up married to.
"I'm excited and a little nervous… all of the emotions that go with running the first one," Puskedra said recently over the phone from his home in the mountains of Park City, UT.
Long-known for his long distance prowess, the move up to the marathon was an inevitability for Puskedra. From a relatively young age, the powerful, yet sinewy frontrunner showed his readiness for over-distances. As a freshman at Oregon, Puskedra immediately made the jump to the 10K, running 28:34.17, which ranked sixth all-time at Oregon. He was 5th earlier that year at the '08 NCAA Cross Country Championships. Two years later, he'd improve on his finish, taking 3rd at nationals.
This sort of thing came natural to him. His success rose in direct correlation to the distance of the race. His innate ability for longer races stood out immediately to Oregon Associate Head Coach Andy Powell.
"Luke has a pretty special ability to be able to run for a long time," said Powell. "His ability to do tempo runs and long runs is just about better than anyone I've ever coached and I've had some good guys come through."
The two always joked, fairly seriously, that the marathon was always going to be somewhere in Puskedra's future. So it wasn't a surprise that when Puskedra told Powell he was running New York, his former coach said that he had wanted him "to run one since his sophomore year of college."
But even before he left Oregon, he was tempted by the roads. In January 2012, his senior year, Puskedra ran an impressive 1:01:36 half marathon debut on the flat Houston Half Marathon course. It had been six weeks since the NCAA Cross Country Championships — not quite the buildup one would imagine after a long fall. But again, the 13.1 distance proved an easy conversion for Puskedra. That was due in part to the fact that his training was already geared towards it. Additionally, Puskedra's lanky frame is best-suited to competition away from the tight turns and crowded pack-running of the track.
"After nationals, my training for the half was just more tempos and longer stuff, but it really wasn't much different than what I was doing during cross country or track at the University of Oregon," Puskedra notes. "We just added a few more intervals and miles."
Puskedra's transition to the roads, much like his transition from standout collegian to the Nike Oregon Project, was bridged by the relationship between Powell and Nike Oregon Project head coach Alberto Salazar.
"Obviously, I didn't have a lot of experience coaching anyone in those longer distances," Powell said.  "So I picked Alberto's brain and got some good training advice from him."
Whereas downtown Houston's pancake flat topography lends itself to fast times, New York's bridges, rolling hills in Central Park, and unpredictable weather make it anything but an easy course. And that's precisely why Salazar and Puskedra chose it. A challenging course should play into Puskedra's greatest strength, which is for lack of a better word, his strength.
"Alberto and I decided that Chicago's flat course probably wasn't as good for me as New York. And because of some of the successes I've had, most of them are in cross country, we thought that would translate to the marathon with a hillier course."
"There's a lot less pressure for New York," he adds.
The pressure to run a certain time isn't looming over Puskedra's head. He's out there to compete. And, compared to the only other Nike Oregon Project member to make his marathon debut, there are almost zero expectations surrounding Puskedra's race.
Back in April, in front of the screaming masses, double Olympic and world champion Mo Farah came home to a 2:08:21 eighth place at the London Marathon. You would think that the weight of the "passionate" British media coupled with Farah's credentials would have made one or two major cracks in Farah's impenetrable armor. But the hype didn't affect him. Or, at least Puskedra never saw it.
"He was so relaxed each session," Puskedra says. "Even if a workout didn't go as planned, just to see him, the best guy in the world, just be able to accept that, and being able to walk away from the session with confidence rather than try and push through and maybe bonking a workout, it helped."
For most of his buildup, Puskedra had run an astounding 160 miles per week, topping out at 170 every now and then. He hopes to stay as comfortable as possible for as long as possible as he clicks off 4:56 – 5:00 miles. It's a conservative plan.
But even with all of that in mind, when he tries to first describe his mental state prior to boarding the New York City-bound flight, Puskedra runs the gamut of emotions for any first-time marathoner. He's anxious. [He's 98% excited and 2% scared. It could be 98% scared and 2% excited]. He's not really sure.
New York is the kind of race, with the conditions and the course, you don't have to necessarily shoot for a time. You can just go out there and compete. You don't want to put an official title on it because it'll complicate things.
It's like a first date with your future wife.
"It's like they say: If you have soap in your hand, you don't want to hold it too hard or you're going to lose it. You never want the girl to think that you like them more than they like you. From there, I definitely tried to play it cool and I had a very hard time. I ended up failing at it. That's the way it goes, I guess."
The adage amongst marathoners is that you have to respect the distance. It'll humble you, especially for a newcomer. But Puskedra's grip on the event is perfect. He's played this game before. He knows the signs. This time, though, Puskedra won't intentionally show up seven minutes late.
Sometimes, dinner is just dinner. And sometimes, it's a first date.
Mitch Kastoff is a freelance writer based in Portland, Oregon. Contrary to popular belief, he did not invent the high five. If you enjoyed these ramblings or have any comments, questions, or concerns, feel free to reach him on Twitter or by email.