No Comments
Kim Conley Q&A ahead of her marathon debut in New York City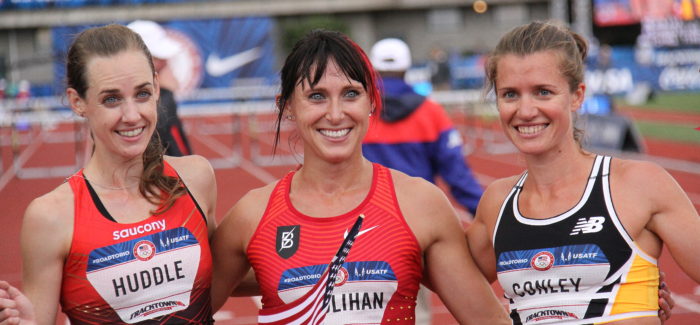 Brendon Desrochers | On 03, Nov 2016
(Photo credit: Jesse Squire / DailyRelay.com)
Kim Conley, 30, makes her marathon debut in New York City on Sunday, less than 12 weeks after running in the semis of the 5000m in Rio. Conley, now a two-time Olympian (she also ran in the 5000 in London), originally planned to make Team USA in the 10,000m but was beset by an issue with her spike at Trials. She bounced back to make the team in the 5000 where she exited in the semifinal. Conley, a UC Davis alumna, trains in Sacramento with the NorCal Distance Project, which is coached by her husband, Drew Wartenburg.
Sitting within sight of the finish line for Sunday's race, Conley, who hopes to break 2:30, spoke Thursday about her preparation for the race, how her adventures at the Olympic Trials affected that preparation and what her future may hold for 2017 and beyond.
How did the New York City Marathon fit into your goals for 2016?
The first goal of the year was to make the Olympic team and go to Rio. So, in around April, when we also decided to put New York on the schedule, we did it knowing there were 11 weeks between Rio and the marathon and kind of understanding that the focus would be on Rio, and then I'd get home from Rio and switch gears. Making the team was always part of the plan.
How did having to run the 5000m in Rio, instead of the earlier 10,000m, affect your training for New York City?
I had a moment of doubt over that, thinking, "Oh, no — this wasn't the exact plan!" I wanted to have an extra week of training for the marathon, but when I voiced that to Drew, my husband and coach, he dismissed it right away — he wasn't worried at all. I have faith in his vision, and so I kind of let that thought leave.
When you visited New York City in September, how much of the course were you able to run?
I ran everything but the first eight miles and it was really good to see. There's just — the word I like to use is "texture." I felt like there were hardly any flat elements to it, and the bridges are hard and there aren't a lot of other big hills necessarily, but it also never felt flat — you're always kinda going up or you're always kinda going down. What we did is we took that information home and found places to train at home that kind of have similar type of roll to it. So I wasn't rehearsing as much for locking into marathon rhythm but rather finding marathon pace over interesting terrain.
Were you able to run on the actual streets of the course or did you have to stick to the sidewalk?
There's a good bike lane all the way down First Avenue, so we were running on that. I actually tried to run in the street on Fifth Avenue, and sometimes it would get a little dicey with buses so I would hop onto the sidewalk, and obviously in [Central] Park, it's fine.
Do you have a strategy to approach the highly crowned roads that most of the race is on?
A mix of staying on top of the crown and running the tangents.
On your visit, you competed in and won the Bronx 10-miler on a course of rolling hills. How did that race fit into your preparation?
It was great timing in the buildup. We did at the end of a busy weekend here in New York when we were running a lot of the course. It was a 113-mile week for me, and so there were moments, especially early on that didn't feel very good, and I kinda reminded myself that we weren't trying to simulate the first 10 miles of the marathon, we were trying to simulate more like miles 10-20 of the marathon.
And so, once I had adjusted my mindset, and was like, "No, no, don't worry — this is more like Mile 16 of sustaining marathon pace." I was like, "OK, I'm good." I was happy with the way that went. I did have a moment where I was starting to pass other runners and they were cheering for me and I started getting really excited, and I just dropped a mile that was a lot faster than what I was aiming for, and I felt that was a good simulation for what everybody talks about coming off the Queensboro Bridge and you get on to First Ave and athletes start moving a little bit earlier than they should because of that excitement or energy down there. So I think that's going to be important to remember to just rein it in and stay smart all the way through 20 miles and beyond.
Sometimes in an unpaced marathon, you'll have a decision to make about whether to go with the lead group or potentially get isolated on a course known for its wind. Have you guys talked about those key decision points in a race?
I'm certainly not going to dictate the pace. If the whole race goes slow, I'm not going to be the one who goes to the front and tries to keep it honest. I'll leave that to somebody else. And then beyond that, there's just kind of like a pace range that I'll be comfortable with running in. But I don't want to make a sudden move or go to fast too soon, cause I just I really have no idea what those last 10K are going to feel like.
Was this a temporary move to the roads and your back on the track in 2017, or is your future on the roads?
It's going to be hard for me to answer that until after the race, but based on the way the buildup went, I took really well to it. I enjoyed it a lot. I have sentimental reasons that I want to be on the track in 2017. The U.S. Championships are in Sacramento where I live and the World Championships are in London, and I would love to go back to London and compete in the Olympic Stadium again. It was such an amazing experience. So, I definitely want to be on the track again. And then beyond that, I don't know. We'll see how the marathon goes, but I could definitely see myself being more roads-based after 2017.