2 Comments
The Monday Morning Run: 2014 Marathon Awards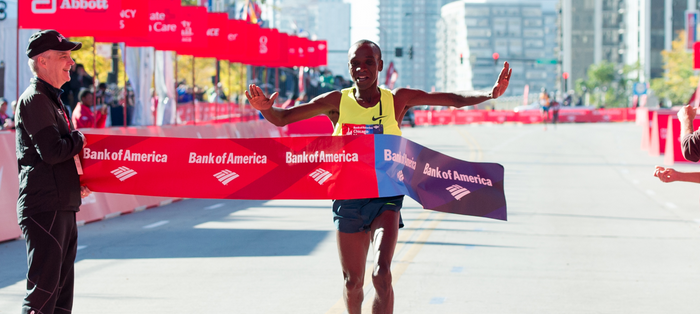 Kevin Sully | On 10, Nov 2014
Photo via Chicago Marathon
Last year in November, I tried to select the men's and women's marathoners of the year. The World Marathon Majors does award an overall champion, but they base their standings on a two-year cycle. Some of us are impatient and want to know now.
For this season, I decided to expand the awards with several other highly scientific categories. With obvious bias toward the "Big 5" marathons–Boston, London, Berlin, Chicago, New York here are the 2014 Marathon Awards.
Men's Marathoner of the Year: Wilson Kipsang
The discussion last year was a bit more complex. In 2013, there were multiple World Marathon Majors winners, a world record and a World Championship.
In 2014, the men's title comes down to only two runners, Wilson Kipsang and Dennis Kimetto. Kimetto's season includes both extremes–a world record and a DNF, while Kipsang has two wins, one in London and one in New York. A quick look at the records, shows that Kipsang is the easy pick.
Kipsang's London victory carries the most weight because of the quality of the field. His win in New York over Geoffrey Mutai showed his ability to dominate in a championship-style race that posed stiff challenges from the weather and the course. Kimetto has the world record and nothing else. If this award was for race of the year, then Kimetto has the edge of Kipsang. But we have to look at the whole season. Kipsang's two wins outweigh Kimetto's world record and a DNF and were enough to convince me that he is also capable of breaking 2:03. Put Kipsang in that same race in Berlin and he certainly could have run with Kimetto.
Oddly enough, it is Kimetto who was named a finalist for the IAAF World Athlete of the Year. The selection of him over Kipsang shows the power of a world record, and also the quirkiness of the nomination schedule. Voters cast their ballots after the Berlin Marathon, but prior to New York City. If they waited until after the race last weekend, their decision would have been much more difficult.
So while the top two men's marathoners are easy to decide, who fills in the top five? Meb Keflezighi finished first and fourth in his two appearances.
Emmanuel Mutai ran the second fastest time in history and finished second in Berlin. His performance in the spring wasn't as notable–placing seventh in London in 2:08:19.
Eliud Kipchoge won twice in 2014, in Rotterdam in the spring and again in Chicago in October.
These are the best candidates for spots 3-5 in 2014. Looking through the list of performances, you see how rare it is for someone to run two quality marathons in a year. Kimetto and Lelisa Desisa ran extremely well this fall, but they both DNF'd in Boston. Stanley Biwott finished a strong second to Kipsang in London only to withdraw from New York with an injury.
Hold on, did Keflezighi have the third best marathon season?
Removing all the DNFs and DNSs, the argument can really only be made for him, Mutai and Kipchoge. Kipchoge has two wins, but one of them was not in a Big 5 marathon. As impressive, and unlucky, as Mutai was in Berlin, he didn't win a race in 2014 and finished out of the top five in London. Depending on how you weigh those factors, Keflezighi could be third behind Kipsang and Kimetto. Regardless, he ends the year no worse than fifth.
Women's Marathoner of the Year: TBD
It was all Jeptoos last year, after Priscah and Rita swept their races in 2013. This year, Rita took all the fun out of it with her positive drug test. Removing her from the results, here are the champions in the Big 5 marathons.
Boston: Buzunesh Deba
London: Edna Kiplagat
Berlin: Tirfi Tsegaye
Chicago: Mare Dibaba
New York: Mary Keitany
Deba and Kiplagat both fell flat in New York City and Mary Keitany didn't race in the spring. Like the men, it's hard to make a case when you only have one result to your name. It's also hard to make a case with no major wins, but Jeptoo kind of ruined that for everyone this season. Another off the board pick is Jemima Sumgong. She was a close second to Keitany this fall and crossed the line fourth in Boston.
Pending the result of Jeptoo's B sample, we are all losers in this category.
Race of the Year: Meb Keflezighi Boston Marathon/Dennis Kimetto Berlin Marathon
For sheer speed, it's Dennis Kimetto in Berlin where he set the world record and ran 2:02:57. The course, the weather, the pacers everything was perfect and Kimetto became the first man under 2:03.
For sentimentality, it's the Boston Marathon. Meb Keflezighi pulled a stunner and held on for a nail-biting win one year after the bombings at the finish line. The performance also earned Keflezighi a nomination for Sports Illustrated's Sportsman of the Year.
Non-Meb American Performance of the Year: Shalane Flanagan
In the spring, she aimed for a historic win on a tough course. For the fall, she wanted to set the American record. Flanagan came up short in both attempts, but set a personal bests twice in 2014. Unfortunately for Flanagan, the women's marathon field is incredibly deep right now. There isn't anyone who can run 2:15 and set the world record, but there are armies of women who can run between 2:20-2:25.
The field was historically fast in Boston and Flanagan's 2:22:02 was only good enough for seventh. In Berlin, she placed third and ran 2:21:14 to become the second fastest woman of all-time. The personal bests are obviously a promising sign for Flanagan. She hasn't had her Meb moment yet, but if she sticks around long enough you get the feeling she will have her opportunity.
Potentially Screwed over by Rita Jeptoo Award: Mare Dibaba
If you asked anyone who pays attention to running who the best female marathoner was in 2014, I doubt they would say Mare Dibaba. But if you take Rita Jeptoo out of the equation, maybe she was. Dibaba finished second in Chicago and third in Boston, behind Jeptoo on both occasions. That's a lot of IOUs for the lost prize money…..potentially.
Split of the Year: Wilson Kipsang's 62-second last 400 in New York City and Dennis Kimetto's 14:09 5K from 30-35K in Berlin
The two best men of the year both provided perfect snapshots of their brilliance. For Kimetto, it came immediately after the rabbits stepped off the course in Berlin. From there, he dropped a 14:09 5K, which essentially guaranteed he would break the world record.
In New York, Kipsang's kick came much later, in a race that took its time to develop. He capped off a huge (and wind-aided) negative split with a 62-second last 400 to sprint away from Lelisa Desisa. Only in special occasions do they break out the 400 splits for a marathon.
Moment of the Year: Lelisa Desisa bumps Wilson Kipsang
The altercation that prompted Kipsang's superb last quarter was a bump by Lelisa Desisa as the two were sprinting toward the finish line. Check that, Desisa was sprinting. Kipsang looked like he was just doing a tempo run. Kipsang apparently said "What's the problem?" to Desisa after the two made contact. To which Desisa offered no reply because HE WAS IN THE LAST 400 METERS OF A MARATHON.
Then, Kipsang took off with the fire of someone trying to chase down a car that just cut him off. The move was devastating, wildly entertaining and a reminder that if you are going to beat Wilson Kipsang you will have to run way around him.
Ethiopian Marathon of the Year: Dubai
The men didn't win a single major this year. Kipsang, Kimetto and Kipchoge are going to make it very difficult for them to win one next year. Ethiopia always has Dubai. In January they went 1-5 and had three men break 2:06.
Debut of the Year: Tirunesh Dibaba
Lost in the shuffle of Mo Farah's appearance, Dibaba ran an excellent debut in London where she finished third in 2:20:35. At times it looked as if Dibaba could win the race and she threatened marathon veterans Edna Kiplagat and Florence Kiplagat in the last few miles.
Dibaba will miss all of 2015 to have a child, but when she returns she will be in a pretty good spot heading into the Olympics. If she chooses to focus on the marathon there are plenty of reasons to think she can be a gold medal threat.
Rita Jeptoo might be gone. Edna Kiplagat will be 35. Who knows what will happen with Priscah Jeptoo.
2016 could turn into a battle between Dibaba and Mary Keitany. A 5'3, 100 pound, 26-mile battle.
Water Bottle Controversy of the Year: Mo Farah/Tirunesh Dibaba, London Marathon
Both missed bottles at key points in the London Marathon. For Dibaba, this was a reminder that the Baby Faced Destroyer does not need liquids during a race.
For the British commentators, the missed bottles were a sign that Farah was not ready to race this distance and he should immediately return to the track lest he risk embarrassing himself further on the roads (these statements were probably made somewhere around the 10K mark).
At the end, Farah ran a fine race. It wasn't the world record triumph that was hoped for by the delusional among us, but it also wasn't a death knell. He will have other opportunities to race the distance and even if he never wins a marathon, he will be considered one of greatest distance runners of all-time. Success on the track doesn't mean success on the roads. Just ask Wilson Kipsang, Dennis Kimetto and Geoffrey Mutai how many Olympic medals they've won in the 5,000 and 10,000.
Greatest Field Ever Assembled Award: 2014 Men's London Marathon
Once again, London managed to assemble the best men's race ever in the history of the earth. Previous greatest fields ever include, the 2013 London Marathon, the 2012 London Marathon, the 2011 London Marathon, the 2010 London Marathon…….
Despite the hyperbole, this was definitely the top field of 2014. Geoffrey Mutai, Emmanuel Mutai, Wilson Kipsang, Stanley Biwott, Tsegaye Kebede, Stephen Kiprotich, Ayele Abshero, Mo Farah all finished the race. Dennis Kimetto hadn't quite learned that hills are for suckers, so he wasn't there, but pretty much everyone else was.
The time didn't end up being as fast as anticipated, but they can save that for next year which already is shaping up to be…….THE GREATEST LONDON MARATHON OF THEM ALL.
Rabbits of the Year: Berlin Marathon
The group of pacers that took the men through 30K set the table perfectly for Dennis Kimetto's world record. They ran even splits throughout the early miles and allowed Kimetto to remain fresh before his big push at 30K. Co-rabbit of the year goes to Emmanuel Mutai who ran the second fastest time ever and kept Kimetto company in the lonely miles.
Not Rabbit of the Year: Haile Gebrselassie
Good idea: Having a distance running legend pace a major marathon
Bad idea: Having Haile Gebrselassie pace the London Marathon.
What went wrong? For one, the pace. They went out well below world record schedule and some of the early miles were in the 2:01/2:02 marathon pace range. A bit overcooked as the broadcasters would say.
And, after making the race a mess, they didn't stick around to help clean it up. Gebrselassie didn't make it to halfway and all of the rabbits were gone by 25K.
Overlooked marathoner of the year: Eliud Kipchoge
He didn't run a major in the spring and in the fall he raced between Kimetto's world record and Kipsang's New York City triumph. Kipchoge has never run slower than 2:05:00 and has won three of his four marathons. Right now, he is a tier below Kimetto and Kipsang. That could change this spring. He will either jump directly into the fire in London and race Kimetto and Kipsang. Or, he can race Boston and prove himself in a championship-style race. Either way, he will be truly tested early in 2015.
Disappointing Race of the Year: Kenenisa Bekele, Chicago Marathon
He wanted the course record in Chicago and instead finished fourth in 2:05:51, 100 seconds behind the winner and firmly entrenched in marathon purgatory. Like Farah, he will have other chances and will more than likely improve as he gains experience. The question is whether he can improve at a rate quick enough to keep pace with the rest of the men's marathon field.
When he does run another marathon, he will probably double check his travel itinerary. Post-race in Chicago, he said he was having trouble adjusting to the time change from Ethiopia. Turns out he arrived in the United States only four days before the race. Unless you want to feel like you are starting a marathon around dinner time, it's probably worth the few extra nights in the hotel to get acclimated to the new time zone.