No Comments
Five things we learned Friday at USA Outdoors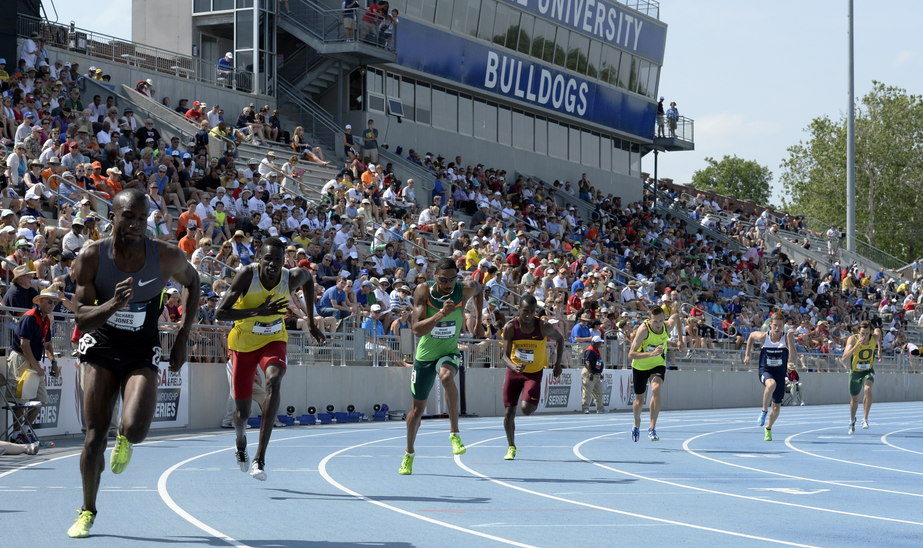 Kevin Sully | On 21, Jun 2013
Our 2013 USA Track and Field Outdoor National Championships coverage continues all weekend! Make sure and bookmark the Daily Relay Coverage of the 2013 USA Outdoor Track and Field Championships and follow @DailyRelay for updates!
Five quick thoughts on today's action from US Championships in Des Moines….
Tyson Gay is Still On A Roll
Gay shaved his beard for the first time this season and then proceeded to trim .11 off his season best to win the 100 in 9.75. The outcome was never in doubt as the American record holder took control of the race at the halfway point and pulled away. Justin Gatlin was second in 9.89 and Charles Silmon edged Mike Rodgers for the third and final spot on the World Championship team in 9.98.
In his career, Gay has only run faster on two occasions and both came late in the summer. After each of his three performances this season (a debut 100 of 9.86 in Kingston, a windy 19.79 200 on his home track in Florida and a startlingly easy 10.02 at the Adidas Grand Prix in New York) we proclaimed him "back." Back is no longer sufficient. He appears better than he ever was and should now be considered a legitimate threat to defeat Usain Bolt and win the World Championships.
The US women's 4 x 100 team will have some new faces in Moscow
Not one member of the world record quartet from London (Allyson Felix, Carmelita Jeter, Bianca Knight, Tianna Madison) raced the 100 in Des Moines. Madison is not entered in the meet, Jeter was a late scratch and Felix and Knight are just running the 200.
What does the mean for the 4 x 100? If Knight and Felix qualify in the 200 they would still be eligible to be part of the American relay pool in the 4 x100. And despite not starting the 100 with health issues, Jeter is still able to use her bye into the World Championships. Assuming Jeter heals up and Felix takes care of the 200, there would still be two open spots for the 4 x 100.
There shouldn't be any fall off for the United States. English Gardner and Octavious Freeman ran first and second in the 100-meter final on Friday night and are poised to be the next great American sprinters.
Gardner continues to make each race her best race. This time she blasted to a personal best of 10.85 and equaled the fastest time in the world this year. Freeman, who has been overshadowed by the faster (barely) and charismatic Gardner, finished second in 10.87.
The men's 800 will be a very competitive final
It is very hard to have a boring 800.  Even more so when a championship is on the line.  Defending champion Nick Symmonds probably looked the best in the semifinal heats on Friday, but 1-8 was really a log jam.  In the first heat, Brandon Johnson pushed hard (maybe too hard?) to get the win over Duane Solomon who seemed much more content with just qualifying for Sunday's final.
In the second heat, places 1-4 (Symmonds, Tyler Mulder, Erik Sowinski, Michael Rutt) broke away over the final meters and finished as a pack.  Based on past performances alone, along with his ability to navigate the rounds, Symmonds is still the favorite.  But with all 8 finalists running between 1:44.78 and 1:45.43, the race for the three tickets to Moscow will be thrilling.
It could take an American record to win the women's 100 hurdles
Brianna Rollins actually tied Gail Devers's 12.33 mark in the first round, but the 2.3 m/s tailwind wind reading nullified any record attempts. Rollins has already run wind legal times of 12.39 and 12.47 this season.
Behind her, America showed their typical depth in the event. Queen Harrison, Lolo Jones and Dawn Harper all ran 12.60 or faster in winning their heats. If the weather is a little calmer on Saturday, Devers's time from 2000 is as good as gone.
Wind makes you run faster
A bold statement I know, but the weather in Des Moines on Friday allowed for some preposterous marks. After the heavy head winds on Thursday, officials decided to change the direction of the straightaway races. With the wind at their back, the sprinters took advantage. Seven men broke 10 seconds in the 100-meter semifinals. In the women's 100, Lauryn Williams ran 11.00 and didn't qualify for the finals.
Even in the hurdles, where a breeze at your back can be counterproductive, saw benefits. Nine women broke 12.70 in winds ranging from +1.9 to +3.1.