No Comments
National Championships - What To Watch Friday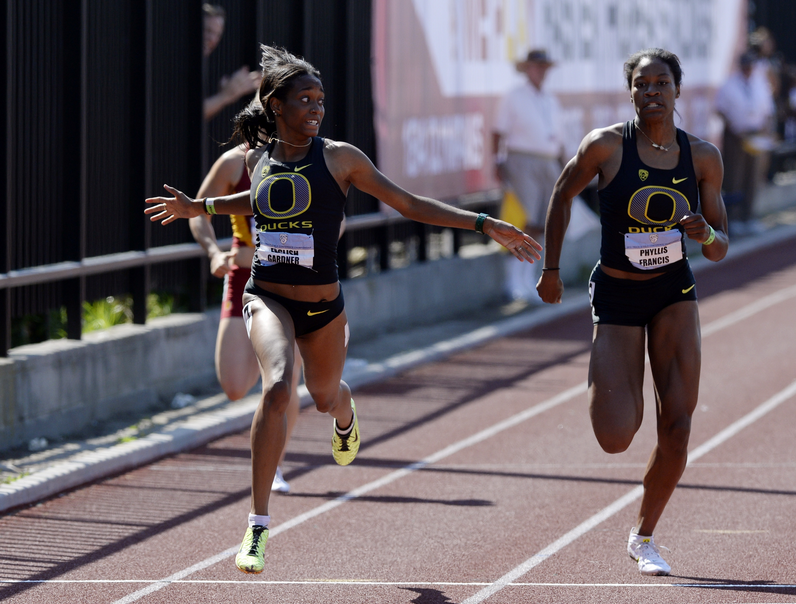 Jesse Squire | On 21, Jun 2013
Two weeks ago, English Gardner wasn't the favorite in the NCAA 100 meters. Now she's the favorite in the USATF 100 meters.
The highlight races today at the USATF Championships are the men's and women's 100 meters, beginning at 9:42pm (Eastern time). Each will be great races.
The men's race looks to be a battle between Tyson Gay and Justin Gatlin, but Walter Dix lurks and NCAA champion Charles Silmon could make an impact.
With defending world champion Carmelita Jeter out injured, the women's race is open. It could be a rerun of the NCAA final between English Gardner and Octavious Freeman. Barbara Pierre is one to watch too.
How to watch
Tonight's television broadcast will be on ESPN2 from 8:00 to 10:00 (Eastern time).
All of today's action will be webcast at USATF.tv — free and no cumbersome registration required. (The webcast will switch over to field events only during live TV coverage.) If you're like me and you have a bunch of Apple products, you can watch the webcast on your iPhone or iPad and mirror it onto your Apple TV.
Of course, all the info you need to know is on our USATF Nationals page — links schedules, results, previews, you name it.
Other finals today…
The heptathlon concludes today. Sharon Day is on PR pace and could produce the world leader. It looks like a tight battle for 2nd, 3rd and 4th between Bettie Wade, Keia Pinnick, and Erica Bougard.
The decathlon kicks off today, and Aston Eaton might lap the field — preview here
The men's hammer throw begins at 6:00pm (ET) — preview here
Also check out Martin Bingisser's preview
The men's pole vault begins at 6:15pm (ET) — preview here
The men's discus throw begins at 7:30pm (ET) — preview here
Key qualifying rounds today…
The women's 400 meters semifinals are at 8:36pm (ET). Sanya Richards-Ross looks to be racing herself into shape but it's no guarantee that she'll make the final. The men's 400 meters semifinals are right after.
The men's and women's 800 meters semifinals are at 9:08 and 9:25pm (ET). 800 semis are all about smart racing and are nearly as exciting (and nerve-wracking) as the final.
Other national championships…
The Canadian Championships are in Moncton, New Brunswick. Go to Trackie.ca for everything you need, including a live webcast. Championship organizers have moved the men's and women's shot put downtown for "A Shot in the Dark", to be held after the conclusion of the day's stadium events. There will be a concurrent demonstration of Highland Games-style traditional braemar stone throwing, a Celtic band, and a beer garden. Ain't no party like a shot put party.
The Jamaican Championships get started today in Kingston. TrackAlerts.com has everything you need. The finals of the men's and women's 100 meters are tonight at 9:15 (ET).