One Comment
Monday Morning Run: No, Galen Rupp's not running the marathon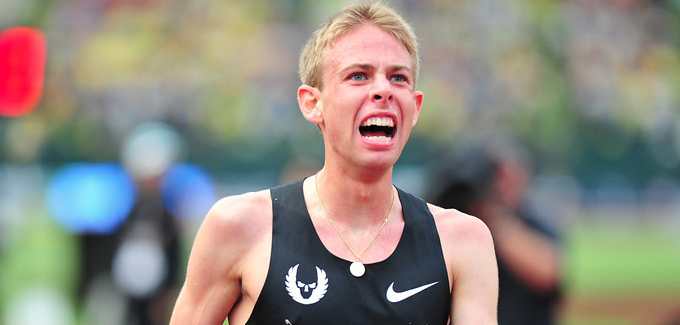 Kevin Sully | On 14, Dec 2015
As 2015 starts its bell lap, we enter the "what if" point of the season.  Meaningful results are spare this time of year, which creates a wondrous array of speculation about what might, or might not, happen in 2016.  Some of it is pure bluster, other is grounded in some level of truth, all of it gets extra attention because it's happening during a lull.  Here are a few "what ifs" that cropped up over the past week:
What if Galen Rupp runs the Olympic marathon trials?
Let me stop you here and say that I don't believe this is going to happen.  He did run a half marathon on Sunday in Portland where he posted an impressive 1:01:20.  Judging by the composition of the field (Rupp won by 8 ½ minutes) and the amount of clothing he was wearing, this looked like a workout. But it was a workout that was fast enough for him to qualify for the Olympic Marathon Trials in February.  
We went through this same routine four years ago when Rupp's name was on the entry list for the Trials before he probably realized running 26.2 miles when you are really good at doing 6.2 doesn't make much sense.  
In many ways, it makes less sense for him to run it this time around.  He didn't have a silver medal in the winter of 2012 so there was an argument to be made that perhaps the marathon was the best chance to break through and get on the Olympic podium.  Not anymore.  His best chance to medal is on the track.  He finished second, third and fifth in the last three championship 10,000m.  Trending in the wrong direction, but still in the front with a chance to win a medal each year. For the 2016 Olympic marathon, let's say Kenya puts Eliud Kipchoge, Stanley Biwott and Wilson Kipsang on the team. Which one is Rupp beating to finish with a medal?  This, of course, assumes he beats everyone else in the field.  More simply, upsetting Farah and Geoffrey Kamworor in a 10,000m is more likely than taking down all the East Africans in what would be Rupp's second attempt at a marathon.
Rupp's ease at the half marathon fuels this desire to see him run the marathon.  1:01:20 in a solitary run along the roads of Portland is incredible.  But success at the half doesn't guarantee the success at the full distance (see Tadese, Zersenay). And even if he can run fast enough to make the Olympic team, don't confuse getting on the team with being able to race with Kipchoge, Lelisa Desisa or even Meb Keflezighi.  
The hardest times to project are half marathon to the marathon because it is such a leap in distance. If I had to guess, I think Rupp would be a great marathoner.  But good enough to give up a spot in the 10,000m where he is no worse than fifth in the world and a lock to make the American team?  
It would be an interesting approach and one completely opposite from his training partner, Mo Farah. Farah isn't even running World Indoors because of its impact on his Olympic preparation and that's a 3,000m race in the city where he lives more than four months before the Olympics.  What if Rupp finishes fourth at the marathon trials? He'd have plenty of time to recover to race the track trials, but his body has never come back from a marathon before.  
And let's add one more dimension to this discussion.  If Rupp does head down the marathon path, he'd be running his first two races for free. Well, not entirely free. But neither the Olympic Trials or the Olympics offer appearances fees. Contrast that with what he could get as a debutante in New York, Boston or Chicago and it's a considerable sum of money.  
So, why did he wake up early on Sunday to toe the line next to a guy wearing an elf costume?
I'm assuming it wasn't because the race was offering a commemorative bib and carolers on the course. Did he got bored and want to do a workout around other people? Or possibly, in the back of his mind, he's thinking about the marathon. Maybe he had a good set of long runs, or feels his speed is diminishing and wants to keep his options open for 2016.  That phrase–keeping my options open– is on the podium with "I just need to execute my race" and "I haven't even done any speed work yet" as the most popular athlete maxims.  It is an understandable need.  The ability to be flexible with race selection and have options is appealing.  In this case though, trying something completely new in an Olympic year seems out of the gradual progression format that has characterized Rupp's rise.  
Until someone from Rupp's camp makes his plans clear, the possibility will hang over the field right up until the race in February. For now, I like to think he just wanted to run a race in his hometown that gave him a long sleeve technical t-shirt–oblivious to the all the speculation it would trigger.
Update: Rupp says he is, in fact, keeping his options open.  
What if they change the schedule for Allyson Felix?
And now we return to a familiar topic, albeit with some new information from this week.  For a review, Allyson Felix wants to run the 200 and 400 at the Olympics.  She wanted to do it this past summer at the World Championships, but the events overlapped so she decided to only focus on one.  The same situation applies for the Rio Olympics.  
As the schedule stands right now, the 200m semifinals are on the same night as the 400m finals, ergo there is no Felix double.  But in track, there is always a way.  The rules are more like guidelines or suggestions so Felix's coach, Bobby Kersee, said that he is working with USATF to try and get the schedule changed.  Kersee said Felix is prepping for the double and wants to run both at the Olympic Trials.  That marks the earliest any star has ever stated their intentions for a race. We are seven months from the Trials and we have a clear indication of what Felix wants to run? Usually there are weeks/months of stalling and subtle hints before finding out who is running what.  And even then it is isn't a sure thing until you actually see that person walk onto the track with a hip number on.    
Back to the double, it makes sense for a variety of reason.  The most important of which is giving the biggest American track and field athlete a platform to win another gold medal and complete a fairly rare double.  The arguments against changing the schedule have been equal parts myopic (you can't change something that is changed all the time!) and convoluted (she has to prove she can do the double first even though the only way she can prove that is if the schedule is changed to allow her to run both….).  Most people I think are on board.  
If there is some sort of abstract qualification one has to have to earn schedule rearrangement (Michael Johnson was one such person), than certainly Felix has achieved enough in her career to be placed in that category.  
For the American general interest sports fan, it means an extra night of seeing someone they vaguely recognize from the last three Olympics running for gold.  For us track nerds, it means Felix will try to cap off her career by holding off Dafne Schippers, Elaine Thompson and possibly Shelly Ann Fraser-Pryce in a 200m that will be run on tired legs.  It is also interesting that USATF is filing a formal request with the IAAF.  Felix's entrance in both obviously makes it more difficult for any other American to win a medal.  So by helping Felix, USATF is putting another obstacle in the way of Tori Bowie, Sanya Richards-Ross and others.
What if Meb is no longer the favorite for the Olympic Trials?
The Dallas Marathon hosted a co-ed relay featuring Olympic hopefuls.  Of the men's group (Sam Chelanga, Jared Ward, Luke Puskedra, Abdi Abdirahman and Meb Keflezighi), Meb finished fifth– three seconds behind Abdirahman and 20 seconds back of Chelanga and Puskedra. Without the context of Meb's entire career, this might be worrying, but he's never been one to run a phenomenal half marathon in the lead up to a big race.  In fact, the modest result probably means Meb is on track to peak just at the right moment.
The team of Abdirahman and Deena Kastor won the race, with Kastor splitting 1:15:42.  That was almost a minute better than the next fastest runner, Becky Wade who was teamed with Meb.  I expected Huddle to run a bit quicker (she was the third fastest women in 1:17:48) until I remembered that her season is over and unlike the others she is not gearing up for the Olympic Trials in February. So Sunday's relay taught us that there is one week out of the year when Huddle isn't the best non-marathoning American woman on the road.  It might be the only one though.  
The takeaway from Sunday is worry not about Meb and don't read too much into any of the results (although Desi Linden finishing four minutes behind Kastor is a tad concerning)  The relay format was a cool idea and helped assemble a great American field, though it certainly didn't replicate a typical race.  Many in this group will run another half marathon closer to the race that will give us more, and probably better information.
What if the investigation into Eugene 2021 continues?
French authorities are apparently investigating the process that the IAAF used to award Eugene the 2021 World Championships.  Eugene initially bid on the 2019 World Championships, but lost out to Doha. Months later, and without a formal bidding process, the IAAF decided to give the next edition to Eugene. This investigation doesn't look like it will result in Eugene losing the rights to host (the IAAF is standing by the bid) but it certainly isn't the headline TrackTownUSA wants leading up to the World Indoor Championships. Of course there is a difference between not losing the bid and not losing the public perception battle.  The Eugene 2021 issue is being looped into the greater debate around the IAAF.  Vin Lananna, head of TrackTownUSA responded last week, telling the Oregonian that "We are 100 percent confident that there was nothing outside of what are the norms for an IAAF bid."  
After the past four months we've learned that the norms for the IAAF basically include everything. Literally anything.  The sport's leadership has come up with spectacular new ways to lower the bar so citing the IAAF norms isn't exactly reassurance that the process was in any way ethical.  
It hasn't taken long to become desensitized to corruption in sports. Clearly if there was a procedure the IAAF should have followed it, but for this to be the bid that attractions the attention of law enforcement is interesting.  I get the Seb Coe/Nike/TrackTownUSA angle, but I'm still surprised this is receiving the level of scrutiny it is amongst all the fires in the IAAF.  There were certainly issues with the Doha bid– including 11th hour payments, IAAF President Lamine Diack's son apparently asking for five million dollars when Doha bid in 2017 and cars given to the Kenyan federation.  Then again, Doha went through the regular bidding process which I guess that means everything is above board so ignore all of that.  And while you're at it, also ignore the fact that they are hosting a track meet in one of the hottest places in the World–one with an atrocious record on women's rights, worker's rights and immigrant's rights.
A 'hey look over there' strategy doesn't absolve Eugene with the people who thought the bid should have followed regular protocol.  But when you tally up the list of problems with the Doha bid, you have to think that if they are going to move anyone it would be them and not Eugene. Then again, Qatar is still scheduled to host the World Cup after doing everything possible to show that they shouldn't be hosting a single match.