4 Comments
Andrew Jordan's Strong Finish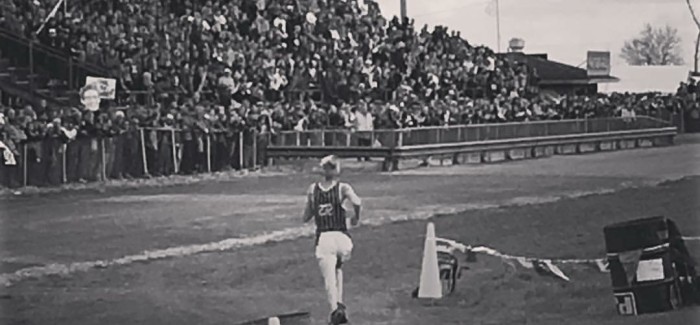 Jesse Squire | On 10, Dec 2015
Andrew Jordan is the Ohio high school champion and known for a strong drive to the finish. On Saturday he runs at the Foot Locker National Cross Country Championships. (Photos courtesy Watkins Memorial cross country)
In the small circle of websites that cover national-level high school distance running, Andrew Jordan was a name that flew under the radar until September. That's when the senior from Watkins Memorial High School in Pataskala, Ohio, went to the Galion Cross Country Festival and posted 14:44.7, then the fastest time in the nation.
Of course, comparing times in cross country is a fool's errand. Some courses are fast, some are slow, some are hilly, some are flat, some are short (like Galion's is rumored to be) and some are long. But if they're unchanged over a long period of time, as Galion's is, they have a history. And comparing times from one year to another is useful.
People who have been at the Galion Festival since it was just a little meet will tell you about 1984, when Scott Fry ran 14:49 for the previous course record. He was flying around the tight little three-loop course—longtime meet director Ken Jarvis said "it looked like someone running the 100 meter dash over and over and over".
Fry was a demigod when I was in high school, a Foot Locker national champion and 8:46 2-miler whose state cross country championship meet record survived attacks by future international stars such as Bob Kennedy and Mark Croghan. When he ran 8:08.1 for 3000 meters it was just a tenth shy of the then-national prep record held by Steve Prefontaine. He was one of the two or three best high school distance runners the Buckeye State has ever seen–and maybe simply the best, period. So when someone breaks a course record held by Scott Fry, it's a big f***ing deal.
Jarvis has been around high school cross country and track for a long time, 35 years or so, and has been in regional championship meet management for decades. He called Jordan's run at Galion the single most amazing performance he has ever seen from a high school distance runner. While he was moving at an unreal pace, Jordan didn't appear to be working as hard as Fry did. My high school coach (who started two future Olympians on their way, one of whom is Erik Kynard) always said that the truly great athletes made their efforts look deceptively easy.
Jordan approaches the Foot Locker national championships as a possible top-ten finisher and maybe more.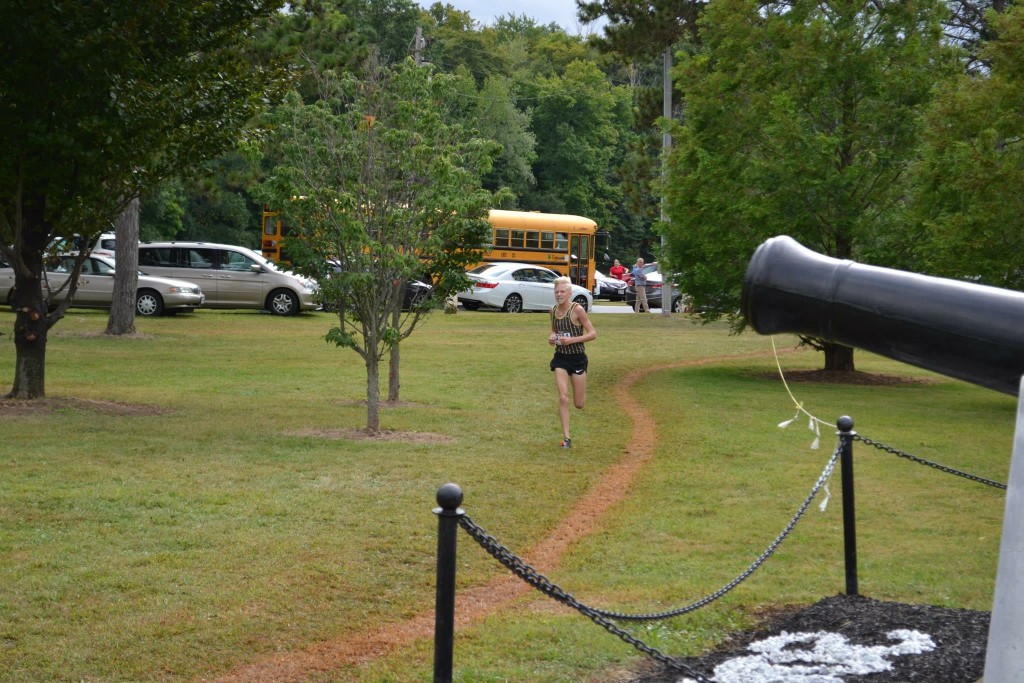 Jordan finishing a historic course record in Galion, Ohio.
I need a new way
I coach a high school team. I teach in a city school, a mostly working class neighborhood in Toledo, Ohio, the kind of school that tends to be bottom-feeders in high school cross country. We've become pretty good for our conference, but that doesn't mean much since it's only the city's six public schools, about half of which struggle just to get seven runners on the starting line.
This year we had our biggest boys' squad since the 1980s—nineteen runners—and a few of them had some decent talent. I thought we could finally be competitive with some of the suburban schools, maybe even qualify to the regional championships if everything went just right. Well, it didn't go right. We had a ton of overuse injuries including some stress fractures. We still won our league by sheer force of numbers but too many of the athletes limped to the end of the season or didn't even make it there at all. Almost all felt some level of relief when the season was finally over. Something was systematically wrong.
While we have separate head coaches for the boys' and girls' teams, we run our practices together and do common workouts in order to share resources. Our boys' track coach also volunteers during cross country season. The end result is that our training is a mishmash of three different styles from three very different coaches and it hasn't worked as well as it should. Any one of them would likely be OK, but combining them isn't getting the job done. Like Kurtz and Willard discussed in Apocalypse Now, either our methods are unsound, or there are no methods at all.
After spending one too many nights awake in bed pondering what to do about the situation, I called one of my best friends. John Jarvis—Ken's son—is one of those guys who is easy to talk to because he listens to you and appreciates you, and it's why he seems to know runners and coaches in every corner of the country. He was a year ahead of me at Bowling Green State University and was the first member of the cross country team to welcome this new meat freshman to the team (I think my response was an amazed and grateful "You know my name!"). I was the 29th out of 30 guys on the team that year (then the 30th guy quit), but John was supportive and encouraging anyway. Plus he joined in (and sometimes led) our, um, foolish hijinks of youth.
John also knows a thing or two about how to build a high school cross country program. Seven years ago he took over a good program at a rather ordinary middle-class small town high school and has raised its profile to an excellent program. His training system is caring, humane, fun, and based on long-term improvement. (In other words, the training is a reflection of the coach). John has sent many young men and women on to collegiate programs and most have continued to improve and love the sport (which is sadly not universal for high schoolers making the jump to college). He teaches and coaches at Watkins Memorial High School in Pataskala, Ohio, and the captain of his team is none other than Andrew Jordan.
Who is this kid?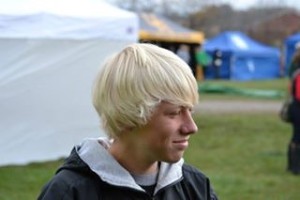 Just two years ago, Jordan still looked like he was in junior high.
Jordan is rail-thin and of average height, with pale skin and shock-blonde hair worn in a skatepunk style. He's like a lot of high school runners; gregarious, well-liked around the school by students and staff alike, a little bit nerdy, a top-ranking student. His favorite subjects are math and physics (it may or may not be coincidental that his coach teaches those subjects).
He has already signed a national letter of intent with Iowa State. He says his choice was based in part because of the team emphasis in that program, and also partly because of the history of success by coach Martin Smith at various universities. He's hoping for a long future in distance running.
Jordan was not a lifelong runner, in fact far from it. His freshman year was an adventure.
"I usually run with the freshman," Jarvis said, "and on the first day of school I take them on a three-mile run to see what they can do. I came back that day and said, 'that skinny blonde kid can run, he's going to be all right'. And the next day I didn't see him. He never came back."
"Then the A.D. brought him to the first day of indoor track conditioning in January. I said, 'That was you! Where did you go?'"
"I decided I'd join the golf team instead," Jordan said. "I think the best I shot was 112." It didn't take much of the track season for him to figure out he was better off running on golf courses instead of playing them.
His start in organized school sports was going out for track in the 8th grade. It was something to do and participation is big in middle school track at Watkins, so he followed the crowd. He started as a hurdler—"my sister had been a hurdler so I thought that's what I'd do"—but his short stature was a problem, and it was difficult for him just to get over ten hurdles in a row. So after a while he migrated over to the distance runners, but he was not an overnight success. He seemed like just another runner at the time.
Over the years he steadily improved. He ran 4:50 and 10:05 as a freshman, and in his sophomore (and first) year of cross country he qualified to the state meet by a mere 0.04 seconds. He ran 9:21 the following spring, and then things really kicked into gear last fall. He ran 15:40 for third at the state cross country meet, the first indication that he had unusual talent.
There were two races early in the season when he really went for broke. One was the Galion meet and the other was Watkins' home invitational. He wanted the course record and got it (14:59) despite muddy and windy conditions.
After the Galion meet, Jordan remained undefeated but no longer attacked fast times. Instead, Jarvis asked him to take a different aspect of the race each week and work on it. For example, at one meet Jordan simply ran with the leaders for the first two miles and then ran his last mile in close to 4:30. The final time was unimpressive (for him, at least) but the manner in which he ran it wasn't.
"Because Andrew wasn't running all-out and stopped producing fast times, a lot of people around the state thought he'd plateaued and was beatable at the state championships," Jarvis said. "But we didn't think anyone could touch him."
In the first week of October, Jordan ran at the Sheridan Backwoods Fest, a midweek twilight two-mile meet. The first mile was out in the open around fields and pastures but the second was through the woods and with rough footing. So Jarvis asked Jordan to run the first mile all-out, then back off and just cruise through the second. Jordan hit the mile mark in 4:24 and finished in 9:12.
"I had no clue I was capable of doing anything like that," Jordan said. "I didn't think I could run the first mile that fast, and I thought I would slow down a whole lot more in the second mile."
This shows just how much better Jordan is now than he was in June. He ran 9:05.82 in April, then 9:09.83 for third place in the Ohio state championship 3200 meter final, and two weeks later he followed it up with another 9:06.54 at the New Balance Outdoor Nationals two-mile. But here in September he ran nearly as fast, all by himself, on grass, and without tremendous seriousness.
He's always shown marked improvement from one season to the next, and it's by design. Jarvis' training program is unconventional, but it works.
A break from conventional wisdom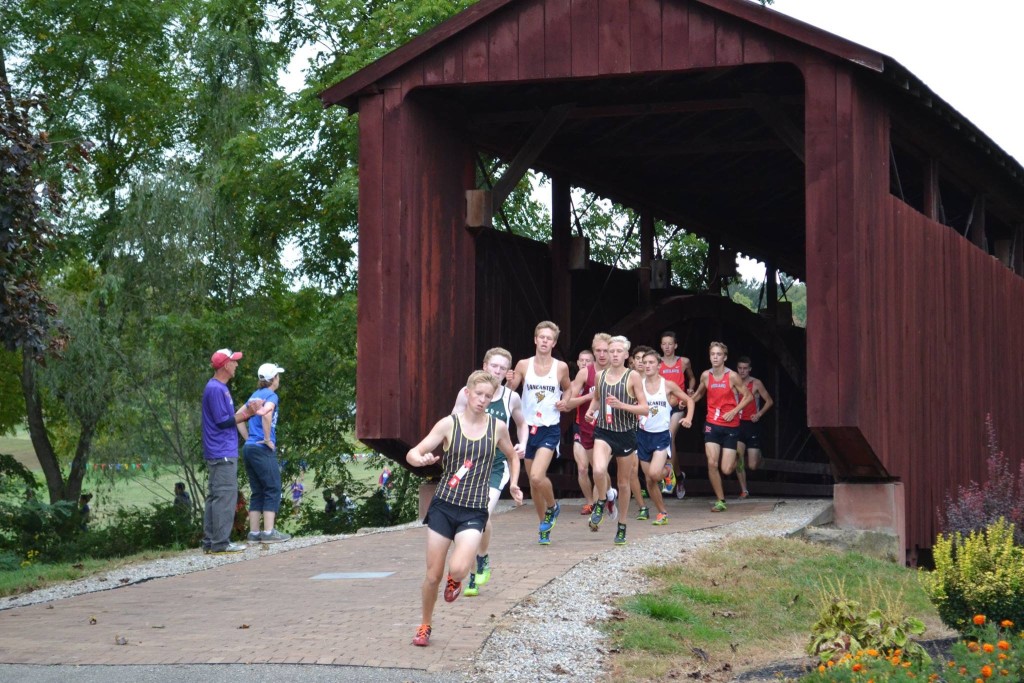 Jordan is fourth in this picture, content to let others lead early in the race.
John Jarvis was a high school runner in the late 80s and that meant he ran plenty of intervals. He came to running from swimming (Ken Jarvis was Galion's swim coach) so it seemed totally normal. At the same time a hundred miles away in Toledo, I was put through a similar regimen by a coach who was great with sprinters and technical events but whose understanding of distance running was, like many coaches, limited by not ever having been a distance runner himself.
When Jarvis and I ran together at Bowling Green in the early 90s, everything was about pace and hard efforts. "It made us tough as nails," Jarvis says, but we were "very average". We had a better chance of winning a street fight than a meet. For all the work we put in we always came away from the season a little disappointed, like there was something that just didn't work out right. And by the time the end of each season rolled around, we were all more than ready for it to be over.
When Jarvis began coaching high school teams, he toned it down but still went through the same style of training. He would have his teams do mile intervals early in the season and gradually shorten and quicken the intervals as the season went along.
"By the end of the season we were doing twenty quarter-mile repeats, and there were a lot of kids who could really nail that workout." It didn't seem to have a lot of transfer to an actual 5000 meter race, though. The speed was there for his athletes but not strength.
He thought about it and decided that lack of speed is not the problem facing most high school athletes. "Kids are fast. They can run a good first mile. But that's not the whole race and that's not where you win it. They need to get to where they can run hard through the whole distance."
The most challenging task for high school runners, especially the non-elites, is to run fast in the last part of the race, to be able to run the third mile at reasonably close to the same time as the first mile. It's very rare. For example, my best runner this year was 73rd at the one-mile mark of our regional championship with a 5:05 split. That's 15:50 pace, which only seven boys in the race managed to beat. Seven out of seventy-three. While the vagaries of each course may dictate variation from even pace (sometimes runners have to go fast at the beginning to avoid getting stuck in a pack) this still tells you everything you need to know about high school running: almost nobody can race anywhere close to even pace.
With this in mind, the next year Jarvis thought he'd start with a different approach. At the onset of the season, instead of hammering mile repeats he had his athletes run 2×1.5 miles at a slower pace and with short rest. "They weren't hitting the times as well as they should," he told me, "and a lot of them were too aggressive at beginning and couldn't hold onto pace as well as they should have been able to." Rather than looking on the workout as a failure, he took it to mean that this was the weakness he had to address.
He worked on getting his runners to slow down at the beginning of the workout but hold onto pace throughout it, and took tiny steps to get there. Even so, in the first few years this workout was on the program for just 3 weeks or so before going into more traditional intervals as the season progressed.
But Jarvis gradually changed his approach from then until now. Other than 100-meter strides at the end of aerobic distance runs, now his athletes almost never run as fast in training as they do in a race. And he doesn't ask any hard anaerobic work from them either, no lung-searing repeats that make their legs swim in lactic acid. Only over the last two or three years has he gone to this extreme, and it appears to be working.
There are now five main parts of his training program. One is tempo-type workouts, either a continuous 5k, or 2 x 2 miles, or 2 x 1.5 miles, or even four or five times one mile (all with short rest). At first, many of Jarvis' kids tried to run these as hard as they could (and even now the younger and less experienced ones still do), but that was missing the point. These are workouts where monitoring pace is important, with the biggest emphasis on maintaining or increasing pace at the end.
Another key workout in the training program is "one minute on, one minute off", done in loops around city park athletic fields. The "on" portions are done faster than tempo effort but slower than race effort, and learning to go by feel is a big part of it. Again, the emphasis is on maintaining or increasing pace throughout the workout. The most Jordan did in this workout was fourteen on/fourteen off, but eight to ten was more typical for his teammates. GPS allows the runners to look and see if they actually did maintain or increase pace on the hard minutes over the course of the workout, but they do this afterward, not during the workout, to see if their perceptions of effort were correct.
The third main part of the program is milage and long runs, but with the idea that it is always appropriate to and manageable by the athlete. Jordan has consistently been at 60 miles per week with a weekly 12 mile long run. These are modest totals for an athlete of his competitive standing, but he's comfortable running at nearly 6:00 per mile pace on his easy days.
The fourth part is rest and recovery. As Kenny Moore once famously learned via a Bill Bowerman experiment, these are generally overlooked by the ambitions of youth. Jordan doesn't do morning runs because it would cut into sleep, and if he or any of his teammates ever go a bit overboard with the pace one day then they are advised to take it easier for the next few days.
The fifth and maybe most important part is a recognition that racing is what all of this is about. Races are by far the hardest efforts of each week—actually, the only truly hard efforts each week. Training is a means to an end, not the end in itself, and if you're racing in training then you severely limit your ability to race in races.
"Now I spend as much time telling kids to slow down as much as telling them to go faster," Jarvis said. "They're kids, they want to GO and need to tell them just because you can doesn't mean that you should. Train, don't strain, and sure as heck don't make yourself tired all of the time."
Here's a classic example. Sixteen years ago, Jarvis had an athlete who did a 5xmile workout with all of them between 5:10 and 5:00, but he wasn't much under 9:50 in track. Jordan did a similar workout this year and will likely be about a minute faster this spring. The difference is that Jordan was running a little bit harder than tempo effort, and the other athlete was more or less at race effort.
All of this dial-back-the-effort stuff sounds great, but does it work? "Heck yeah, it works", said Jarvis. "You end up getting fast races out of kids that you look at and think, 'Him? Really?'" Watkins had never qualified a boys' team to the state championships since moving up to Division I but this year they not only got there but were sixth. The girls' team was eleventh (and 16th at NXN Midwest). Their third man this season was faster than many of their school records were until just a few years ago—and this is a program that had already produced an NCAA cross country All-American.
Another effect of keeping training efforts in check is to keep up the enthusiasm necessary for long-term development. These are children, after all. Jarvis's number one goal is for his athletes to enjoy running and racing and they seem to. Jordan brought two teammates to the Foot Locker regionals, and Watkins' girls team went to NXN Midwest. There's time built into in the training for what other coaches might see as goofing off; they play Ultimate Frisbee once a week as part of a practice, and stopping for a snowball fight on a winter run isn't discouraged.
Again, the whole point of this kind of this tempo- and effort-based training is to be able to race effectively, especially in maintaining or increasing pace over the full 5k distance. Watkins Memorial's runners can do it better than most. On November 7, Jordan taught a master class in even-paced running.
Putting it into practice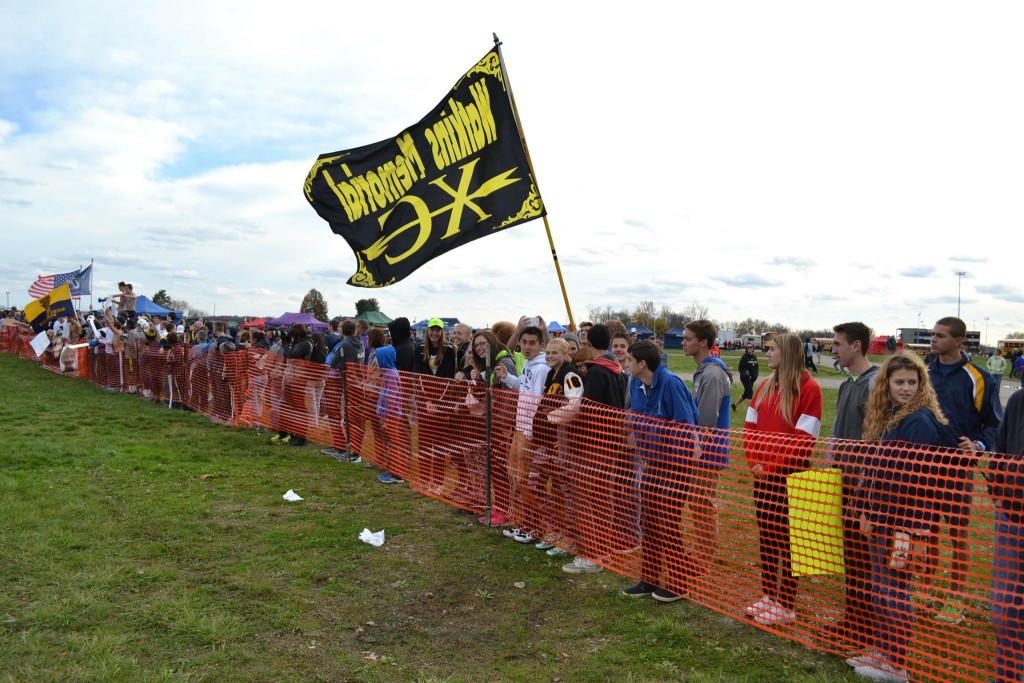 Watkins's boys and girls finished sixth and eleventh in Ohio's Division I championships.
It's hard to hide where or how athletes race in the age of the internet, so Jordan knew what everyone else brought to the table going into the Ohio state championship race. Based on the season's results, he expected Mason's Dustin Horter to take the pace out hard, at 4:40 or possibly faster, and Jordan planned to just run with him through the first mile.
It didn't work out that way. Ten runners came through the mile mark between 4:48 and 4:50. About a quarter to half a mile later, Jordan's competitors said he made a move that left them all behind. He led by 3.7 seconds at the two-mile mark and pulled further away for a 19.8 second victory.
Hudson's Gavin Gaynor said "I tried to go with him, but I just couldn't." Horter said "He started breaking away".
That's how it appeared, but a better description is that Jordan simply reacted to a move made by the rest of the field, namely slowing down. When the pace slowed, Jordan picked it back up and none of the others could. Maybe just as important was that Jordan decided to react because he could feel the pace was slowing down. Jordan's splits were relatively even: 4:49.2 for the first mile, 4:51.1 for the second, and 4:43.6 for the third. Of the race's top runners, he was the only one who set out at a pace that he was able to maintain. Gaynor and Horter split 4:58 for their last mile and no one else was under 5:00. (That fourth-fastest last mile was by another Watkins runner, Daniel White, who closed in 5:00.5 for sixteenth overall.)
Jordan's finishing time of 14:54.0 was a new course record. The state meet has been held at National Trail Raceway since 2011; the only other sub-15:00 time ever recorded at an Ohio state championships was by Scott Fry when he ran 14:50.2 in 1984, the last state meet held on the Ohio State University golf course. Apparently a lack of high-intensity interval work isn't holding Jordan back.
The big finish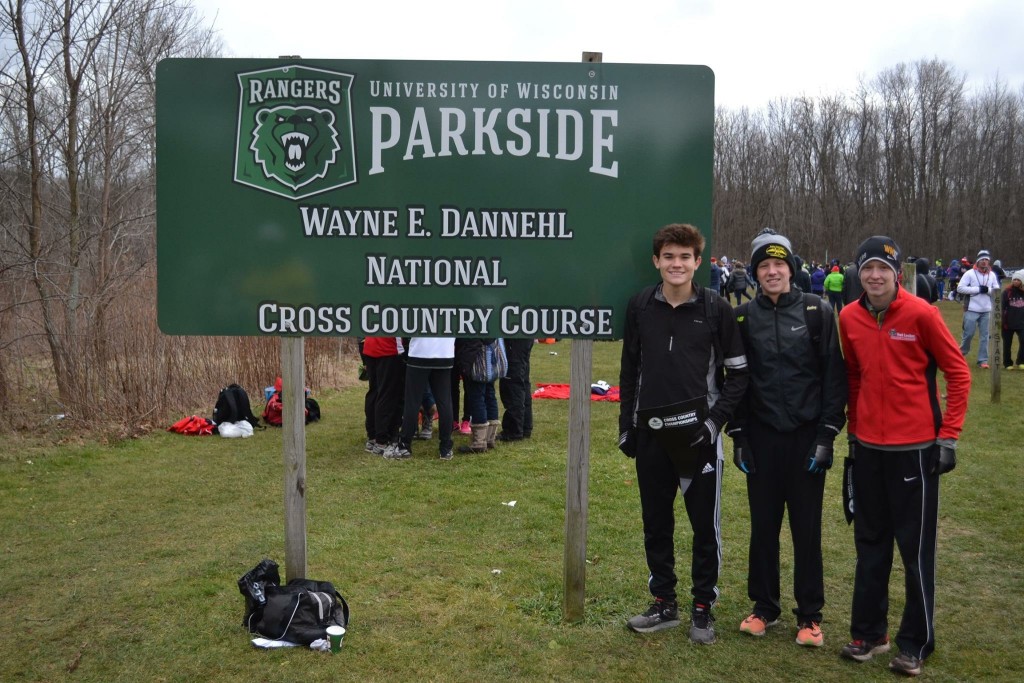 Last year was Jordan's first attempt at the Foot Locker Midwest Regional race, and he came away with a disappointing 48th place finish. As always, the meet was at Kenosha, Wisconsin, and the first mile has a couple of tough uphill sections. The course narrows at about 1200 meters into the race, which caught Jordan in a sizable crowd of runners. Passing was too difficult and it took out any chance he had at qualifying to the national championship race (which was a bit of a stretch anyway).
On the long drive back to Ohio, Jordan and Jarvis discussed what would have to be done differently in order to get a nationals qualifier this year. It would require being with the leaders when the course narrowed, which they guessed would be 4:50 pace—and the uphill sections made that the same effort as 4:40 or maybe faster.
In terms of training, they determined that what needed to be different was not much, if anything at all. The plan was just staying the course. Another year of increased aerobic fitness, physical maturity, and racing experience was all that was needed. The milage went up, but not by much; Jordan sayss this year he was simply much more comfortable at that milage than he ever was before.
Jordan did do two fast interval workouts leading into the regional meet, both consisting of 800 meter repeats, but the goal was simply to simulate that faster opening pace. Upon being asked how long a man's legs should be, Abraham Lincoln famously replied "just long enough to reach the ground." That was the idea here: just enough fast running to achieve the desired outcome but no more.
Two weeks ago, Jordan did achieve his goal of getting into the lead group by ¾ miles, where the course narrows, and he said it required a harder start than any other race he'd run all year. He hung in the pack, not pushing the pace, and unusually did not react much when the pace lagged midrace. He took the lead with ¼ mile to go but got outkicked on the run-in to the finish and finished fourth, just two seconds out of first. He admitted that once he was passed he lost fire for the win; in one sense, the meet was just a qualifying round and the goal had been achieved.
Since the regional meet, Jordan and Jarvis have been working on improving his finishing speed by improving his mechanics and form ("we looked at the video and I was overstriding pretty badly"). Jordan's goal on Saturday? "To have the best race I've ever had in the biggest meet I've ever run in."
Foot Locker national qualifiers have paperwork and questionnaires to complete. One of them asked him was his hardest workout of the year was. He thought about it for a long time before answering: "none of them".