2 Comments
Adidas GP Notes & Quotes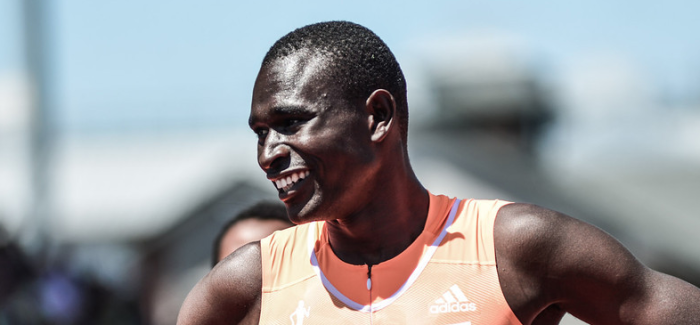 Daily Relay | On 15, Jun 2015
Photo via TrackTownPhoto
Rudisha serves notice
David Rudisha is the best 800m runner of all-time and was the man who made one of the greatest races in the history of track and field. Still, he has battled injuries since last racing — and winning — at the Adidas Grand Prix in New York two years ago.
His form appeared to be improving in a couple of races in Australia earlier this season, but he pulled up with a quadriceps cramp in a 600m race in Ostrava last month and then pulled out of the Birmingham Grand Prix last weekend.
With the exception of Usain Bolt in the 200, Rudisha's performance was bound to be the most closely scrutinized at Icahn Stadium on Saturday. And with the exception of some quibbling about whether his 1:43.58 performance was indeed "effortless," Rudisha's day went much better than Bolt's.
The Kenyan's time was just .02 seconds behind the world-leading mark from Mo Aman in Rome on June 4, and it was Rudisha's best time since placing fifth in 1:42.98 in Monaco last July. He now appears to be right in the mix with Aman, Nijel Amos and perhaps Ayanleh Souleiman for the gold in Beijing.
Considering there was significant wind in the runners' faces on the home stretch and that the New York track isn't known for being lightning quick, Rudisha — and pacer Ryan Martin — helped drag a mediocre field to some fast times.
Boris Berian's 1:43.84 second-place time was the second best for that place this season (Berian, incidentally, looks like a favorite to advance to Worlds from USAs). Pierre-Ambroise Bosse's 1:43.88 was the best third-place time of the season, and Matt Centrowitz's 1:44.62 was the second best fourth-place time of the year.
Centrowitz, incidentally, was walking with a limp through the mix zone after his performance, though he'd also just run 1.24 seconds faster than he ever has at the distance.
Local love
It was a good meet for runners who train in the Northeast. Ben True (New Hampshire) won the men's 5,000m, Ajee Wilson (Pennsylvania) won the women's 800m, Chanelle Price (Connecticut) ran a season's best 1:59.57 in the same race, and Ashley Higginson (New Jersey) ran a season's best by 10 seconds in the women's 3,000m steeplechase.
Higginson, who said "I've never run that fast this quickly," after her 9:31.32 performance, enjoyed the (traffic-excepted) quick trip to Randall's Island from her base near Rutgers University in Piscataway, New Jersey.
"I ate dinner at home [Friday], we watched the NCAAs, slept in my own bed, drove up with my boyfriend — super easy," she said. "We practice in New York sometimes. It just felt nice [like a practice] until I got here and there were so many people."
As for True, who set an American road record in the BAA 5K in Boston in April and won the UAE Healthy Kidney 10K in New York's Central Park in May, he enjoys the regional events for a simple reason.
"I don't like traveling — I don't like being away from home," he said. "I always try to find races that are close by, so I can go home the next day and spend as much of my time in New Hampshire as possible. New York's been good to me the last month, so I can't complain."
The Philadelphian Wilson had a strong contingent behind her to encourage her to victory.
"Walking up to the line, I see a lot of my friends and family in the stands, just calling out to me and cheering me on," she said. "So I just want to do well for them and do well — represent."
Mary, did you know?
One local who did not run quite as well was Mary Cain, who went through the bell lap in her non-Diamond League 1,000m right behind the rabbit but was outkicked over the last 200m and finished fourth in 2:38.57. Nonetheless, she sees reason for optimism.
"My speed has come along, but it's more in the 400 and not too much in my 200," she said. "I used to get to the point when I was running really fast where my last 200 was pretty decent for a non-200-meter runner, but recently, the fastest I've gone is 1 ½ seconds off that [previous high]. 27-high is great and all but not at the end of the race."
For what it's worth, it looked like she ran 62 over the last 400m and 31-mid in the last 200. Her time perhaps puts her in shape to run something under 4:10 in a 1500m, according to the McMillan Calculator. Cain ran 4:16.48 in her last 1500 at Oxy in Los Angeles last month.
This was Cain's first race and first chance to field media questions since announcing her sabbatical from the Nike Oregon Project in May. In the interim, of course, her team has been at the center of a ProPublica and BBC expose that implicated both her coach as well as American distance-running great Galen Rupp.
Cain wore a Nike Oregon Project singlet Saturday and said "of course" when asked if Alberto Salazar is still coaching her. She does plan to return to Portland.
"I try not to get that far ahead of myself — when I'm going back, when I'm not. Really it was just a decision, honestly, because of my long school year."
As for the NOP scandal, she side-stepped the question like a seasoned veteran.
"Honestly, I've been here in New York, and I've come to stay off pretty much all track media, all social media," she said. "Being only 19 — by the time I was 15 I knew to stay off of it — but I finally admitted to really just getting rid of it. Sorry, Instagram and twitter followers — you 'll have to just look at those same 10 tweets."
Cain plans to compete in the 1500m at U.S. trials in two weeks.
Women ready for sweep in 400m?
Francena McCorory became the second woman to break 50 seconds in the 400m this year, running a world-leading 49.87 on Saturday. McCorory joined Sanya Richards-Ross as the only women to break 50 seconds this calendar year, and Allyson Felix sits directly behind them in third on the world list this with her winning 50.05 at the Prefontaine Classic.
Was McCorory's race a statement about her readiness to win her second straight U.S. outdoor title in the 400m?
"I think we all know each other's talent level, so I don't think any of us have to [make a statement] to know that, but I definitely think it is going to be interesting at the U.S. trials," she said.
With Felix already qualified to Worlds in the 200m, thanks to her Diamond League title last year, she is focusing on the 400m at USAs, setting up a showdown of the three best one-lappers in the world in Eugene.
"USAs is definitely World Championships, minus a few people, so it could be a blessing and a curse," said McCorory of the pressure of the event. "I definitely think that we are capable of a sweep (at Worlds]."
Felix has not decided what event she's planning to run in Beijing, though she has indicated that she will not attempt to double. Nonetheless, McCorory is impressed by the range of Felix who also made the 2012 Olympic final in the 100m.
"To me, I give props where it's due. That's awesome to me. I feel like she's our modern-day FloJo."
Florence Griffith-Joyner, of course, won gold in the 100m, 200m and 4x100m at Seoul in 1988 and also was part of the silver-medal 4x400m relay team at that Olympics.
Richardson ready to snuggle
After a 2014 of transition, in which Jason Richardson had four coaches and lived in three states, the 2011 World Champion in the 110m hurdles is feeling a lot more comfortable now.
He's been in Central Florida since October, training with Brooks Johnson after spells with Mookie Johnson in South Carolina and a "coach via email" after leaving John Smith's group in Los Angeles.
"Out of my coaches, I've had like Gryffindor and Slytherin, and I finally found what works for me."
DailyRelay.com official Harry Potter correspondent (and Mandarin translator) reports that Gryffindor is the house that Harry Potter is part of and that its members are known for their courage. Slytherin house members, apparently, are known for being sneaky.
After running 13.26 and placing second to 2013 World Champion David Oliver at Adidas on Saturday, Richardson is happy with his stability entering USAs.
"I had four different coaches and two sponsors," he said. "So now I feel warm, feel secure — I'm in a Snuggie down in Disney with the new coach. And now that my externalities are settled, I can work on doing the best I can on the track."
Scratching makes it feel better
The fields as announced last week for the Adidas Grand Prix were long on star power — Bolt, Rudisha, Wilson — but short on deep fields. It was an issue that became more acute when several expected participants pulled out of their races ahead of the event or started but were unable to finish.
In the men's 400m hurdles, neither Michael Tinsley nor Bershawn Jackson ran. Jackson indicated via Instagram and Twitter that he left to be with his ill mother. Jackson has the world lead of 48.09 from Doha in May, and Tinsley is third on the world list at 48.34. Johnny Dutch had won the last two Diamond League 400m hurdle races (in Rome and Eugene) and was never on the start list. Javier Culson did run and won in a season's best 48.65.
Other scratches included Warren Weird in the 200, Hagos Gebrhiwet in the men's 5,000 and Virginia Nyambura, the rabbit who surprised to win in Doha and owns two of the five fastest times in the world in the women's 3,000m steeplechase. Gebremeskel started the men's 5,000m but was unable to finish.
In addition, 2013 U.S. outdoor champion Duane Solomon was a DNF in the 800m and said on Twitter that he had aggravated a nerve in his leg but was OK.